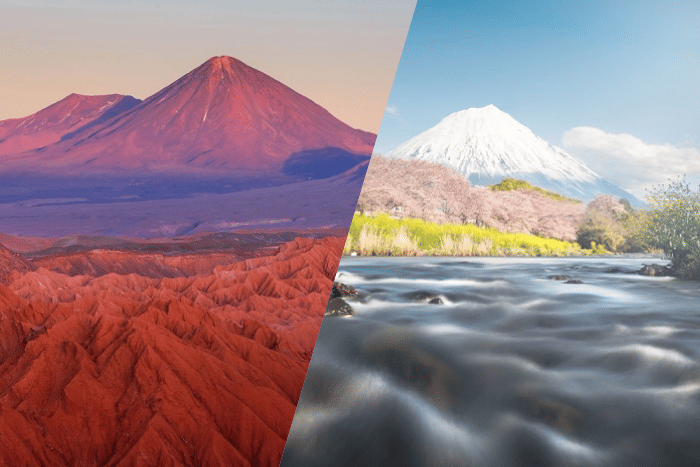 Despite being a total mix of how things used to be earlier, this new tripping-trend is highly inspirational and surely not to be missed! So, with all the hype about this fire and ice vacation ideas, give it a try for those travel-pangs you have! For most travelers, making time for covering an entire planet can seem a bit handful. Not only the main constraints being distance and time, one would also be left for craving a little extra while you plan that much-ado-about-something holiday.
As much as all the Game Of Thrones fans would be loving the idea already, this isn't about the Daenerys Targaryen's dragons meeting the Night King's army! Not yet, anyway. A fire and ice vacation is all about including those destinations in your holiday that have a varying climate, say snow capped mountains and those charming sunny beaches in one plan. Even though the trend has recently been realised by many U.S. travelers, it is rapidly spreading amongst the youth with a bucket list longer than an average human life-span!
Best Fire And Ice Vacation Ideas
A simple start to your fun vacation? Well, that doesn't sound right! How about an super-fun-packed vacay with everything in one go? So, here are a few spots that you must consider if you wish to try these amazingly blended vacation experiences.
1. California

Deserts and Mountains, both are peacefully coexisting in this US State with so many sights to behold, that you'll be spoilt for choice. That's right! A California experience should be a must when it comes to trying a fire and ice trip with your folks or even as solo travelers and backpackers. You can go skiing and snowboarding at the Big Bear mountain which is at a distance of 2 hours from the happening city of Los Angeles where you can get some sun-tan at the Malibu beach.
2. Argentina

There's no dearth of museums, European styled architecture and nature's charm hidden in the glaciers and parks in Argentina. What really makes it special though, is the fact that even the extreme weathers have their own extremities redefining the meaning of the term, 'fire and ice vacation'. A ski trip in Patagonia or Mar del Plata beaches or even a cruise trip to the Antarctic will make a perfect icing on the cake for your bucket lists!
Must Read: 10 Magnificent Places To Visit In Argentina To Explore The Best Of This Modern Metropolis!
3. Chile

Image Source
Not only is Chile a perfect blend of blending terrains, with Andes mountains in the east, Atacama desert in north and Pacific Ocean on the west, this South American land offer an insightful encounter with the folks living in the rural districts of the south. What can be better than to know more about the locals when you visit a foreign land? But, there's more to Chile than what seems and surely cannot be summed up in words entirely.
4. Iceland

Why Iceland? Well, because it has everything, literally. Imagine a place where you can climb a glacier, and if in case you don't like the cold too much, go for a hot spring bath? Well, in case you don't like either, and you're a water baby, try whale watching, snorkeling and swimming. Places like Blue lagoon, Golden circle, and Jökulsárlón will add more to your memorable holiday!
Suggested Read: 8 Indian Restaurants In Iceland: Savour The Flavorsome Indian Delicacies
5. Japan

Planning for a Japan trip? Well, now you have another reason to visit this country! The extreme tips of Japan, southern and northern offer the most extreme climates, thereby adding to the list of 'Fire and Ice vacation ideas'! Hokkaido in the north is dotted with hot springs, majestic mountains and when the snow bestows upon us its great strength during winters, ski your way along these peaks. Miyakojima island and Ishigaki Island provide the spot-on weather for those beachy vibes and island hopping!
Suggested Read: Japan In May: Explore The 10 Most Exciting Activities Japan Offers In May 2022
6. Hawaii

Yet another place to experience those extremities, is Hawaii. Head straight to Kona and Kohala for a soothing warm weather and witness a spectacular sunset in Kailua Village along the Alii Drive. Then comes the opposite weather of freezing cold at Mauna Kea which is covered with snow during winters. Here, you can book a sunrise trip and reach early to sit under a sky filled with stars. Still craving for more? Well, don't forget to get a glimpse of the Hawaiian culture and groove to the local music at Coconut Grove Marketplace.
Suggested Read: 16 Picture-Perfect Places To Visit In Hawaii In 2022 For A Dramatic Tropical Getaway
7. Indonesia

Did you know a tropical country like Indonesia has more potential for that trending 'Fire and Ice' experience than you thought? Several places like Jakarta, Kuta, Ubud and the famous tourist destination Bali combine together to give you a unique holiday- one that you'll cherish than any other. Visit a museum or two in the capital Jakarta or plan a few nights in Kuta for those party vibes and if you just wish to explore more of nature, wildlife, mountains, volcanos, lakes and temples, Bali is the place to be!
Suggested Read: 5 Yogyakarta Temples Which Give A Glimpse Of Indonesia's Architectural Heritage
8. India

With so many places offering that fine combination, India makes it to one of the best Fire and Ice Vacation ideas this year! In the land of abundant lush greenery, majestic mountainscapes, beaches and mesmerizing views, places like Kerala are worth looking forward to for this wonderful experience. This famous land of backwaters is not only the cleanest state in India, it is known as 'God's own country' for a reason! This places of herbs, spices, coconuts and elephants has something for every kind of traveler.
Further Read: Indonesia Nightlife: 10 Places Where You Can Experience The Ultimate High & Party Till Dawn
Did you also relate all these extreme places to King's Landing and North of the Wall, in Game of Thrones? Well, maybe it's time you try something new which relates you back to the popular TV series and pamper the wandering soul in you! After all, you get to have both worlds this way and there's nothing like a vacation well spent. When are you planning an international trip to try these 'Fire and Ice vacation ideas'?