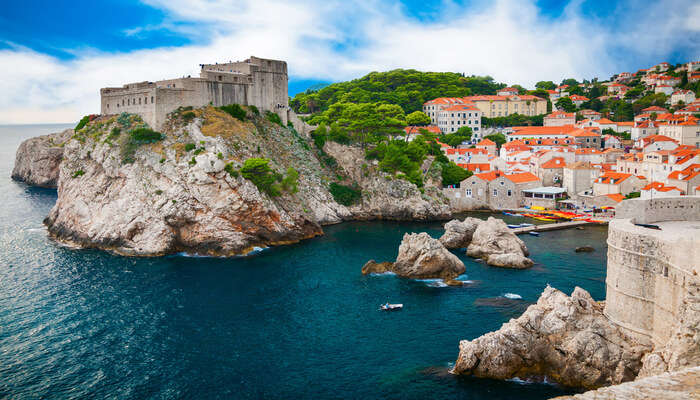 Isn't it interesting to hark back to the time when people fought with muskets, swords, bows, and cannons? Even though forts were built in the Middle Ages, a minuscule number of them is preserved today. The forts in Europe signify military capability, wealth, and power. It is interesting to recall that the greatest minds in the history of warfare designed them to withstand all kinds of attacks.
7 Epic Forts In Europe
We have created a list of forts in Europe of great historical significance. You will be impressed by their long and tumultuous heritage:
1. Tilbury Fort

Situated on the Thames Estuary, Tilbury Fort protected Europe from London's attacks in the 16th century during the Second World War. Henry VIII built the fort, and Queen Elizabeth the first positioned her army around it to face the threat of Armada. Considered as one of the most famous star forts in Europe, you can spend your time exploring the magazine houses used to store vast quantities of gunpowder. Apart from that, you can also enter the bastion magazine passages and feel what it was like for the soldiers who lived here.
Location: No 2 Office Block, The Fort, Tilbury, Essex, RM18 7NR, United Kingdom
Opening hours: Tuesday to Sunday (10 AM – 6 PM)
Entry fee: INR 500 for adults and INR 300 for kids
Must Read: 10 Churches In Netherlands Which Offer A Glimpse Of The Ancient Structures Of Europe!
2. Almeida Fort

Almeida Fort protected the town of Almeida from frequent sieges it faced throughout the centuries due to its location near the Spanish border. The marvelous defensive barrier was built in the 17th century at a time when the use of cannons was becoming commonplace. There are only two possible entrances, both of which are large, bomb-proof double gates that are accessible through bridges. It is one of the best forts in Europe to learn about the nation's gory history. 
Location: Almeida 6350-106, Portugal
Suggested Read: Indian Restaurants In Vienna: A Taste Of Home In The Heart Of Europe
3. Charles Fort

Charles Fort is one of the best surviving examples of a 17th century star-shaped forts in Europe. This architectural marvel was completed during the reign of Charles II. It remains open throughout the year. Regular guided tours of the fort are available too. It has two enormous bastions overlooking the Bandon river and three bastions facing inland. The fort was used by the military until 1922, after which they discontinued using it.
Location: Summercove, Kinsale, Co. Cork, Ireland
Opening hours: Monday to Sunday (10 AM – 6 PM)
Suggested Read: 7 Villas In Germany For A Luxurious Holiday In Europe You've Always Dreamed Of
4. Fort Douaumont

Fort Douaumont was built in around 1885, following the Franco-Prussian wars. With sophisticated weaponry and a position on high ground, it is a vital defensive barrier. In February 1916, when the battle of Verdun commenced, Douaumont was in absolute chaos. Citizens barged into Fort Douaumont to seek shelter, but German soldiers managed to infiltrate the fort and killed them. It is, hands down, one of the most famous forts in Europe. 
Location: 55100 Douaumont, France
Opening hours: Monday to Sunday (10 AM – 6:30 PM)
Entry fee: INR 230 for adults and INR 115 for kids
Suggested Read: Head To San Marino Now: The Fastest Growing Travel Destination In Europe
5. Golubac Fortress

Golubac Fortress sits on a rock above the Danube River. For centuries, it has remained one of the most imposing sights of Serbia. It is among one of the oldest forts in Europe. The fortress was constructed to guard a road which connects Central and Eastern Europe. Golubac is located in the vicinity of world-famous Derdap National Park. After a five-year reconstruction program, the fort opened its doors to the public in 2019.
Location: Golubac 12223, Serbia
Opening hours: Tuesday to Sunday (10 AM – 5 PM)
Entry fee: INR 386 for adults and free entry for kids
Suggested Read: 9 Lakes In Norway Worth Exploring On Your Dream Vacation To Europe
6. Tsarevets Fortress

The murals painted by local artist Teofan Sokerov in 1985 and the modern interiors of Tsarevets Fortress will take you by surprise. From the fort, you can take in the spectacular views of the surrounding hills of Sveta Gora, Momina Krepost and the overgrown Trapezitsa. There is a free admission each last Thursday of the month. Before leaving, stop by at the cafe situated at the foot of the fort for some light refreshments.
Location: Tsar Asen Square, 5000 Veliko Tarnovo, Bulgaria
Opening hours: 8 AM – 5 PM
Entry fee: INR 236 for adults
Suggested Read: 10 Best Norway Restaurants To Try All Delicacies On Your Next European Vacation!
7. Château de Commarque

Château de Commarque lies between Sarlat and Les Eyzies in the valley of the River Beune. The walls of the fort are covered with prehistoric art. It houses a Carolingian chapel, a prominent medieval keep, and numerous supporting structures. It stands at the crossroads of two important routes – one from Brive to Bergerac and the other from Perigeux to Cahors. The fort was abandoned and completely covered in brambles until it was rediscovered in the 1970s.
Location: 24620 Les Eyzies-de-Tayac-Sireuil, France
Opening hours: Monday to Sunday (10 AM – 8 PM)
Further Read: Malta Travel Guide: All You Need To Know For A Unique Yet Exotic Vacation In Europe
The credit of turning forts into tourist hotspots that everyone scrambles to visit goes to the popular TV series Game of Thrones. If you're as intrigued by the folklore and natural history of Europe as we are, make a beeline for these forts in Europe. Some of these fortresses are known for their artistry, some for their glorious past, and some for their stunning views. Visit Europe with TravelTriangle to go back in time.
People Also Read
Places To Visit In Hungary Places To Visit In Ukraine Forts In Maharashtra
---
Looking To Book An International Holiday?
Book memorable holidays on TravelTriangle with 650+ verified travel agents for 65+ domestic and international destinations.
---