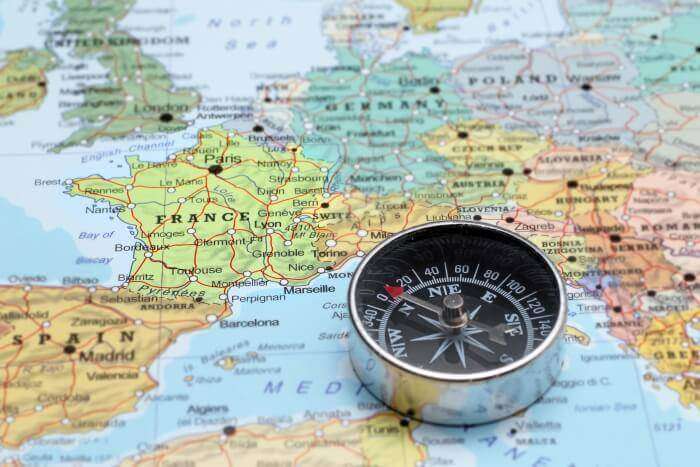 France, the nation of Eiffel Tower, is often considered the symbol of love around the world. Famous for its art, architecture, and culture, France has different kinds of beauty to explore for tourists. You can visit the Alps in the north or go to the beaches in the South, hike, swim, snorkel or fish – the country has something for everyone. Apart from the regular touristy things to do like visiting the Louvre or Versailles Palace, the nation also has a number of happy surprises wrapped under its belt. If you are a connoisseur of food, fashion, and beauty, France will never disappoint you as a tourist destination. There are some basic France travel tips that you should, however, keep in mind before traveling to the country to ensure a smooth and happy vacation.
10 Handy France Travel Tips
For example, French people frown upon loudness in public places! Another such handy travel tip to take care of in France is to know that most museums are closed on Tuesdays. Read on to know more about such exquisite France travel tips which will help you in having a great French vacation.
1. Learn basic French words to be polite

One of the most basic France travel tips is to remember to pepper your language with French words. As a rule, never start a conversation with a French person in English straight away. You can pick up basic, easy French words which will work like magic while traveling around in the country. For example, Bonjour is hello. While greeting someone, try to spark the conversation by saying Bonjour. Merci, which means thank you, is another basic French word you can use in your daily conversations. You can of course switch to English when you have said the magic words, but try to use these icebreakers as often as possible as they work!
Must Read: French Coastal Towns: A Breathtaking Journey Along France's Mesmerizing Coastline
2. Keep your wallet tucked away in all situations

Given the touristy place that Paris is, it is imperative that you carry your wallets and other essentials close to you carefully. The bigger tourist venues have pickpockets who are extremely good at their jobs, so do not ever carry your wallets in the back pocket. Think places like Louvre, subways or other museums and restaurants – it is wise and safe to carry a bag, with all the valuables stuffed inside, in front of you, is the way to travel when in Paris. Believe us this is the most important of all Paris France travel tips!
Suggested Read: Scuba Diving In France: Get Your Gear Out For A Transcendent Underwater Experience
3. Stock up on all the great French pharmacy products

For those of you who prefer traveling light, France is a haven. The famed pharmacies of the country carry fragrance-free cult products – from face cleansers to shampoos and what not. This means you can travel without much ado easily to the country. As a rule, shops in France start closing down by 7 P.M. so do take care of that. It also means that when in France, you should definitely stock up on all the products that you need while traveling or in general, if you are a beauty and skincare addict!
4. Take the subways when you can and avoid when you cannot!

France is extremely well connected by trains, which is why France train travel tips never go out of fashion. Try to get a MetroCard, which is an economical way to move around Paris. However, do note that you do not need to book the tickets in advance. All local stations (in Paris and nearby places – usually 30 minutes away) have self-service machines and ticket vending offices, where you can get tickets easily. One of the most important France train travel tips is to remember to avoid taking the train from the CDG international airport. As a rule, French subway stations have too many stairs, which means you would end up having to carry all your luggage all alone after a grueling, long flight. Add to that the nightmare of figuring out the confusing subway routes, which is something you do not want to do on your first day in Paris.
Suggested Read: 13 Festivals In France That You Cannot Afford To Miss On Your Visit To L'hexagone
5. Call 112 in case of an emergency

In France and other European countries, the emergency number is 112. You should call straight away if you are in a dangerous situation. Remember this number works on landlines as well as payphones. You can also dial 15 if you are having a medical emergency, 17 in case you need the police and 18 if a fire brigade is needed. It is also important to mention your emergency contacts in your phone or travel diary if you are traveling solo. In any case, always keep emergency numbers on your phone while traveling to foreign and strange lands.
6. Dress up and shop till you drop

No article on France can be complete without mentioning fashion and shopping. These are the two things the French are known for. If you are traveling to the country, especially Paris, during fashion week, you are in luck. If not, you can still visit stores of iconic brands like Chanel, Yves Saint Laurent, and many more in Le Marais area or other high-end fashion districts.
It is also important to dress up while stepping out in France, specifically when you are dining out. One of the most basic Paris France travel tips is to pack smart casuals (think LBDs for women) in your suitcase. People usually do not wear jeans, sweatpants or extremely short shorts while in public in France.
Suggested Read: 10 Exotic Wildlife In France That You Can Spot On Your Vacation
7. Do not forget your passport/picture IDs at the hotel

As a step to tighten security, regular checks take place in cities like Paris around malls and other places. It is important thus to carry a picture ID on you at all times. You should also have your passport handy as you are required to present it when asked for. It is important to cooperate with these checks from time to time and be patient while handing their questions. Do not forget these basic South of France travel tips, as they are as much of a lifesaver as the language is. Anyhow, forgetting your passport at the hotel would be sheer foolishness on your part.
8. Remember South of France can be visited any time in the year

One of the most beautiful and glamorous parts of France, the South of France or French Riviera, stays pleasant when it comes to the weather all year round. Think places like Cannes, Monaco and Côte d'Azur. You can travel to these beautiful towns for a Mediterranean vacation any time of the year. Go for smaller rental cars as the villages here have narrow alleys, look for unknown places which are not as crowded, put your hair down and relax. There are public as well as private beaches here for you to enjoy your vacation to the best, so feel free to experiment. After all, that is what the French spirit is famous for!
Suggested Read: 21 Best Places To Visit In France In Winter 2022
9. Adapters are a MUST

Like most European countries, the adapters in France are a little different from the rest of the world. The devices here work at 230 V and 50 Hz. This means you have to carry an adapter with you. Most such adapters are available at airport shops so remember to buy a pair before setting foot in Paris. After all, charging your devices and staying connected is one of the biggest hassles while traveling. So, make sure you have made arrangement for such adapters beforehand. Going there without one is a disaster waiting to happen.
10. Cheese and wine is the way to go

When in France, do as French do! Pairing cheese and wines are one of the best ways to experience the French culture. You will find different types of wines in the local cafes and bars in Paris. One of the basic rules about cheese is the fact that the worse it smells, the better it tastes. South of France is a good place to try mulled wines, especially during Christmas. While it isn't a must, not doing so might raise a lot of local eyebrows, which we are sure, you don't want. You can also go for wine pairings in good restaurants in Paris to get started with your French affair!
Further Read: France Nightlife: Learn The French Way To Get High On Life
It is advisable to read up about the country, its culture and the regions or towns that you are going to visit during your vacation. France travel tips mostly come in handy while traveling in other parts of Europe as well. If you are planning a French holiday soon, do check out our portal and plan your trip with us to avail best deal possible!
---
Looking To Book An International Honeymoon?
Book memorable honeymoon on TravelTriangle with 650+ verified travel agents for 65+ domestic and international destinations.
---