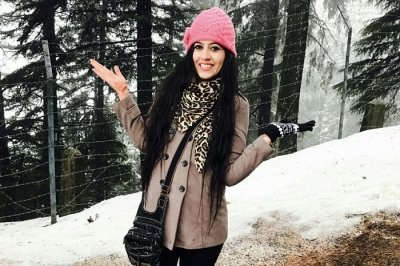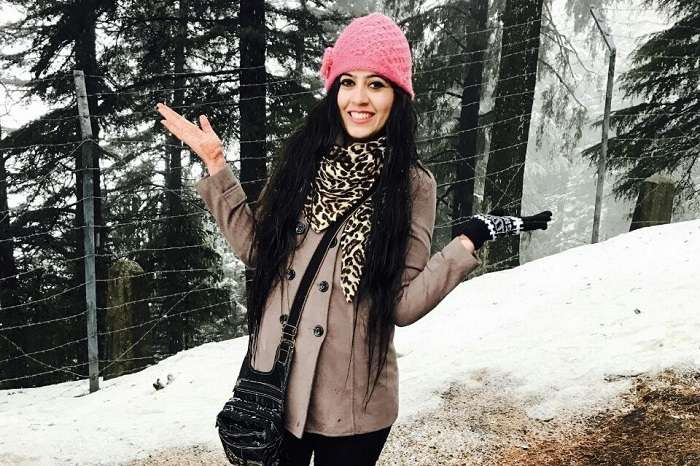 Wanting to make the most of the long weekend, Geetika embarked on a journey to Dalhousie with her four friends for the sheer love of snow. They wanted to witness snowfall and the phenomenon that they experienced on their weekend trip to Dalhousie was beyond their imagination and expectations. Post a little blast from the past, here's what Geetika wrote about her wonderful weekend experience.
Trip Type: A trip full of snow and BFFs
Duration: 2 nights 3 days
Budget: INR 5,499/- per person
Destination: Dalhousie and Khajjiar
Inclusions: Transfers, accommodation at Satyam International Hotel, breakfast and dinner, local sightseeing and trek to Khajjiar
I have been a frequent traveler ever since my college days. The only difference is our trips were long back then and are short now. Due to time constraints, I prefer weekend trips now and I couldn't have missed the Republic Day long weekend.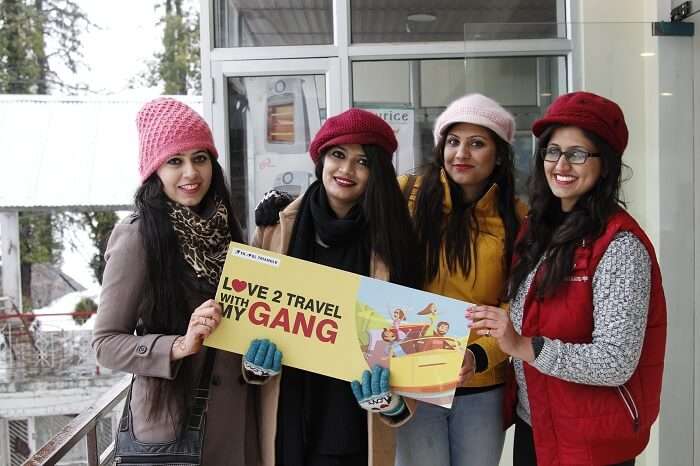 Suggested Read: Rupanshi's First Ever Trek On A Weekend Escapade To Dalhousie Instilled Insatiable Wanderlust In Her
While I was still thinking about traveling over the weekend, I came across TravelTriangle on Facebook. As it was a long time plan to witness snow, I and my three other friends decided on Dalhousie for our weekend trip.
How It Began?
We did put in a query after reading a lot of good reviews on TT's Facebook page. We received a good response post initiating a request and eventually booked our weekend trip to Dalhousie.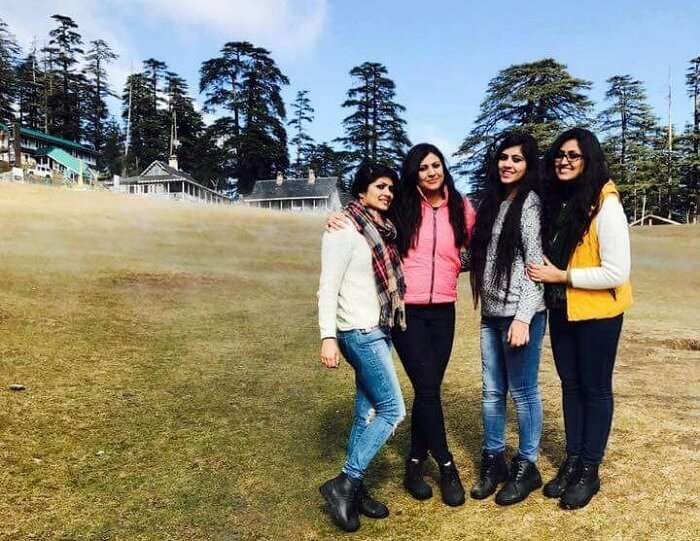 This was our first trip with TravelTriangle and for the first time we were about to join a different group altogether. As excitement increased, we only hoped for the best and looked forward to the journey. On the night 25th January, we boarded our bus from Majnu ka Tila and started the journey by 7.30 pm.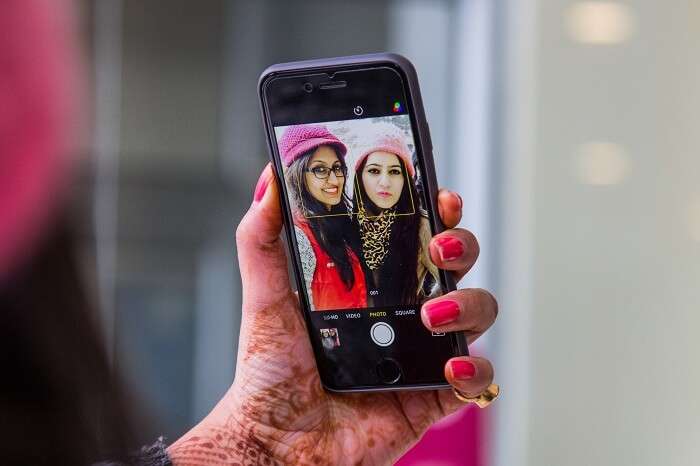 As soon as we started out, one of the coordinators Prateek broke the ice and made sure everyone on the bus got to know each other and no one was bored. Since it was a long journey ahead, he engrossed everyone into playing games, dancing, singing and in no time, everyone was chattering and gossiping away.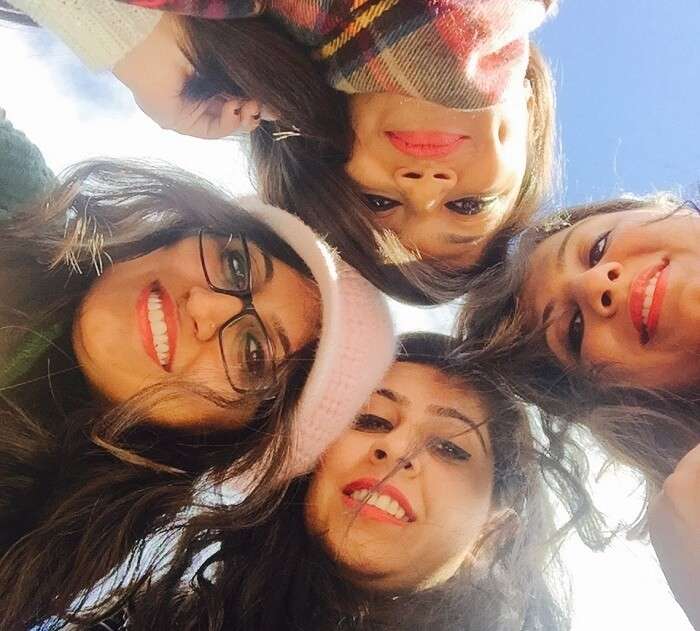 Later we stopped for dinner at the Divine Restaurant and in the morning we reached Dalhousie by 6 am. As much as we were skeptical about going on an all girls journey, we were now sure that this trip was going to be an incredible one.
Finally, Dalhousie Happened!
It was our first day in Dalhousie. We checked into Satyam International hotel. The breathtaking views of snow-clad mountains from the hotel were totally mesmerizing. We quickly freshened up and started out by 10.30 am post breakfast.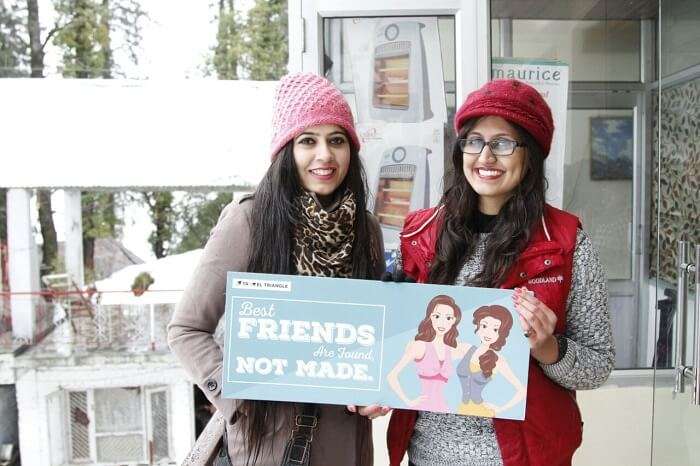 Suggested Read: 10 Alluring Places To Visit In Dalhousie
As we began our short trek to Kalatop which is one of the top points in Dalhousie, we were amazed to see snow everywhere and our first reaction was, WOW! It was not such a long trek but everyone took their own time as the snowfall was quite heavy.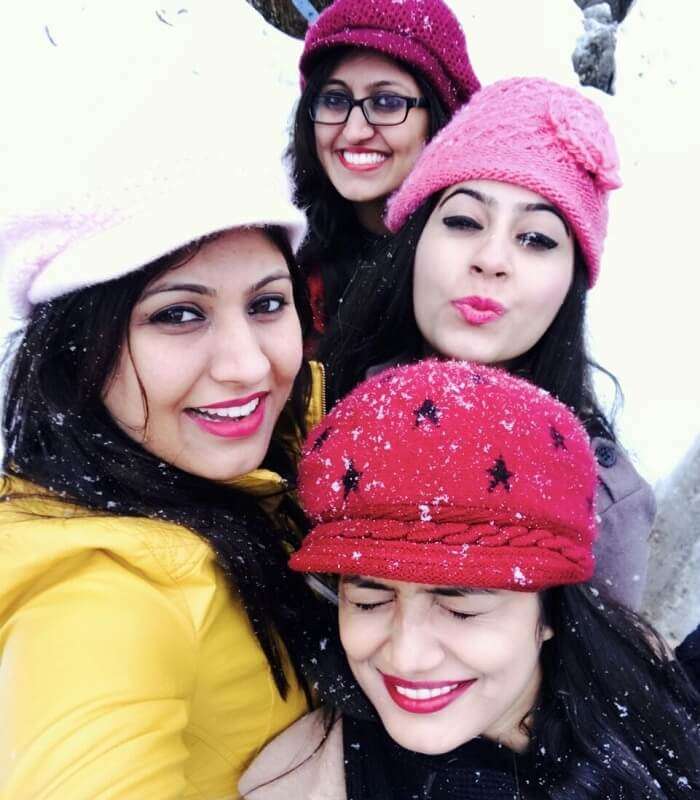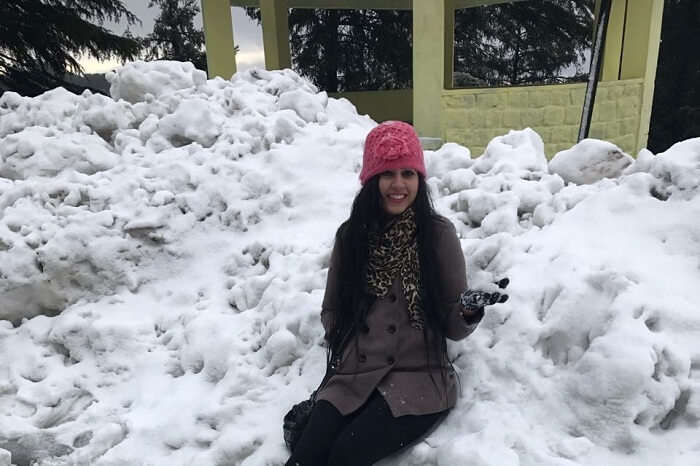 We played in the snow and spent good 4 hours at Kalatop. It was already dark when we came back in the evening post which, we all had a sumptuous dinner at the hotel and called it a night.
Trek To Khajjiar
The second day was booked for our trek to Khajjiar and we started out by 9 am post breakfast. Living up to the tag of Mini Switzerland of India, it took us about 3 to 3.5 hours to reach Khajjiar.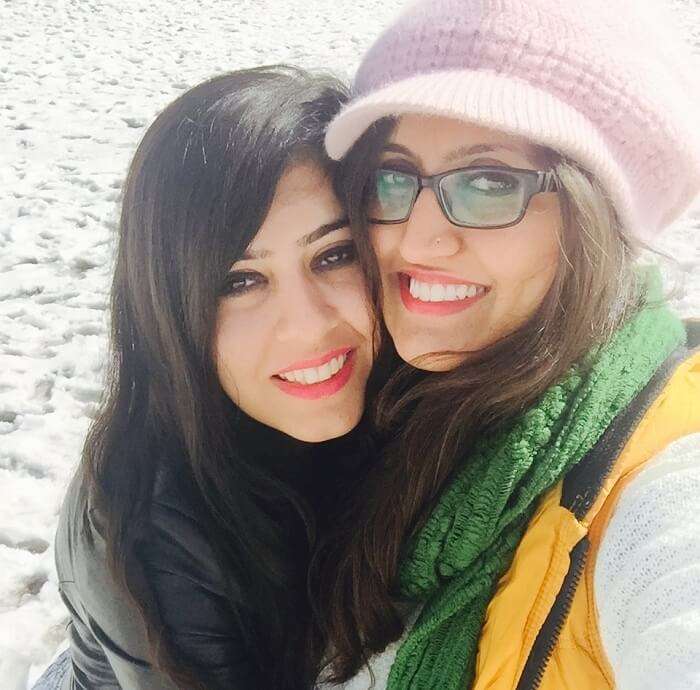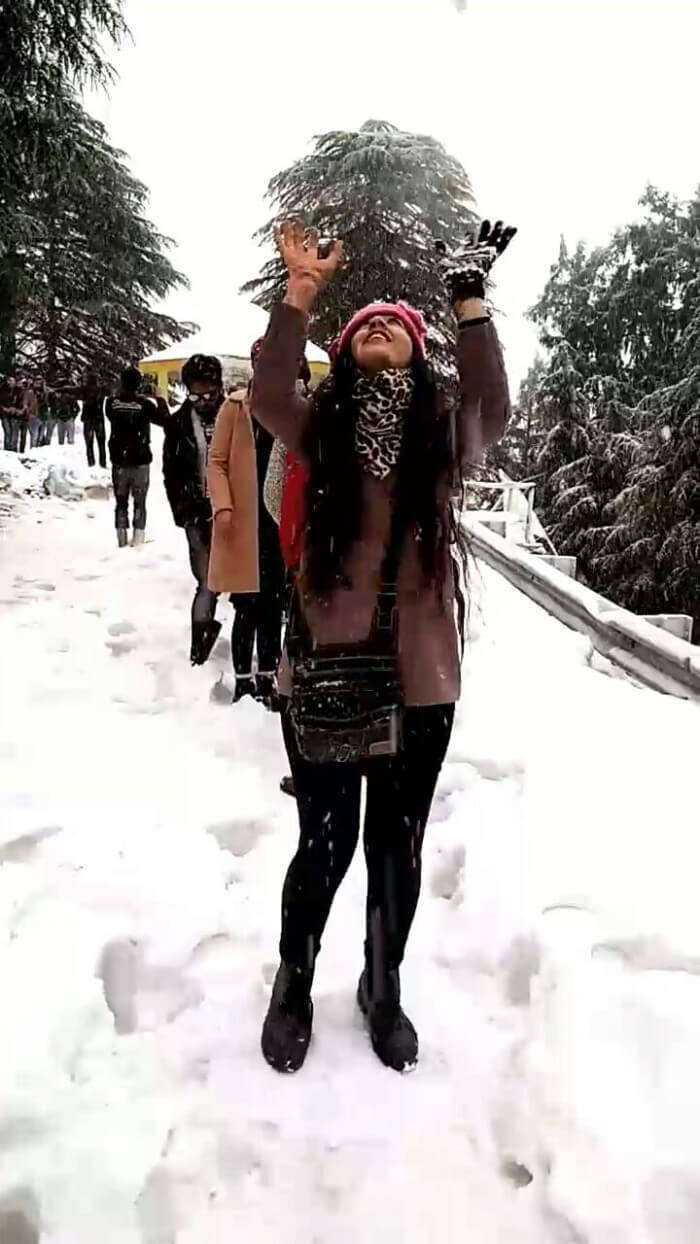 We reached the site by 12.30 pm and it was the most beautiful sight we had witnessed so far on the trip. The entire valley was covered with snow and Himalayas never looked so beautiful before. We spent good 4 hours in Khajjiar. A lot of other travelers also enjoyed fun activities like mini paragliding and horse riding.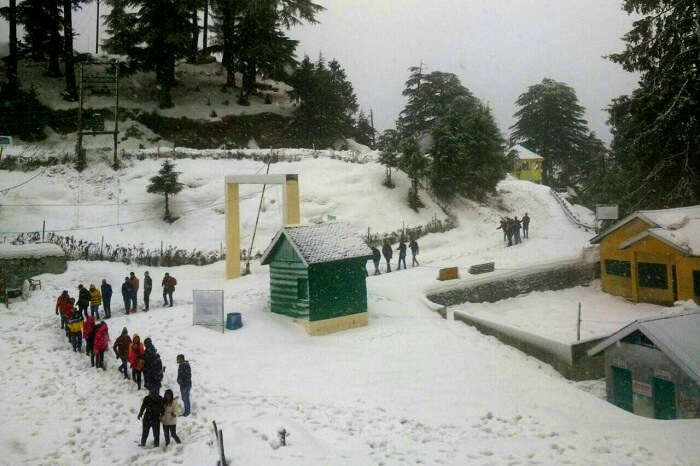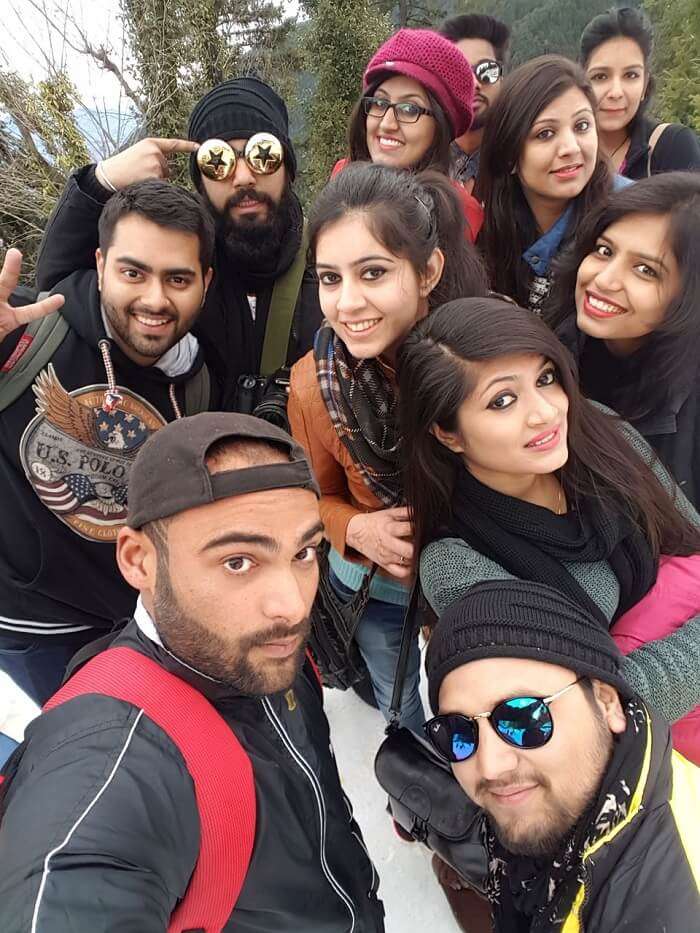 Suggested Read: Go Paragliding In Khajjiar For An Exhilarating Hilly Weekend Retreat
We could feel the crisp air as we were heading back to the hotel all excited for the bonfire night. We got ready for dinner and when we went for the bonfire, it was the most beautiful night of my life to have witnessed a bonfire in middle of the snow.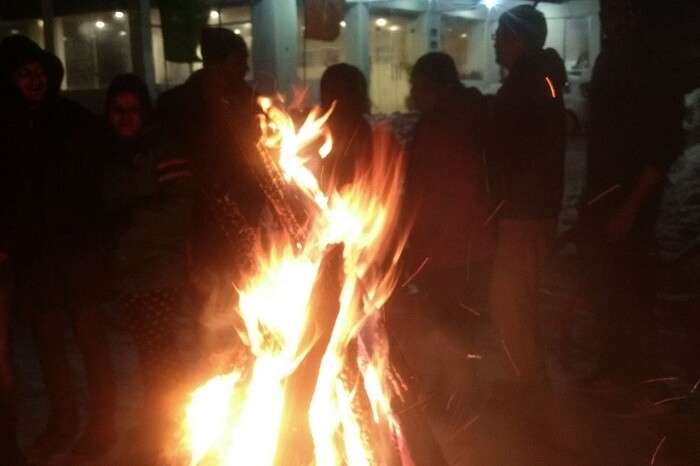 On top of it, the crystal clear night sky opened its wardrobe and millions of stars showed up. We couldn't have asked for more. It was that beautiful. Soon everyone got talking, gossiping and dancing around the bonfire and it was indeed the best night of our trip.
Last Day In Dalhousie
On the third day, we checked out in the morning and proceeded for breakfast. The day was all chilled out and we moved at a slower pace compared to the past 2 days. We went for local sightseeing in Panch Pulla.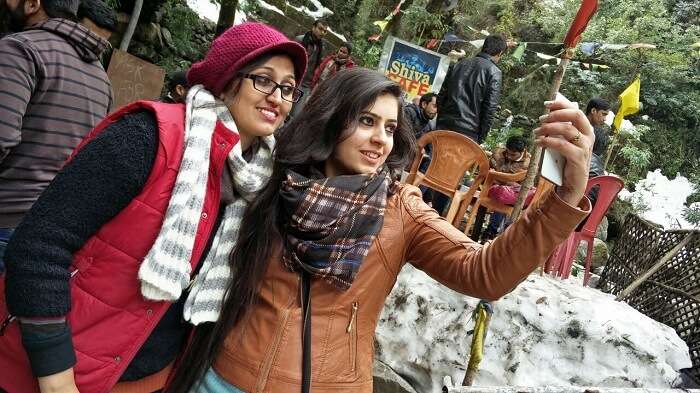 We also thrilled ourselves by taking part in ziplining and river crossing activities. Later we also visited a Shiva cafe near Satdhara Falls. Amidst good music, we relished some delicious food and went on to explore the Mall Road of Dalhousie for shopping before we set on journey back to Delhi ny 5 pm.
Our Experience With TravelTriangle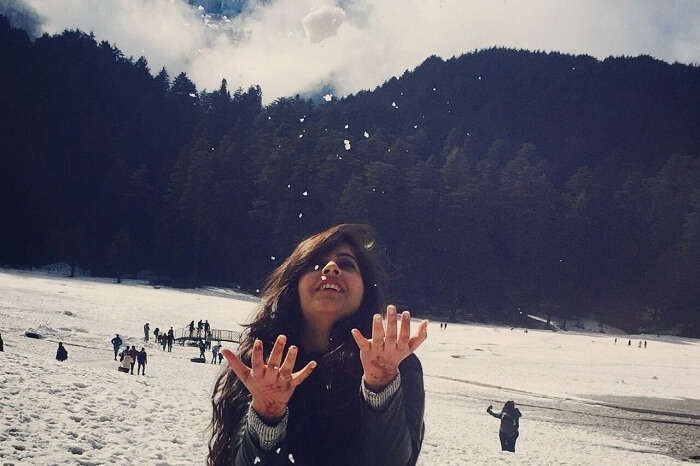 We were wondering how this trip will be and to our surprise, TravelTriangle not only lived up to our expectations but also made sure that the girls felt safe throughout the trip.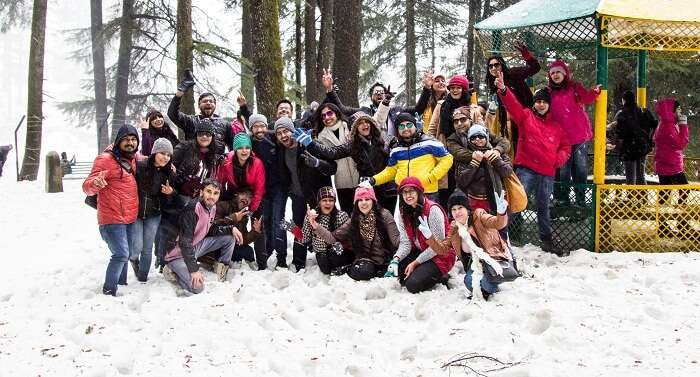 Traveling with strangers can be daunting but TT completely changed our perspective and our fellow travelers were completely polite, humble and courteous.
My experience would be incomplete without giving a special mention to the coordinators Suresh, Prateek and Kunal the photographer for making this journey worthwhile. I would highly recommend TravelTriangle to the future travelers and I cannot wait for my next trip with you guys. Cheers!
Wows of Our Weekend: The snow, bonfire & the starry night!
Low Points: None at all.
Tips For Future Travelers: If you are visiting in January or in winters, pack heavy and carry as much as woollens possible. It doesn't matter how much you carry, it always seems less in Dalhousie.
Want a similar experience? Book amazing weekend escapades with TravelTriangle and let the adventure fill your soul.
Comments
comments