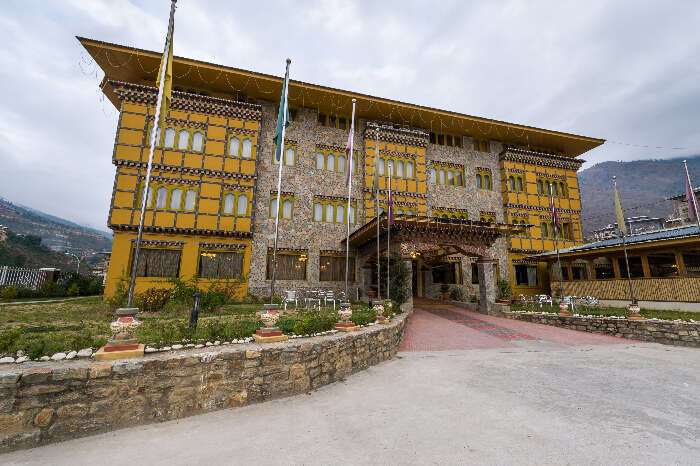 Thimphu is a rather peculiar and a different kind of a place where one must go to explore and unravel its secrets and beauty. A home to approximately 1,00,000 inhabitants including the Royal family, it is the most modern city in Bhutan. Moreover, Thimphu is the only capital city of the world that does not use traffic lights, rather there are some policemen standing at the major intersections. You just plan your vacation and don't worry about the stay as you can choose from these guest houses in Thimphu we have filtered out for you.
Top 4 Guest Houses In Thimphu
A perfect blend of ancient tradition and modern activities make Thimphu an ideal place for a vacation among travelers. So, have a look at this list before booking out a staying place for yourselves!
1. Namgay Heritage Hotel
Want a luxurious and a comfortable stay in of a classic and a quaint guest house? If yes, then we have something for you. Namgay Heritage Hotel is one of the finest guest houses in Thimphu Bhutan that offers many services and facilities to ensure a comfortable and a luxurious stay for their visitors. Being located in close proximity from the heart of Thimphu, Namgay Heritage Hotels is among the few heritage hotels that Bhutan houses. The place has a different kind of staying arrangements as per their customer's requirements which vary between suites and family rooms. Having received bonus points for its iconic location, cleanliness and its great service, the place often remains a preferred choice among the visitors. The property houses different structures keeping in mind the needs of the travelers which included a conference hall, a health center and Thimphu bakes where you can sit back and relax or do your work or just enjoy the beauty of the place. In terms of the many facilities that the place offers are the free high – speed Wi-Fi, free parking, dry cleaning, a bar/ lounge, a restaurant, and a spa. Talking about the staff of the hotel, it is a team of warm and friendly individuals who are very much dedicated towards their work and always keep in mind their customer's comfort. So, the room service is undeniably fast, accurate, polite and very professional. Staying at this place ensures a happy and a memorable time among warm and welcoming surroundings.
Location: Thimphu Bhutan
How to reach here: A 20-minutes car drive from the Paro airport
Must Read: Burning Lake: A Pocket Guide To Soak In Absolute Tranquility In Bhutan's Religious Site!
2. Himalayan Kisa Hotel
Are you looking for one of those guest houses in your Thimphu tour which provides high-end facilities and is also a bit budget friendly? If yes, then Himalayan Kisa Hotel is a place just for you. Providing great facilities this cheap guest house in Thimphu has recently been taken over and managed by Himalayan Hotels and Lodges which is a famous hotel management company from the Kingdom of Bhutan. With the take-over, the place has undergone a complete makeover as all the amenities have been upgraded and the quality of the services given improved. These changes have brought a drastic rise in the cleanliness and service ratings of the place too. Other facilities include free parking, laundry services, room service, and conference facilities. This family-classic hotel provides many facilities including free parking, free high-speed public Wi-Fi, dry cleaning services, meeting rooms, a restaurant, and a bar/ lounge. Apart from the high – end facilities, the place ensures that you enter the hotel to a warm and friendly team of staff. After the takeover, even some changes are made in the previous staff of the place. Therefore, be rest assured as in the name of the hotel staff you will have a team of dedicated and professional individuals whose main motive is to cater to the needs of their guests.
Location: Chang Lam Road, Thimphu 001213, Bhutan
How to reach here: A 20 to 25 minutes car drive from the Paro airport
Suggested Read: Backpacking In Bhutan: A Thrilling Experience For All The Travelers
3. Yeedzin Guest House
Yeedzin Guest House in Thimphu Bhutan is a family – run guest house which was founded in 1997. This well – established guest house has been providing great hospitality services for almost twenty long years and has hence earned a high reputation in the eyes of the travelers. Recently since the Guest house has been renovated, the demand of the place has all the more increased. The place provides a perfect combination with a blend of modern amenities with traditional Bhutanese architecture. Staying here will allow you to have a truly authentic cultural experience amidst natural surroundings which have been adorned with the best of the local flora. The place has a variety of rooms according to the needs of their guests which range from Deluxe suites to modest single rooms. Also, every floor has a free high – speed Wi-Fi facility which lets you be connected to your social life easier. Apart from these, the guest house also has a restaurant which provides a unique Bhutanese dining experience to the visitors which is adorned with the display of traditional Bhutanese crockery, paintings, and textiles. There is even a handicrafts store at the guest house which retails a large range of Bhutanese products, their very own handbags, backpacks and purses which are made of leather and Bhutanese textiles. To ensure a healthy and relaxing stay for the guests the place even houses the Pure Vision Sorig Center which is a tradition Bhutanese Healing and Wellness Center. In short, a stay at this place will surely give you one of a kind of experience and knowledge.
Location: Jangchub Lam, Thimphu 00975, Bhutan
How to reach here: A 20 minutes car drive from the Paro Airport
Suggested Read: Sakteng Wildlife Sanctuary: Wander Into The Wild In Bhutan
4. Bhutan Suites
Want a quiet and comfortable place which is perfect to restore the piece of mind? If yes, then Bhutan Suites is the place for you to go to. Bhutan Suites is one of the Thimphu Guest houses which is tucked away in solitude. Away from the noise, traffic and the madness of the city life, the place gives calm and peace to the mind along with wonderful sweeping views of the Thimphu Valley. The Suites are designed in such a way that they have turned out to be the ideal mixture of traditional Bhutanese style and modern designs. The place offers a fine and spacious dining area, a bar, a relaxing tea lounge, free high – speed Wi-Fi, free parking service, attentive room service, laundry service, dry cleaning service and a currency exchange service which comes in quite handy for the foreign travelers. This mountain view guest house has even received a certificate of excellence and is an all-time favorite among the travelers. With such high ratings, high-end facilities, great services, and stunning views it is really hard to miss this beautiful guesthouse. True to its high rating this quaint guest house is truly charming. With a team of dedicated and friendly professionals, the place ensures that every guest at Yedzin is personally attended and taken care of.
Location: Deki Lam, Thimphu Bhutan
How to reach here: A 20 minutes car drive from the Paro Airport
Further Read: Top 10 Honeymoon Places In Bhutan In 2022 To Fall In Love All Over Again!
Once in Thimphu, you can totally understand the Bhutanese culture as it is fully reflected in their religion, customs, dresses, monastic practices, music, dance, literature and many more. The whole place speaks loudly for the rich culture and religion of Bhutan. Once there, hit any of these guest houses in Thimphu. This place gives its visitors many reasons to break their Bhutanese itinerary and immerse themselves in the surroundings of this beautiful capital city of Bhutan. Other than the culture and religion, the place has many major attractions for you to go and visit.experience as well as the guest house where you stayed!
---
Looking To Book A Holiday Package?
Book memorable holidays on TravelTriangle with 650+ verified travel agents for 65+ domestic and international destinations.
---