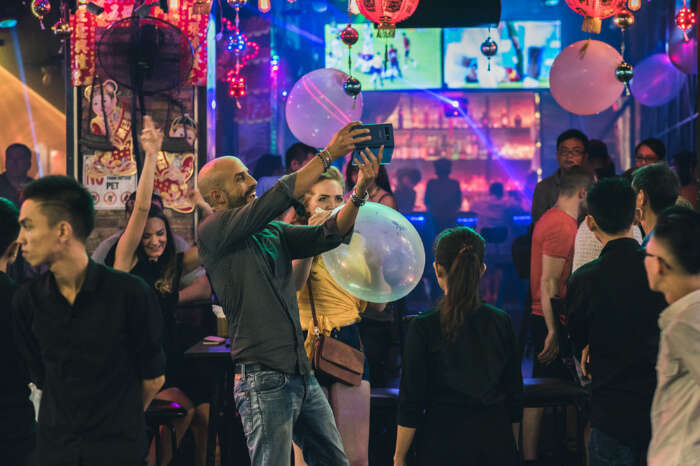 Hai Phong, the 3rd largest city in Vietnam, has been the visitor center for its gorgeous coastal beaches. Hai Phong nightlife is the town which never sleeps. If you commute a little to Minh Khai District, you can enjoy all sorts of entertainment and leisure. You can also find fascinating options for pubs, discos, food joints, restaurants, nightclubs, karaoke joints, etc. Hai Phong may not be as large and congested as other Vietnamese party towns, but it could guarantee you the finest nightlife ever. The Hai Phong nightlife may not be as successful as Hanoi–just a few hours' drives away. But if you explore a tad, particularly in the Minh Khai district, there are all kinds of options.
12 Best Hai Phong Nightlife Places
The previously mentioned bars, nightclubs, discos, and karaoke joints can be found while the live music scene is becoming more prevalent and more active in recent times. This is a surprise, given that Hai Phong is not a big party city. Although it is true that almost all companies close their doors early, after midnight there are some places that remain open. Visitors simply have to question and your hotel tour or reception desk is the best source. You should be able to get to the coolest place for a wild night out.
The Fox
New Maxim's (formerly Friendly Club)
Texas BBQ and Bar
The Lounge Bar at Harbour View Hotel
F. Beer Club
Heaven Lounge
MDM Music Club
Tom Karaoke
Central View Coffee Lounge
Buzz Pub
Cheers Pub
May Pub
1. The Fox

The Fox - located on the front of the street of 37 Van Cao Street with the unique architecture and open view space, has an interior designed with impressive white orange color. The fox is an extremely curious place. At Fox's front door, you have to go through a mysterious corridor. Rest assured, you will have a very beautiful staff instructed to help you on the 2nd floor. Admire the enthusiasm, freshness of the service staff and the blending skills of bartenders. The Fox is exactly what Hai Phong youth needs in a bar: Modern Décor, which gathers EDM-style DJs: "Hip-hop, Trap & G House". The air will explode with dancing and swaying, as you immerse in the world of music, separated from the outside world, to live in the passion of the nightlife.
Location: 37 Van Cao, Hai Phong 180000, Vietnam
Contact: +84 90 410 50 30
Entry fee: 30 dollars
Must Read: 10 Exciting Things To Do In Hai Phong For A Fun Vietnam Getaway In 2022
2. New Maxim's (formerly Friendly Club)

The nightclub New Maxim's Bar first welcomed guests in mid 2010The original Friendly Club on Dien Bien Phu Street is replaced and is part of a two-star hotel with the same name. Look out for their big yellow and red sign with an enormous green Carlsberg logo, you can't miss it. Live music is also available.
Location: 31 Dien Bien Phu Street in the city's busiest district
Contact: +84 (0) 313 746 540
Entry fee: 25 dollars
3. Texas BBQ and Bar

The Texas BBQ and Bar is a global arena that serves prevalent western dishes, ranging from pizza to barbecue, rib - eye steak and lamb. Furthermore, if you like some Mexican food, that is the place to go. Texas desserts also have a great reputation and it is advised that frying bananas, pineapple crepes, and chocolate tart should be ordered. The bar segment is never short of intriguing drinks and cocktails such as caipirinhas, margaritas, bourbon, and wine, imported.
Location: 22H Minh Khai
Contact: +84 (0) 31 3822689
Entry fee: 25 dollars
Suggested Read: Phu Quy: A Handy Guide To Traverse Through This Scenic Land Of Abundant Bliss In Vietnam!
4. The Lounge Bar at Harbour View Hotel

The graceful colonial Harbor View Hotel is a prime site not only to enjoy a leisurely superb dining experience but also to admire the music. The Lounge Bar includes live piano music and a pleasant atmosphere. It's the place where many regional expats meet for cocktails and beers.
Location: 4 Pho Tran Phu in the city center
Contact: +84 (0) 31 3827 827
Entry fee: 24 dollars
5. F. Beer Club

F1 Beer Club is Hai Phong's first beer drinking venue, with carbonated and drawn beer from countries like Belgium, Germany, Czech Republic, Slovakia, the Netherlands, Denmark, and Mexico. They almost always introduce new beers. Join them for a delectable meal and beer in Europe or Vietnam while enjoying your favorite sporting event on one of the many video screens.
Location: So 2 Minh Khai, Hai Phong 35000, Vietnam
Contact: +84 90 202 90 68
Entry fee: 30 dollars
Suggested Read: My Khe Beach: A Handy Tour Guide To This Picturesque Land In Vietnamese
6. Heaven Lounge

The Heaven Lounge is the getaway of youngsters with the newest bar style in Hai Phong. It insists to be very well-vested and thoughtfully organized for young people's whims. They are committed to building a radically new wind for the Hai Phong bar market with the following characteristics: delicious food, fine drinks, good atmosphere, and music. They also call budding DJ's and singers for special functions.
Location: ĐườngVòngHồ Sen, Hai Phong, Vietnam
Contact: +84 31 3852 852
Entry fee: 35 dollars
7. MDM Music Club

The MDM Music Club is incredibly famous and well known to the Hai Phong residents. The MDM Music Club is wonderful and enjoyable with an opulent space, modern 3D stage decoration in Led, an incredibly light sound system and a place for many DJs and singers, with seasoned and refined staff. In fact, MDM is a getaway on anybody's must - go list when it comes to Hai Phong because people can fully embrace the entire city at night right here.
Location: 53 Lach Tray Street - Ngo Quyen District - Hai Phong– Vietnam
Contact: +84 90 263 63 63
Entry fee: 30 dollars
Suggested Read: Binh Ba Island: A Guide To Traverse Through This Majestic Vietnam Island In 2022
8. Tom Karaoke

Tucked away on Bui Thi Xuan Street, Tom Karaoke stands out with a contemporary elevator building of 250m2 x 5 floors and a parking area of 150m2. It has 3 types of room for you to choose from: a small room (4-15 persons), a medium-sized room (15-30 persons) and a unique sizeable room with a capacity of more than 70 persons. Tom Karaoke engages in the construction of modern, synchronously imported specialist equipment from the USA. The hum of each music lyric is always vibrant, so when you listen to the individual on stage who shows his singing talents, you can't help but obey the music, clap your hands eagerly when the song ends and wait to be the next singer.
Location: 288 TônĐứcThắng, An Thái, An Dương, HảiPhòng, Vietnam
Contact: +84 93 353 49 99
Entry fee: 32 dollars
9. Central View Coffee Lounge

The Central View Coffee Lounge is located in the most favorable locale in the heart of Hai Phong City and offers an unrivaled view of Tam Bac Lake and Central Park. You can relish the cozy and private atmosphere in the lounge or sit back, relax and enjoy the fresh air and the great outdoor view. The Coffee Lounge has excellent tastes in music and excellent drinks. Events like birthdays, meetings and random parties with Dj's are also available!
Location: 4th Floor, Central Tower | 43 Pho Quang Trung, Hai Phong 35000, Vietnam
Contact: 84095735555
Entry fee: 25 dollars
Suggested Read: Visit Ho Chi Minh Mausoleum To Pay Homage To The Great Father Of The Vietnamese Nation
10. Buzz Pub

Buzz Pub is a conventional Irish - style pub–a world - famous brand with its distinctive persona. It has a long bar with skilled bartenders, beer and other drinks and light food. In addition, the band performs familiar songs that are filled with their world famous improvisation but a tad mellow, and guests can enjoy freshly imported beers.
Location: 27 Hoang Van Thu Street, Hong Bang District, Hai Phong 35000, Vietnam
Contact: +84 31 3515 266
Entry fee: 20 dollars
11. Cheers Pub

Sit back and enjoy the friendly atmosphere of the pub. Select from global drinks and snacks to accommodate your preferences. Avid fans of sports? Rejuvenate with a cool beer for the latest international sports events in front of the large screens. You won't miss anything.
Location: 12 Tran Phu | AVANI Hai Phong Harbour View Hotel, May To Ward, Ngo Quyen District, Hai Phong, Vietnam
Contact: +84 225 3827 827
Entry fee: 18 dollars
Suggested Read: 11 Hostels In Hai Phong That Truly Reflect The Diverse Culture Of Asia
12. May Pub

May Pub has 3 floors, 4 separate rooms, 1st floor with a bar and lively DJ music, 2nd floor with a tiny room with K-pop, a large room with buffet music and magical dance lights. The third floor with lounge chairs spreads luxuriously and comfortably and has a connection to the second floor for teenagers tired from the K-pop. With the desire to bring a healthy atmosphere to Hai Phong youth, May pub has 500m2 of space, excellent light sound, cool drinks, and quality assurance. The bartender here is very carefully trained in food safety. You will definitely have a great experience here.
Location: 81 haibatrungHai Phong, Vietnam
Contact: +84 225 3736 988
Entry fee: 35 dollars
Further Read: Hon Chong Beach: What Makes This Stone Beach In Vietnam An Ideal Place To Relax In 2022?
If you are a denizen of the night, and in dire need of some nocturnal entertainment on your vacations, plan a trip to Vietnam and pay a visit to the country's Hai Phong, which is quickly becoming quite a favorite among the locals as well as the tourists. Cheers!
---
Looking To Book An International Honeymoon?
Book memorable honeymoon on TravelTriangle with 650+ verified travel agents for 65+ domestic and international destinations.
---