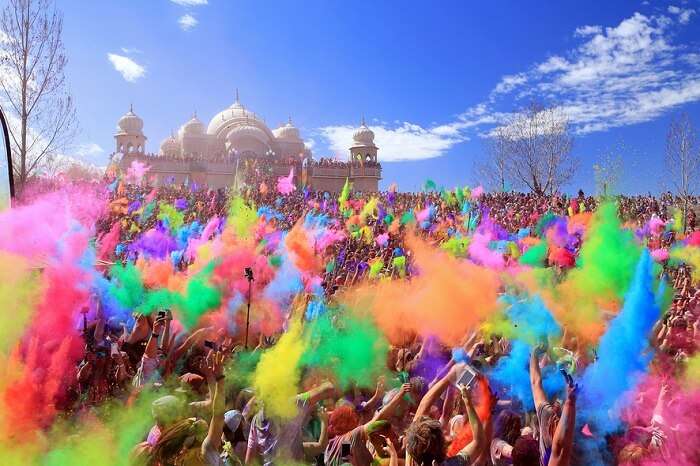 The most colorful festival of the year is back again and this time, in 2023, the Holi parties in Delhi are gonna be better than ever. Here are some of the most happening places in town where you can enjoy the vibrant festival of colors with a 'Dilliwala twist'.
A joyous festival that signals the end of winters and a welcome to spring, Holi events in Delhi are some of the most awaited celebrations for the city. An epic mixture of music, games, colors, food & drinks, and social interaction attract not only the locals but also a ton of foreign tourists who specially visit India for the festival of Holi which falls on 28th March this year.
Top 6 Holi Parties In Delhi (2023)
Are you looking for happening Holi parties in Delhi? For those who wish to enjoy colors and craziness along with delicious food, there are numerous amazing escapes for a memorable Holi celebrations in Delhi. Holi is a major festival of India and is celebrated with great enthusiasm. Here are some of the most talked about places for enjoying the Holi festival in Delhi, India:
1. Holi India Color Festival
A festival that takes place on an international scale, Holi India Color Festival has become a popular event for travelers worldwide. The proof of its popularity lies in the fact how the festival has grown in popularity and now takes places in Europe, North America, and Southeast Asia.
Where: Golden Triangle Tourist Circuit, New Delhi
When: 8th March, 2023
Price: Yet To Be Announced
36 Famous Festivals Of India To Bring Your Life Into A State Of Exuberance
2. Balam Pitchkari
Farmhouses on the outskirts of the city are often the perfect place to celebrate a festival like Holi on a relatively smaller scale. One of the most happening holi parties in Delhi takes places annually at Buddh Farms in Noida. Last year, the event called 'Balam Pichkari'- that included a host of niceties like a rain-dance party, EDM, pool access, and a festival ground created a big splash amongst party goers in Delhi.
Where: Yet To Be Announced
When: Yet To Be Announced
Price: Yet To Be Announced
3. Rang Leela
The best holi party in Delhi for lovers of the festival and dance music should definitely head to the Rang Leela Festival at The Friends Republic Cafe in Gurugram. It is an incredible 12-hour-long BYOB party that lets you indulge in a holi celebration, rain dance, live Bhangra performance, camel & baggi ride, and a variety of authentic Indian dishes like Gujiya, and Pan to tingle your taste buds.
Where:  The Friends Republic, St Thomas Marg, Opposite Paras Hospital, DLF Phase 5, Sector 53, Gurugram, Haryana 122002
When: 08th March, 2023
Price: Couple Pass: Rs. 4000, Female Single: Rs. 2000, Male Single: Rs. 2500
79 Exhilarating Tourist Places In Delhi For Your Next Soothing Vacation
4. Holi Moo Festival
The organizers of this festival like to term this event as an underground movement that brings together like-minded artists, musicians, and people for an annual gathering in New Delhi. Holi Moo Festival has more than a decade of experience behind them in organizing this event that has multiple stages, herbal colors for celebrating, and delicious food that takes the experiences to a whole new level.
Where:  Yet To Be Announced
When: 12:00P.M. To 6:00P.M Date not announced yet
Price: Yet To Be Announced
5. Holi Tomato Festival at Adventure Island
Remember the scene in the movie "Zindagi Na Milegi Dobara" where everyone was covered in tomatoes during the Tomatina festival in Spain? Well, now you have the opportunity to participate in the same exciting experience during a Holi celebration party in Delhi.
Where: Sector 10, Rohini, New Delhi, Delhi 110085 (opposite Rithala Metro Station)
When: 8th March (4:30 pm onwards)
Price: INR 1,000
22 Adventurous Places In Delhi NCR That Will Make Your Heart Skip A Beat
6. Amarrass Nights Holi Special! at Sunder Nursery
Hosting some of the top DJs on the floor, Amarrass Nights Holi Special! at Sunder Nursery will be a holiday party like none other that you have attended to date. With famous music of all genres, mouth-watering delicacies, and gorgeous colours in the air, it will set your mood to the best. Just make sure you're there with your gang because unlimited fun awaits you all!
Where:  Nizamuddin West, Hazrat, Bharat Scouts and Guides Marg, Adjoining Humayun's Tomb, New Delhi, Delhi 110003
When: 7th March (7:00 pm – 10:00 pm)
So many convincing reasons for you to welcome spring this year with a Holi festival party in Delhi. So plan a trip to Delhi, gather your friends, sound out the alarms and assemble your squad for an unforgettable celebration this vibrant festival deserves.
For our editorial codes of conduct and copyright disclaimer, please click here.
Frequently Asked Questions About Holi Parties In Delhi
Which is the best place to celebrate Holi in Delhi?
There are several amazing places to celebrate Holi in Delhi. You can attend the Holi India Color Festival, which is an international level festival, packed with sheer vibrancy and fun. One can also attend the Holi Moo Festival, which brings together a lot of artists and musicians from across the country. The Unite Holi Music Festival is another extravagant Holi affair which features a plethora of water activities, popular artists, and hour long sessions of Bollywood music.
Which is the biggest party that happens on Holi in Delhi?
The biggest Holi party happens at Holi India Color Festival. A festival of international scale, this Holi festival is celebrated in Golden Triangle Tourist Circuit, New Delhi. The festival attracts people across the globe, including tourists from North America and Europe.
Is it safe to celebrate Holi in Delhi?
Yes, it is safe to be a part of these amazing celebrations. You can visit these Holi parties with your friends and family by booking online tickets. If you are booking tickets in advance then you can also grab some awesome deals. Make sure to wear masks at all times and maintain social distancing.
Are Holi parties happening in 2023?
Holi celebrations with limited gathering are being organized across the country. However, the celebrations would not be as massive as compared to previous years and meticulous care will be taken off regarding social distancing and sanitization.
Where shall I go for Holi party in Delhi?
There are numerous places to plan your Holi party in Delhi. You can also attend Holi festivals hosted across the capital city. Delhi is known for its crazy Holi scene and attending any of these Holi parties will make you capture the true vibe of it.
Is HoliCow festival happening this year?
There is no update yet about the festival and there are chances of changes in the schedule due to the coronavirus outspread across the country.