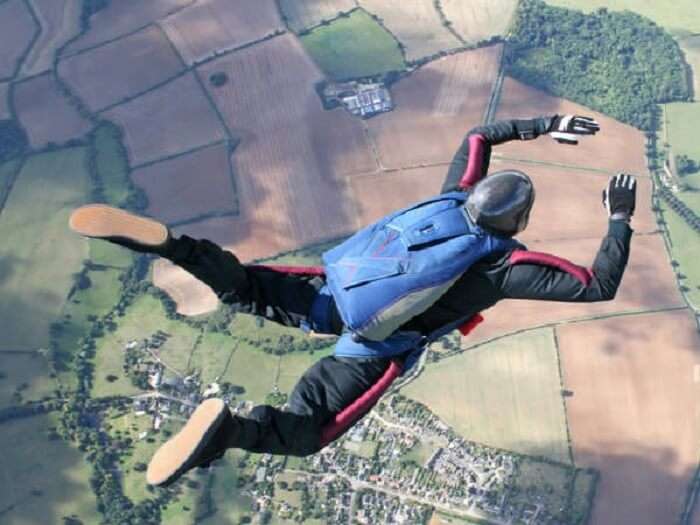 Despite being the capital of Kerala, Trivandrum has, quite amazingly, managed to keep itself from the vexatious aura of any usual capital city. Built on seven hills, this evergreen city of South India is an ideal retreat – quaint yet urban. With so much to see and experience around, there is an awfully long list of things to do in Trivandrum and more often than not, people tend to get confused about what to do and what not to, in the limited span of time. Save yourself from confusion and post-trip longings with our cheat sheet of best, most fun things to do in Trivandrum.
10 Interesting Things To Do In Trivandrum
If you are in Trivandrum, you must be super excited because it's the capital city of the 'God's own country', you are standing in. Here are some of the most refreshing and rejuvenating things to do in Trivandrum Kovalam.
1. Indian Coffee House – Enjoy Filter coffee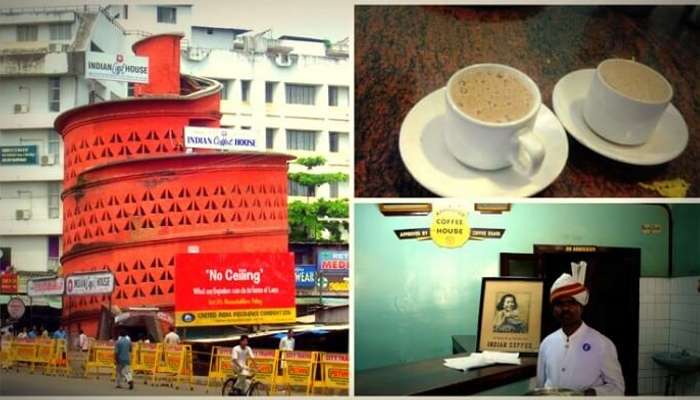 Start your days with a cup of coffee at any of the 14 branches of the historic Indian Coffee House. Peaceful and calm indoors complemented by red-bricked interiors, all branches of the famous coffee house chain have witnessed some of the best social interactions and revolutions being brewed here.
Waiters dressed in ethnic uniforms, uninterrupted hospitality and fairly priced menu – there can't be any better thing to do in Trivandrum to start your days.
Opening hours: 8 am to 9 pm, all days
Must try: Filter coffee, Kesari halwa
Must Read: Food Paradises of Kerala : Go On A Gastronomic Joy Ride
---
Kerala Holiday Packages On TravelTriangle
A holiday in Kerala will fill you with memories. Witness pristine backwaters with comfortable houseboats, lush green hill stations, waterfalls, and plantations of tea and spice. Indulge in an ayurvedic massage or taste exotic cuisines. Book a Kerela holiday on TravelTriangle. Best prices guaranteed.
---
2. Famous Temples – In God's Own Country
Temples have been of prime significance in Kerala's history and culture. While observing and interacting with people closely associated with the temples, one gets to see the true colours of Kerala. The architecture is spectacular too. Hence, next on our list of things to do in Trivandrum city is a visit to these two temples among many:
a. Padmanabhaswamy Temple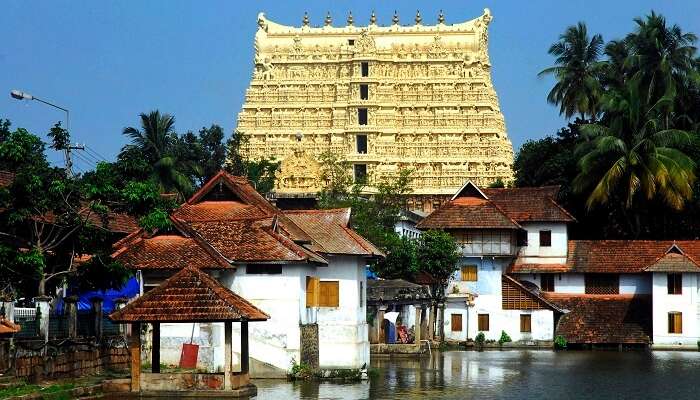 Image Source
The famous temple is a fine example of fusion of Keralite and Dravidian cultures. With intricate stonework and breathtaking backdrop, this place attracts a huge number of tourists.
Entry charges: INR 150 to 180
Opening hours: 3:30 am to 12 noon and 6:45 pm to 7:30 pm, Monday to Friday
b. Karikkakom Chamundi Devi Temple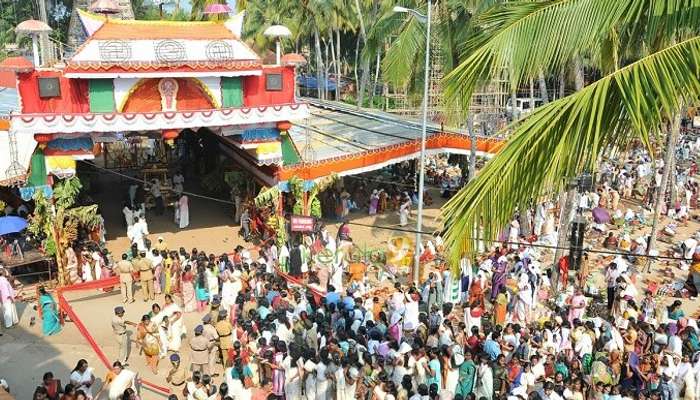 Image Source
This 600 years old temple is located 7 km north of Padmanabhaswamy Temple. The temple is dedicated to Goddess Chamundi, and displays intricate Keralite art and culture.
Entry: Free
Opening hours: 5 am to 11:45 am and 4:30 pm to 8 pm, open on all days
Suggested Read: 8 Parks In Trivandrum That Are A Must Visit On Your Next Vacay!
3. Neyyar Wildlife Sanctuary – Explore Nature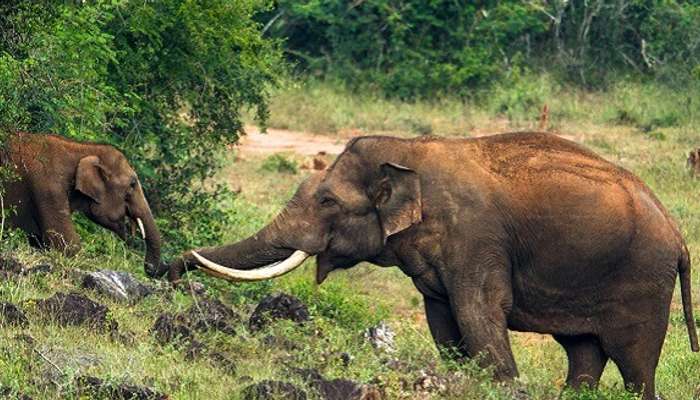 Image Source
There can be nothing more peaceful and satisfying than enjoying nature in its true form. Home to various endangered species, a visit to Neyyar wildlife sanctuary is a must for wildlife lovers. Situated 35 km north of Trivandrum, it can be reached by KSRTC bus or private taxi. The sanctuary also organises Lion Safaris, which just can't be missed. With the availability of various lodging options and the place also offers an opportunity for two day treks.
Best time to visit: October to March
Entry charges: INR 250 for age above 12 and INR 125 for children aged 5-12.
Opening hours: 9 am to 5 pm, Monday closed
4. Neyyar Dam – Go Boating & Fishing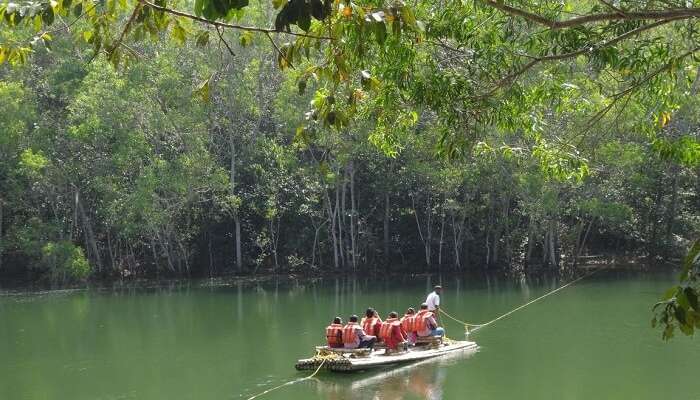 Image Source
Situated in the foothills of Western Ghats, around 30 km away from the town, Neyyar Dam is a beauty beyond description and of course a famous tourist hub in Trivandrum. The food and facilities provided by warm and welcoming local villagers will leave you craving for some more time here. While boating is the star attraction, fishing is also an engaging activity at Neyyar Dam.
Entry: INR 100
Opening hours: 10 am to 4 pm
Suggested Read: 10 Most Offbeat Kerala Backwaters You Should Explore
5. AMAS – Enjoy Skydiving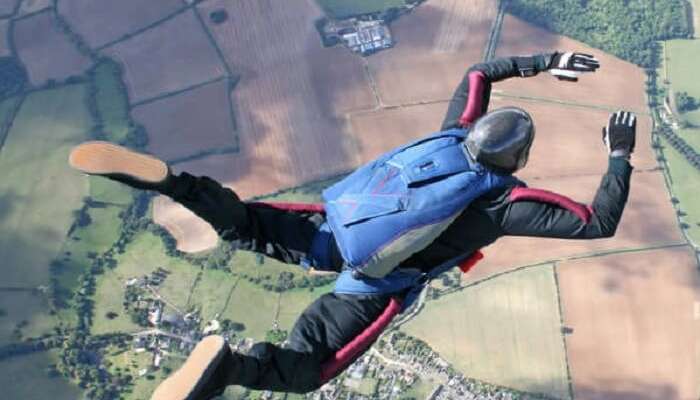 Image Source
For all adventure junkies visiting Trivandrum, the Academy for Mountaineering and Adventure Sports offers many adventurous activities, ranging from water sports such as SCUBA diving and rafting to various air adventures such as skydiving and paragliding. It runs various training programs and has state-of-the-art equipment for all sorts of adventure sports. If you haven't tried any of these thrilling activities, attending AMAS programs is among the best things to do in Trivandrum, India.
Website
Info on Charges available on Registration.
---
Planning your holiday in Kerala but confused about what to do? These Kerala travel stories help you find your best trip ever!
Real travel stories. Real stays. Handy tips to help you make the right choice.
---
6. Trivandrum Museums – Rediscover History
If history and culture excite you, these museums in Trivandrum are just the place for you. Spend your day at the Napier Museum and Natural History Museum, located together in the heart of the city.
a. Napier Museum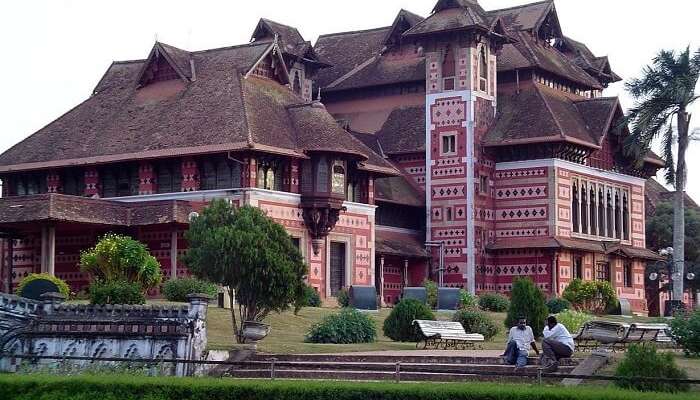 Image Source
This Museum offers an insight into the cultural history of Kerala, featuring various artefacts. The building of the museum, in itself, is a fine example of Kerala's architectural design, mixed with Mughlai and Chinese architecture.
Entry: INR 20 for adults and INR 5 for children
Opening hours: 10 am to 5 pm, Monday closed
b. The Natural History Museum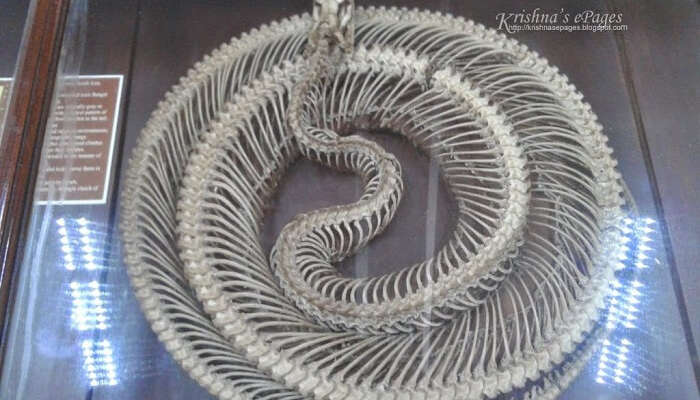 Image Source
The Natural History Museum exhibits the natural history of Ethnography. It might sound complicated but trust us it's going to be an interesting visit. With a modern building and an excellent staff, it will surely encourage you to rediscover history.
Entry: INR 20 for adults and INR 10 for children.
Opening hours: 10 am to 5 pm on all days, 1 pm to 5 pm on Wednesday, Monday closed
c. SMSM Institute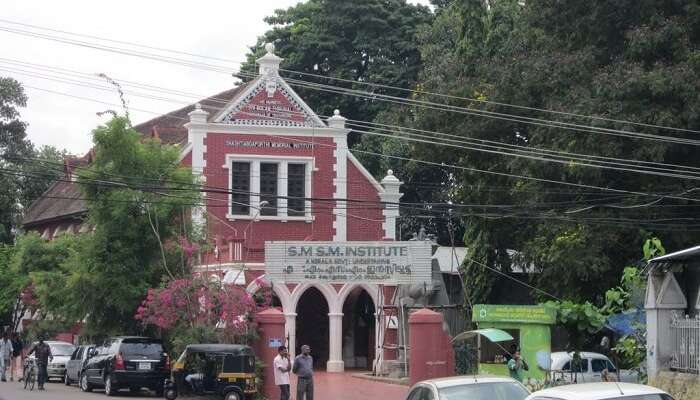 Image Source
SMSM institute is an ideal place to witness the traditional art of Kerala. Ranging from intricate carving on woods to gigantic statues of Gods, this place has a lot to offer. The institute also sells artefacts and most are so awesome that you would be proud to own one.
Entry: Free
Opening hours: Open all days
Suggested Read: 10 Luxury Resorts In Trivandrum That Beautifully Bring Out The Nature Of Kerala
7. Chalai Market – Local Shopping Fun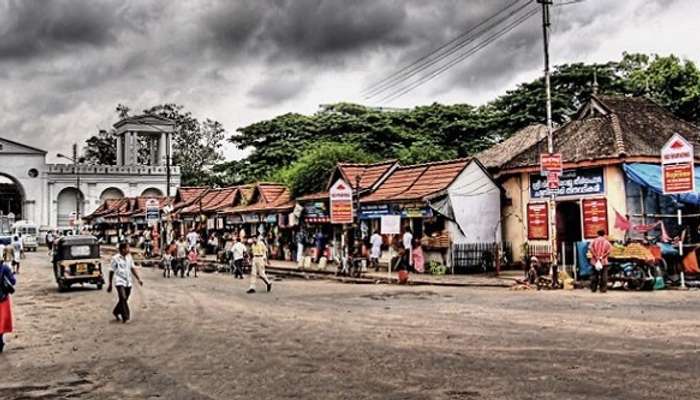 Image Source
In contrast to the picturesque Kerala, here is this busy and bustling street of Chalai Market. Famous for its unlimited range of products, this market can ensure availability of almost every item and you'll end up buying more than you need. An organised market with direct connectivity and wide range of goods, shopping here is a must among the best things to do in Trivandrum at night.
Suggested Read: 20 Amazing Things To Do In Kerala For An Incredible Holiday
8. Ayushmanbhava Ayurvedic Centre – Rejuvenate Yourself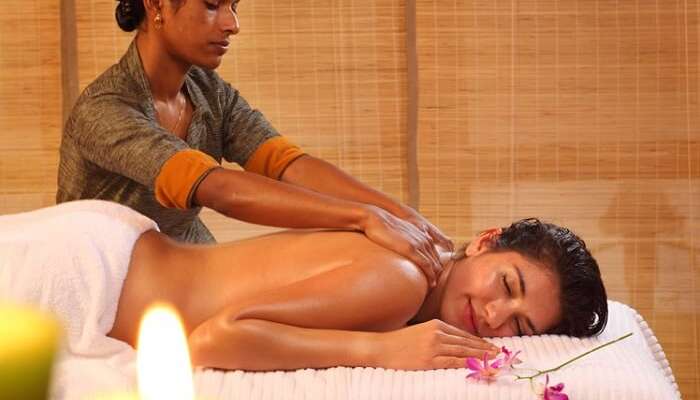 Image Source
Ayushmanbhava Ayurvedic Centre is renowned for its principles that use the Ayurveda treatments to heal the soul. The centre promotes various teachings of Yoga and Ayurveda to maintain a healthy life. With modern amenities and world class hospitality, this place ticks all the boxes for a rejuvenating stay.
9. Vizhinjam Lighthouse – Enjoy The Cityscape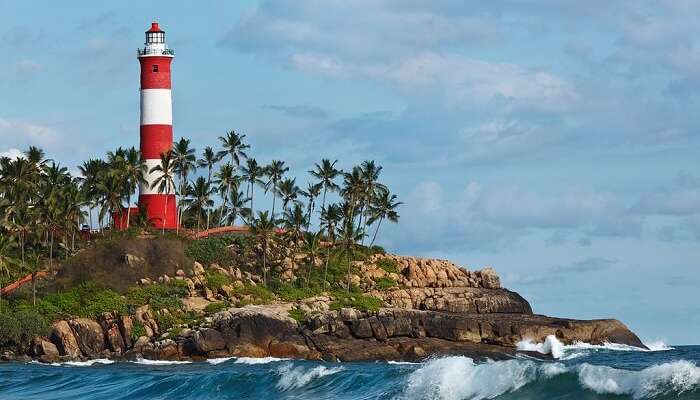 Image Source
The most distinctive feature of Kovalam beach, this 45 year old working lighthouse, still remains a major attraction for tourists. Once you climb the 150 stairs and reach to the top, the aerial view of the beach and water will leave you awe struck. The tower is well lit from the inside, with enough space to walk comfortably.
Entry: INR 10
Opening hours: 10 am to 5 pm
10. Valiyathura Pier – Spend A Lazy Evening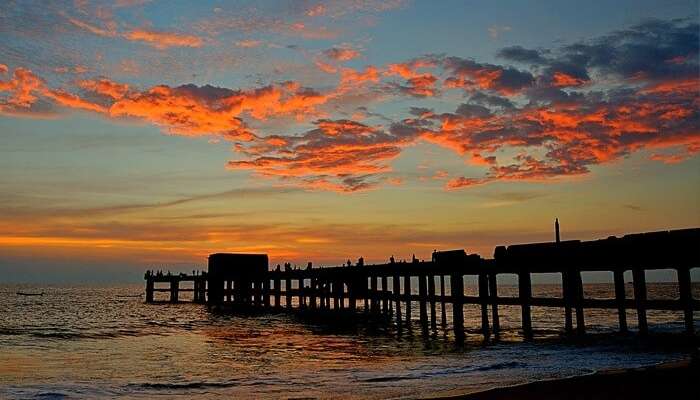 Image Source
Situated near the airport, Valiyathura Pier will be the perfect end to your vacation. Once a bustling port of Trivandrum — it is, now, a secluded and blissful place to experience the serene sunset. While sitting by the 200 m long pier, witnessing an activity as simple as fishermen packing up their nets at sunset will leave you filled with peace and calm.
Further Read: The Ultimate Guide to Top Tourist Places in Kerala
Aren't you excited by seeing all these options that this city in Kerala has to offer to you? So, don't wait, pack your bags and mark this list on your map now. Explore this South India capital and create memories for life. And to get a hassle-free vacation, plan your trip to Kerala with TravelTriangle and forget about all your worries regarding callings and bookings. Make sure you indulge in these thrilling activities when traveling to God's Own Country.
Frequently Asked Questions About Trivandrum
Q. How do I get from Trivandrum to Varkala?
A. Varkala can be reached in an hour from Trivandrum by road as the distance between them is only 30 kilometers.
Q. What can I buy in Trivandrum?
A. Shopping is one of the best things to do in Trivandrum and some of the most famous things to buy in Trivandrum are ayurvedic medicines, spices, and handloom fabrics.
Q. What is Trivandrum famous for?
A. Trivandrum is popular for the Padmanabhaswamy Temple, backwaters, and beaches.
Comments
comments