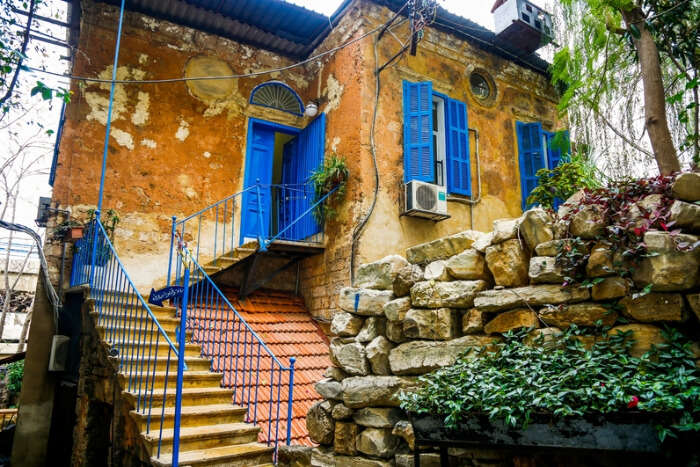 Located by the peninsula of Mediterranean coast; Beirut- the capital city of Lebanon is a beautiful holiday destination. The picturesque vista of azure sea, sky scrapers, museums and markets attract millions of travelers every year. In case, you are planning for Beirut and looking for some decent and affordable places to stay, check out the list of best hostels in Beirut, across all budgets.
4 Best Hostels In Beirut
The hostels in Beirut are neat, sober, well-appointed and offer superbly prompt service. Book in any of these, as per your budget and make sure you enjoy a perfect stay.
1. The Colony Beirut Hostel
Perched inside Old Karnatina's Public School, The Colony Beirut is one of the most popular and affordable hostels in Beirut. With decently comfortable accommodation comprising of one dorm and one private room, which together can accommodate up to 18 people, this hostel enjoys a central location in the city; near to tourist attractions like Nicolas Sursock Museum and Martyr's Statue. There is a sprawling terrace where people can chill out and a cozy well-equipped kitchen to cook quick meals.
Facilities: Rooftop swimming pool and free on-site parking.
Starting tariff: INR 1087/person/night
Location: Senegal, Bayrut, Lebanon
2. Saifi Urban Gardens
With cool and funky décor, cozy rooms and free WIFI; Saifi Urban Gardens is one of the best hostels in Beirut. There are separate dorms for men and women as well as family rooms, private garden and picnic area in this property. Moreover, the travel desk provides you with all kinds of information and bookings, related to sightseeing and city tours.
Facilities: Café Em Nazih; the in-house restaurant and Coup d'etat- the rooftop bar
Starting tariff: INR 1305/person/night
Location: Pasteur, Beirut, Lebanon
3. Hostel Beirut
Hostel Beirut is the oldest and one among the most popular hostels in Beirut, Lebanon. Situated in close proximity to Armenia street, Hostel Beirut offers spacious rooms, attached restrooms and an open rooftop terrace to sit back and chill out. Moreover, Hostel Beirut works as an NGO with a noble cause and all the earnings are donated to various education projects for the Armenian refugees.
Facilities: This is one of the few hostels in Beirut, that offers free Lebanese breakfast.
Starting tariff: INR 1595/person/night
Location: Rue 56, No 11 top floor, building Akram Al-Eid, Geitawi, Beirut 2078, Lebanon
4. Mady's Hostel
Superb location, friendly staff and best in class amenities describe Mady's Hostel in Beirut. Located on the 6th floor; the hostel offers the best view among all the hostels in Beirut. The clean rooms and fully stocked kitchen attract all kinds of travelers here, especially backpackers and solo travelers.
Facilities: Airport pick up and drop service
Starting tariff: INR 2175 per night
Location: Gemmayze Street Frigo Liban building, facing Pharmacy Ideale، Gemmayze, Beirut، Lebanon
Traveling to Lebanon anytime soon? Book a stay at these budget hostels, save more, and travel more on your next international trip to Lebanon with your family and friends.
Frequently Asked Questions About Hostels In Beirut 
Where is Beirut located?
Beirut is located at the midpoint of Lebanon's the Mediterranean Sea. It is the capital as well as the largest city of Lebanon.
Why is Beirut famous among tourists?
Beirut is famous for its architectural beauty accompanied by its location which is close to the oldest continuously inhabited city of the world i.e. Byblos. Its luxurious accommodation, too, attracts the tourists.
What are the affordable places for visitors to stay in Beirut?
There are a lot of affordable avenues for visitors to stay in Beirut. These include Hostel Beirut, Hamra Urban Gardens, Embassy Hostel and so on.
What are the top hostels in Beirut?
International Phoenicia Beirut, Hilton Beirut Downtown, Kantari Suites are some of the top hostels with the best amenities in Beirut.
What amenities do hostels of Beirut provide to its guests?
The hostels in Beirut provide parking, indoor and outdoor pool, spa, bar, restaurant, laundry, airport shuttle and so on so that the visitors could be made more comfortable.
What is the average budget needed for a stay at a hostel in Beirut?
The average budget needed for a stay in Beirut is around INR 3000 to INR 4000 for a luxurious stay in the town. There are several hostels available at lower prices as well.
Which place in Beirut has the best hostels for the visitors to accommodate?
The places like Phoenicia Street, Mir Majid Arsalan, Fakhreddine Street and so on are some of the places in Beirut which have the best hostels for the visitors.
Are tourists guides and related information available at these hostels in Beirut?
Almost all the hostels of Beirut provide a tour guide to assist the visitors in exploring the tourist spots. The hostels also provide visitors with catalogs and other related information about the tourist spots so that the visitors could comfortably enjoy their trip.
---