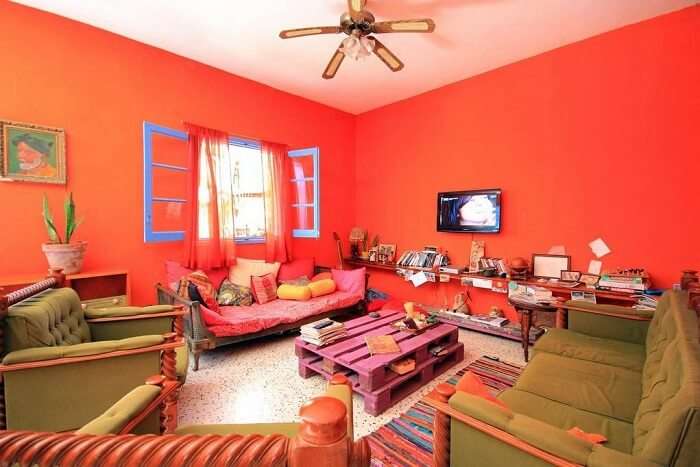 The word 'hostel' is sufficient to bring out a shudder from any luxurious traveler with its adverse overtones and its alliance with dust and shabbiness. This is a common fallacy, however. There has been a considerable upgrade in the norms and layout of hostels in recent times, which has led more and more holidaymakers to choose the hostel experience. Besides the beauty of the unique atmosphere and civic culture of hostels, travelers are inclined to spend more on memorable moments instead of paying for a room in which they can only nap and perhaps afford more time in the nation. In short, traveling on a budget can be an incredible experience if you choose the correct hostel. There are several hostels in Malta that can cut short your Europe trip expenses.
10 Best Hostels In Malta
Around Malta and Gozo, there are many hostels where you can rent a bedroom and share the space with other vacationers. This is much cheaper and better than hotels and perfect for those more adventurous who don't mind spending time with strangers in the same room. You will have wonderful opportunities to engage new people and spend cash on other fun things to see and do at the same time!
1. Boho Hostel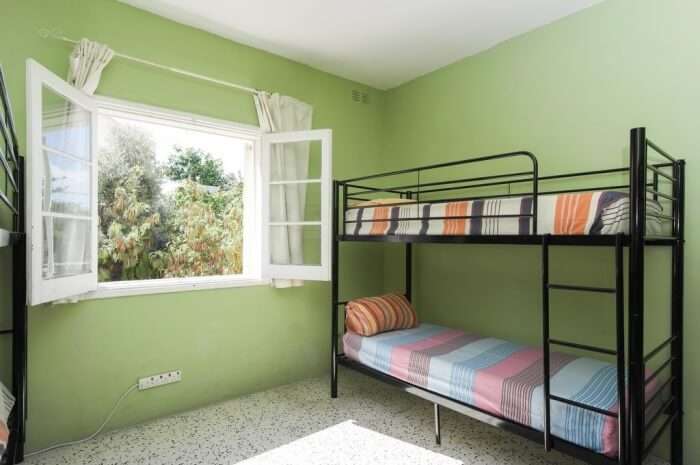 A Bohemian hostel for a Bohemian traveler! Relax in Boho, a hostel idyllic for holidaymakers and solo travelers because of its real social atmosphere and backpacker ambiance. Situated in a beautiful villa & garden, Boho provides the ideal getaway from the busy pedestrian street of the city, which is only a ten - minute walk away. Imbued with a big garden and porch and the ceaseless sunshine of Malta, Boho is simply a joy to wake up to and retreat to a lovely home away from home. In addition, it is an excellent base to meet other tourists to explore the island.
Location: Dun GuzeppiXerri Street | Villa Cycas, Saint Julian's, Island of Malta STJ10, Malta
Cost: INR 1139
Google rating: 5.0/5
Must Read: Scuba Diving In Malta: Discover The Underwater Secrets Of The Blue-Green Mediterranean Sea
2. Hostel Malti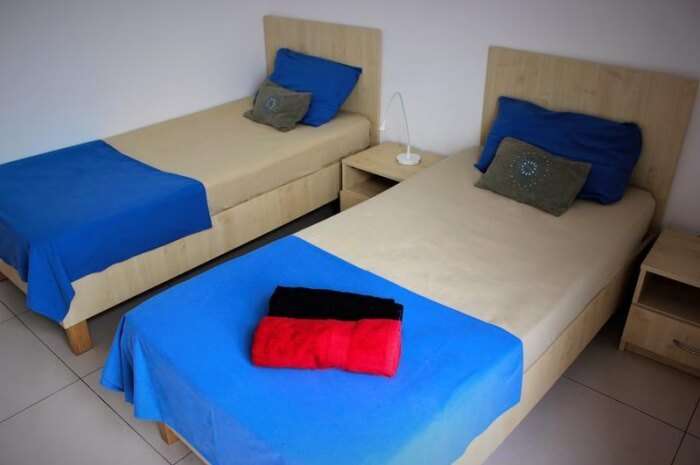 BBQs, Sun Deck, Jacuzzi, and Padded Chillout area... Some of the small pleasures that guests can readily use at Malti Hostel! Relish the scenery, scruffy and happy guests from the roof top terrace. In most hostels, a terrace such as this is not expected! The terrace is the best venue to unwind after a day of exploring the lovely island, where you can lounge back and share travel stories or savor a Jacuzzi cocktail. There are also periodic BBQ roof tops that can be enjoyed while winding back and listening to chillout riffs in the summer.
Location: 41 Telghet Birkirkara | Ta' Giorni, Saint Julian's, Island of Malta STJ 1147, Malta
Cost: INR 1612
Google rating: 4.5/5
3. In Hawi Hostel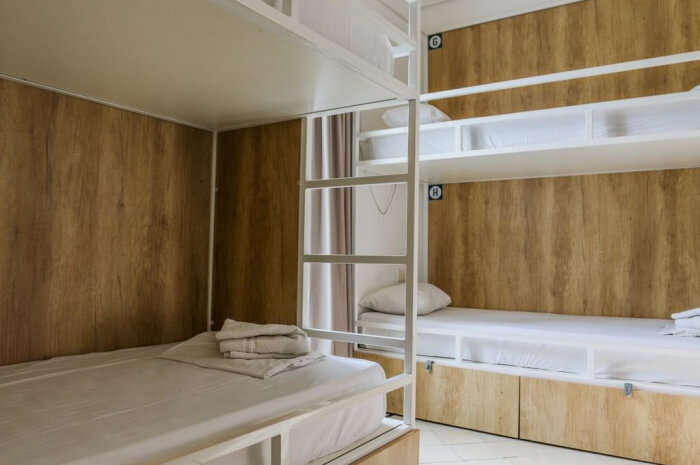 The hostel is the personification of that nuance, where societies encounter and meld with Malta's way of life to create a new type neighborhood that makes you wake up every morning and feel like you're on the right side of the bed. Some rooms have a terrace or balcony. Free Wi-Fi is available all across the dwelling at Inhawi Hostel. The hostel also provides car and bike rental. Malta International Airport is the closest airport, 6 km from the Inhawi Boutique Hostel.
Location: Triq Telghet San Giljan, Saint Julian's, Island of Malta, Malta
Cost: INR 936
Google rating: 4.5/5
Suggested Read: 5 Water Parks In Malta For Unlimited Family Fun In The Mediterranean Island
4. Marco Polo Hostel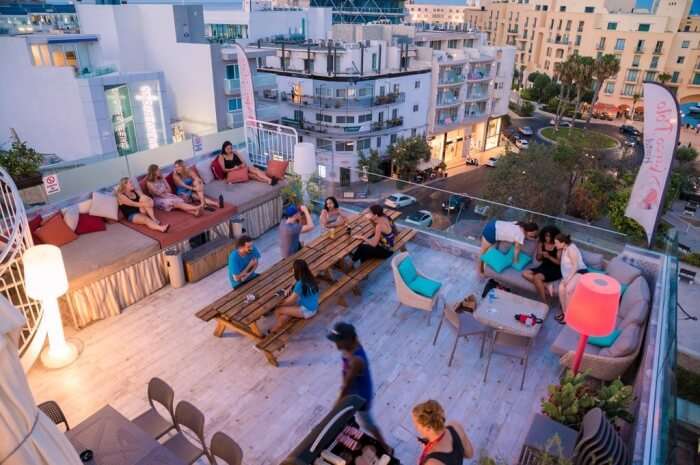 A huge terrace with a view of the blue Mediterranean has been specifically designed to provide a wonderful atmosphere for travelers. A place where mates and experiences are made, whether relaxing, swapping cocktails or a regional brew, barbecue some steaks, cooking a dish in the common kitchen or simply lounging in total privacy. It is a stone's throw away from the well-regarded Hilton Portomaso Tower and a 5-minute walk to Spinola Bay, where you can admire the emblematic Love Monument and Paceville (the club district) around the corner. You will be spoilt for choice in eateries and street food that are suitable for everyone's expenditure, with the choice to browse in one of the many stores around it.
Location: Upper Ross | Paceville, Saint Julian's, Island of Malta STJ 3225, Malta
Cost: INR 1089
Google rating: 4.5/5
5. PV Hostel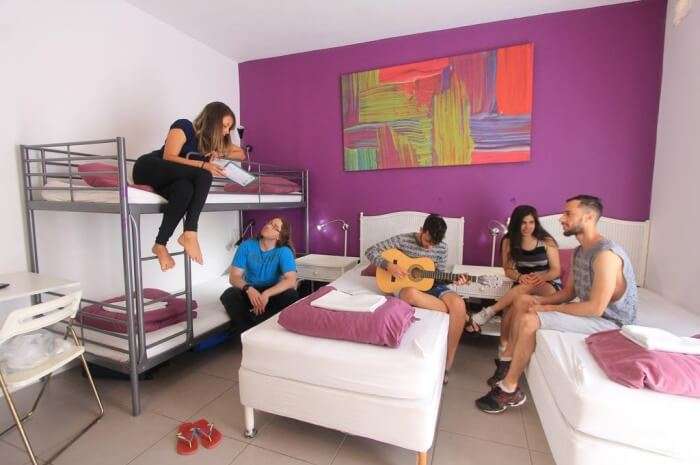 Guests can use a fully stocked kitchen. Tea and coffee are free. The roof terrace is particularly popular during the summer evenings and a dining / TV room has lately been opened for visitors to explore. The hostel is situated in the center of the club area, just a short stroll with cafés and restaurants. St Georges Bay's sandy beach is only a minute away. A supermarket is relatively close to the hostel and a short walk from the shopping malls, casino post office, cinemas, and bus terminus. All the rooms are 4 or 5 beds, some with en - suite restrooms and some with shared bathrooms. There is a bathroom in the hostel for every bedroom. Good WIFI service is free in the entire hostel.
Location: Wilga Street, Saint Julian's, Island of Malta STJ 3110, Malta
Cost: INR 2378
Google rating: 3.5/5
Suggested Read: Shopping In Malta: 10 Places Where You Can Go On A Unstoppable Shopping Spree
6. Hacienda Guesthouse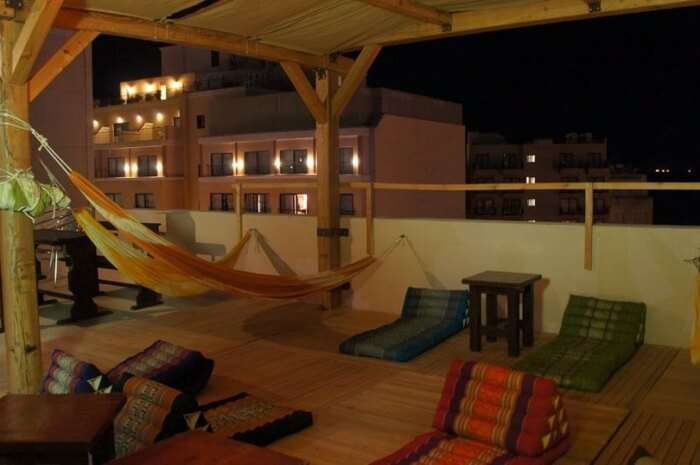 The guest house Hacienda is strategically located in the center of Paceville, the entertainment hub of St Julians. Though close to all the top clubs, pubs, restaurants and supermarkets, it is still far from the hubbub that paceville has to offer you a good night's sleep. It's also near the beach of St. George and many English schools. All rooms have private restrooms and can accommodate single, double or twin. Customers of the Hacienda can make use of all the communal areas, such as the kitchen, the communal living room, the utility room and the terrace area.
Location: 35, Wilga Street | Paceville St Julians, Saint Julian's, Island of Malta, Malta
Cost: INR 1084
Google rating: 3.0/5
Suggested Read: Malta Travel Guide: All You Need To Know For A Unique Yet Exotic Vacation In Europe
7. Granny's Inn Hostel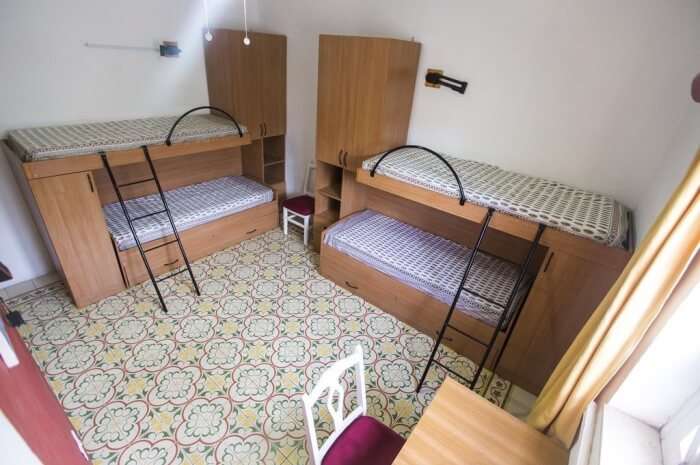 Granny's Inn is a family - run hostel idyllic for travelers, who want to have a pleasant stay in Malta. It is located 10.7 km from the airport and 5 minutes (300 meters) stroll from the seafront. They can also arrange your airport pickup to make it easy to get there! Just send them your flight details by e-mail. The Granny's Inn can accommodate guests in single solitary, double or dorm rooms, all non-smoking. The bedrooms, one of which has a terrace, are all equipped with bunks. All guests have a front door key.
Location: 53 Triq Blanche Huber, Sliema, Island of Malta SLM 2057, Malta
Cost: INR 976
Google rating: 4.0/5
Suggested Read: 10 Places To Visit In Malta That Will Entice You To Come Again
8. Hostel Jones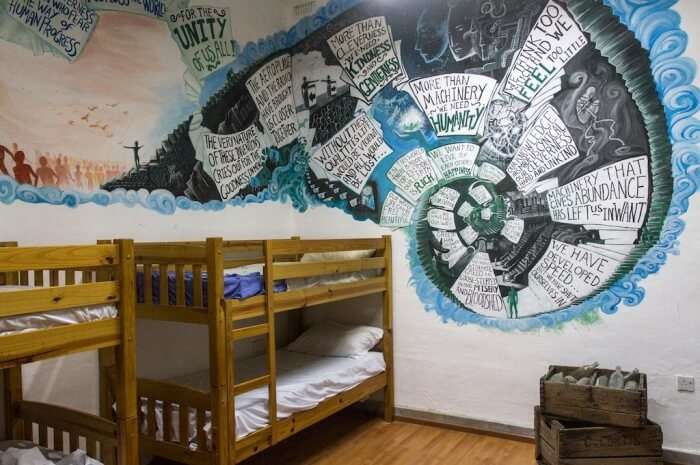 The hostel is a renovated Maltese townhouse with luxurious rooms and plenty of sunlight. The fraternity in the hostel is incredible, hosts who will be happy to assist you with your trip needs. If you're looking for a special thing, this is the right location. The Hostel's concept is novel. About 95% of the hostel is made of repurposed, recycled or reused materials. Each room is designed by talented local artists. Art is all around the hostel, the elegance it nurtures gives this community a great atmosphere.
Location: Sir Adrian Dingli Street, Sliema, Island of Malta, Malta
Cost: INR 1709
Google rating: 4.5/5
9. NSTS Hibernia Residence and Hostel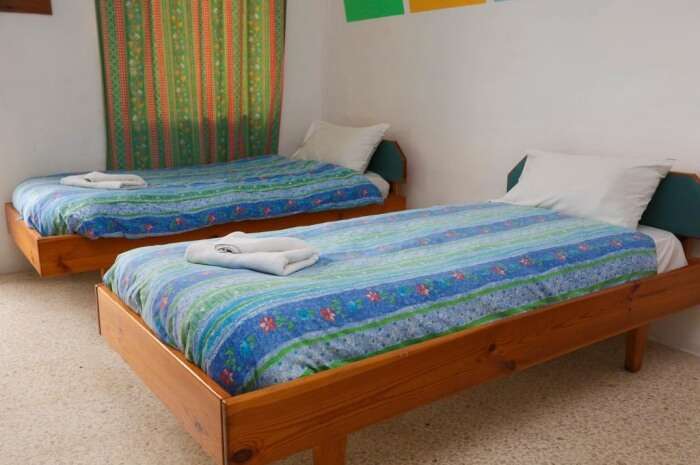 NSTS Hibernia Residence and Hostel provides young independent tourists with inexpensive lodgings in a pleasant and amiable environment. It is ideally situated to savor every street corner of Malta; everything you need to frequent is easily accessible by foot or bus. It is a classic Malta building redeveloped into cosy distinct rooms distributed over 6 floors, all with an elevator. The residence Hibernia provides a range of studios at very reasonable prices. Guests can choose between sleeping rooms in a multitude of self-catering studios. All employees are multilingual and available to help you with anything you may want.
Location: Depiro Street, Sliema, Island of Malta, Malta
Cost: INR 5196
Google rating: 2.5/5a
Suggested Read: 10 Cafes In Malta Where You Can Satiate Your Caffeine Cravings In A European Way
10. Santa Martha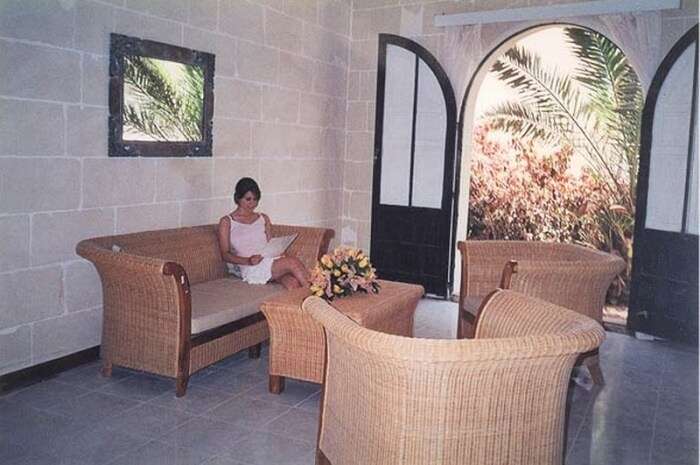 Santa Martha is a lovely family - run hostel in Marsalforn, Gozo's popular tourist resort. It's just a five - minute walk from the seafront and the resort's main pier, with plenty of bars and restaurants, visitor info, car rental, internet cafe, many scuba schools and more. The hostel is situated between a back and a front garden. A courtyard in the centre of the building provides the rooms with sunlight. Single, double, triple and family rooms are available. There's also a tiny kitchen where you can cook your own meals for free. Employees are multilingual and available to help you with anything you may want.
Location: Qolla Street, Marsalforn, Island of Gozo 2425, Malta
Cost: INR 1505
Google rating: 4.5/5
Further Read: Malta nightlife: A Handy Guide to Witness The Nocturnal Charm Of The Country
There are certainly other superb hostels to choose from in Malta, which makes Malta a fantastic detour on any Euro jaunt. So plan a trip to Europe , head to Malta and just halt and blend with people from all over the world. Happy journeys!
---
Looking To Book An International Holiday?
Book memorable holidays on TravelTriangle with 650+ verified travel agents for 65+ domestic and international destinations.
---