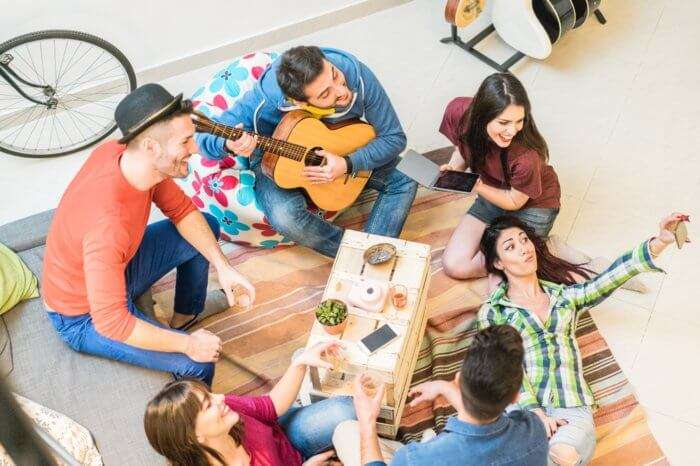 After Budapest, Debrecen is the second largest city in the entire Hungary. There are ample things that are quite attractive and this calls people from all over the world to come to Debrecen. Apart from this, this place is quite well known for its awesome natural beauty. Hungary is counted among the countries that are a famous place for tourist destination. Every year lot of people come to this country. There are a lot of accommodation options available, and apart from hotels and resorts, you can even opt to stay in hostels in Debrecen if you want budget friendly vacay!
10 Best Hostels In Debrecen
Here is the list of best hostels. Most of the hostels can booked through online mode. If you are traveling for work purpose it is very essential that the hostel should have good hostel facilities with updated things. Most of the hotels are so beautiful that they are liked by many people. You will really like to explore the best hostels in Debrecen. It will give you a lifetime experience.
1. Hostel Maróthi Kollégium
Situated in Debrecen this place is a wonderful place to reside. The kitchen is fully furnished and has all the basic amenities. This place is greatly loved by couples who wish to spend some good times with their loved ones. This hostel is said to be the best value in the entire Debrecen. The kitchen remains open for 24 hours so it is quite good for the tourists. This is one of the most opted Debrecen Hostels with good staff at your service.
Location: 4024 Debrecen, 13-15 Blaháné utca, Hungary
Tariff: $23
Must Read: Buda Castle: Rejuvenate Your Senses With Charming Views Of The Hungary Beauty
2. Stop Panzio
This hostel is situated very near to the Protestant Great Church. The rooms are very spacious and it consists of television sets and other important accessories. It is one of the best locations of Debrecen. The ambience is a wonderful one. You will surely like this place. The rooms have private rooms and free wi-fi is provided to the tourists. The hostels in Debrecen, Hungary remain filled with people throughout the year.
Location: 4024 Debrecen, Batthyany u. 18., Hungary
Tariff: $31
Website
Ratings: 4/5
Suggested Read: 10 Impeccable Places To Visit In Debrecen For Your Hungarian Vacay!
3. Péterfia Panzió
The place provides suites for their guests. You will greatly enjoy the whole atmosphere of this place. The location of the hostel is quite good. You can really enjoy the ambience and the rooms too. All the rooms have wooden furniture and fittings. Try to stay at this place. The staffs are very cordial and friendly in nature. The hostel provides good parking facilities for the tourists.
Location: 4026 Debrecen, Péterfia u. 37/b, Hungary
Tariff: $40
Website
Ratings: 3.5/5
Suggested Read: 8 Souvenirs That Make Shopping In Hungary An Experience Worth The Time, Money, And Efforts
4. Némethy Panzió
This place provides free parking on the courtyard. Wireless internet is also available on all the rooms. There is also a small conference room in the hostel. It can be used by the tourists for their work purpose. The hostel is one of the best hostels in the entire Debrecen. The exact location of this place is very close to the city centre. Prior booking to this place is mandatory.
Location: 4026 Debrecen, Peterfia utca 50, Hungary
Tariff: $40
Website
Ratings: 4/5
5. Stella Vendégház
The beautiful garden and lounge is the best thing in this place. It is so vast and spacious that it is mostly loved by all the visitors. This place is the perfect destination for newly married couples. This hostel is very close to the Debrecen Zoo and Amusement Park. You will surely like this place. The rooms are also fully furnished and beautiful.
Location: 4028 Debrecen, Kétmalom utca 7., Hungary
Tariff: $31
Suggested Read: 13 Indian Restaurants In Hungary You Must Visit When Craving Something Spicy
6. Kálvin Vendégszobák
Located very close to the city centre, this place is always the favorite destination of most of the people. The guests can also share the kitchen. The kitchen is well equipped with modern amenities and facilities. The building provides salon, restaurants and many other things. Free wi fi facility is also available to all the guests. The seating area is very beautifully decorated where people can sit and enjoy good times.
Location: 4024 Debrecen, Vár u. 10/c, Hungary
Tariff: $44
Website
7. Minerva Panzió
This place is famous for its excellent food and ambience. The food is so tasty that it attracts people from all other places. It is an eco-friendly place with all the latest amenities. The hostel also provides free baby cots to the tourists. High chairs are also available for the children of all age groups. It can be availed by the tourists. So there are ample facilities that are provided by the guests.
Location: 4024 Debrecen, Kossuth utca 59., Hungary
Tariff: $34
Suggested Read: 8 Restaurants In Hungary That Can Match Any European City For Culinary Travel
8. Eszti Vendégház
Free wi fi facilities and a wonderful kitchen are the main attraction of this place. Free private parking is also provided to the guests. If you wish, you can also hire a car and take it for visiting other places. Fitness centre and other important facilities are also provided to the visitors. The ambience is simply excellent. The family rooms are so big and nice that it is mainly preferred by the visitors. You can really enjoy the whole European trip.
Location: 4025 Debrecen, Szepességi utca 47, Hungary
Tariff: $35
9. Nádix Panzió
This place is famous for its excellent breakfast and other amenities. This tasty breakfast is provided in the early morning. It is so heavy and tasty that it is highly liked by the people. The whole ambience of this place is superb. There is a terrace in this hostel that is perfect for spending good times during the summer months. If you want, then you can carry your pets during the trip. The terrace has wonderful sitting places for the guests so that they can enjoy it fully. Don't miss this awesome place.
Location: 4032 Debrecen, Bessenyei u.6., Hungary
Tariff: $30
Website
10. Play Pub Étterem És Panzió
It provides a perfect accommodation along with free wi fi and other advantages. This place is the favorite place for most of the tourists. There are private bathrooms that are fully equipped with modern amenities. The buffet lunch is provided with wonderful dishes. Most of the time, the breakfast is so heavy that there is no need to take any lunch. The Debrecen International Airport is very close to this place. You can easily come and stay here, along with luxurious facilities.
Location: 4024 Debrecen, Szent Anna utca 14., Hungary
Tariff: $3
Website
Ratings: 3.5/5
Further Read: Hungary In Winter: Come To Enjoy The Scenic Views Of Snowcapped Landscapes
Debrecen is rich with wonderful facilities. Most of the people usually plan to spend their vacations and holidays to this place. This is the only reason why most of the hostels are provided with all basic amenities and other related things. The craze to spend wonderful holidays in this place is slowly increasing. As there is a huge rush it is always preferred to make prior bookings before coming to this place. Online booking is also available for the benefit of the visitors. It is best to book through online mode. Apart from this, the whole country is popular for its wine production. So, what are you waiting for? Get packed and book your trip to Hungary right away!
---
Looking To Book An International Holiday?
Book memorable holidays on TravelTriangle with 650+ verified travel agents for 65+ domestic and international destinations.
---