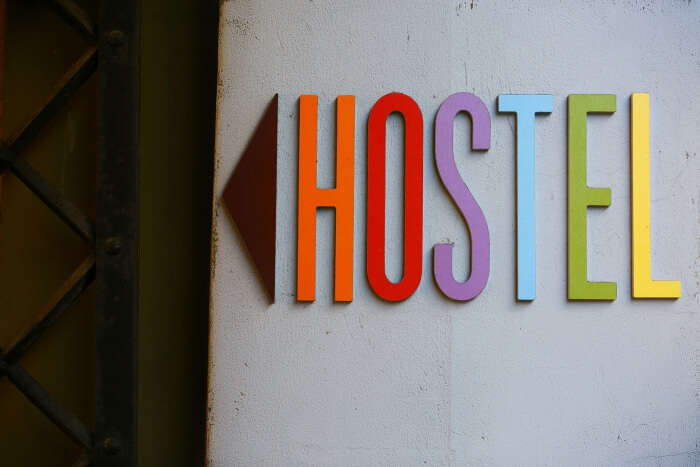 Latvia is a natural wonderland, surrounded by the Baltic Sea on one side; the country is interspersed with a tapestry of lakes, woodlands, and picturesque countryside. Latvia is culturally and historically a layered mix of its neighbors, Estonia, Lithuania, and Russia. Its capital city Riga is the country's leading urban region and offers an ideal mix of the contemporary and ancient. Its old town UNESCO heritage status is in contrast with the glass and steel development in the suburbs. You can stay at the hostels in Latvia to pack everything in a budget backpacking trip that won't hurt your pocket!
10 Fantastic Hostels In Latvia
A trip across the Baltic States with a stop in Latvia will help you appreciate the heritage, culture and wild nature of these regions. Here is a list of top hostels in Latvia
1. The Naughty Squirrel Backpackers Hostel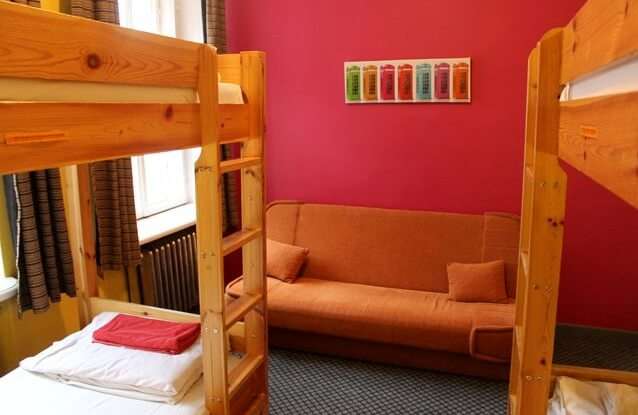 The Naughty Squirrel Backpackers Hostel in Riga is one of the best hostels in Latvia and calls itself a hostel for real travelers. A stay at the hostel will help you understand that it's not a tall claim but a genuine fact. The hostel is in a great location, in the old town of the city and offers travelers the convenience of exploring the area and gives a sense of local culture. The hostel helps guests on going on exciting tours like Pro Bobsled, AK 47 shooting range, Dog Sledding, and Cable Car bungee tours. The hostel attracts a diverse international crowd and offers an easy going atmosphere for people to mingle over a can of beer!
Location: Kalēju iela 50, Centra rajons, Old, Rīgas pilsēta, LV-1050, Latvia
Starting price: INR 890/-
TripAdvisor Rating: 5/5
Website |TripAdvisor Reviews
2. Wicked Weasel Hostel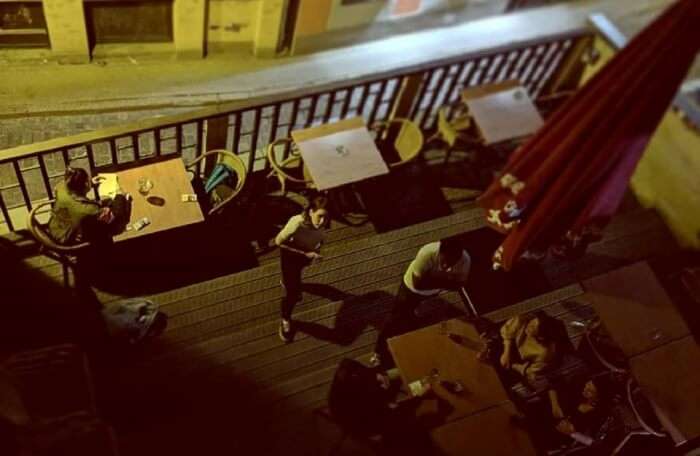 Not many hostels in Latvia Riga get consistently good reviews by all guests. Hostels can be a mixed bag, different travelers might like different features, but the Wicked Weasel is one such hostel that everyone seems to love. The urban hostel is modern and newly decorated and comes with amazing showers that the guests seem to love. It is also in a convenient location and has easy access to the train, ferry and bus stations. They have exciting activities for guests like pub crawls, kayaking sessions and more. Riga is a popular destination to visit in winter as well, and the hostel is equipped to take care of guests even in the worst cold weather. The cozy, comfortable common and dorm rooms are what you need!
Location: Vaļņu iela 41, Centra rajons, Rīga, LV-1050, Latvia
Starting price: INR ,1000/-
TripAdvisor Rating: 5/5
Website |TripAdvisor Reviews
Must Read: Latvia Nightlife Latvia Nightlife: 10 Places To Party Hard In Twinkling Lights In The Land Of Blue Lakes
3. Cinnamon Sally Backpackers Hostel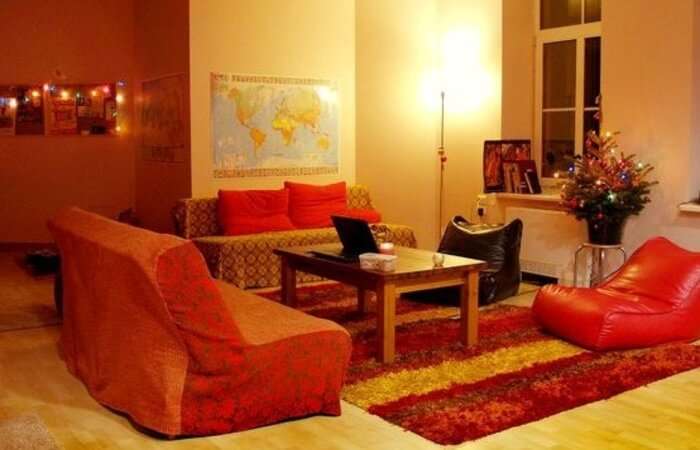 The friendly vibe in Cinnamon Sally Backpackers Hostel is what gets the hostel its good reviews. Travelers call it like a big family vacation home! It is one of the most social youth hostels in Latvia Riga, and you sense that feeling right from the staff behavior to the common room camaraderie. Every evening the hostellers get together and have jam sessions or share a pizza and beer in the common room. The hostel also has a special girls dorm room, which is ideal for solo female travelers. The location is pretty good too, it is close to the old town and markets, and you can quickly get a ride to the transport hubs.
Location: Merķeļa iela 1, Centra rajons, Rīga, LV-1050, Latvia
Starting price: INR 800/-
TripAdvisor Rating: 5/5
TripAdvisor Reviews
4. Riga Old Town Hostel & Backpackers Pub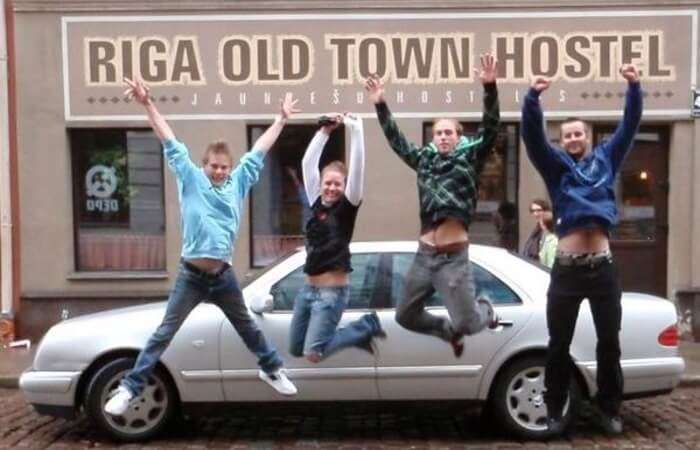 If you are a party person, then you are going to have a tough time leaving the Riga Old Town Hostel! It is one of the best party hostels in Latvia, and the energy never goes down! The hostel does not have a curfew time, and they don't even promise you quiet nights, because the backpackers' pub occupies the first two floors of the building. The pub is open 24 hours and is where all the Old Town backpackers land up for a drink. The place is always buzzing and full of young people, only those between 18-40 years are allowed to stay here. The hostel is small, only at 26 beds, so you better book early before the beds run out.
Location: Vaļņu iela 43, Centra rajons, Rīga, LV-1050, Latvia
Starting price: INR 1,000/-
TripAdvisor Rating: 4.5/5
Website| TripAdvisor Reviews
Suggested Read: Lonely Planet Reveals The Top 24 Countries To Visit In 2022
5. Yellow Hostel Central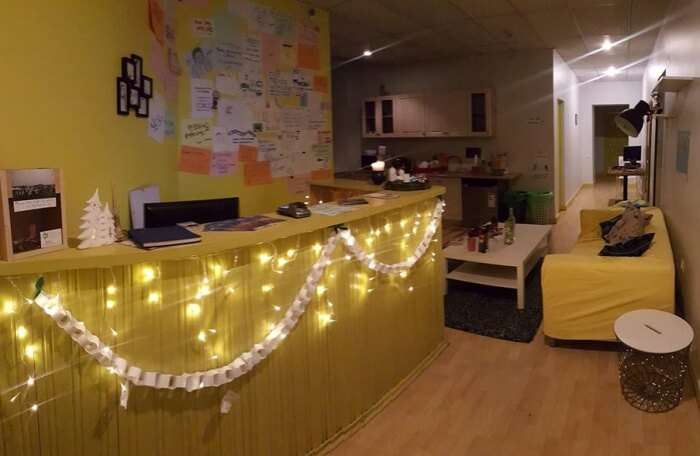 The Yellow Hostel Central is fantastic on two main things – Cost and Convenience. It is the cheapest hostel you can find in Latvia and total value for money. It offers the basic things perfectly- a good dorm bed and clean showers. The hostel is big on convenience too as it is located right opposite the train station from where you can take trains to Jurmala and Sigulda. There is also a bus stop and tram stop right outside from where you can roam all over Riga. You don't need any more reasons to stay here, but the hostel is also a pretty place to stay. It has a yellow theme with cheerful interiors that will make your stay there feel good.
Location: Merķeļa iela 1, 5th floor, Rīga, LV-1050, Latvia
Starting price: INR 480/-
TripAdvisor Rating: 2/5
Website|TripAdvisor Reviews
6. Central Hostel Riga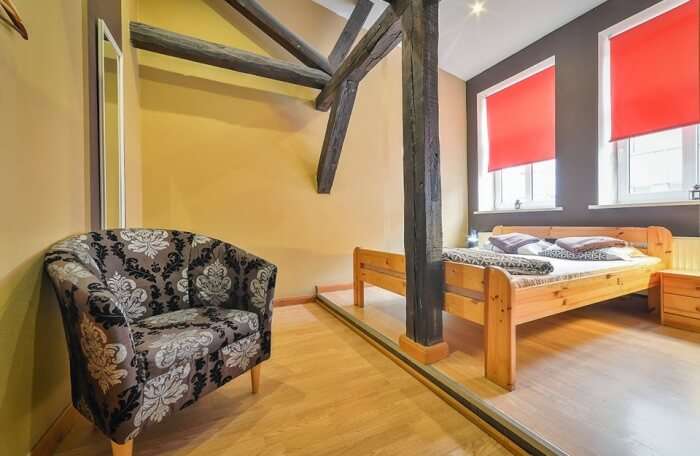 The Central Hostel Riga is one of the best looking and artsy hostels in Latvia. The large hostel is spread across two floors and has a variety of rooms including private and dorm rooms, and you will see a mixed crowd in the hostel including solo backpackers , families with children, and couples. The hostel interiors are nicely done up and are airy with a lot of natural light, which makes the place filled with positive vibes. The location is convenient, and it has a supermarket on the ground floor that you can visit to bring groceries to cook a meal in the communal kitchen. And to top it, the rates are some of the cheapest in all Europe!
Location: Ernesta Birznieka-Upīša iela 20, Latgales priekšpilsēta, Rīga, LV-1050, Latvia
Starting price: INR 550/-
TripAdvisor Rating: 4.5/5
Website | TripAdvisor Reviews
Suggested Read: 10 Extraordinary Things To Do During Your Summer Holidays In Europe
7. Riga Hostel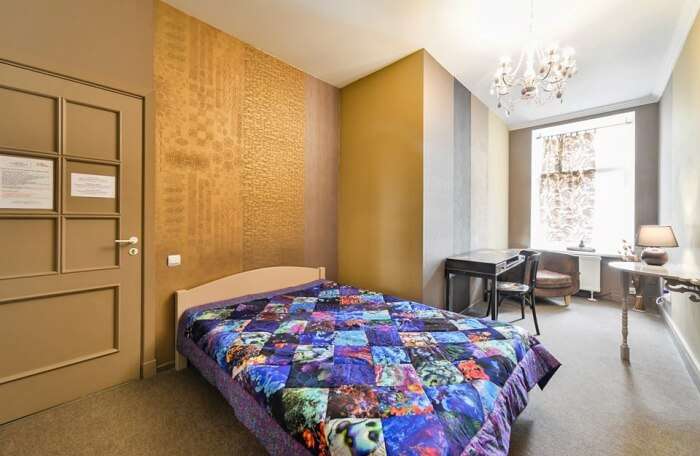 If you like personal attention, then the Riga Hostel is the best place to stay for you in Latvia. The new hostel has a fantastic staff that keeps a lookout for you when you stay there. From giving you tips to explore the city and suggesting places to eat, they also let you know about the services you can avail at the hostel and help you out with anything you need. The interiors of the hostel are also quite beautiful, and although they don't give out an international hostel vibe, it seems more like a decent hotel. The hostel is peaceful, and you will be assured a good night's sleep and if you still think it's noisy then grab a pair of earbuds from the reception!
Location: Merkela iela 1, Riga 1050, Latvia
Starting price: INR 645/-
TripAdvisor Rating: 4.0/5
Website |TripAdvisor Reviews
8. Mr. Hostel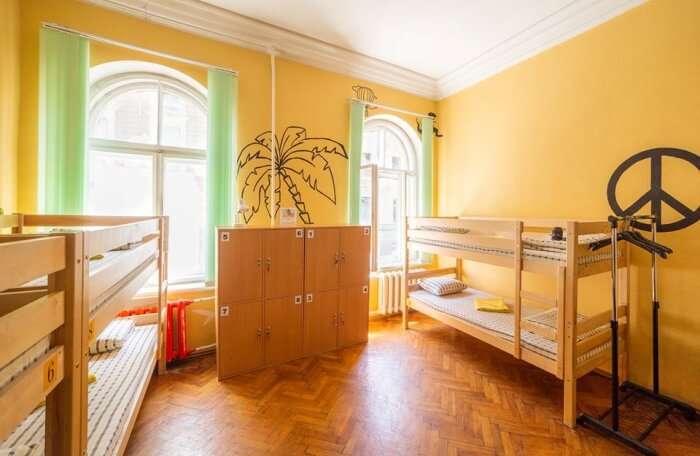 Mr. Hostel captures the hospitable spirit of Latvia! The host and staff are awesome people who devote their time to the hostel to ensure you have a comfortable stay. The hostel itself is a pretty place and has comfortable beds with sturdy beds, that provide good sleep. It's the common room that binds the hostellers together, you can play a game of chess or indulge in a book exchange, there are always opportunities to strike up a conversation with your fellow travelers at Mr. Hostel. An exciting feature of the hostel is its building, a historic Art-Nouveau building which is reminiscent of typical Riga architecture.
Location: Marijas iela 9, Centra rajons, Rīga, LV-1050, Latvia
Starting price: INR 560/-
TripAdvisor Rating: 4.5/5
Website | TripAdvisor Reviews
Suggested Read: 15 Free Things To Do In Europe For Backpackers And Budget Travelers
9. Doma Hostel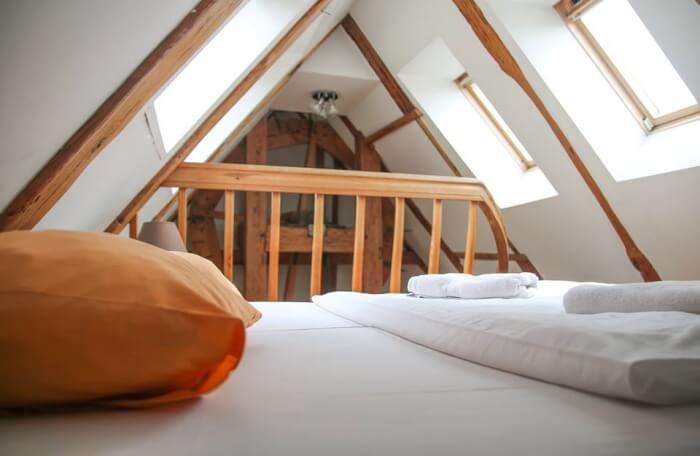 The location of the Doma Hostel cannot get more central to the Old Town of Riga! It is located in the Doma Square which is synonymous with the center of the 13th-century old town of the city. The hostel is located in an ancient Art Nouveau building which retains its old wood scaffolding and was built in 1776. The hostel is spread across four floors with a kitchen on each floor and shared bathrooms, there is enough space to feel comfortable and at home in the hostel. You are merely steps away from iconic landmarks like the Doma Church. The central market, all the nightclubs, and restaurants are short walks away from the hostel making it one of the best-located youth hostels in Latvia Riga.
Location: Mazā Jaunavu iela 8, Centra rajons, Rīga, LV-1050, Latvia
Starting price: INR 650/-
TripAdvisor Rating: 3.5/5
Website | TripAdvisor Reviews
10. Two Wheels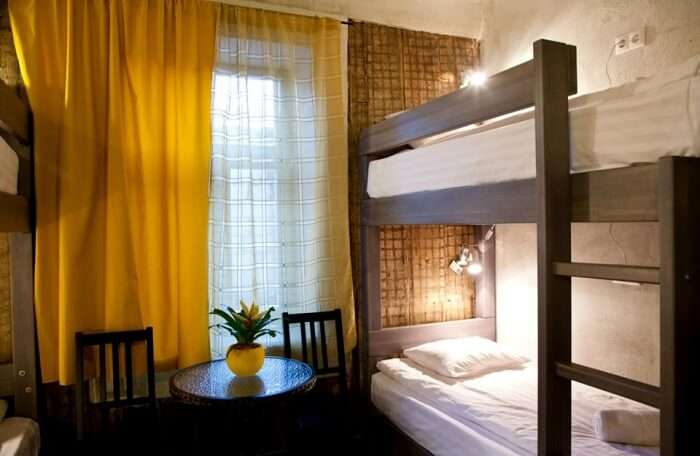 If you don't enjoy compact surroundings then maybe you should head a bit away from the center of Riga to its residential areas where the Two Wheels hostel is located. The boutique property is slightly on the expensive side but offers a big space that is relaxing in a beautiful leafy neighborhood. As the name suggests avid motorcyclists run the hostel, and you have space for parking on the premises and if you wish you can also rent motorbikes to explore the region. The hostel is rustic chic and done up in luxurious bedding and decor; it is for the discerning backpacker who doesn't mind to shell extra for luxury and comfort.
Location: Baložu iela 12, Zemgales priekšpilsēta, Rīga, LV-1048, Latvia
Starting price: INR 1,370/-
TripAdvisor Rating: 4.5/5
Website | TripAdvisor Reviews
Further Read: DO NOT Leave For Europe Without Packing These 8 Things
That was the list of the top ten hostels in Latvia, all of which have features that travelers have tested and vouched for! They offer a great alternative to costly hotels, and help you save a lot of money that you can spend on additional tours and shopping. Tagged as the party capital of Northern Europe, Riga is the main draw of Latvia. The country also has other exciting destinations like the seaside resort of Jurmala and the castle and caves of Gauja National Park. So, when are you booking your trip to Europe?
---
Looking To Book An International Holiday?
Book memorable holidays on TravelTriangle with 650+ verified travel agents for 65+ domestic and international destinations.
---