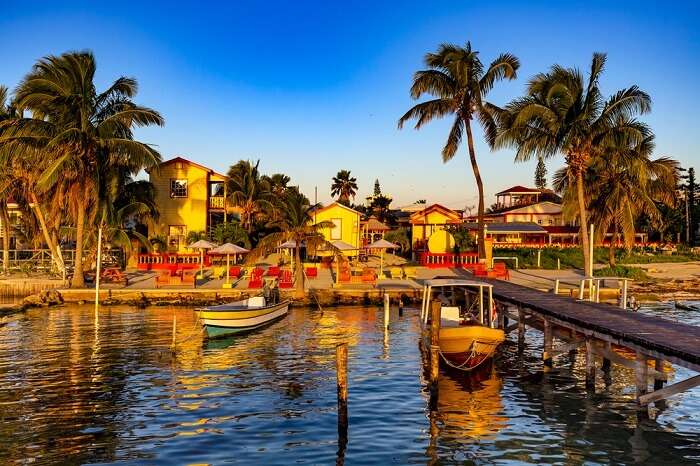 While there are several sources from where you can get inspiration for your next vacation, not all sources can be relied upon. The travel experts at TravelTriangle have made the tedious process of shortlisting destinations easier for you by putting together a list of the top 24 countries to visit in 2023. You can now plan your next trip from the comfort of your armchair. If you ever find yourself in a pickle, take advice from this list to plan your next vacation. Not only these destinations are trending right now but also ever-famous for cherishing experiences they provide to travelers.
Top 24 Countries To Visit in 2023
Planning ahead is extremely crucial when it comes to traveling. Make a beeline for these top 24 countries to visit in 2023. These countries are affordably priced, easily accessible and must not be missed:
Sri Lanka – Lush Greenery & Scenic Beaches
Germany – Postcard-Perfect
Zimbabwe – Hidden Gem
Panama – Picturesque Coastline
Kyrgyzstan – Semi-Nomadic Experience
Jordan – Open Up To New Experiences
Indonesia – Most Beautiful Of All
Belarus – Europe's Most Trending
Sao Tome & Principe – Paradise Far Away
Belize – Gateway To Mayan Culture
Egypt – Desert Safari
India – Spirituality & Adventure
Oman – An Arabian Gem
New Zealand – Overwhelming Landscapes
Croatia – Treasure-trove of Experiences
Bhutan – World's Happiest Country
Mexico – Architectural Wonder
Spain – Vibrant Culture
Ethiopia – Horn of Africa
Peru – Live On The Edge
Netherlands – Beautiful Canals & Museums
Barbados – Sunny Beaches
Israel – For Culture-Vultures
Costa Rica – Grand Adventures
1. Sri Lanka

Golden beaches, wildlife-rich jungles, rolling tea plantations, and mist-shrouded mountains make Sri Lanka one of the best Asian countries to visit. Tourists marvel at the beauty and physical diversity of this island. The view from the top of Sri Lanka's fourth highest peak, Adam's peak, is known to be stunning. You can hike this world heritage site within 5-6 hours, depending on your degree of fitness.
You can also swim in the ocean with the world's largest mammal i.e. blue whale. If you want to hit reset on your life, grab a shady spot at the largely untouched east coast beaches and soak up some vitamin D. It is one of the top countries to visit in 2023.
Best Time To Visit: December-March
Things To Do: Hiking, train journey to Ella, Elephant Safari, Tea Plantation tour, Ramayana tour in Sri Lanka
Tourist Attractions: Sigiriya Rock, Adam's Peak, Dambulla Cave Temple, Dutch Fort
Places To Stay: Aliya Resort & Spa, Sigiriana Resort by Thilanka, Elephas Resort & Spa
Places To Eat: Ministry of Crab, Curry Leaf, The Lagoon, Chutneys
How To Reach: There are direct flights from New Delhi, Bangalore, and Mumbai to Colombo.
Language: Sinhala & Tamil
Currency: Sri Lankan Rupee
20 Honeymoon Places In Sri Lanka That Will Sweep You Off Your Fee
---
Looking To Book An International Holiday?
---
2. Germany

Germany is an attractive proposition for world travelers, thanks to its beautiful coastlines, top hiking spots and postcard perfect villages. It's packed with countless quirky attractions, like the onion museum in Weimar, the dumping ground/open-air museum in Berlin and the gnome museum in Thuringian Forest, to name a few. The German Christmas market is a class apart.
Nothing can beat the sizzling sausages and sweet-smelling gingerbread that are available here. Apart from its never-ending coastlines, Germany also boasts of great mountains, like the Alps and the lesser known Harz ranges in the north of Germany. Without a doubt, Germany is one of the best countries to visit in 2023.
Best Time To Visit: May-September
Things To Do in Germany: Attend Oktoberfest, Take a tour of Rhine Valley, Nightlife in Munich
Tourist Attractions: Berlin Wall, Neuschwanstein, Black Forest, Altes Museum, Bode Museum, Cologne Cathedral
Places To Stay: The Ritz-Carlton Wolfsburg, Radisson Blu Hotel Mannheim, Hotel Adlon Kempinski Berlin
Places To Eat: Zur Haxe, Marjellchen, Delhi 6 Indisches, Ratskeller
How To Reach: There is a non-stop flights to Frankfurt from New Delhi. Berlin, Munich, Hamburg, and Dusseldorf also have air connectivity from New Delhi and other Indian cities.
Language: German
Currency: Euro
15 Rivers Of The World: The Most Stunning Natural Attractions
3. Zimbabwe

Zimbabwe is one of the most underrated South African countries, with several hidden gems waiting to be explored. It is home to four World Heritage Sites, namely Victoria Falls, Mana Pools National Parks, the Great Zimbabwe Ruins and the Kama Ruins. The chances of spotting the Big Five (leopard, lion, rhino, elephant and buffalo) on a safari tour of the country's well-renowned national parks is extremely high.
Adventure enthusiasts will be thrilled by the prospect of white water rafting and canoeing in the Zambezi river. The diverse landscape provides many unique photo opportunities as well. It is one of the best countries to visit for explorers and globe-trotters.
Best Time To Visit: May-September
Things To Do: Wildlife safari, hiking, try local food, visit Great Zimbabwe National Monument
Tourist Attractions: Victoria Falls, Kariba Dam, Matopos National Park, Zimbabwe Ruins
Places To Stay: Victoria Falls Hotels, Holiday Inn Bulawayo, Camelthorn Lodge
Places To Eat: Victoria 22 Restaurant, Amanzi, La Fontaine, Sitar, Alo Alo
How To Reach: There are connecting flights between New Delhi and Harare.
Language: English among many
Currency: RTGS Dollar
25 Of The Kickass Visa On Arrival Countries For Indians
4. Panama

In spite of the hundreds of kilometers of coastline on both the Caribbean Sea and the Pacific Ocean, Panama is one of the top countries to visit in 2023. It is a narrow, little country packed with coffee farms, rainforests, beaches and basically all you could wish for if you're looking for a tropical escapade. Panama ranks sixth on the Happy Planet Index, which means that the country is doing an excellent job at making sure its citizens "achieve long, happy, sustainable lives".
For wildlife enthusiasts, Panama is a paradisiacal place. Tourists have a chance of spotting exotic animals such as colourful quetzals, keel-billed toucans, ospreys, white-faced capuchins and tamarins.
Best Time To Visit: December-March
Things To Do: Hiking, Sunbathing, historical tours, attend Panama Jazz Festival
Tourist Attractions: Panama Canal, El Valle de Antón, Volcano Baru, Pearl Islands
Places To Stay: Waldorf Astoria Panama,Le Méridien Panama, Hyatt Place Panama City
Places To Eat: La Vespa Vista Mare, A Mangiare, Solomon's Deli, Caliope
How To Reach: There are connecting flights from New Delhi to Panama city
Language: Spanish
Currency: United States Dollar
10 Marvelous Rock Formations In The World Which Will Leave You Mesmerized
5. Kyrgyzstan

What are the odds that you came across this country and immediately thought: Wait, what? I can't even pronounce its name! Before you ask, it's Keer-giz-stan. Believe it or not, it's easy to see why Kyrgyzstan features in the list of top countries to visit in 2023. It is the land of untainted natural beauty, celestial mountains, crystal clear lakes, and rolling pastures.
The natural world is brought to life by the widely scattered shepherds inhabiting the country who've embraced a semi-nomadic lifestyle. Visit Kyrgyzstan to know more about the Kyrgyz folklore and the highly interesting Epic of Manas. You might as well consider this one amongst the best countries to visit in the world in 2023.
Best Time To Visit: June-September,  March-October
Things To Do: Horse back riding, stay with nomads, buy local handicrafts, attend a national horse game
Tourist Attractions: Bishkek, Osh, Karakol, Issyk Kul
Places To Stay: Hyatt Regency Bishkek, Art Hotel Bishkek, Golden Tulip Bishkek Hotel
Places To Eat: La Maison, Furusato, Cafe Faiza, Obama bar & Grill
How To Reach: Uzbekistan Airways, flydubaiAir Arabia, and Air Astana have flights from New Delhi to Kyrgyzstan.
Language: Kyrgyz, Russian
Currency: Kyrgyzstani Som
Kyrgyzstan Visa For Indians: Explore The Unexplored Lands Of This Asian Country
---
Planning your holiday but confused about where to go? These travel stories help you find your best trip ever!
---
6. Jordan

Float in the Dead Sea, visit Mt. Nebo and more on your trip to the land of epic adventures and lost cities. If you're a solo backpacker who's open to new experiences, we suggest you befriend the Bedouins which will help you to explore the top countries to visit in 2023. Bedouins are semi-nomadic city dwellers who traditionally inhabit remote communities, making their homes in goat-hair tents. Several campsites in Jordan offer a taste of the Bedouin lifestyle.
In the day, take a tour of the sand dunes and pyramids from the back of a camel. By the evening, you can take a walk under the desert stars or learn a few traditional dance moves. All these exhilarating experiences make Jordan one of the top countries to visit in 2023.
Best Time To Visit: March-May, September-October
Things To Do: Discover Roman ruins of Jerash, Swim in the  Dead Sea, take a mud bath, canyoning
Tourist Attractions in Jordan: Petra, Magic Bedouin Star, Al Khazneh, Ajloun Castle, Wadi Rum
Places To Stay: Holiday Inn Resort Dead Sea, Petra Marriott Hotel, Crowne Plaza Jordan – Dead Sea Resort & Spa
Places To Eat: Fakhreldine, Najla, The Winemaker, Gusto
How To Reach: Oman Air, flydubai, Air Arabia, and Gulf Air have flights on New Delhi and Amman route.
Language: Arabic
Currency: Jordanian Dinar
Jordan Travel Tips: 10 Things To Know Before You Start Packing
7. Indonesia

Often when people think of Indonesia, all that comes to mind is Bali. Comprising of over 17,000 islands, there's so much more to the country. Indonesia is home to more than 20% of the world's coral reefs. There are many opportunities available for snorkeling and scuba diving for both beginner and experienced divers. Dating back to the 9th century, Borobudur – the largest Buddhist temple in the world is found in Java.
One of the best times to visit the temple is early in the morning when you can catch the sunrise while standing at the top. The mix of spirituality and adventure make Indonesia one of the top countries to visit in 2023.
Best Time To Visit: May-September
Things To Do: Scuba diving, snorkeling, hiking, island-hopping
Tourist Attractions in Indonesia: Ubud, Jakarta, Kuta, Komodo Island, Gili Islands, Nusa Penida
Places To Stay: The Anvaya Beach Resort Bali, Mercure Bali Legian, AYANA Resort and Spa, BALI
Places To Eat: Bandar Djakarta, Locavore, Pinisi Resto, Seribu Rasa
How To Reach: Bali is connected to various Indian cities via air. You can either take a domestic flight or ferry in Bali to get to other places in Indonesia.
Language: Balinese and multiple other language
Currency: Indonesia Rupiah
12 Indonesian Islands That Will Take Your Breath Away
8. Belarus

Belarus has recently emerged as one of Europe's hottest travel destinations. With relaxed visa requirements, an impressive ensemble of cafes and a rocking nightlife, it barely comes as a surprise. Belarus is blessed with natural attractions and rich wildlife. You'll find traces of history at every turn, from the Stalinist structures of Minsk to the National Memorial Complex at Khatyn.
If you're seeking a lovey-dovey getaway, Belarus doesn't disappoint. Steeped in mystery and legend, the Narach National Park was voted as one of the most romantic places to visit with your sweetheart.
Best Time To Visit: May-September
Things To Do: Kayaking, skiing, take a sauna bath, taste traditional food, historical tours
Tourist Attractions in Belarus: Mir Castle, Braslav Lake Area, Nyazvish Castle, Gomel Palace
Places To Stay: Minsk Marriott Hotel, DoubleTree by Hilton Hotel Minsk, Europe Hotel
Places To Eat: Animal Farm, Pena Dney, La Scala Trattoria Ignazio, Kuhmistr
How To Reach: There are direct flights from New Delhi to Minsk.
Language: Belarusian
Currency: Belarusian ruble
8 Best Red Sand Beaches Around The World To Add A Twist To Your Beach Vacay
9. São Tomé & Príncipe

The chances of you having heard of São Tomé and Príncipe before this list came out are minuscule. Composed of two islands, it is the second smallest African country with a population of only 1,90,000 people. It was a Portuguese Colony until 1975, so the official language is still Portuguese. You cannot vacation here without stepping into Bom Bom Island. It is an ideal location for the ones interested in deep-sea fishing or simply watching humpback whales in all their glory.
Best Time To Visit: June-September
Things To Do: Island hopping, sunbathing, water sports, admire natural wonders
Tourist Attractions: Obo Natural Park, Sao Sebastio Museum, Pico ca Grance, Lagao Azul
Places To Stay: Pestana São Tomé, Club Santana, Emoyeni Gardens Hotel
Places To Eat: Dona Tete, Xico's Cafe, Chez Tete, O Pirata
How To Reach: Air India, EgyptAir, and Tap Air Portugal have connecting flights between new Delhi and Sao Tome.
Language: Portuguese
Currency: Dobra
23 Best Honeymoon Places In World In January To Embark On A Romantic Sojourn
10. Belize

Just when we thought things couldn't get any better, Belize opened up a world of Central American jungles, water adventures, and Mayan culture. If you're a fan of offbeat adventures, Belize may just be what you're looking for. Nestled between Mexico and Guatemala, the tiny country boasts of pristine beaches, warm weather all year round, and the world-renowned Blue Hole.
Belize is known for its intricate cave systems. Reportedly, these caves were used by the Mayans to conduct their sacred ceremonies and rituals.
Best Time To Visit: November-April
Things To Do: Scuba diving, visit the ruins of Altuin Ha, caving, watch Belizean sunset
Tourist Attractions: Hopkins, Tobacco Caye, San Ignacio, Caracol, Placencia, Belize Barrier Reef
Places To Stay: Robert's Grove Beach Resort, Barefoot Beach Belize Resort, Belize Boutique Resort & Spa
Places To Eat: The Sahara Grill, Wet Lizard, Midtown Restaurant & Bar
How To Reach: American Airlines, Delta, and British Airways have connecting flights from New Delhi to Belize.
Language: English
Currency: Belize Dollar
10 Spectacular Beaches In Belize For A Dose Of The Sun, Surf, And Sand
11. Egypt

Mummies, sphinxes, and tombs are all that come to mind when one mentions Egypt. But little do people know that there is much to this land of the Pharaohs that has been welcoming and bewitching travelers from around the world since forever! With classic monuments in deserts, charming hamlets near the Nile, expansive museums guarding the ancient history and artifacts, lofty pyramids, to its delicious food and vivid culture, this mysterious paradise is sure to give you one hell of a vacation! Some of its most renowned attractions include the Pyramids of Giza, the Great Sphinx, the Valley of the Kings, Egyptian Museum, and many more.
Best Time To Visit: October-April
Things To Do in Egypt: Desert Safari, Shopping, Camel riding, taste Egyptian cuisine, Nile River cruise, Hiking
Tourist Attractions: Giza Necropolis, Egyptian Museum, Corniche, Siwa Oasis
Places To Stay: Fairmont Nile City Hotel, Kempinski Nile Hotel, Hilton Luxor Hotel
Places To Eat: Abu Ashraf, The Blue Restaurant & Grill, Culina, Bab Al Qasr
How To Reach: Oman Air and Ethiopian Airlines have connecting flights from New
Language: Arabic
Currency: Egyptian Pound
Hiking In Egypt: Explore The Country Through Its 8 Spectacular Trails
12. India

This land of many cultures and languages needs no introduction! Famous the world over for its varied and exotic experiences, India has many more to offer than is possible to see in a single lifetime. From snow-capped hills to golden beaches, ancient heritage architecture to glitzy skyscrapers, forested wildlife reserves to crystal clear lakes, mighty volcanoes to barren deserts, farm-striped villages to noisy urban centers, this country has a plethora of experiences to offer. Goa, Rajasthan, Himachal, Kerala, and Delhi are some of its most famous cities that draw people here from the farthest corners of the world.
Best Time To Visit: October-March
Things To Do: Trekking, Historical tours, yoga retreat, temple hopping
Places To Visit: Delhi, Varanasi, Udaipur, Rishikesh, Amritsar
Places To Stay: The Leela, Umaid Bhawan Palace, The Oberoi
Places To Eat: Indian Accent, Bukhara, Olive Qutub, The Bombay Canteen
How To Reach: Major Indian cities have airports.
Language: Hindi, English
Currency: Indian Rupee
19 Honeymoon Places In India In July That'll Leave You Awestruck
13. Oman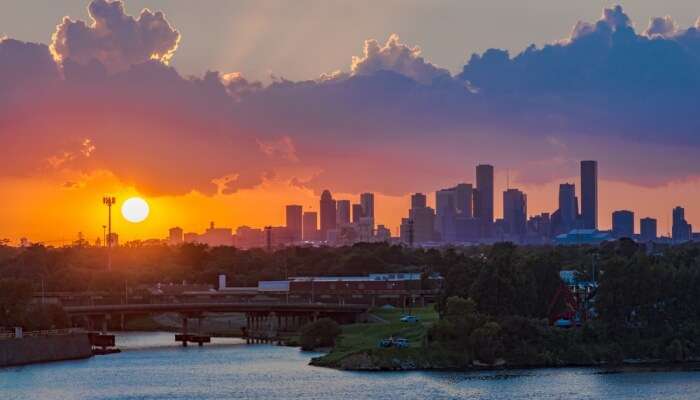 If your idea of a holiday is to traverse golden sand dunes, watch panoramas of start-strewn skies, climb challenging mountain ranges, and dive into the seas teeming with dolphins and turtles, then Omanis the place for you! This gem located on the Arabian Peninsula has everything you need to make your holiday an adventurous, culture-driven, and experience-rich affair that will remain etched in your memories forever! It is home to the Empty Quarter, the largest sand desert in the world that guarantees you your own Lawrence of Arabia adventure, but, with a guide! Taste sheer luxury by staying at the many opulent resorts and camps at the Sharqiya Sands. Indulge in adventures like camel-racing, horse riding, sand-skiing, dune-bashing, and shopping souks during your time here.
Best Time To Visit: October-March
Things To Do: Glamping, Hiking in Jabal Akhdar mountains, swimming
Tourist Attractions: Wadi Shab, Sultan Qaboos Mosque, Nizwa Fort
Places To Stay: Alila Jabal Akhdar, Al Bustan Palace, The Chedi Muscat
Places To Eat: Wet Deck, Char, Living Room, Taybat Restaurant, Teatro Restaurant
How To Reach: Non-stop flights from New Delhi to Muscat are available.
Language: Arabic
Currency: Oman Rial
Top 32 Romantic Restaurants In Dubai: Dine Like The Royals!
14. New Zealand

Let's begin by saying that the best movies of the world have been shot here. Remember those overwhelming landscapes and the Hobbiton Village of the famous Lord Of The Rings trilogy? Well, all of it was your very own New Zealand. While that should give you enough reasons to book your trip right away, here's a little more about this place still. It is the indisputable home of gigantic national parks, bizarre flora and fauna, the ever-dynamic and colorful Māori culture, and the best sites for surfing and skiing in the whole world. Whether you wish to relax in stunning locations, have an action-packed safari, go hiking in tribal villages, stay in luxurious resorts overlooking heavenly landscapes, or enjoy a platter of the most delicious food and wine, this place is your best bet!
Best Time To Visit: December-February
Things To Do: Explore Maori culture, kayaking, diving, caving, zip lining, stargazing
Tourist Attractions: Rotorua, Mount Cook, Milford Sound, Waitomo Cves, Bay of Islands
Places To Stay: Hilton Queenstown Resort & Spa, Sofitel Auckland Viaduct Harbour
Places To Eat: Kazuya, One Tree Grill, Curry Heaven, The Shed de Motu
How To Reach: Flights to Auckland, Wellington, and Christchurch are available from New Delhi.
Language: English, Maori
Currency: New Zealand Dollar
Honeymoon In New Zealand: 12 Exotic Destinations For A Fairy-Tale Honeymoon
15. Croatia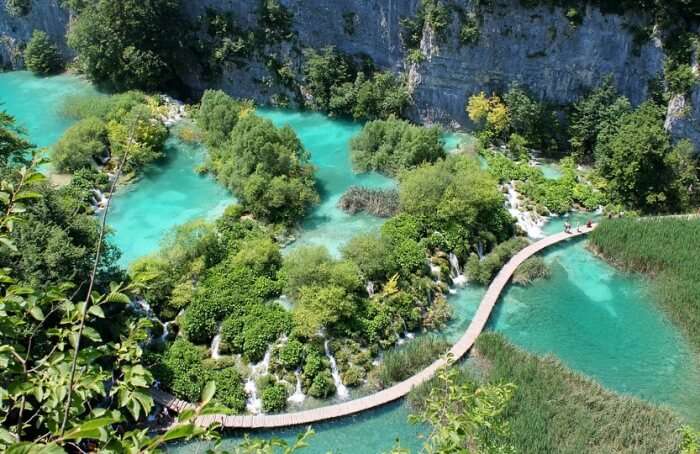 If you dream of balmy days by clear sapphire waters and walking through ancient walled towns with Mediterranean houses, you need to get to Croatia! From island-dotted coastlines, white pebbly beaches, mighty palaces telling tales of kingdoms and empires, a rich cultural legacy, craggy peaks and caverns, river canyons and waterfalls, and picture-perfect lakes with the clearest of water, this European paradise is a treasure trove of experiences offered nowhere else in the world. Some of the best adventures you can have here include hiking, mountain biking, rock climbing, rafting, zip-lining, snorkeling, diving, kayaking, windsurfing, sailing, and much more.
Best Time To Visit: May-June, September-October
Things To Do: Sailing, nightlife in Dubrovnik, hiking, explore food scene
Tourist Attractions: Krka national Park, Plitvice Lakes, Korcula, Gornji Grad
Places To Stay: Hotel-Vinotel Gospoja, Ethno garden, Hotel Katarina
Places To Eat: Restaurant 360, Pelegrini, Konoba Fetevi, Apolon
How To Reach: Zagreb, Split, and Dubrovnik have flights from New Delhi.
Language: Croatian
Currency: Croatian Kuna
10 Best Croatian Islands That Are Perfect For Your Beach Holiday
16. Bhutan

Known as the happiest country on planet, with so much peace and calm all around you, Bhutan is bound to be on the list for that silver lining on the cloud. Feeling blues? Take a trip to Bhutan! Feeling burdened with responsibilities? Take a trip to Bhutan! Unravel the eccentric culture and breathtaking terrains enveloped in lush greenery! Enjoy hiking, trekking and a marvelous trip to the Bhutanese temples.
Best Time To Visit: October-November, March-May
Things To Do: Experience a homestay, hiking, attend a festival, learn arhcery
Tourist Attractions: Paro Taktsang, Punakha Dzong, Phobjikha Valley, Chomolhari
Places To Stay: Le Méridien Thimphu, Gangtey Palace Hotel, Taj Tashi
Places To Eat: Bukhari by UMA, Babesa Village Restaurant, Champaca Cafe
How To Reach: You can either reach Bhutan via road or road.
Language: Dzongkha
Currency: Bhutanese Ngultrum, INR also accepted
Bhutan In April: A Guide To Visit This Beautiful Place In April
17. Mexico

Mexico is the architectural wonder with streaming jungles, dramatic volcanoes, a stunning wildlife and a Hispanic culture with some of the world's greatest archaeological monuments including the exquisite Maya temples of Palenque. Explore the Spanish colonial towns, churches and mansions, indulge in the chilli-spices cuisine and enjoy a thrilling trip to Mexico.
Best Time To Visit: December-April
Things To Do: Museum hopping, diving, celebrate carnival, taste tequila
Tourist Attractions: Xcaret Park, Archaelogical zone of Tulum, El Castillo, Coba
Places To Stay: Barceló Maya Tropical, St Regis Mexico City
Places To Eat: Pujol, Maximo Bistrot, Nicos, Lorea, Loip Bar
How To Reach: There are flights from New Delhi to Mexico city and Cancun.
Language: Spanish
Currency: Mexican Peso
15 Food Festivals In Mexico For Savouring Mouth-Watering Dishes
18. Spain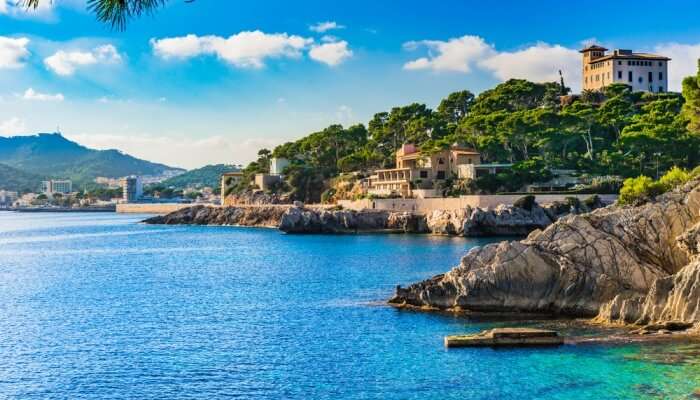 Unravel the diverse landscape of Spain, and explore the vibrant culture. Food and wine are highest obsessions of Spain, indulge in the best meals with tapas in an earthy bar for a gastronomic experience that is sure to be the highlight of the trip. Match it with eclectic spirits such as Salvador Dali, Pablo Picasso and Antoni Gaudi.
Best Time To Visit: July-August, October-May
Things To Do in Spain: Attend Tomatina Festival, have tapas, watch a Flamenco show
Tourist Attractions: La Sagrada Familia, Alhambra, Casa Mila, Alcazar
Places To Stay: Madrid Marriott Auditorium, Iberostar Selection Andalucía Playa, The Ritz-Carlton, Abama
Places To Eat: Azurmendi, Cafe Iruna, Akelare, Can Mojo
How To Reach: Multiple airlines including Aeroflot Air Europa, and Air France have flights from New Delhi to Madrid.
Language: Spanish
Currency: Euro
Running Of The Bulls: All About The Craziest & Most Adventure-Filled Festival In Spain
19. Ethiopia

What makes Ethiopia one of the best countries to visit in the world are its precious archaeological sites and ancient culture. The Horn of Africa, there is no other place on earth like Ethiopia. With numerous nature's bounties, outdoor adventures, and historic wonders, your vacation in Ethiopia is going to be one hell of a trip. It is a perfect place to visit for curious minds and adventure lovers.
Best Time To Visit: October-June
Things To Do: hiking in Bale Mountains National Park, exploring Oma Valley Tribes
Tourist Attractions: Gonda Castles, Axum obelisks, Lake Tana, Danakil Depression
Places To Stay: Ag Palace Hotel, Caravan Hotel, Konjo Guest House
Places To Eat: Ben Abeba Restaurant, Sishu Restaurant, Paradise Lodge
How To Reach: Ethiopian Airlines have non-stop flights from New Delhi to Adis Abba.
Language: Amharic
Currency:Ethiopian Birr
13 Oldest Countries In The World That You Should Visit
20. Peru

Image Credit: Paulinawhite for Pixabay
Thanks to Machu Picchu, Peru is one of the best tourist countries to travel to. But the Inca trail is not the only thing that deserves your attention. From breathtaking landscapes to downtown Lima, Peru is an amazing place for all those who like to live on the edge. Visit the village of Huacachina or discover the floating village of Lake Titicaca.
Best Time To Visit: May-October
Things To Do in Peru: Hiking on the Inca trail, sightseeing in Lima, helicopter tour of Nazca lines, Shopping in Peruvian market
Tourist Attractions: Uros Island,
Places To Stay: Hotel Hacienda del Valle – Urubamba, The Grasshopper Hostel, Kame House
Places To Eat: Malabar, Rafael, La Picanteria, Astrid & Gaston
How To Reach: Take a flight from New Delhi to Lima
Language: Spanish
Currency: Nuevo Sol
Inca Trail: For Trekking Through The Marvelous Beauty Of Peru Like Never Before
21. Netherlands

Image Credit: Xyno for Pixabay
Netherlands will always remain one of the top tourist countries no matter which year we are in. Whether it is the artistic heritage, 17th century legacies, beautiful canals or contemporary music, there is something about Amsterdam that attracts travelers. The tulip fields, windmills, and cycling routes are other touristy features of the Netherlands. It is one of the best European countries to visit for sure.
Best Time To Visit: April-October
Things To Do: Have a Heineken experience, explore canals of Amsterdam, cheese tasting,
Tourist Attractions: Rijksmuseum, Anne Frank Museum, Efteling
Places To Stay: The Alfred Hotel, via Amsterdam, Stayokay Utrecht Center
Places To Eat: De Librije, Spectrum, Restaurant Old Dutch, Bord'Eau
How To Reach: Non stop flights from New Delhi to Amsterdam are available
Language: Dutch
Currency: Euro
10 Best Day Trips From Amsterdam That'll Add More Joy, Bliss & Adventure To Your EuroTrip
22. Barbados

Ain't no vacay like a Caribbean vacay! That's for sure. Barbados is one of the top countries to visit in 2023 since it has got the laid-back vibes. From the idyllic beaches to lush resorts, everything about Barbados reeks of holiday. The 'land of the flying fish' will surely give you an elevated experience on your 2023 vacation.
Best Time To Visit: December-April
Things To Do: Sunbathing, Sunset walk at Barbados boardwalk, Water activities
Tourist Attractions: Bathsheba Beach, Bridgetown, Hunte's Gardens
Places To Stay: Hilton Barbados Resort, Chateau Blanc Apartments on Sea, Manderley Villas
Places To Eat: The Tides Barbados, Champers, The Cliff
How To Reach: There is flight connectivity from New Delhi to Bridgetown in Barbados
Language: English
Currency: Barbados Dollar
28 Places To Visit In February In World For A Romantic International Tour
23. Israel

Israel is a middle-eastern country famous for Dead Sea and Jerusalem, the epicenter of religion. Whether you are a Jew, Christian, or Muslim, Jerusalem is one of the most significant places to learn about cultures and religions. Enjoy floating in the Dead Sea and intoxicating nightlife of Tel Aviv. Believe it or not, Israel has so many experiences to offer you, making it one of the top countries to visit in 2023.
Best Time To Visit: April-May, September-November
Things To Do: Snorkeling in Red Sea, float in the Dead Sea, enjoy nightlife in Tel Aviv
Tourist Attractions: Tel Aviv Beach, Ramon Crater, Baha'i Gardens,
Places To Stay: Beresheet Hotel, Crowne Plaza Dead Sea, Tel Aviv Hotel Gilgal
Places To Eat: Mashya, Taizu, Machneyuda
How To Reach: Flights from New Delhi to Tel Aviv are available
Language: Hebrew
Currency: Israeli Shekel
A Blueprint To Make Your Israel In October Experience An Unforgettable One
24. Costa Rica

Image Credit: InfiniteThought for Pixabay
Costa Rica is a beautiful country in Central America with bounties of flora and fauna. The rugged landscapes and idyllic beaches make it instantly famous among tourists and travelers. Bring your surfboard and yoga mats because you can pursue all your interests here and run wild on the beaches. Explore the hiking trails and boost your adrenaline levels with ziplining in the lush rain forests.
Best Time To Visit: December-April
Things To Do: Nature walk in Corcovado National Park, Take a coffee tour, Soak in Tabacon hot springs
Tourist Attractions: La Paz Waterfall Gardens, Jaco, Guanacaste, Arenal Volcano
Places To Stay: Radisson San Jose, Selina La Fortuna, InterContinental Costa Rica at Multiplaza Mall
Places To Eat: El Mangroove, La Sorbetera, Chubascos, Bacchus
How To Reach: New Delhi has flights to both San Jose and Liberia
Language: Spanish
Currency: Costa Rica Colón
World's Dangerous Airports: Where Take Off And Landing Could Be A Matter Of Life & Death
Look no further. The list of top countries to visit in 2023 is highly coveted. Whether you want to relax on a beach, explore ancient ruins or hike with your partner, we've got you covered. Make sure to add these destinations to your travel wish list for 2023 while booking your international trips. We promise that you'll have the time of your life!
For our editorial codes of conduct and copyright disclaimer, please click here.
Frequently Asked Questions About 24 Countries To Visit In 2023
What are the top holiday destinations?
If you are looking for the best countries to travel to in 2023 then you have landed at the right place. Some of the best holiday destinations in the world are Greece, Spain, Croatia, Thailand, and France.
What is the most visited country in the world in 2023?
France is the most visited country in the world until now in the year 2023, followed by Spain, the USA, and China.
Where should I holiday in 2023?
Some of the top tourist places that you must cover in 2023 are Los Cabos in Mexico, Kvarner Bay in Croatia, Machu Picchu in Peru, and Calabria in Italy. So, if you are looking for your next trip destination then choose one of these.
What is the #1 tourist destination in the world?
France has been titled as the best tourist destination in the world with around 87 million tourists traveling every year.
Where can I travel cheap?
Bolivia is one of the cheapest destinations to travel to with an expense of 30 dollars every day. Apart from this, you can also cover Mexico ($40), Colombia ($35), Nicaragua ($35), Arizona ($45), and Guatemala ($38).
Where can I go on a budget in 2023?
If you are looking for budget destinations around the world then look no further than San Antonio (Texas), Puebla (Mexico), Agra (India), Buenos Aires (Argentina), and Budapest (Hungary).
What is the safest country in the world?
According to 2018 data, Iceland has been declared as the safest country in the world, followed by New Zealand, Austria, Portugal, and Denmark.
What is the most dangerous country in the world?
Countries that have been marked dangerous to travel to are Syria, Afghanistan, Iraq, Yemen, Libya, and South Sadan among others.
---
People Also Read: