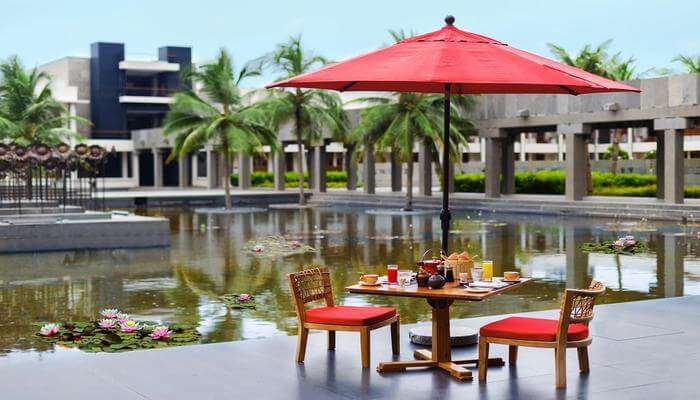 Cover Image Credit: Booking.com
Tucked away on the coast of the western coast is the beautiful and ancient town of Mahabalipuram. The town is today a world heritage site that draws in a huge number of tourists from all over the globe. People come here for the serenity of the seas and the rock-cut ancient temples that have stood the test of time. Apart from its temples, there are many splendid monuments, gardens, festivals which brings people from everywhere. To cater to the needs of the tourists there are a large number of hotels in Mahabalipuram to choose from. Given below is a list of some of the well-known hotels where you can stay while touring the city. Check it out and take your pick!
7 Best Hotels In Mahabalipuram, Tamil Nadu
The list consists of both luxurious and budget hotels in Mahabalipuram. Most of the hotels in Mahabalipuram near the beach are mentioned here.
1. InterContinental Chennai Mahabalipuram Hotel
This hotel is located along the coastline of Mahabalipuram. This is one of the finest luxury hotels in Mahabalipuram. The monumental architecture of this magnificent hotel is the first thing that will catch your eye. The main part of the hotel consists of a 2-floor squared main building with an enormous inner court. This court is further divided into a fish pond and a pool area. There is a lovely seaside restaurant adjacent to the hotel where you can enjoy your meals. The hotel does not hold back on luxuries. It gives you the facilities of an ayurvedic spa, swimming pool, authentic in-the-know dining options, as well as a champagne bar.
Location: No. 212 East Coast Rd Nemilli, Mahabalipuram 603104 India
Starting price: INR 8,736
Must Read: Mahabalipuram In Tamil Nadu: Explore The Unique Culture Of Southern India
2. WelcomHotel Kences Palm Beach
This hotel is considered to be one of the best Mahabalipuram hotels. Where hotels in Mahabalipuram are concerned, you are sure to get the best experience here. This is located close to the beach. WelcomHotelKences Palm Beach Promises to give you all the luxuries to make your stay memorable in this place. There are a total of 94 rooms which range from club rooms to the exotic sea view suites. The décor here is contemporary, with a spacious design.
The luxurious finishes contribute to its uniqueness. Some of the most sought after features in this hotel is an infinity pool which you are sure to find appealing. The fine dining facilities with indoor and outdoor restaurants that cater to regional as well as international cuisines will surely appease your taste. They have a palatial pillar less banquet hall and convention spaces that are well suited to host any occasion.
Location: No. 53, Devaneri Village, East Coast Road Devaneri Village, Mahabalipuram 603104 India
Starting price: INR 7,850
Suggested Read: 50 Best Tourist Places In Tamil Nadu Ensuring The Most Awesome Vacay!
3. Mamalla Beach Resort
If you are looking for budget hotels then this is definitely one of the hotels where you should go. The rates are low but they do not compromise on the hospitality. The rooms are very clean and tidy. They are large and spacious. The rooms are all Air Conditioned. The rooms have 24 hours room service. Among other amenities, you have a flat-screen TV and air conditioning, and guests can go online with free Wi-Fi. The hotel offers free parking if you are driving down there.
The only drawback is the fewer number of dishes on the vegetarian menu. However, they do their best to carry out your request. The best part of the hotel is its proximity to a number of important landmarks which are a must-visit, like such as Tiger Cave, Mahishasuramardhini Mandapa, theDescent Of The Ganges and such others. You are sure to have a wonderful; stay in this budget hotel of Mahabalipuram.
Location: 108, Kovalam Road, Mahabalipuram 603 104 India
Starting price: INR 2,753
Suggested Read: Monsoon In Tamil Nadu: See The 8 Most Wonderful Places To Explore
4. Village Retreat
This budget Mahabalipuram hotel is one of its best. This will also be a paradise for any vegetarian lover as most of the dishes on the menu are vegetarian. The hotel is located at very quiet surroundings and around 20 of the major tourist spots are at an hour's distance. This is a perfect place for a family outing.
The hotel has a 24 hours room service. Among other amenities, you have a flat-screen TV and air conditioning, and guests can go online with free Wi-Fi. The hotel offers free parking if you are driving down there. The kids' play area is very satisfactory and engaging for kids. The food catering facilities are excellent and the staff looks after your needs very well. Customer satisfaction here is maximum.
Location: No.1, Electro Street, 67km Milestone, ECR Road Poonthandalam Village, Mahabalipuram 603102 India
Starting price: INR 4489
Suggested Read: 12 Honeymoon Places In Tamil Nadu For A Romantic Getaway
5. Oceanside Hotel Mahabalipuram
This is among the newest budget hotels in Mahabalipuram. They offer you limited services but those are the best at the price that is offered. You will find that the rooms are well furnished and the decor is minimalistic however it has the facilities of a modern bath with shower. The hotel is very close to the beach and offers you an excellent sea view.
Drinks like espresso, cappuccino, and caffe latte coffee are served to the guests all during the day. You can store your beverages in the shared refrigerator at the reception. The rooms are exceptionally clean and well maintained. It is very safe for a single female traveler. They provide you with ample hot water. They also have a 24 hours room service.
Location: 15, Othavadai Cross St, Mahabalipuram 603104 India
Starting price: INR 2352
Suggested Read: 9 Best Hotels In Tirupati For A Tranquil Retreat In The Heart Of Tamil Nadu!
6. Meya Beach Walk Hotel
This is one of the best hotels to stay in Mahabalipuram. It is just 2 kilometers from the UNESCO World Heritage Site. The hotel has very well connected transport facilities – the place is 20 km away from Chengalpattu Railway station. Chennai airport is 45 km away. The hotel provides you with pick and drop facilities which are very helpful for the guests. There is ample running water and the ambiance of the hotel is very welcoming.
The hotel staff are very helpful and cater to all your requirements. This would be a place to stay if you are going with a large family and looking for something within your budget. There are a total of 12 rooms, with a beach view rooftop restaurant, doctor on call, laundry service, travel assistance, and parking facilities.
Location: East Coast Road 34, Kings Nagar, Shore temple town, Near Indian Oil Petrol Bunk, Mahabalipuram 603104 India
Starting price: INR 1637
Suggested Read: 38 Romantic Honeymoon Places In South India For That Cast Utter Magic
7. Hotel Mahabs
The best thing about this hotel is its close proximity to important landmarks like Sri Sthala Sayanaperumal Temple and Ganesh Ratha Temple. A hotel is a good option for anyone. You will be able to avail amenities like a flat-screen TV, a refrigerator, and air conditioning, free Wi-Fi and such other facilities.
The staff here are very helpful and cordial, which is what makes it one of the best Mahabalipuram hotels. The menu provided is not very large so one has to keep that in mind. The rooms are very clean and hygienic. The guests who come by their own vehicles can avail of the free parking services provided by the hotel. Overall one is sure to have a memorable stay here.
Location: No.68 East Raja Street Behind SBI-ATM, Mahabalipuram 603 104 India
Starting price: INR 2035
Further Read: 7 Airports In Tamil Nadu For An Awesome Flying Experience
So, have you picked the most suitable hotel from this list of the best hotels in Mahabalipuram for your stay? Well, move to the next step and contact TravelTriangle's experienced agents to book you a fabulous holiday in Tamil Nadu! And if you're aware of any more awesome Mahabalipuram hotels that we can add to this list, let us know in the comments below.
Frequently Asked Questions About Hotels In Mahabalipuram
How many days are required for visiting Mahabalipuram?
You need about 2-3 days to explore Mahabalipuram entirely, and one full day to see all the temples here.
Can the tourist spots in Mahabalipuram be covered on a cycling trip?
Yes, since the temples of Mahabalipuram are located quite close to each other, they can be covered on a cycling trip.
What are the other places one can visit in Mahabalipuram other than the famous temples?
Some of the best places to visit in Mahabalipuram other than the temples are Crocodile Bank, Tiger Cave, and the Kadumbadi Village.
What are the places near Mahabalipuram I can visit?
Tourists also prefer to visit cities like Kanchipuram, Chidambaram, Vellore, and Tiruvannamalai along with Mahabalipuram.
What is the general budget I should consider while staying at these hotels in Mahabalipuram?
If you choose a budget accommodation, you may not have to pay more then INR 1,000 for a one night stay. However, if you choose to stay at a luxury hotel, then you may have to shell out as much as INR 8,500 per night for your stay.
---
People Also Read: