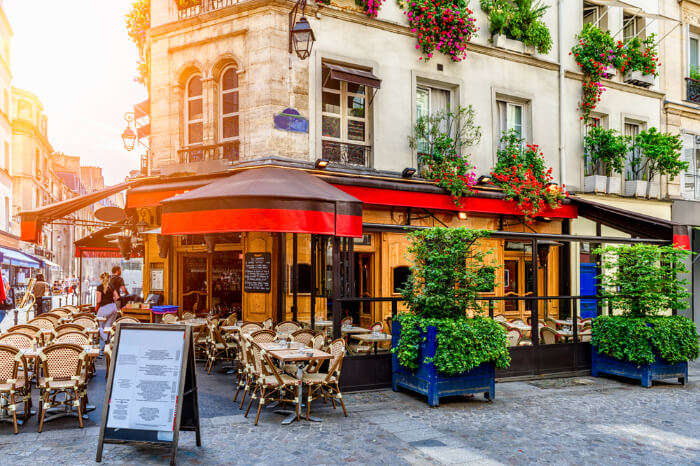 France, with its capital in Paris, is popular for being home to the medieval cities, alpine villages, Mediterranean beaches and much more. Besides multiple other factors that identify France on the global sphere, this nation is also renowned all over the world for its finest wines to sophisticated cuisines that represent almost all intercontinental cuisines. If you are a foodie and a food lover willing to taste great recipes or wine enthusiast, this country is worth visiting for a lifetime memory. Indians visiting here would expect Indian recipes and to their utter surprise best of the authentic recipes are served in several popular luxurious Indian restaurants here. They serve finest of Indian recipes to guests comprising of different nationalities besides Indian nationals.
Top 10 Indian Restaurants In France
Uncover the best Indian restaurants and their cooking in Paris, from the warming kormas, mouth-watering kebabs to delicious naan burgers.
1. New Jawad Longchamp

New Jawad Longchamp is a restaurant with its chic and contemporary décor. The dishes prepared in this restaurant go around the classics of the Indian and Pakistani cuisines so do they have a sense of the use of spices. If you want that feel of Indian food in Paris, then this restaurant is going to work for your taste. Even the flavors of the food remind you the dishes of India and its subcontinent, as if you are sitting somewhere in India to get that taste. This restaurant is famous for serving freshest, juiciest and mouth-watering food varieties. The visitors need to simply sit back, relax and enjoy their time.
Must Try: Chicken Curry, Chicken Tikka, Thali, Pulao, Egg Curry
Location: 30 rue de Longchamp, 75116 Paris France
Cuisine: Indian, Pakistani
Cost for Two: ₹ 1650/- – ₹ 3300/-
Zomato Rating: 5/5
Must Read: French Coastal Towns: A Breathtaking Journey Along France's Mesmerizing Coastline
---
Europe Holiday Packages On TravelTriangle
Explore the most beautiful places to visit in Europe, from Paris to the Venice canals and from the Greek islands to the Swiss alps. Book customized packages by expert agents on TravelTriangle. Inclusive of airport transfers, cab, resort, sightseeing and meals. Best holiday experience Guaranteed. Book Now
---
2. Mayfair Garden Champs Elysees

Mayfair Garden Champs Elysees in Paris, France offers you a culinary journey into the world of the contemporary and modern Indian cuisines. Apart from ultimate tastes and freshness of recipes served, the dishes are known for extreme Indian flavors. The chic and modern interior of this restaurant is the décor capable enough to amaze the guests by offering exclusive and incredible outlook. Dishes and wines are sure to please the guests at the very first visit itself.
Must Try: Butter Chicken, Paneer Tikka, Rogan Josh, Keema, Mutton Fry
Location: 26 rue Lauriston Champs Elysées, 75116 Paris France
Cuisine: Indian, Pakistani
Cost for Two: ₹ 1,996/- -₹ 4,848/-
Zomato Rating: 5/5
3. Le Jardin du Kashmir

Le Jardin du Kashmir is an Indo-Pakistani restaurant which offers fine and unique recipes from the Asian cuisines especially from India, Pakistan and special dishes from the Kashmiri cuisines. With variety of delicious dishes, it has become an ideal place for the taste buds. Culinary masters from India and Pakistan create for them an unforgettable dining experience every time. The visitors to France with this keen interest to taste Indo-Pakistani cuisines don't forget visiting here.
Must Try: Hot Chicken Tikka, Mutton Corma, Tikka Chicken, Sheek Kebab, Lamb Curry or Shrimp Masala
Location: 60 rue Legendre, 75017 Paris, France
Cuisine: Indian, Pakistani
Cost for Two: ₹ 1,590/- -₹ 4,540/-
Zomato Rating: 4.5/5
Suggested Read: Scuba Diving In France: Get Your Gear Out For A Transcendent Underwater Experience
4. New Jhelum

Located in the heart of Paris near the L' Opera, the New Jhelum Restaurant offers decent and delicious Indian dishes in fully Indian environment. Its menu revolves around the classics of Indian and Pakistani cuisines for the dishes with a sense of use of spices and ingredients. Each item is delicious and flavorful. Its chefs are experienced ones who guarantee for your unforgettable dining experience to enjoy by sitting in an Indian setting in far off Europe.
Must Try: Butter Chicken, Paneer Tikka, Rogan Josh, Keema, Mutton Curry
Location: 95 rue de Richelieu, 75002 Paris, France
Cuisine: Indian, Pakistani
Cost for Two: ₹ 1,600/- -₹ 4,500/-
Zomato Rating: 4.5/5
5. Buddha Restaurant

Located in the city of Paris, Buddha Restaurant invites the guests to discover its fine cuisine. Apart from the taste, each item prepared is hygienic and delightful. Its menu has been crafted carefully to give you a range of recipes whose flavors are complete all at once. Most importantly, the cost is also affordable.
Must Try: Tikka Masala Chicken, Vindaloo Lamb, Curry Fish, Korma Vegetables
Location: 13 rue Saint Hippolyte, 75013 Paris, France
Cuisine: Indian, Asian, Nepalese, Healthy
Cost for Two: ₹ 1,550/- -₹ 3,500/-
Zomato Rating: 4.5/5
Suggested Read: 13 Festivals In France That You Cannot Afford To Miss On Your Visit To L'hexagone
6. Le Maharaja

Discover the oldest Indian restaurant in Paris, France in Le Maharajah. It offers yummy and delicious food to all guests. Visitors can let themselves be overwhelmed by the fragrance and flavors of the popular North Indian cuisine here. Each visitor of this restaurant takes memories back to their home countries. Spices and herbs help the chefs to prepare incredibly tasty and delicious dishes for the diners.
Must Try: Zalfrasi Murgh, Rogan Gosht, Cheese Nan and Basmati Rice
Location: 48 rue la Condamine, 75017 Paris, France
Cuisine: Indian, Sri Lankan
Cost for Two: ₹ 1,640/- -₹ 6,488/-
Zomato Rating: 4.5/5
7. New Balal

With a simple, clean and elegant décor, New Balal offers you exceptional dining experience to its guests. Being an Indian restaurant in Paris, France, it welcomes its guests in a friendly and joyful atmosphere blessed with an Indian setting. If you are expecting Indian Cuisines in Paris, then it could be a great option for you. This restaurant prepares variety of Indian recipes from its different cuisines and for which they use locally grown ingredients and spices.
Must Try: Special Kulfi, Palak Paneer, Gobi
Location: 25 rue Taitbout, 75009 Paris, France
Cuisine: Indian, Pakistani
Cost for Two: ₹ 1,600/- -₹ 6,500/-
Zomato Rating: 4.5/5
Suggested Read: 10 Exotic Wildlife In France That You Can Spot On Your Vacation
8. Bollynan Grands Boulevards

Bollynan Grands Boulevards restaurant is a delightful and welcoming place where guests eat variety of dishes especially with the naans, and drink yummy lassis and also taste the classic beers. This restaurant is 2nd of the Bollynan Family, after the success of their restaurant Bollynan Montorgueil for five years. It receives guests throughout the year due to world-class food varieties and best of the services offered. Located in a picturesque and exotic setting, it welcomes each guest with the perfect dishes with delightful drinks.
Must Try: Nans of Chocolate, Homemade Salted Butter Caramel, Good Beers and Lassis
Location: 10 boulevard Poissonniere, 75009 Paris, France
Cuisine: Indian
Cost for Two: ₹ 713/- -₹ 1,069/-
Zomato Rating: 4.5/5
9. Villa Punjab Gastronomie Indienne

Villa Punjab Gastronomie Indienne restaurant is popular in Paris, France for offering delicious and yummy recipes from the Indian cuisine. Its elegant and chic décor is blessed with the warm colors. Its amazing beauty keeps the visitors mesmerized. Chefs use best of the smelly spices and herbs to prepare incredibly tasty dishes. As the scenic beauty and diversity of cultures to landscapes keep Paris into limelight, it is equally popular around the world for offering diverse cuisines.
Must Try: Paneer, Daal, Butter Chicken, Butter Naan, Mutton Curry
Location: 15 rue Leon Jost, 75017 Paris, France
Cuisine: Indian, Sri Lankan and Pakistani
Cost for Two: ₹ 713/- -₹ 1,069/-
Zomato Rating: 4.5/5
Suggested Read: 21 Best Places To Visit In France In Winter 2021-22
10. Kashmir House

The Indo-Pakistani Kashmir House Restaurant is a famous Indian restaurant in Paris and is known for the discovery of new flavors in a typically Indian setting with wood carvings and delicate furnishings. Apart from finest dishes, the appearance of this restaurant to warm welcome by the staffs leave you pleased and in high morale. It is situated among the scenic beauty thus allows you to enjoy food and drinks in the peaceful and soothing environment.
Must Try: Lamb, Chicken, Fish and Curry Vegetables
Location: 36 rue de Chabrol, 75010 Paris, France
Cuisine: Indian, Asian, Pakistani
Cost for Two: ₹ 858/- -₹ 1,002/-
Zomato Rating: 4.5/5
Further Read: France Nightlife: Learn The French Way To Get High On Life
Whether you are an Indian or not, if you love Indian dishes, then above mentioned restaurants in France are the best options to explore on your next trip to France. They won't disappoint you. Apart from arranging recipe varieties from various parts of India, these restaurants use best in class ingredients to ensure that the aroma of that India taste and flavor is retained while served in Paris. Each restaurant puts all the knowledge, skill and passion into every meal which goes out of the kitchens to be served to the guests.
---
Looking To Book An International Holiday?
Book memorable holidays on TravelTriangle with 650+ verified travel agents for 65+ domestic and international destinations.
---