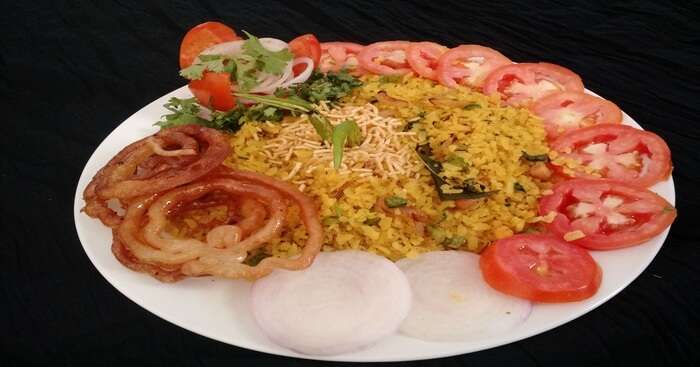 If it is the sights & smells of the humble street food that entice you, and if biting into that kachori or aloo Tikki tingles your taste buds like no restaurant food ever could then Indore is the place you should be headed to.
This buzzing city could stake its claim for the top slot of being the foodie capital of India. When you wake up and walk out in the street to the sight of tantalizing heaps of delicious poha and fresh from the kadhai jalebis, you will know why Indore is the undisputed heaven for vegetarian street food lovers. The Chhappan Dukaan (referring to the 56-odd shops) and Sarrafa Bazaar are pilgrimages you must make to relish Indore specialty foods. You have to see it to believe how a jewelers' market by day magically turns to a gastronome paradise by night. Let us tempt you with a list of the best Indore street food for your next visit to the city!
16 Best Indore Street Food Delicacies
Here is a list of the best Indore street food delights that you must try on your food spree. Keep scrolling down and read along to get a peek into the food scenes of Indore!
1. Dahi Bade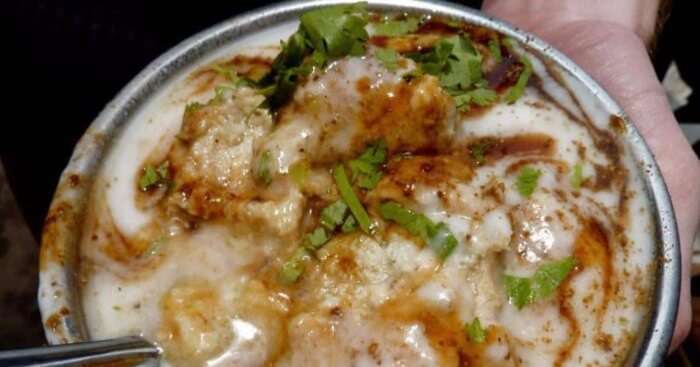 You'd be wondering what's so special about these simple lentil balls dipped in curd and found in every nook and cranny of the country? You have to try them at Indore's sarrafa bazaar to see the humble dahi-vadas transform to a work of art. At the Joshi dahi vada wala, watch with wonder how he twirls the bowl up in the air, then expertly adds 4 different spices with a single pinch before handing you this melt-in-mouth tangy delight. The dahi vadas are yummy and the experience will stay with you for a while. Its popularity and coverage on most food channels in the country is a testament to the quality of this Indore street food.
Where: Joshi Dahi Bada House, 24 Bada Sarafa, Sarafa Bazaar
2. Sabudana Khichdi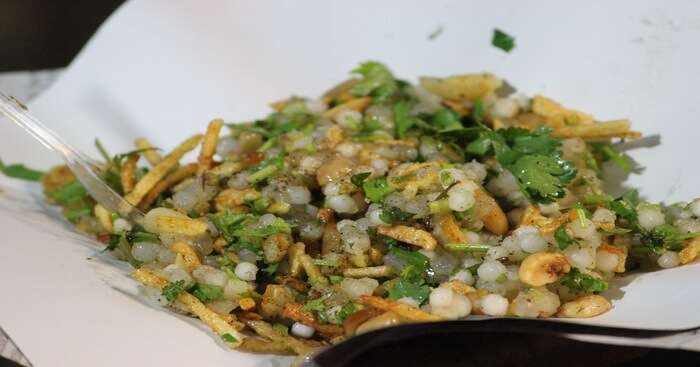 Who thought the bland pearly white tapioca seeds (sabudana) could feature amongst the best Indore street foods list. That is what street food is all aboutin Indore – turning the mundane to the magical, with a little innovation and some spicy sprinkling. You can watch with delight how the boiled sabudana is mixed with a variety of namkeens and crunchy chips, topped with spices and sprinkled with lemon and coriander to make it one of the yummiest version of the food you've ever had.
Where: Sanwariya Seth is a name to reckon with when it comes to sabudana khichdi, with several outlets across the city including one at Sarafa Bazaar
3. Garadu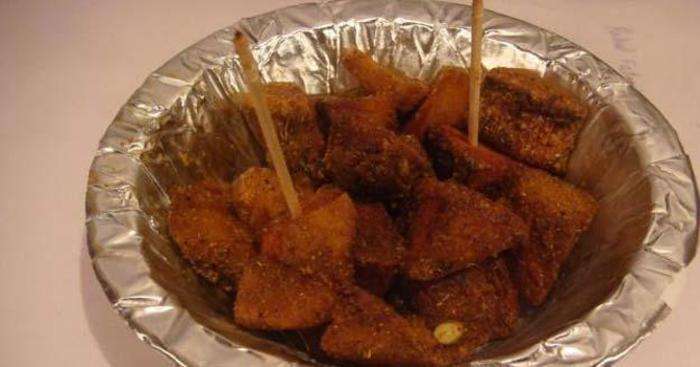 This is Indore's version of the crispy and tangy Aloo ki chaat from Delhi. A yam-variant, Garadu, is diced, fried to golden brown and then sprinkled with a good helping of the special masala (yes, in Indore there's a special spice mix for every dish!) and lots of lemon juice – the perfect recipe for yumminess in a platter.
Where: Several shops at Sarafa Bazaar serve them fresh
Suggested Read: 32 Best Street Food In Delhi You Must Try In 2022 That Is Worth Every Calorie
4. Poha Jalebi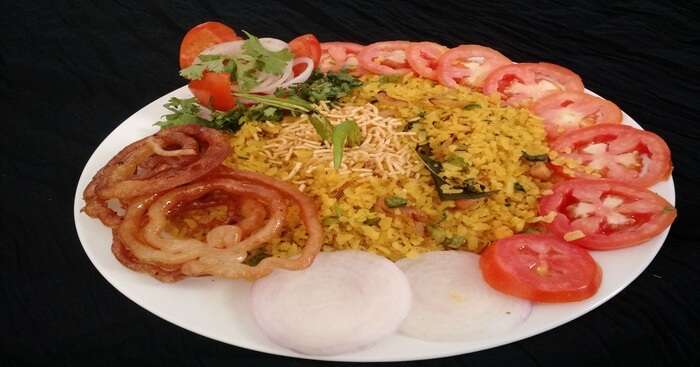 Wherever you are in Indore, you'd be at a walking distance from a kiosk or shop serving steaming hot poha from the wee hours in the morning till late afternoon. This delicious and healthy street food is the best way to start your day when in Indore. Steamed to perfection and topped with the ubiquitous Indori sev, a sprinkle of coriander and a dash of lemon you wouldn't be able to stop at one helping. It can be teamed with spicy kachori for a whole new experience. When eating Indore food, you must do it their way by wrapping up your breakfast with the mouth-watering crispy jalebis.
Where: Every sweet shop in Indore serves poha jalebi. The poha at Young Tarang in Chhapan Dukaan is very popular.
Suggested Read: 40 Indian Snacks Which Can Turn You Into a Local From a Tourist In 2022
5. Bhutte ki Kees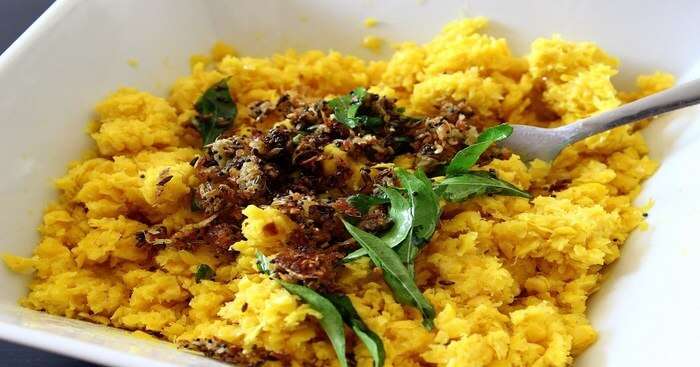 We bet you'd never have had this variant of the corn anywhere else in the country. Another Indore speciality food, the bhutte ki khees is essentially boiled and grated corns tempered with heeng, cumin, green chillies and fennel seeds, topped with some spices, a pinch of lemon and garnished with grated coconut.
Where: Joshi Dahi Bada House, Bada Sarafa, Sarafa Bazaar
6. Khopra Patties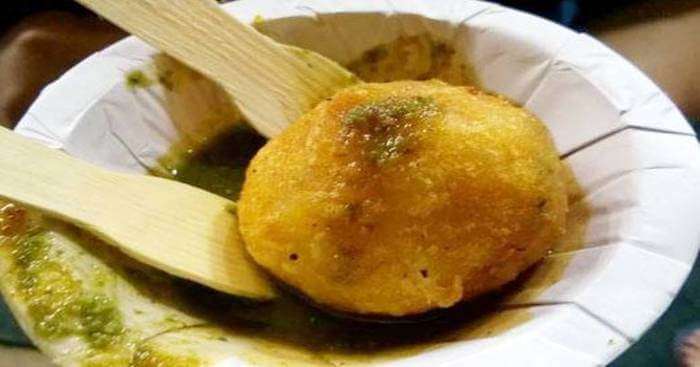 Considering how many of the Indore street food offerings are unique to the city and its out-of-the-box thinking food vendors, it could win the competition for innovative street food variety hands down. A fried to perfection potato patties with a coconut filing and good helping of tangy chutney's is what these khopra patties are all about. The iconic Vijay Chaat House, one of the best places to eat in Indore, serves these and many more yummy delights at both Sarrafa and Chappan dukan outlets.
Where: Vijay Chaat House, Shops 6-8, Chhapan Dukan, New Palasia
---
Planning your holiday but confused about where to go? These travel stories help you find your best trip ever!
---
7. Shikanji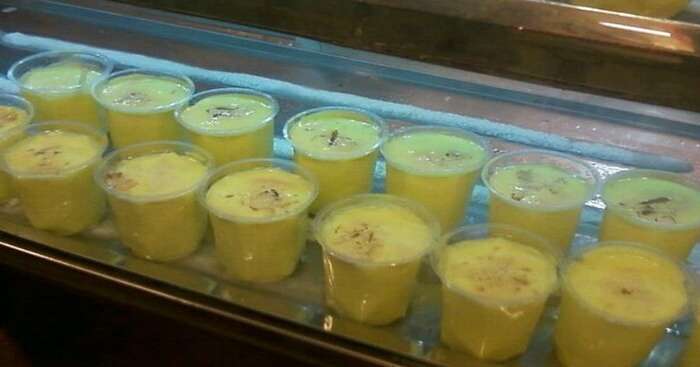 Don't get deceived by the name, this is no cool lemon drink to wash down all that chaat you've gorged on at Chappan dukan or Sarafa Bazar. This thick milky variant is a mini-meal in itself. Rich in texture and somewhere between a rabdi and lassi in taste, the Shikanji glass is garnished with heaps of dry-fruit.
Where: Madhuram Sweets at Chhapan Dukaan, New palasia
Suggested Read: 5 Popular Hot-Spots Serving The Most Famous Street Food In Agra
8. Egg Benjos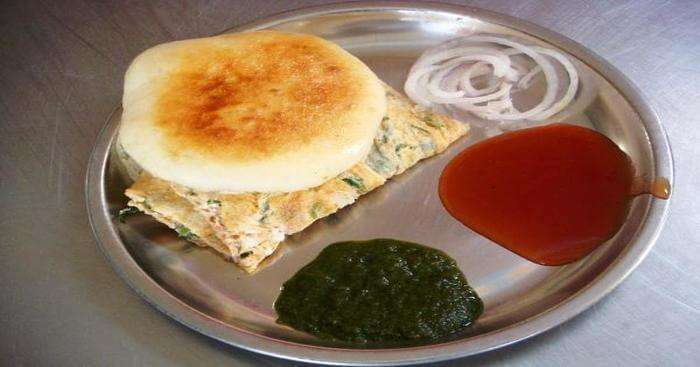 The egg benjos at Johnny's Hot Dogs are one of the most famous Indore food items that you must try during your food trail through the city. In the primarily vegetarian food landscape of Indore, Egg and Mutton benjos at Johnny's are probably the only non-vegetarian items that have such a huge fan following amongst the youth. A spicy masala omelette sandwiched between soft round buns served with chutney and ketchup is very popular. The mutton and vegetarian variants are nice too.
Where: Johnny's Hot Dogs, Shop no.2, Chappan Dukan, New Palasia, Indore
9. Lal Balti ki Kachori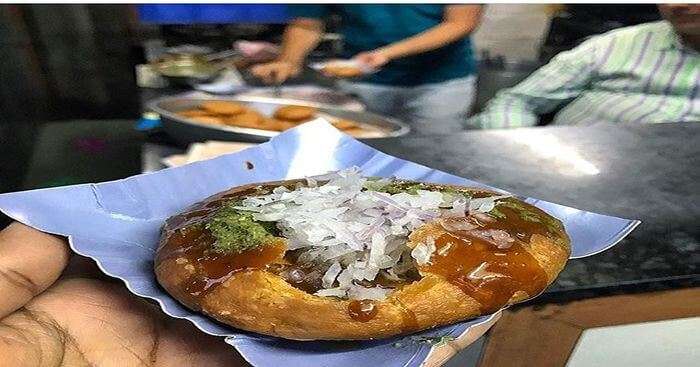 Indore boasts of an entire list of must-try kachori places for those who love these delicious spicy balls of fried dough filled with a range of stuffing. Jostling for the title of the most famous kachori with a host of other shops is the uniquely christened 'Lal balti ki kachori'. Their kachoris stuffed with potato filling and served with their unique green chilli chatni (a very spicy version, not for the faint-hearted!). You must visit the place to figure out the reason for this interesting name.
Where: Near Gas Agency, Nagar Nigam Chiman Bagh, Jail Road, Indore
10. Malpua And Mawa Bati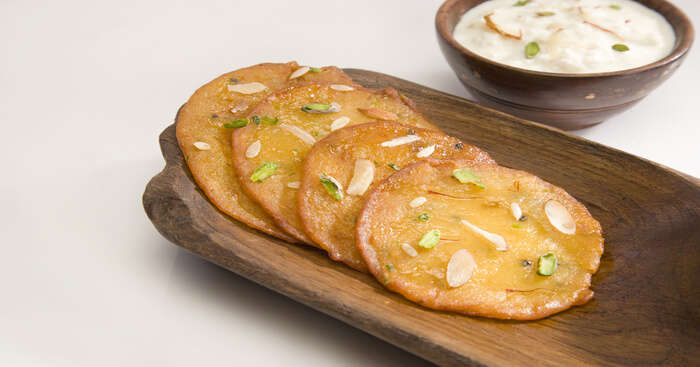 While feasting your eyes on the sights at Sarafa Bazaar, one temptation you cannot resist is trying out the golden brown succulent malpuas displayed on huge tawas at various food stalls. Team it up with some rabri for that perfect dessert to end your food extravaganza at Sarafa. The Mawa baatis which are a bigger and richer version of the gulab jamuns will also make you drool.
Where: Bada Saraf, Sarafa bazaar
11. Dal Batti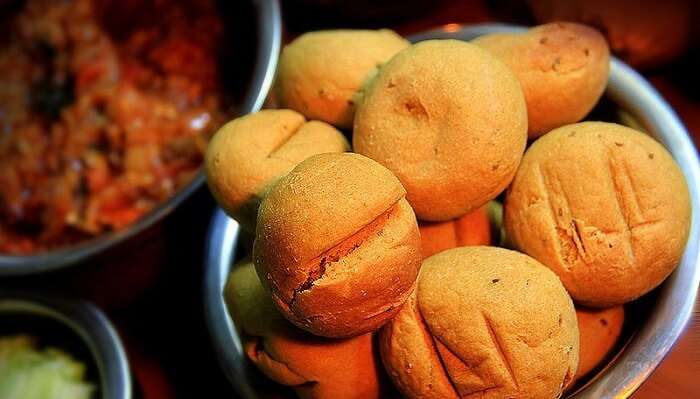 Image Credit: Niranjan.gohane for Wikimedia Commons
Disclaimer: The image is for representation purposes only.
Dal Batti is a delicious dish that is popular in Rajasthan, Madhya Pradesh, and Uttar Pradesh. Made of Lentils and wheat flour and yes a lot of ghee, Dal Batti will melt in your melt and will make you fall in love with it. Dal Batti is served with coriander dip and salad. If trying Indore street food is an essential part of your vacation then you ought to try this dish. Arihant Dal Bati is the most famous spot for trying Dal Batti in Indore and you must take out time to visit and delve into the flavors of this dish.
Where: Arihant Dal Bati
12. Sandwich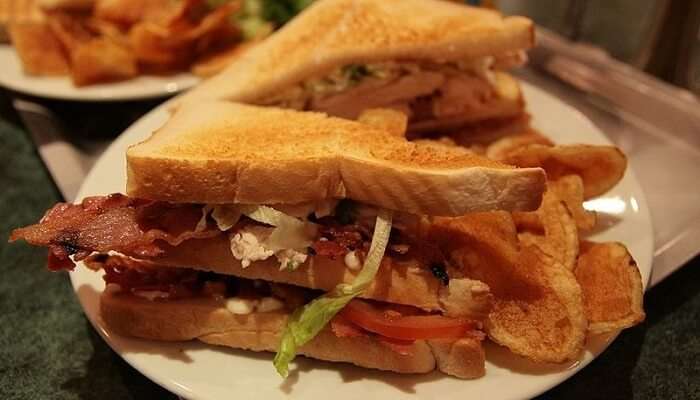 Image Credit: Memm for Wikimedia Commons
Disclaimer: The image is for representation purposes only.
The sandwich is a dish that is available in lots of types in Indore. From a grilled vegetable sandwich to a tandoori sandwich, you can try all kinds of sandwiches on your Indore street food spree. The locals love the cheese and sev sandwich that is available all around the city. Shyam Sandwich and Ajanta Sandwich Centre serve some of the most delicious sandwiches in the city and they have a lot of variety to choose from. You must try a grilled sandwich filled with veggies, cheese, butter, sev, and coriander chutney on your vacation.
Where: Shyam Sandwich, Ajanta Sandwich Centre
13. Sarafa Ke Parathe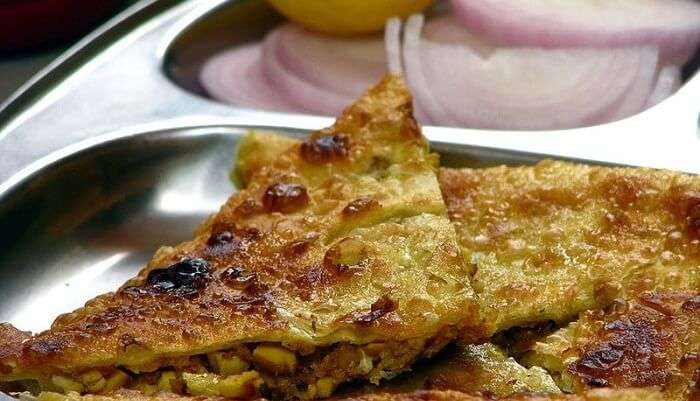 Image Credit: kspoddar for Wikimedia Commons
Disclaimer: The image is for representation purposes only.
Paranthe are one of the most eaten dishes in India and the ones that are served at streets are irresistible. Indore like any other city in India has a special street where scrumptious paranthas are served. Sarafa is a well-known market place in Indore and it is also known for the famous spot called the Aadesh Shahi Paratha where you can try all kinds of paratha. From paneer parantha to potato sev paratha, you can get whatever you wish for.
Where: Aadesh Shahi Paratha
14. Johny Hot Dog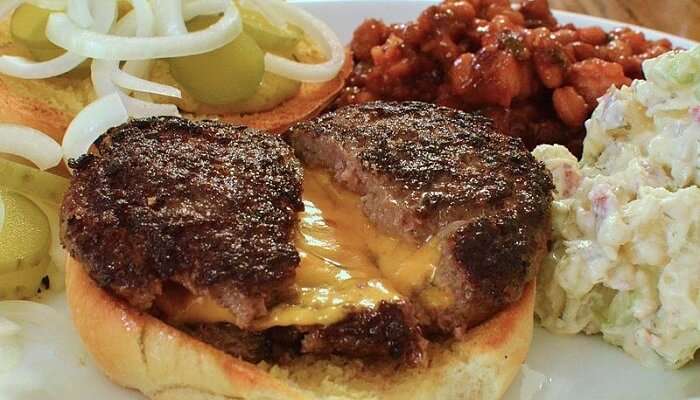 Image Credit: jeffreyw for Wikimedia Commons
Disclaimer: The image is for representation purposes only.
Johny Hot Dog was opened by Vijay Singh and is an incredible spot for trying the most sold Indore street food. Recently Vijay Singh is awarded a prize by Uber eats as the hot dog prepared by him was one of the most ordered dishes in Indore. The locals love the hot dog so much that if even given a chance to choose between MC Donalds and Johny Hot Dog they choose the Vijay Singh's Hot dog. A visit to Indore is incomplete without trying this scrumptious vegetarian hot dog.
Where: Shop no 51, 52, 56 Dukan St, Near 56 Dukan, Chappan Dukan, New Palasia, Indore, Madhya Pradesh
15. Moong Bhajia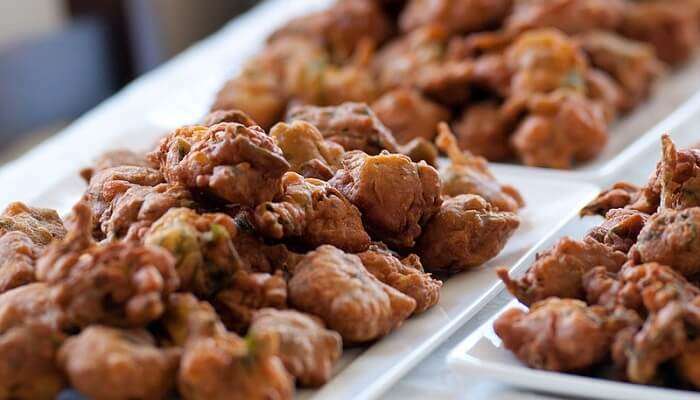 Image Credit: Damien Ramon Naidoo for Wikimedia Commons
Disclaimer: The image is for representation purposes only.
Fritters or Bhajia is a snack that you can find anywhere in India as it is one of the most eaten snacks by Indians. In some households evening tea is incomplete without Bhajia. This dish can be prepared from gram flour or lentils. In Indore, the bhajia made with Moong dal is the favorite snack of all locals. Served with coriander dip and a salad of onion and radish, Moong Bhajiya should be on your list of Indore Street Food dishes that you can't miss out on.
Where: Mahalaxmi Moong Ke Bhajiye
16. Bina Tala Samosa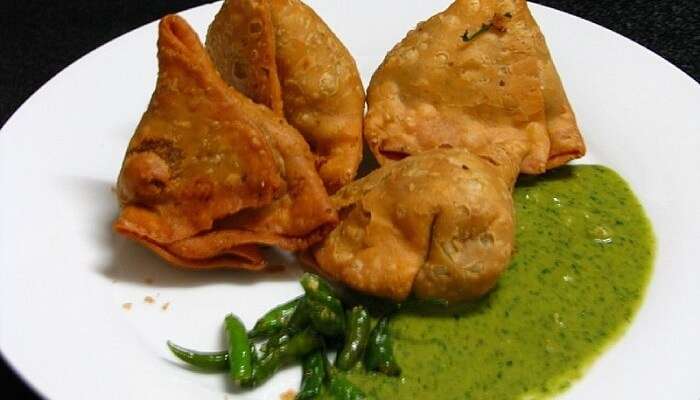 Image Credit: kspoddar for Wikimedia Commons
Disclaimer: The image is for representation purposes only. A healthier version of Samosa, Bina Tala Samosa is another dish that is available in Indore that you must try. Baked Samosa or Bina Tala Samosa is prepared with flour and is stuffed with boiled potato stuffing. This flavorsome dish is served with tomato ketchup and sev. This dish is also called veg puff or patties and is a crispy delight that will satiate your taste buds for sure. You can dive into the flavors of this dish at Indore's Sanchi Point.
Where: Indore's Sanchi Point
Further Read: Street Food In Mumbai: 18 Delicious Cuisines You Must Try In 2022!
If these aren't enough to satiate the street food lover in you, we would also like to recommend the yummy faluda kulfi at Nema Sweets and the 6-flavored pani puri available across various outlets in the city. Before you fly away from this foodie paradise, don't forget to pack some savory Indori namkeens from Akash Namkeen to carry the flavour of Indore food back home! So, get packed and leave for your Indore vacation right away and get ready to satiate your inner foodie!
For our editorial codes of conduct and copyright disclaimer, please click here.
Frequently Asked Questions About Indore Street Food
What is the famous food of Indore?
The most popular food items of Indore are Khopra Pattice, Garadu, Bhutte ki kees, Batla Kachori, Poha, and Chappan. You can get these options at luxuriating restaurants of Indore as well as at street stalls.
Why is Indore famous?
Indore is one of the most developed cities in Madhya Pradesh and is the fourth-largest center of cotton textiles in India. The place is popular for beautiful bangles, ornaments, and delicious food.
What are the best places to visit in Indore?
There are numerous interesting places to visit in Indore and the best among them are Lalbagh palace, Khajrana Ganesh Temple, Kanch Mandir, Rajwada, Patalpani Waterfall, Annapurna Temple, Sarafa Market, Treasure Island Mall, Krishnapura Chhatris, ISKCON Temple, and Ralamandal Wildlife Sanctuary.
Which is the most famous restaurant in Indore?
Indore is famous for its scrumptious delicacies and is home to numerous restaurants that offer amazing recipes. The best restaurants in Indore are Shree Chotiwala Restaurant, Mediterra, Mr. Beans, The Sultan's Restaurant, and The InDorii Cafe.
Which sweet is famous in Indore?
There are numerous desserts of Indore that are popular among food lovers. One of the most delicious and famous sweet in Indore in Makhan Vade which is also known as Balushahi.
Is Madhya Pradesh famous for street food?
Yes, Madhya Pradesh is very popular for its street food. You will find numerous street food stalls here and it is believed to reflect the culture and tradition of this enormous state of India.
Is there any food festival in Indore?
Yes, Indore organizes many food festivals throughout the year. One of the best food festivals of Indore is Oktober Fest which will organized from 22nd September to 7th October.
What should I buy in Indore?
You can but bangles and accessories, namkeen, chivda (flattened rice), sweets, cotton suits, and dressing material from Indore.
---
Comments
comments