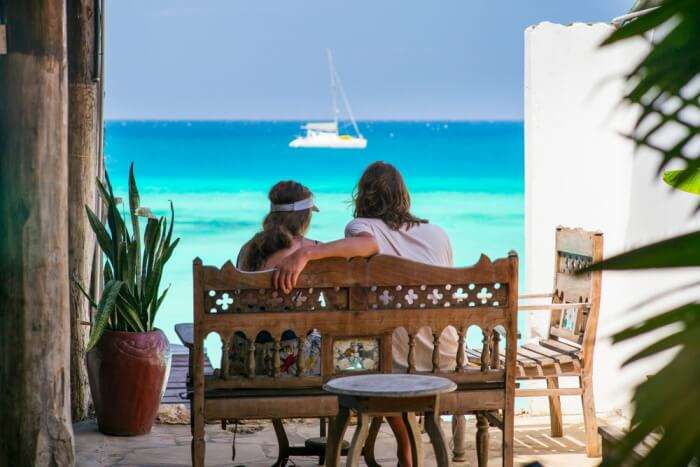 Africa is a very popular tourist destination for a lot of people around the world and especially famous with honeymooners due to the islands in Africa for honeymoon. Africa is home to some of the world's best national parks. The place is also rich in wildlife, so don't be surprised if you spot a giraffe crossing the road! You can be up close with nature which is in abundance over here. Apart from the glorious wildlife and nature, you have also got breathtaking waterfalls and various romantic experiences here in Africa.
If you want to enjoy stunning landscapes, then you can head towards the southern side of Africa which houses beautiful parks. You can go for nature trails here or go for a walk in the scenic backdrop with your loved one. You can even surprise your better half with a coastal cruise. Africa is indeed a treat to the eyes. So if you are looking for a place that has some of the best romantic sites, then Africa is a must visit place for you.
Islands In Africa For Honeymoon
The honeymoon is a special time for all the newlyweds. It is a perfect time for bonding and exploring new places together. And to have a perfect honeymoon, the destination of the honeymoon has to be perfect. Couples usually get very busy with the preparation for the wedding, so to make things easy, here is a list of some exotic islands in Africa for honeymoon. We have compiled a list of islands in Africa that are perfect for all those who are looking for a beautiful place for their honeymoon.
1. São Tomé Island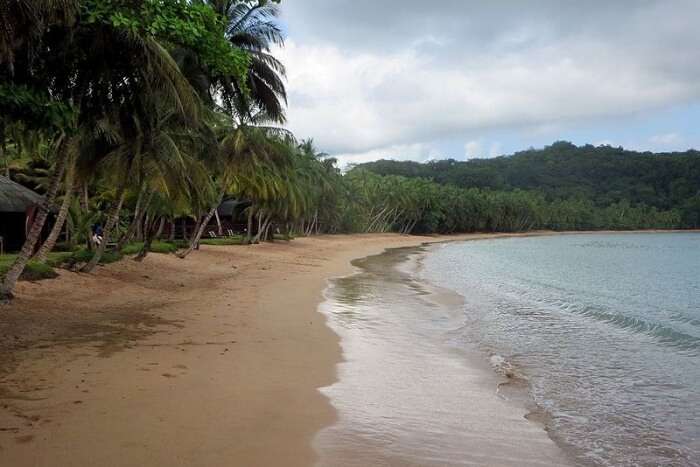 The Sao Tome Island is one of the largest islands in South Africa. The picturesque environment that you get here is indeed surreal. This island is a perfect place for couples. Sao Tame offers a host of activities that you and your spouse can do together. You can explore the waters and go snorkeling, or you can go and visit a chocolate factory that is situated here. You can even go for a nice date and enjoy some of the world's best coffee that you will get here.
Must Read: 10 Top African Islands That'll Let You Have A Tropical Vacation In The Astonishing Country!
2. Sal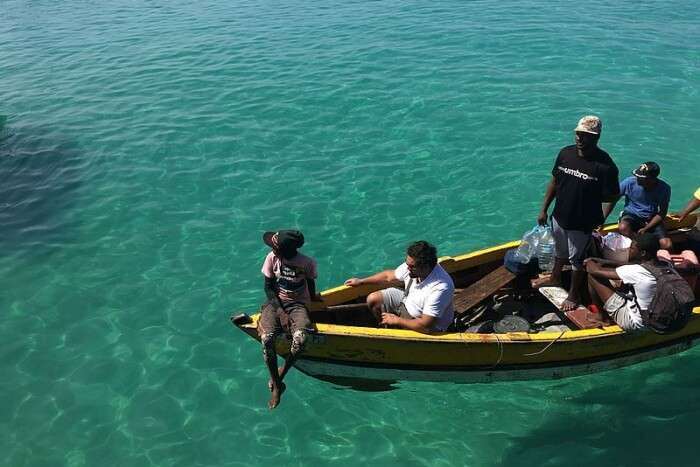 Imagine a long nice romantic walk on a beach with your better half. This is exactly what you can do here at the Sal Island. The island got its name Sal, which means salt in Portuguese, because of the sandy beach the place has. If you want a quiet and relaxed honeymoon, you can head to Sal to enjoy a peaceful time at the beach. You can even head to the main town of Santa Maria where there are many bars and restaurants so you can even enjoy the nightlife there.
3. Moheli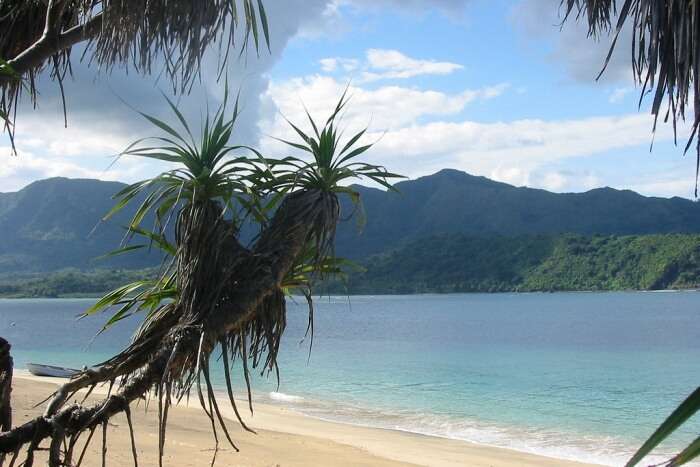 If you want to spend a few days disconnected with the world, and have quality time with your partner, then you should opt for Moheli as your honeymoon destination. The island is not very populated and you will not find a lot of amenities here. But the place is worth visiting. The national park here is superb and you can go snorkeling and spot some colorful reefs. The park also has a lot of protected animals like dolphins, turtles, and whales. If you want to be up close with nature, then Moheli island is a great spot for you.
Suggested Read: 6 Road Trips In Cape Town To Experience South Africa The Cool Way
4. Nosy Be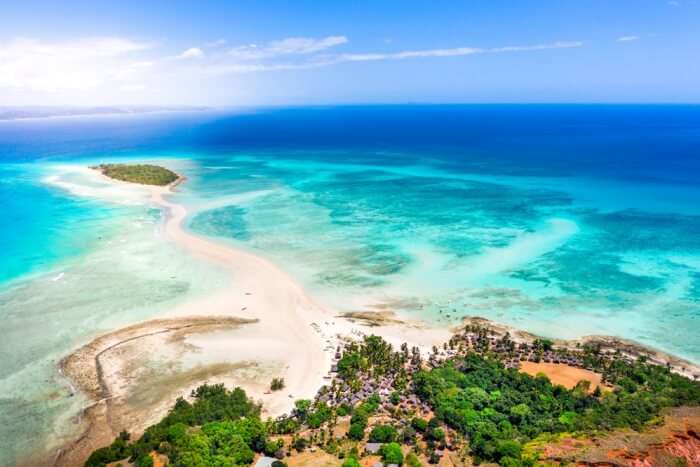 This Island is very popular with tourists all over the world. You can spend some great time here on the beaches. Take a stroll or sit back and enjoy the sunset hand in hand with your partner. The water around the island is very clear and inviting. There are even restaurants that serve some lip-smacking seafood. And the best part is that they are on the beach so you can enjoy a romantic meal with a view. Have a great time with your partner at Nosy Be.
5. Djerba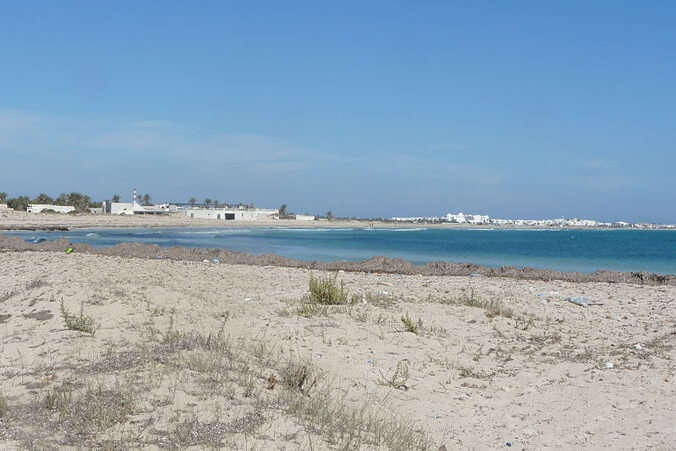 If you are a couple who loves history and likes to explore, then you should definitely plan your honeymoon to Djerba island. The place has some of the prettiest beaches in North Africa. And the towns here are influenced by Arab, Jewish, African, and Berber culture. With influences from so many different parts, the place is a must visit. You will even find handicrafts markets and can pick a souvenir or two. So if you want to have a silent countryside time with your partner, you should definitely visit Djerba.
Suggested Read: South Africa With Kids: 13 Enthralling Places For A Memorable Holiday With Your Loved Ones!
6. Praslin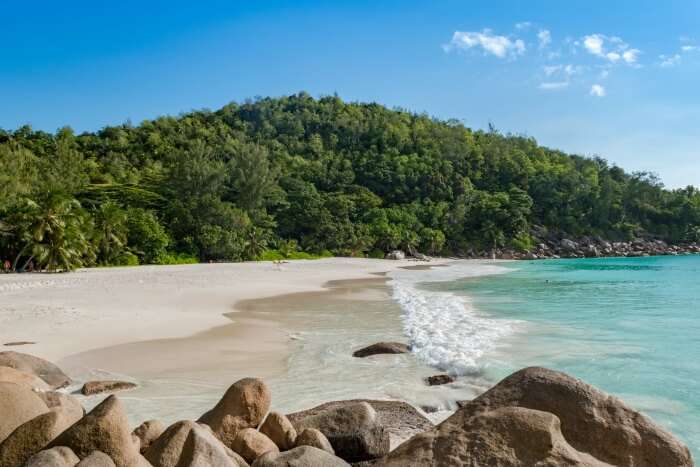 If you go for your honeymoon to Praslin, you will feel as if you are a part of a beautiful painting. The place is that breathtaking! The beach has beautiful palm trees which give the entire beach its beauty. Picture a walk on the beach with palms on the side and you walking hand in hand with your loved one! It is a very romantic destination, especially for those couples who love beaches. You can even go snorkeling right at the beach itself. What is even interesting is that there are helicopter tours that you can get to view the amazing beauty that Praslin is.
---
Planning your honeymoon but confused about where to go? These honeymoon stories help you find your best honeymoon trip ever!
Real honeymooners. Real stays. Real opinions to help you make the right choice.
---
7. Zanzibar Island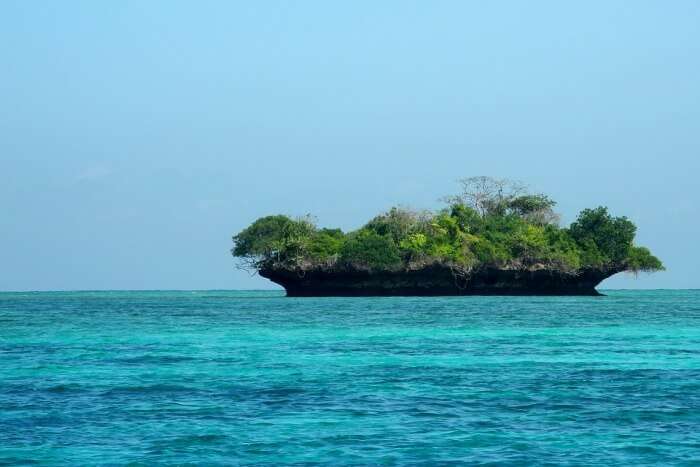 Zanzibar Island is a very vibrant place. With many beaches, the location also hosts a lot of festivals and events. The island is also home to a UNESCO world heritage site, Stone Town which is a city that has a rich history. You can stay at this beautiful location as there are many hotels which are available here. You can visit the forts and parks and even go shopping at the Stone Town. Pamper your partner at the beautiful island of Zanzibar.
Suggested Read: 16 Best South African Desserts That'll Let You Explore The Sweet Side Of The Country!
8. La Digue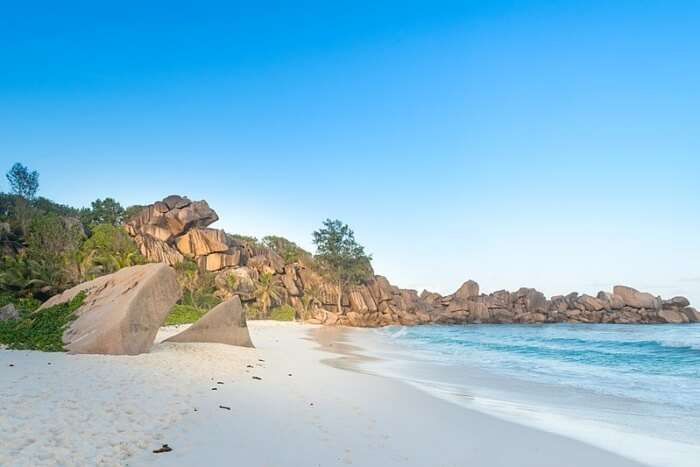 This place is perfect if you want to experience a perfect blend of an island vibe with a touch of local life. The beaches of the La Digue are so magnificent that they often win awards for being the most beautiful beach in the world! And this is proof enough for how pretty the beaches are. The beautiful beaches of La Digue are going to make a perfect backdrop for a romantic walk or even a quiet romantic dinner with your spouse. The place also rents cycles, so you can both go cycling and enjoy the local life here at La Digue.
9. Lamu Island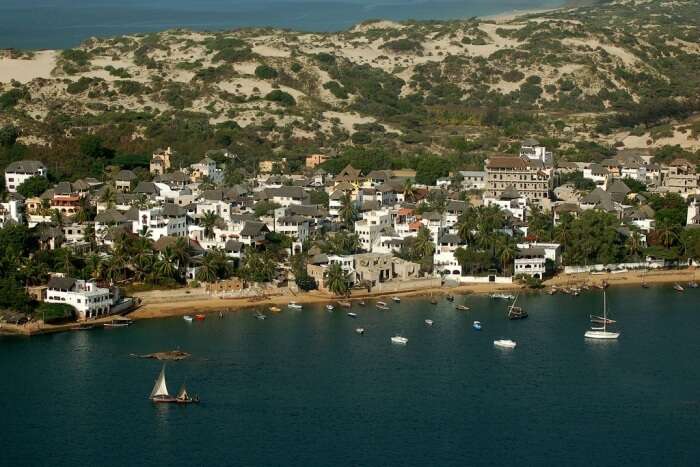 Lamu Island is best described as a peaceful and tropical location that you can enjoy on your honeymoon. The charm of the island is its natural beauty. You can go exploring the town where you will find unique settlements that have coral-stone laden houses. Or you can go for a stroll at the beaches here. The place also offers Dhow Sailing, so you can go explore the waters of Lamu Island and go for sailing.
Suggested Read: Hot Springs In South Africa: To Explore The Natural Hidden Gems Of The Country's Charm!
10. Pemba Island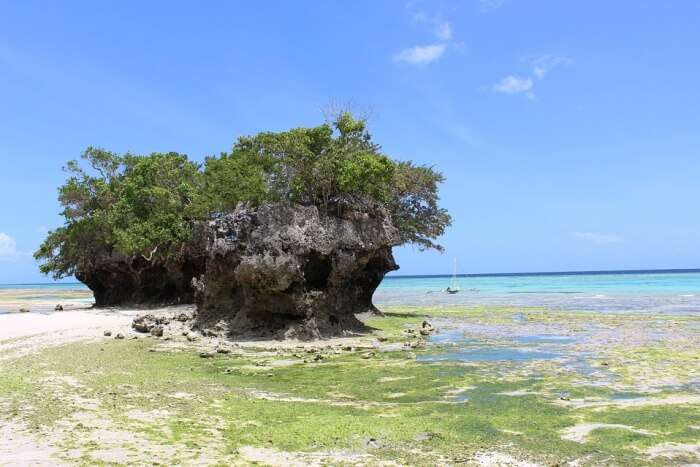 The Pemba Island is famous for its lush green mountains. You can take coral tour packages or enjoy the waters of Pemba Island and go scuba diving and snorkeling. You will not find a lot of infrastructure or a lot of things to do here at Pemba Island. So it is ideal for those couples who are looking for a quaint and relaxed honeymoon. Spend some quality time here away from the hubbub of the city life with your partner.
11. Comoros Island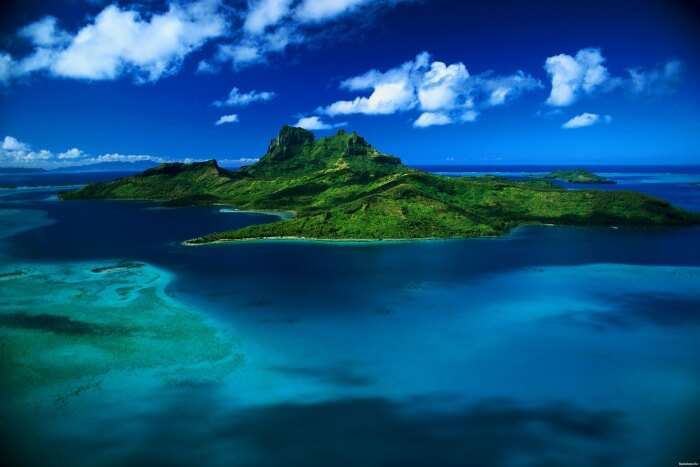 The Comoros Island is a perfect amalgamation of fun things that you and your spouse can do on your honeymoon. There are many beaches that you can visit. There are even some great beach restaurants where you can enjoy tasty food. There is even a place where you can spend the night in a tent! The place is also home to the bottomless salt lake which looks very beautiful. Enjoy the views as you have a great time with your partner here!
Suggested Read: Don't Miss These Food Festivals In South Africa If You Call Yourself A Foodie
12. Mafia Island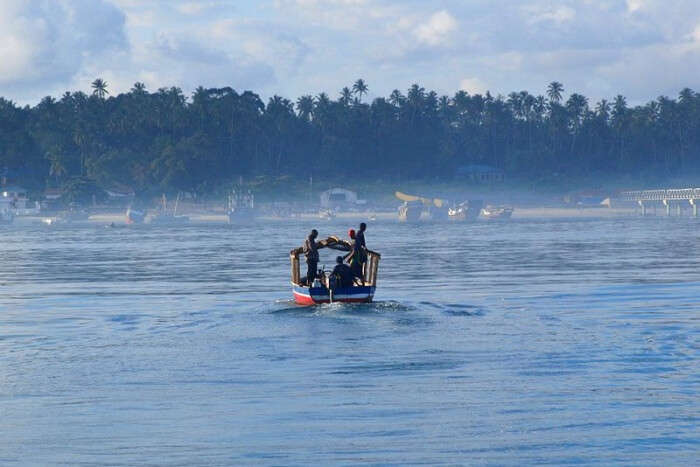 Mafia Island is a great spot to enjoy the nature's marvelous creations. The island has a rich history and culture and has antiquities that date back to the eleventh century. The place also houses a marine park, where you and your better half can go exploring the marine life and go for diving. The island waters are known to have the richest reefs in the world. And with so much to explore with your partner, it makes for one of the best honeymoon islands.
Suggested Read: Honeymoon In Africa 2022: Top 11 Romantic Getaways For The Best And Unique Experiences!
13. Mauritius Island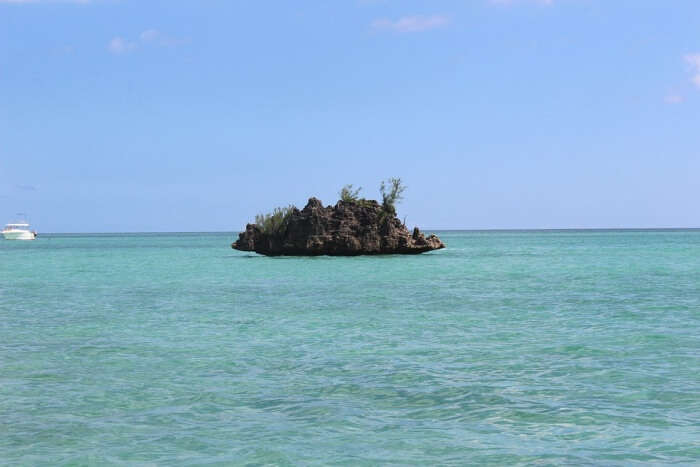 The Mauritius Island makes for a perfect honeymoon destination because you can enjoy the sublime beaches that the island has and spend evenings there watching the sunset over the water. If you want to experience something different, then you can even opt for kitesurfing. The location is perfect for it. You can even head to Port Louis market and shop for some souvenirs.
Further Read: New Year In South Africa: 12 Things To Do To Welcome It With Some Sass
Head to one of these islands in Africa for honeymoon and make it a memorable trip for your partner and yourself. The islands make for a perfect location for a honeymoon because they have a very nice, cozy, and peaceful vibe to them. We hope that this list of islands in Africa help you decide the most suitable location for you and your spouse! Book your trip to Africa with TravelTriangle and have a great time at one of its islands with your partner!
Frequently Asked Questions About Islands In Africa for Honeymoon
What is the best time to visit Africa for a honeymoon?
To make the most out of your vacation, you should visit Africa from May to November as in these months you can witness wildlife and enjoy the pleasant weather.
Is it safe to travel to Sao Tome?
Sao Tome is a beautiful island and is one of the safest islands In Africa for honeymoon. From the stunning and safe beaches to the romantic ambiance, Sao Tome is an ideal spot for a honeymoon.
What is the best month to go to Sal?
An island vacation should be planned considering the best month to visit and the weather. If you are a couple who wouldn't prefer extreme weather then you may visit this serene island from March to mid-August.
What can we do in Nosy Be on our honeymoon?
There are several things that you can try in Nosy Be and they are listed below! 1. Take a romantic walk on the beaches. 2. Witness the flora and fauna. 3. Go for a swim and relax. 4. Party at the nightclubs located nearby
Which is the most romantic island in Africa?
La Digue is one of the most romantic islands in Africa as you can properly spend time with your partner and indulge in various activities.
Which are the most famous restaurants in Djerba?
The most popular restaurants in Djerba where you can enjoy a candlelight dinner with your wifey are: 1. Restaurants Savana 2. Restaurant De L'île 3. Restaurant Chez Chouchou 4. Restaurant Fatroucha
Is Zanzibar safe for tourists?
Zanzibar is completely safe for all tourists and it is one of the reasons that tourists frequently plan a honeymoon on this island.
---
Looking To Book Your Honeymoon Package?
Book memorable honeymoon on TravelTriangle with 650+ verified travel agents for 65+ domestic and international destinations.
---
People Also Read
Islands In Maldives For Honeymoon Islands In Europe For Honeymoon Islands In Thailand For Honeymoon