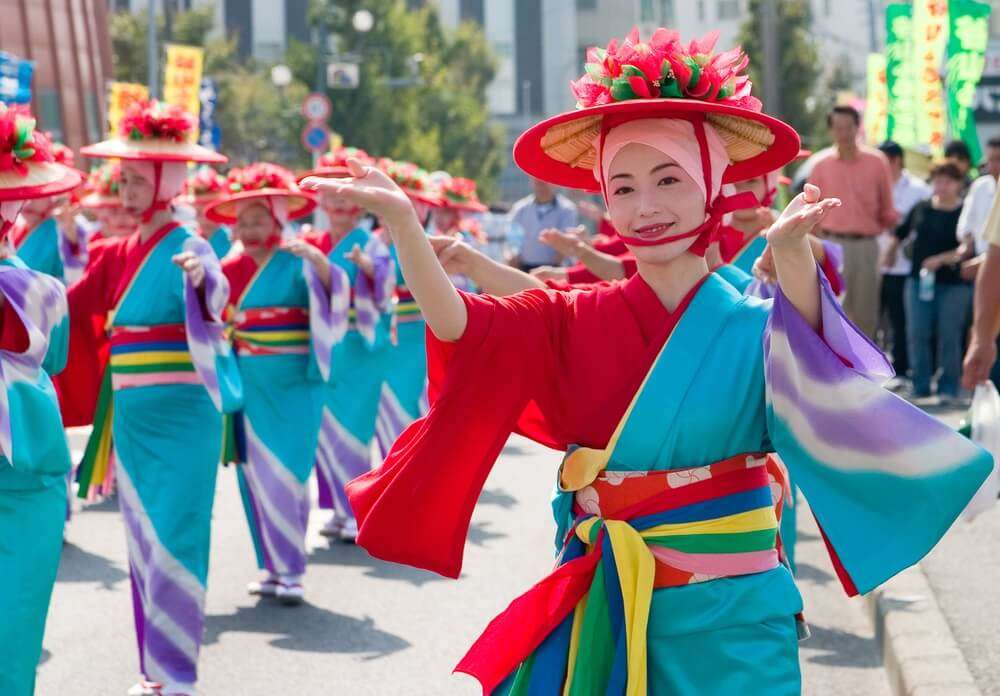 Japan is a beautiful country that has so much to offer to its tourists. Apart from the natural beauty and historic sites, there are also so many different Matsuris or festivals that take place. There are more than 30,000 different festivals that take place in Japan that really express the best of its culture. These Japanese festivals vary from place to place. However, a Matsuri or festival is usually sponsored by a temple or a shrine and is put together by the locals. It can be a harvest festival or a religious one.
The people who take part in these festivals wear the traditional outfit of Matsuri and they carry portable shrines around to bless the town and the people. These festivals attract people from all walks of life. Most tourists look forward to walking into these parades, they hope to experience the music and the dancing.
10 Vibrant Festivals In Japan
If you are in Japan and you don't want to miss these Japanese festivals, then you should have a look at this list so that you are able to find them at the right time:
1. Kanda Matsuri
This festival is actually the most famous one in Tokyo and is sponsored and found around the Kanda Myojin Shrine. This is one of the most famous Japanese festivals that best represent Tokyo. The shrine honors three deities- Daikokuten (one of the Gods of fortune), Ebisu (God of luck) and Taira no Masakodo (A feudal lord that was worshipped). Mikoshi or the portable shrines are then carried and followed by thousands of people including dancers and musicians. It continues through Kanda to Akihabara and then returns to the shrine by the end of the evening. The shrine is supposed to bring good luck to the locals.
Location: Kanda Myojin Shrine
Date: Early – Mid May 2022
Must Read: Christmas In Japan: Relish The Kurisumasu Keki This Christmas!
2. Yuki Matsuri
This particular festival is one of the most popular Japanese festivals around. It starts getting crowded around mid-February. Six high school students had built ice sculptures here and eventually, it became into a contest where people came from all over the world to create majestic ice sculptures. If you happen to visit the festival, you will be able to see a plenty of awe-inspiring sculptures, ice carvings and you will also be able to enjoy the concert that takes place. The festival happens in 3 different spots in Sapporo- the Odiri site, Tsu dome, and Susukino site.
Location: Odiri site, Tsu dome and Susukino site.
Date: 1st to 12th February 2022
3. Gion Matsuri
This festival takes place during the month of July and is one of the best Japanese Summer festivals you can find. It is sponsored by the Yasaka Shrine and it was originally started to do away with the plague that had taken a toll on Japan in 898. The highlight of this festival has to be 'Yamaboko Junko' which is when the procession of floats takes place on the 17th and 24th. The hokos or floats are massive and are attached to wheels that are as big as a human. The entire festival just gets people in the mood to celebrate, with so many colorful floats, so many people and so much food and drinks.
Location: Shijo Karasuma area
Date: Mid – Late Jul 2022
Suggested Read: This Library Hostel In Japan Is The Perfect Cocoon That Every Bookworm Dreams Of!
4. Tenjin Matsuri
The Tenjin festival is one of the top 3 Japanese summer festivals after Giona and Kanda Matsuri. It has the regular land procession where the Mikoshi or the portable shrine is carried around, however, the journey ends at the docks and stays at the river and thereafter, there is a firework show. The parade begins at Tenmangu shrine and on the third day, it reaches river Okawa where the shrine and the followers are loaded on a boat and the boat parades down the river and back. The great part about this festival is that it is a great way to beat the heat. You will be cooled off by the river, there are plenty of food stalls and vendors, and if you can even observe stage boats where there are special performances put on.
Location: Tenmangu Shrine, Osaka
Date: 24th and 25th July
5. Aomori Nebuta Matsuri
If you happen to visit Aomori city at the beginning of August, you will get the opportunity to see massive Nebuta or illuminated floats on display. Some of them depict human figures and they are plenty of dancers that circle around. There are also Nebuta made of mythological or historical figures which form the highlight of the festival. This festival draws visitors from all over the world and is, therefore, is one of the most popular Japanese festivals. If you want to join in the festival, you will have to wear a Haneto dancer costume and you will most certainly need to dance with them.
Location: Aomori Prefecture, Aomori city
Date: August (dates to be announced)
Suggested Read: Japan Beats Singapore As Having The World's Most Powerful Passport!
---
Planning your holiday but confused about where to go? These travel stories help you find your best trip ever!
Real travel stories. Real stays. Handy tips to help you make the right choice.
---
6. Kanto Matsuri
The pole lantern festival or Kanto Matsuri is one of the best festivals in Japan. The best part about this festival? People balance long bamboo poles or Kantos, with their lanterns attached to the end of the pole. The poles are in different sizes and the lanterns are lit with actual candles. The performers go along with the music and the chanting. They hoist the poles up in different places, which could be their head, hands or back. The night parade is a great time to watch all the performers hoist up their lanterns and show off their skills.
Location: Akita City, Tohoku
Date: 3rd to 6th August 2022
Suggested Read: Cherry Blossoms Are In Full Bloom & So Is The All New Spring Flower Cruise In Japan
7. Tanabata Matsuri
This festival originated with the idea of praying for a good harvest. Two festivals were mixed and then become one. This is one of the oldest Japanese festivals. What is seen today is mostly a part of the Chinese star festival. The highlight of this festival would be colorful Tanabata decorations that can be found along Sendai City. If you head out to Central Sendai, you will be able to find thousands of colorful paper decorations hung on the streets.
Location: Miyagi Prefecture, Sendai City
Date: 7 July 2022
8. Awa Odori
This dancing festival is one of the best festivals in Japan. This lively event will sure get your excitement on. The region is particularly famous for their dancers who call themselves 'Ren' They perform in streets that are closed off in Tokushima. They continue dancing throughout the town and have instruments and songs played just for them. Tourists and locals flock around Tokushima City Center to get a good show. If you enjoy watching people dance and you enjoy the colorful colors and decorations of Japan, then this is the place to be.
Location: Near Tokushima JR train station
Date: 12th to 15th August 2022
Suggested Read: 15 Best Places To Visit In Japan That Make It Look Right Out Of A Storybook
9. Hakata Gion Yamakasa
This festival is dedicated to the Kushida Shrine and is one of the largest festivals in Kyushu. It is held during the early morning hours in July and a race takes place between the neighboring districts. They push their decorated Yamakasa or floats throughout the city. 7 teams take part in the race and they parade throughout town showing off their display of beautifully decorated floats. You can observe or get a glimpse of the teams at the start area with the crowd or you can pay a small fee and gets seats in the Kushida Shrine court.
Location: Kushida Jinja Shrine, Fukuoka
Date: 1st to 15th July 2022
10. Karatsu Kunchi
This is one of the very interesting Japanese festivals. This is an Autumn festival and is dedicated to the Karatsu Jinja Shrine. 7 different floats are created made from layers of washi paper, wood, and linen and are decorated for viewing. These floats are then finished with gold or silver leaf. The floats are paraded and pushed throughout the city. These floats catch the attention of hundreds of people and really show off the creativity and culture of Japan. The floats are pushed around on the 3rd of November and are accompanied by musicians.
Location: Karatsu Jinja Shrine, Saga Prefecture, Kyushu
Date: 2nd to 4th November 2022
Further Read: Getting A Japan Visa Will Now Be Easier Than Buying A Movie Ticket!
There are many more Japanese festivals you can be a part of, but these are some of the most popular ones that most tourists really look forward to. If the parades are what you want to see, book your trip to Japan and get a chance to experience them live to really revel in the local culture.
---
Looking To Book A Holiday Package?
Book memorable holidays on TravelTriangle with 650+ verified travel agents for 65+ domestic and international destinations.
---