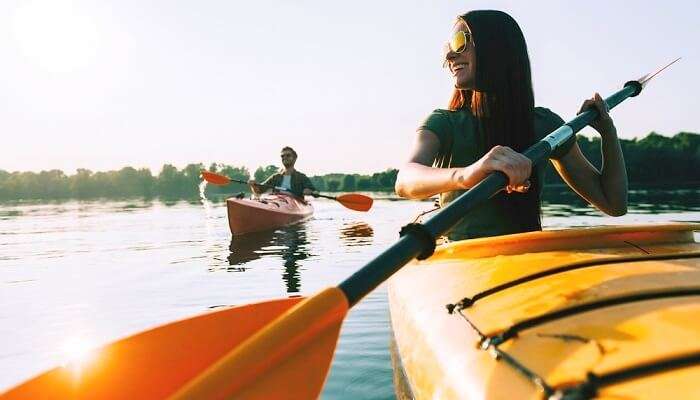 Kayaking is the use of a small and slim water boat known as a kayak to move across bodies of water. While Kayaking, the paddler uses a double-bladed paddle in rotation to move forward. The paddler has to take the position facing forward with his legs in front of him. Conversely, canoeing is an activity where the paddler will use a single-bladed paddle to move a slender looking lightweight boat called canoe with pointed ends and an open top. Both water activities have been in use for thousands of years but their modernized versions have been prominent since the late 19th century. To help you decide which activity is made for you here is a kayaking vs canoeing guide! Take a look!
About Kayaking And Canoeing
People often confuse kayak and canoe with some people also calling canoe- an open canoe; because other than kayak using a double-bladed paddle and canoe using a single-bladed paddle, the common distinguishing feature is their tops with Kayak being partially closed and canoe having an open top. The world is filled with abundant water bodies for both kayaking and canoeing. In this article, we will bring you some of the best places around the world that are known for these two water sports.
A kayak has a double-bladed paddle and the kayak is partially open with a top on the legs. The ends of a kayak are pointy making it appear quite in the shape of a slim banana but this slim structure helps increase the speed of kayaks. A canoe has a single-bladed paddle and is completely open from the top which gives it more room so that more than one person can sit in a canoe comfortably. Even canoe is slim but the design of it makes it bit slower than a kayak but still equally efficient.
5 Best Places For Kayaking In The World!
Here is a list of the best kayaking spots in the world. Do go through these places mentioned in this kayaking vs canoeing guide and pick your spot for your next vacation! Keep scrolling down!
1. Glacier Bay, Alaska, USA

This is one of the prime locations for sea kayaking in the country. A challenge for paddlers, this kayaking experience has it all from icebergs to glaciers and the majestic peaks of Glacier Bay Mountains merging straight in the sea. The paddlers can expect the most scenic and serene views along with several glimpses of both wild and aquatic life such as whales, sea lions and seals to name a few; habituating in and around Glacier Bay.
Price: INR 3570/- approx.
Must Read: Go Glacier Kayaking In Canada & Live Your Craziest Fantasy Ever!
2. Dalmatian Coast, Croatia

Draped across a big fraction of the Adriatic coastline of Croatia, this is without a doubt one of the best locations for kayaks across the globe. Explore the lesser-known islands that make up Europe's pristine coastline on Croatia's Dalmatian Coast. A trip to Dalmatians includes much more than kayaking. Paddle across the aquamarine waters to camp on the wooded islands and trek to historical ruins for simply an unearthly journey.
Price: INR 2500/- and above
Suggested Read: 16 Best Adventure Sports In Croatia In 2022 For Both Adventure Junkies & Rookies
3. Svalbard, Norway

This is yet another dream place for kayak lovers. Paddle on icy topaz colored waters, battle through harsh winds, enjoy the cloudless skies to reach up to the glaciers and then soak in the tranquillity of the sight and bask in the pleasure of doing something that many people could only dream of. Enjoy sightings of seagulls perched on the chunks of ice that fills this Norwegian Sea and take amazing pictures with Svea glacier as the coolest natural backdrop. And this enthralling experience comes at a price for kayaking in Norway is super expensive but definitely worth every penny.
Price: INR 20500/- approx.
Suggested Read: Kayaking In Phuket: 10 Best Spots To Go And Experience The Best Of This Activity In Thailand!
4. Galapagos Islands, Ecuador

Emerged in the Pacific Ocean, this island is a volcanic enclave. Considered to be one of the world's first locations for wildlife viewing, it is situated about 1000km from Ecuador's coast. This is one of those rare treasures that many people are still unaware of for it beholds such a beauty that once you have been here, you will want to keep on coming. Discover the water at eye-level and greet turtles and sea birds on your way, kayaking here should definitely be on your bucket list if it is not already. And if you are lucky enough, you might even get to see penguins and their adorable walk.
Price: INR 17000/- and above
Suggested Read: 11 Best Destinations For Snorkeling That Bring Out The True Aura Of Underwater Beauty In 2022
5. Halong Bay, Vietnam

This is quite a hotspot location for kayaking as tourists from all around the world come here for the sole purpose of kayaking in its jade colored waters. Encompassed by numerous islands that are capped with dense rainforests, you could visit here even if you don't know how to kayak for there are so many beautiful sights that would cool your eyes. With eight famous spots for kayaking, paddling here is a relaxing and very fun activity to do. Take in a dip in the calm waters of Halong Bay or camp on the shore, coming here will really be worth it.
Price: INR 4700/- approx.
Suggested Read: 20 Best Beaches In Vietnam For Some Sun, Sand & Surf!
5 Best Places For Canoeing In The World!
Here is a list of the best Canoeing spots in the world. Do go through this kayaking vs canoeing guide and pick your spot for your next vacation! Keep scrolling down and read along!
1. Fiji Islands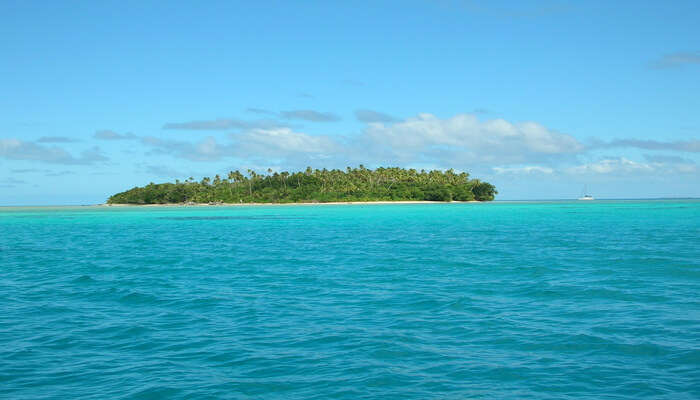 A sanctuary of more than 300 islands, Fiji is located in the South Pacific. And with these many islands, Fiji has gained its fame for its crystal clear lagoons, palm beaches and of course, the very popular water sports. Whether you want to paddle among the reefs to enjoy the sights of corals visible from the translucent water or swim in the cool waterfalls or surf on the waves, Fiji has got your back. Even with having so many islands, you will experience something new on each and every one of them.
Price: INR 5500/- and above
Suggested Read: Kayaking In Hong Kong: Get To Know The Best Places Where You Can Go And Experience This Sport!
2. Phang Nga Bay, Thailand

Nestled amidst the mainland of Southern Thailand and Phuket Island, this little gem has got many mini islands that are known for having limestone cliffs, caves and lagoons. The bay is lined up with beautiful coral reefs leaving a spectacular sight for everyone to see. Canoe in the sea caves of this stunning bay and take pictures with amazing backdrops, this place is truly a haven for canoe lovers.
Price: INR 7100/- and above
Suggested Read: Kayaking in Thailand: Why To Consider It On Your Thailand Vacation In 2022!
3. Zambezi, Africa

The longest east-flowing river from Africa into the Indian Ocean, this is one of the top spots for all you paddle lovers. Enjoy the sights of a variety of birds and small animals for the part of the lower Zambezi river is belted by National Park on both sides and then soak in the opportunity to enjoy the scenic view of the river before its descent over the Victoria Falls. Canoeing here is going to be an experience that you will surely not forget.
Price: INR 9900/- and above
Suggested Read: Canoeing In Phuket: An Exhilarating Experience You Must Undertake In 2022
4. Belize Barrier Reef

Sprawled along the coast of Belize, it is a series of coral reefs. Known for the stunning coral reefs, canoeing here is going to be an absolute pleasure for those who enjoy the breath-taking spectacle of multi-colored corals. Paddle along the coastline or canoe between a cave, you will surely have a worthwhile experience.
Price: 4300/- and above
Suggested Read: 20 Scenic Beaches In America Known For Their Vibrant Atmosphere
5. Kerala, India

Kerala is known for its clear backwaters, river cottages, lavish houseboats, and its stunning green views. Canoeing here is just not a sport or a water activity but it is also a means of transportation for most of the local people living there. So, you know, they are good at it. Tourists from all around the world come here for the distinct canoeing experience that Kerala has to offer. Breathe in the fresh air, let the greenery around soothe your eyes and allow the hospitality of locals to warm your heart, Kerala is really a must-visit place for all your paddlers.
Price: INR 1000/- approx.
Further Read: Kayaking In Andaman: 4 Places For Sailing Through The Serene Blue Ocean In 2022!
Kayaking and Canoeing, both of these water activities are being wildly encouraged for its sudden boost in popularity in recent times. People have associated these sports to richness so whenever one thinks of kayaking or canoeing, it always sounds very fancy. Since these are above water activities, it is much easier to access it for we have a plethora of seas and rives around the globe. And many paddle lovers are always looking to explore more to fulfill their fantasies. Now, if all your doubts are cleared by this Kayaking vs Canoeing guide, then plan your international vacation right away!
Disclaimer: TravelTriangle claims no credit for images featured on our blog site unless otherwise noted. All visual content is copyrighted to its respectful owners. We try to link back to original sources whenever possible. If you own the rights to any of the images, and do not wish them to appear on TravelTriangle, please contact us and they will be promptly removed. We believe in providing proper attribution to the original author, artist or photographer.
Please Note: Any information published by TravelTriangle in any form of content is not intended to be a substitute for any kind of medical advice, and one must not take any action before consulting a professional medical expert of their own choice.
Frequently Asked Questions About Kayaking v/s Canoeing
Is kayaking and canoeing one and the same thing?
Technically, they are not the same thing for a Kayak doesn't have an open-top while a Canoe does. Additionally, Kayak paddlers use a double-bladed paddle and canoe paddlers use a single-bladed paddle. Though some people do confuse them for the same thing and mistake canoe for an open kayak.
Should one know how to use a kayak or a canoe before using it?
Having some experience is always better but canoe can still be used without any experience provided you take precautions and safety measures.
Is kayak faster or canoe?
Kayak is much faster than canoe because of its slim frame.
Is it risky to kayak or canoe?
It is not particularly risky to kayak or canoe but one should always be prepared for future risks.