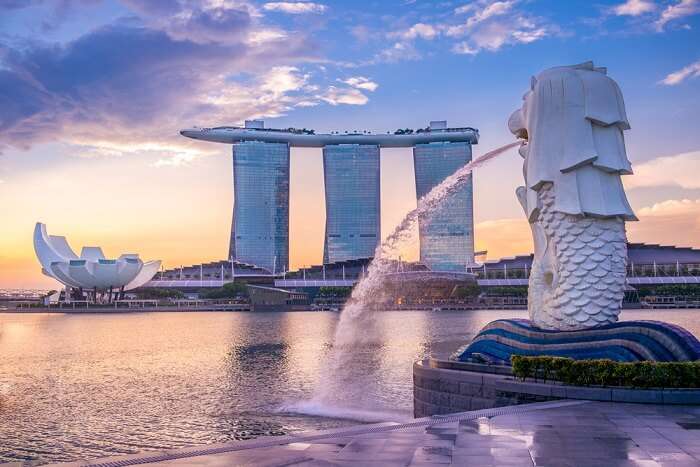 Have questions about Singapore ahead of your trip? We have got all the answers for you.
Not just the fastest growing economy, Singapore is one of the popular tourist destinations too. Known for its amazing architecture and man-made splendours, it attracts a huge number of tourists every year. Know all about Singapore; its geography, topography, visa-related information, that travelers frequently ask about.
About Singapore
Singapore is a famous island country. Know all about its geography, culture, and topography.
1. Are Singapore and Malaysia different countries?
Yes, Singapore and Malaysia are different countries. Singapore became a part of Malaysia in 1963 along with the merger of Malaya, North Borneo, and Sarawak. Due to deep political and economic differences, Singapore separated from Malaysia in 1965 and became an independent and sovereign state.
2. Does it snow in Singapore?
No, it does it snow in Singapore. Since the country lies near the equator, Singapore enjoys a tropical climate all throughout the year. It does not have seasons like winter, spring, or autumn. It is summer all year round.
3. Was Singapore a part of China?
No, Singapore was never part of China. However, it has a large Chinese population because of the ancestors who migrated from China year ago.
Suggested Read: 15 Best Beaches In Singapore That Make It A Beach-Heaven
4. Does Singapore have beaches?
Yes, Singapore has beaches since it is an island country. If you miss some beach time in Singapore, head to Sentosa Island which has Singapore's beautiful beaches.
5. Is Singapore an island? If yes, how many islands comprise Singapore?
Yes, Singapore is an island country and a sovereign state. It is both the country and its capital. Singapore comprises of 63 tiny islands including the main island of Pulau Ujong. Sentosa, Jurong Island, Pulau Tekong, Pulau Ubin are the largest of Singapore islands.
6. Is Singapore a Muslim country?
No, Singapore is not a Muslim country. Although 15% of the population is comprised of Muslims.


7. What is Singapore famous for?
Singapore is famous for a lot of attractions. Marina Bay, Universal Studios, Disneyland, and China Town are some of the places Singapore is famous for.
8. What is the currency of Singapore?
The currency of Singapore is the Singapore Dollar. The SGD to INR currency rate is 1 SGD to 53 INR whereas SGD to USD currency rate is 1 SGD to 0.73 USD.
9. What is the national language of Singapore?
Singapore is a multi-lingual country. The government of Singapore recognizes four official languages; English, Malay, Mandarin, and Tamil.
Suggested Read: Sentosa Shopping: 6 Best Places To Indulge In The Best Of Retail Therapy In Singapore!
10. When is the National Day of Singapore celebrated?
The National Day of Singapore is celebrated on 9 August. It is when Singapore separated from Malaysia and became a separate country.
11. Does Singapore have Uber?
Yes, you can use Uber in Singapore. However, Grub, an Asian cab-conglomerate app is a better and cheaper option than Uber.
12. Can Singapore dollar be used in Malaysia?
No, Singapore dollars cannot be used in Malaysia. Malaysian Ringgit is the only acceptable form of currency in Malaysia.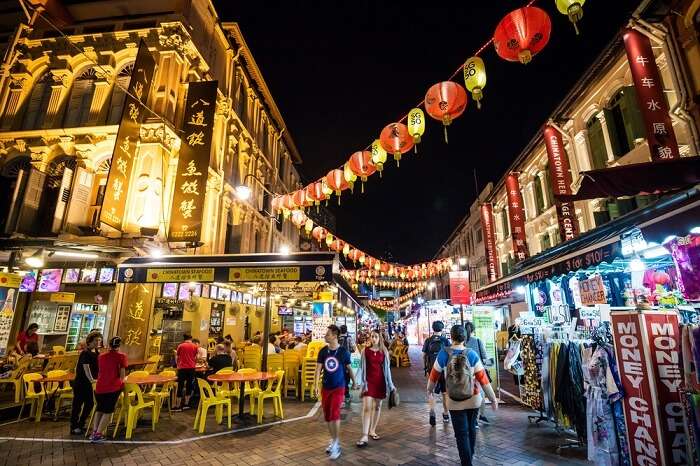 Things To Do
From solo traveling to a budget trip, everything is possible in Singapore. How? Below are your answers.
1. What all things are there to do in Singapore while traveling alone?
There are a number of things to do in Singapore while traveling alone. You can visit Chinatown, Little India, and Sentosa Island. Read more in detail in this blog.
2. How do I travel to Singapore on a budget?
It is a myth that Singapore is an expensive destination. You can easily plan a budget holiday in Singapore. Read more to know tips about traveling to Singapore on a budget.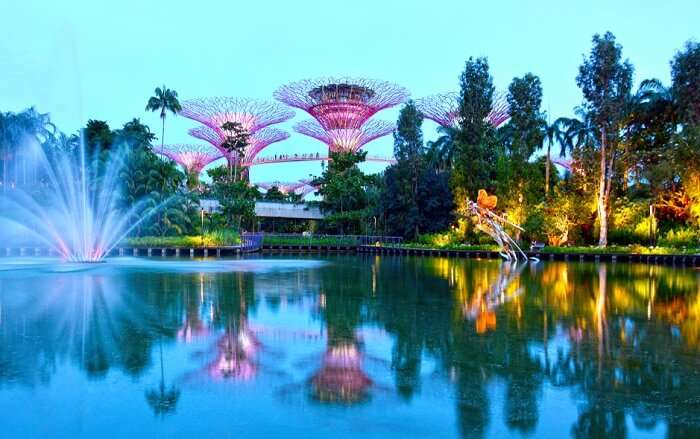 Transport
How to reach Singapore from India and various parts of the world. Know all modes of transport; air, water, & rail, available to reach Singapore.
1. How do I travel to Singapore from Malaysia?
Singapore and Malaysia are connected with each other through rail route. There are two-day trains and one night train between Singapore and Malaysia. The train journey takes around 5-6 hours and costs around. You can also take a direct flight to and from Kuala Lumpur (Malaysia) and Singapore.
2. How do I travel to Singapore from India?
There are a number of airlines between Singapore and India which provide regular flights between the two destinations. Singapore Airline, Air Asia, Air India, Jet Airways, and Vistara are just a few of the airlines that connect the Changi airport with major Indian cities like Delhi, Mumbai, and Chennai.
Suggested Read: 11 Water Sports In Singapore That Will Get Your Adrenaline Pumping
3. How do I travel to Singapore from the Philippines?
If you are planning to go to Singapore from the Philippines, you can take a direct flight from Manila to Changi Airport. The flight time from Manila to Singapore is 3 hours, 46 minutes. Of course, you would need a visa for Singapore in advance to continue your vacation.
4. How do I travel to Singapore from Bali?
There are a number of non-stop and connecting flights between Singapore and Bali. The flight time between Denpasar, Bali, and Singapore is about 2 hours, 30 minutes.
5. How do I travel to Singapore from Batam?
The best way to reach Singapore from Batam is by a ferry. There are 5 ports in Batam which connect 2ports of Singapore with a regular ferry service. The shortest ferry ride between Batam and Singapore takes about 50 minutes.


Airlines
Have questions about Singapore airlines? Well, no more. Know about the amenities and services available onboard.
1. Do Singapore airlines give free upgrades?
Yes, all international airlines including Singapore Airlines upgrade economy passengers to business class.
2. How many airports are there in Singapore?
There are three airports in Singapore; Changi International Airport, Paya Lebar Airport, and Seletar Airport. Changi Airport is rated as the world's best airport and even one of the world's busiest ones.
3. Are Singapore airlines good?
Suggested Read: Here's The Most Efficient Way To Spend 3 Days In Singapore
Singapore Airlines is one of the largest airlines in the world connecting to over 60 destinations in 35 countries. The reputed airlines provide with amazing in-house facilities like WiFI, TV, movies along with spacious leg room, food and beverages service, and cleanliness.
4. Do Singapore airlines serve alcohol?
Yes, Singapore Airlines serve alcohol on the flight. Food and beverages – both alcoholic and non-alcoholic are provided on the flight and included in the airfare.
5. Do singapore airlines provide blankets?
Not sure whether Singapore Airlines provide blankets in the flights, but they do provide toiletry kits with toothbrushes, toothpaste, moisturizer, and cologne to the onboard passengers.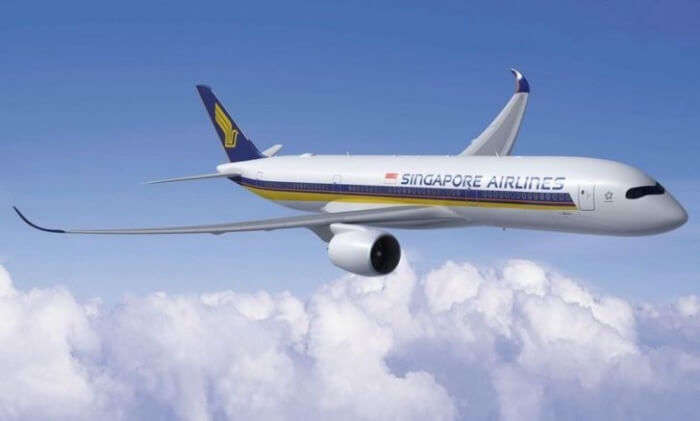 Visa
Queries regarding Visas can really be mind-blogging. But don't' worry! We have answered all the visa related questions for you.
1. Can Singapore tourist visa be applied online?
Yes, you can apply for Singapore Tourist Visa online which will allow you to stay in the country for a maximum of 30 days. Your passport should be valid for 6 months from the date of your entry. It is a multiple visa entry which means you need not re-apply for Singapore Visa in the given visa validity.
2. Can Singapore tourist visa be extended?
If you want to extend your tourist visa once you are in Singapore, you can apply for the extension online. However, you should know that the immigration office reserves the right to reject your application.
Suggested Read: Go Berserk With Fun At Universal Studio Singapore With These 11 Must-Have Experiences
3. Can Singapore tourist visa be rejected?
Yes, the immigration officials reserve all the rights to reject your Tourist Visa application.
4. Does Singapore have a visa on arrival?
No, Singapore does not offer Visa on Arrival to Indian Passport holders.
5. Do we need a separate travel visa for Singapore & Malaysia?
You can travel from Malaysia to Singapore but Indians will need a separate Visa before you enter in Singapore. Singapore does not grant Visa on arrival to Indian passport holders. You can apply for Singapore e-visa prior to your trip.
Suggested Read: Singapore Honeymoon: 15 Unique Experiences That Will Add Glam & Glory To Your Romantic Vacay!
---
Looking To Book An International Holiday?
Book memorable holidays on TravelTriangle with 650+ verified travel agents for 65+ domestic and international destinations.
---