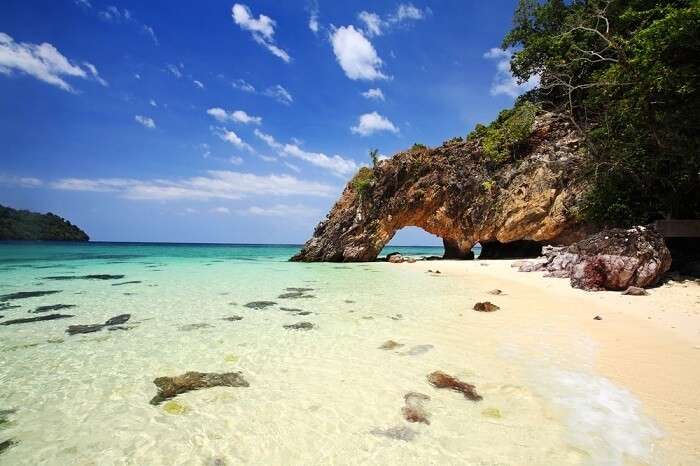 Tarutao means "old, mysterious, primitive". And, that is precisely what Ko Tarutao island is. With gnarly and rugged cliffs, gorgeous beaches, former prison sites and old growth jungle in the mountains that extend over 700 m, Ko Tartuo stirs up a rather primeval sense of awe and bewilderment.
Ko Tarutao, Thailand, is one of the most unspoiled and exquisite islands in the Andaman Sea and in all of Thailand and the seventh largest island in Thailand. Tarutao is a mountain biker's paradise and the mossy roads that pierce deep into the wild interiors lead hikers & bikers to clear rivulets gushing amidst unspoiled jungles. Lucky tourists may also encounter boars, lizards, otters, and even flying lemurs on these trails. If this has piqued your interest, wait till you know more about the many other interesting attractions in Ko Tarutao Island that is sure to transform your vacation into a fun-filled adventure.
Best Time to Visit Ko Tarutao Island

Ko Tarutao weather is quite predictable and isn't too much of a hassle if you are planning to travel there at any time of the year. However, the two seasons – wet and dry, do influence diving in the area. The dry season starts from November and lasts till April and is the best season to don your diving gear and plummet to the depths of the sea. The wet season starts in the month of May and brings in plenty of rain. The seas become unpredictable during this time of the year, and tourists are adviced to stay away from diving spots.
Ko Tarutao Map
Places To Visit In Ko Tarutao Island
Ko Tarutao marine national park, is a great way to kick off your island vacation. The national park is replete with scenic views and plenty of fun activities that you and your family can participate in. There are a number of tour operators that will help you with a Ko Tarutao booking! Once you are done exploring the national park, there are many other places to visit that are equally stunning. Listed below are a few attractions you must not miss on your Ko Tarutao vacation:
1. Ao Ta Lo Woo Pier

Must Read: Koh Lanta Island: The Lesser Known Paradise In Thailand
Located at the east of the island, Ao Ta Loo Woo pier extends into the sea reaching out to limestone hill off the coast. There is a long historic trail that will lead you to a number of buildings of the political prison. A number of informational signs with interesting facts about the dark history of this beautiful island are set up along the trail.
2. Ko Adang

This is yet another popular attraction that tourists flock all year round. Ko Adang is the second biggest island in the Ko Tarutao national park. Ko Adnag has camping facilities, a ranger station, a number of bungalows, and a restaurant that serves authentic Thai dishes. The island also has a few nice trails, one of which is a kilometer-long trail that will take you to a viewpoint that opens up to mesmerizing views over Ko Lipe, another leads to a stunning waterfall.
3. Ko Kai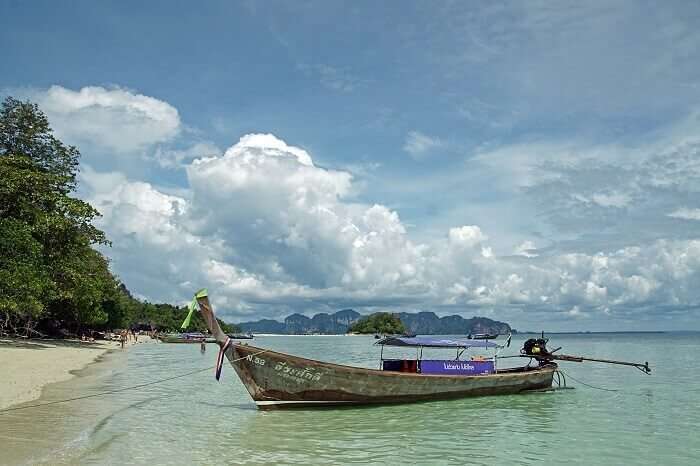 Suggested Read: Scuba Diving In Thailand: 7 Places That'll Let You Dip, Dive & Explore The Underwater Life At Its Best
Just about halfway between Ko Adang and Ko Tarutao, lies Ko Kai – a small island that can only be visited during the day. Ko Kai has a beautiful beach with an arch formation that makes way for iconic and breathtaking views. This island is ideal for photography enthusiasts and those who wish to spend a few quiet moments, savoring the beauty all around.
Things To Do At Ko Tarutao Island
There are a number of Ko Tarutao beaches where you can spend your time relaxing with nothing but your thoughts before you head back to your hotel. Apart from just lounging around by the beach, there are plenty of other activities that you can indulge in on Ko Tarutao Island.
1. Kayaking and Boat Trips

Rent a kayak if you know to row, or simply hire a longtail boat to cruise along a beautiful mangrove-lined canal and explore some of Ko Tarutao's more distant islets and bays. You can head to Crocodile cave, a few kilometers down the canal. A sturdy walkway leads into a cavern with limestones.
2. Trekking

Suggested Read: 10 Bizarre National Parks In Thailand For A Rare Encounter With The Wild
No trip to Ko Tarutao is complete without a hike up the 115-meter high Pha Toe-Boo Cliff, that stands majestically above everything in the vivid tropical background. It takes merely 15 minutes to reach the summit that opens up to mesmerizing views. A hike up the cliff during
sunset, is an exhilarating experience. Be sure to carry a good torchlight to help to brighten your path on your way back.
3. Bike Tours

The best way to enjoy sightseeing at Ko Tarutao is to hop on a bike. Simply hire a durable bicycle at your hotel or anywhere on the island and set off exploring. These bikes are very cheap to rent. Pedal over to Ao Son, and then head inland towards Lu Du waterfall for a quick
dip in the cool waters. Be sure to pack a lunch and plenty of water, as you may not find many eateries or vendors at every bend.
Where To Stay At Ko Tarutao Island
1. Idyllic Concept Resort

Suggested Read: 10 Chiang Mai Resorts: Treat For One's Body & Soul In Thailand
Set in forested grounds on the shore of the Andamans, this is a secluded beach facing upscale resort that has modern villas. These beachfront villas have balconies or terraces and come with modern amenities such as flat screen TVs, mini refrigerators, and coffee making facilities. Other amenities offered at the resort include a private beach, kayak rentals, and water sports.
Location: Sunrise Beach, Lipe Island, Tarutao National Marine Park, Satun, Thailand
Price per night: INR 6,793 onwards
2. Mountain Resort Koh Lipe

This laid-back resort is located on a tranquil beach and boasts of beautiful landscaped gardens. The resort offers airy rooms featuring terraces or balconies with sea, poolside, or garden views. Upgraded rooms feature whirlpool tubs, microwaves, and minibars. Guests may also choose family bungalows that are bi-level and can sleep up to 4 people comfortably.
Location: Koh Lipe, Thailand (Sun Set Beach) Satun Satun 91000, Thailand
Price per night: INR 3,851 onwards
3. Gecko Lipe Resort

Suggested Read: The Best Oasis Of Thailand: 8 Best Beaches In Krabi
Nestled cozily in greenery, this is a budget-friendly Ko Tarutao, Thailand accommodation that offers clean and airy rooms with bamboo walls. All rooms come with hot water facility as well as air conditioning. The property is at a walkable distance from the beach. There are a number of hammocks spread across the property.
Location: Koh Sarai Sub-district, Muangsatun District, Satun Koh Lipe, 91000, Satun 91000, Thailand
Price per night: INR 1,190 onwards
Ko Tarutao – How To Get There?
You can reach the beautiful island of Ko Tarutao by plane and boat. The nearest airport is at Koh Samui and operates frequent flights from Phuket, Koh Tarutao, and Bangkok to Koh Tarutao. A number of flights fly in and out from Pattaya as well. Once out of the airport, you can easily find transportation to the ferry pier.
Further Read: 10 Bizarre National Parks In Thailand For A Rare Encounter With The Wild
Whether it is racing across the waves and time in a long tail boat, or riding in an open tuk-tuk, a journey through the beautiful island of Ko Tarutao always feels like an adventure from a novel. This island will enchant you in mysterious ways. So, plan a trip to Thailand with TravelTriangle head to the island and begin with the fun!
---
Looking To Book An International Holiday?
Book memorable holidays on TravelTriangle with 650+ verified travel agents for 65+ domestic and international destinations.
---