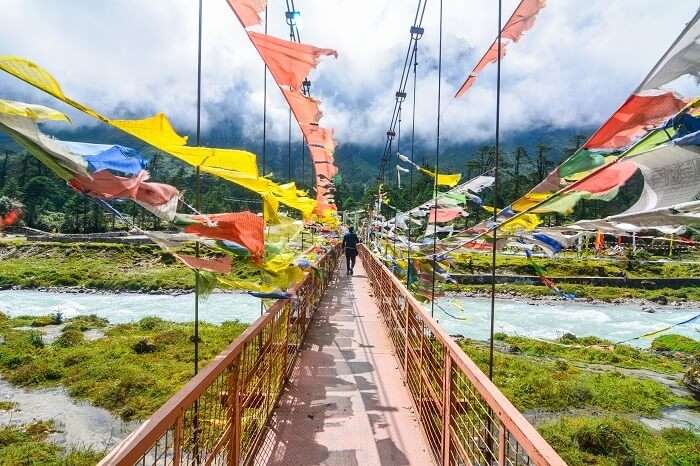 Often described as the most rewarding way of travel, going solo is an experience that never ceases to amaze or surprise travelers. When his hobby turned into a passion, Krishna had no hesitation in booking a Sikkim solo trip to embark on an adventure that he would remember for a lifetime.
As a network engineer, travel didn't come naturally to me. Rather, I happened to stumble upon it and eventually travel became my number one hobby. Having traveled to places like Malaysia, Thailand, and Indonesia, I was on the lookout for a new place to explore where I would commence another adventure.
Ultimately, I decided to go on a trip to Sikkim because this place had been on my bucket list for a long time. Another reason I chose Sikkim solo trip was that I believed that the Himalayas in Northern and North-Eastern India have some of best adventure destinations of the world.
Sikkim Solo Trip Information
Trip Cost: INR 25,000
Trip Duration: 3 nights 4 days
Agent Name: Travel Guide Solution
Inclusions: Transfers, accommodation, meals (excluding lunch), sightseeing, and GST
Exclusions: Flights, lunch, insurance, and laundry
When I started searching for Sikkim Holiday Packages, I was completely clueless. Either I found websites which sold packages but without user reviews, or I found websites which had articles on Sikkim Gangtok tour but no packages.
After a while, I stumbled on TravelTriangle which had both packages and user experiences in terms of travelogues. They had plenty of options in terms of itineraries and their prices were also really competitive. Therefore, I decided to trust TravelTriangle for a Sikkim trip.
Suggested Read: Experiencing The Sweet Delights Of North East India: A Beautiful Family Trip To Sikkim & Darjeeling
Day 1: Flight to the North East!
I started my solo trip to Sikkim with a flight from Bangalore to reach Bagdogra at 12 noon. I had planned my itinerary in such a way that I waste the least possible daylight in travel and catch up on sleep while in transit.
On the way, I stopped in Siliguri for lunch and then eventually reached Gangtok at 5 pm. Over there, I checked into the White Conch Residency and without any break, I immediately moved out to explore the city. No rest for the wicked!
In the evening, I visited places like MG Road, Tibetan Market, and Lal Bazaar to get a feel of the city and catch a glimpse of its vibrant nightlife. Later on, I had dinner at a local restaurant and moved back to the hotel for the night.
Suggested Read: Romantic Trip To Northeast India: Our Memorable Escapade To Gangtok, Pelling, & Darjeeling
Day 2: Waterfalls on the way to Lachung!
The next morning, I woke up really early at 5am to get ready for a visit to Lachung. On the way to Lachung, I was doing a lot of photography as we crossed a lot of waterfalls where we would stop for a few minutes to enjoy the view.
After all the breathtaking views, I thought I had seen the most beautiful places Lachung area has to offer. But how wrong was I. We reached Lachung at 4 pm, and at that time I saw how stunning this small village located near the Tibet border is.
In the evening, to make the most of my time on this Sikkim solo trip, I again started exploring Lachung by foot. Later on, while having dinner I tried this local drink called Tongba. A hot-beer that is made by fermenting and cooking whole grain, this drink has been a staple for indigenous people for centuries.
Suggested Read: Best Things To Do On A Family Trip To Sikkim And Darjeeling
Day 3: Discovering another valley of flowers at Yumthang Valley
Another day, another early start on the solo trip to Sikkim. We checked out of Lachung and started our journey to Zero Point and Yumthang Valley. A few hours later, we reached Yumthang and marveled at the incredible view of flowers blossoming. Although the blossom season wasn't quite there yet, there was enough to see the field slowly turn into a sheet of pink and yellow.
Another stroke of luck I got on my solo trip to Sikkim when we moved on from Yumthang to Zero Point. For the past few days, the entry for civilians at Zero Point was closed by the army due to it being next to the Tibet border and at an altitude of 17,000 ft.
At around 1 pm, we started our return journey back to Gangtok. A seven hour-long ride later, we finally arrived back at White Conch Residency at 8 pm.
Best Time to Visit: Feb- Jun
Weather: Varies in different seasons(Summer, Monsoon, Winter, Spring). February is the coldest month.
Suggested Read: An Epic Adventure Trip To Meghalaya With Friends
Day 4: Heading back home from the highs of Sikkim
The next morning, I checked out of Gangtok and started my journey back to Bagdogra. Since I had some extra time to spare, we stopped at multiple places on our return journey which went through Siliguri. I eventually boarded my flight back to Bangalore at 1 pm to finish my solo trip to Sikkim.
Like I always say to my friends, a solo trip never disappoints. You come back home with stories, experiences, and a lifetime of memories that would be otherwise impossible to create.
While on my return flight, just one glance at all the pictures I clicked gave me a sense of realization of how mind-blowing were the places that I just visited. In all honesty, the trip was planned to perfection by TravelTriangle and Travel Guide Solution and if I would expect anymore, it would be because of plain greed.
Suggested Read: Discovering Unseen Places On A Family Trip To Meghalaya
High Points:
I got really lucky with the weather as it was bright and sunny for all 4 days of my vacation. Along with being the most unpredictable place in India to judge the weather, the timing my solo trip to Sikkim lay in between the period when the monsoon is ending.
The most beautiful part of Sikkim I visited was Zero Point. The view of the towering mountains was incredible.
Tips For Travelers
Solo travel doesn't signify that you want to isolate yourself while traveling. It gives you a better chance to meet new people and spend more time in knowing the culture of the place you are visiting.
Gangtok is a beautiful city to explore by foot. In fact, the best way to explore any city in the world is by walking its streets.
Get used to starting your travels early as it gets bright and sunny in Sikkim from 6 am and dark and murky after 5 pm.
Sikkim is a land of endless beauty and charm. A trip to the North East is worth every penny. Indulge in the beautiful landscapes and experience this side of India like a local on your solo trip to Gangtok or Sikkim. Know what a Gangtok trip cost will be or book your Sikkim tour to explore and conquer the challenging terrain of the North East!
Some Quick Questions Answered For Other Travelers
---
Looking To Book A Holiday Package?
Book memorable holidays on TravelTriangle with 650+ verified travel agents for 65+ domestic and international destinations.
---
People Also Read:
Sikkim Trip From Hyderabad Sikkim Trip On Budget
Comments
comments