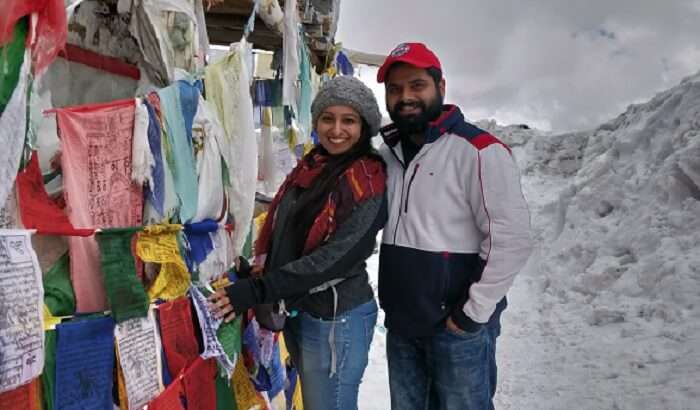 This Buddhist Kingdom is full of arid mountains, picturesque gompas and beautiful monasteries. Ladakh is the place where travelers can experience adventure, thrill and peace. The place gives an adrenaline rush to all the travelers who seek adventure here. This couple was bored of their daily monotonous schedule and of course the scorching heat of Delhi, and they could not find a better place than Ladakh that suited their requirements. Here is all about this couple's travel to Ladakh in June.
Details Of Our Trip To Ladakh In June
Trip Type: Romantic Trip
Cost: INR 43900
No. Of People: 2
Duration: 5 Nights 6 Days
Inclusions:Breakfast, Dinner, Arrival, Departure, Welcome Drink on Arrival, Government Taxes, Accommodation, Cab for sightseeing
Exclusions:Lunch, English Speaking Driver, Camel ride, Entry fee charges, Flight, Rafting
Itinerary Of Our Trip To Ladakh In June
Day 1: Arrival in Leh
Day 2: Sightseeing In Leh
Day 3: Drive to Nubra Valley
Day 4: Drive to Pangong Lake
Day 5: Drive Back To Leh
Day 6:Sightseeing In Leh
Day 6:Departure Back Home
40 Best Things To Do In Ladakh That You Can't Afford To Miss In 2022!
Ladakh's Weather In June
When we visited Ladakh in June, the days were sunny yet pleasant. However, the late evenings witness an unexpected drop in temperature. Much to our surprise, a good weather day at Pangong culminated in a snowy night.
Top Experiences We Had In Ladakh In June
Since Ladakh is famous for its picturesque beauty, Buddhist monasteries and exciting adventure spots and along with it to get rid of scorching heat of Delhi, we decided to go on a trip to this beautiful place. Since we both love traveling, the diverse topography and the exciting spots that are nowhere to be seen in the world makes it even more interesting place to visit which further attracted us towards it.
We started our journey with a direct flight from Delhi to Leh. The cab driver received us at the Leh airport and drove us down to our hotel in the city, which was the beginning of our great adventure in the city.
9 Pristine Ladakh Lakes You Ought To Visit For A Tranquil Vacation In 2022!
1. Sightseeing






One of the mornings of our trip started with a warm hearty breakfast followed by a drive through the city. Some of the most popular attractions that we got to visit were Magnetic Hill, Gurudwara Patthar Sahib, Confluence of Zanskar and Indus river. We also got to visit the famous Hall of Fame. The Believe It Or Not! Of Ladakh, the magnetic hills defy the law of gravity. We actually observed that a vehicle is parked on neutral gear on this metallic road the vehicle slides up-hil and it was unbelievable. Gurudwara Patthar Sahib is a shrine built in the memory of Shri Guru Nanak Deve Ji. The place had a very religious vibe and we also clicked a lot of pictures here. Next on our drive to Sham Valley, we enjoyed the magnificent views of the confluence of Zanskar and Indus River. On our drive back, we visited the Ladakh Hall of Fame built in the memory of the martyrs of the Kargil War. Patriotism engulfed us as we read about the various brave soldiers who died in the war.
2. Khardungla Pass






On our trip, we also visited the Nubra Valley. The road journey to Nubra Valley leads through the Khardung La Pass which is the highest motorable road in the world. The ride was truly amazing and we were truly mesmerised to see the panoramic views of the landscapes. On our way, we also drive through Duskit and Hundar villages. After arriving at Nubra, we visited the White Sand Dunes at Hunder. In the evening, we visited the Diskit monastery. We love the vibe and peace of monasteries and therefore we spent our evening here. Our overnight stay was at a camp in Khardungla pass and we felt the chills of snow while we were in the middle of a glacier.
3. Pangong Lake

From Nubra Valley, we drove to the Pangong Lake on our trip to Ladakh in June. If were stunned to see such beauty in the middle of the mountains. We enjoyed the views of the turquoise color panoramic lake and the magnificent mountains and landscapes which left us completely awestruck. We spent the afternoon savoring the beauty of the Pangong Lake and later in the night, we gazed at the sky full of stars and it was all so beautiful, seemed straight out of the movies. Our overnight stay was planned at a camp near the lake.
4. Monasteries


On our drive back to Leh, we came across many monasteries and after arriving in Leh, we visited the Gompas and Monasteries in Leh. The Thiksey Gompa is on ef the most impressive gompas in the city. We also visited the Sindhu Ghat where every year the Hindu Festival in held of the banks of the river. The Hemis monastery is yet another beautiful monastery in Ladakh. A few gold statues are located in the monastery along with a wonderful collection of tankhas. We were amazed to see the beauty of the stupas and clicked a lot of pictures. We also saw the Shanti Stupa. The architecture of this place is magnificent and it also offers a panoramic view of Leh city, and the valley.
Can You Plan A Trip To Leh Ladakh Much Cooler Than Sandeep's? He Dares You
Where To Stay In Ladakh
Fort view Hotel (Leh) – The hotel did not have any flattering views to offer. However, food served and services provided were satisfactory.
Nubra Summer camp (Nubra valley)- The tent was no less than a hotel room, replete with a bed, bedside tables, a dressing table and an attached bathroom. Good food catering to north Indian taste buds was served.
Ladakh Summer camp (Pangong)- A few meters away from Pangong lake, this well- maintained camp served the best food with a wide variety of options to choose from. All the required arrangements were made well in advance.
At both the camps, water and electricity were made available for a definite number of hours owing to limited access to these resources at that height. The good thing was that we were made aware of the same at the time of check-in. Having said that, it wasn't a hassle in any way.
Restaurants In Ladakh
The Tibetan Kitchen is a famous restaurant and is known for serving authentic chinese food. The meal cost us around INR 500- INR 600 for 2 people. Before visiting the restaurant, it is advised to ask the hotel staff to check for the waiting time and book a table in advance since people usually have to wait to get seated.
The café at Shanti Stupa also offers a variety of food and is quite reasonable too and costs around INR 500-600 for two people. This is not a restaurant but an organic store in Leh market, 'Dzomsa' offers natural juices of apricot and sea buckthorn and also has a variety of organic products including apricot balm, etc.
Magnetic Hill In Ladakh: A Handy Guide To Unravel This Mystery In 2022!
Shopping In Ladakh
Hall of Fame in Leh does offer souvenirs and keepsakes that you can take back home. Pashmina shawls, Yak wool jackets, fridge magnets, t-shirts, mugs, accessories to name a few. The main market has numerous shops, each housing items stated above.
What To Pack For Ladakh Trip
Travelers are advised to packe +40 SPF Sunblock, caps, scarves, sunglasses, umbrella, power bank, Diamox (for altitude sickness), camphor (to cure shortness of breath) and other essentials. Guest must carry warm woolen clothes and do layering before visiting the Nubra Valley.
Do's And Don'ts In Ladakh
If you are travelling by air, plan your return flight in such a way that there is ample time for you to take a rest. Generally, itinerary is framed in such a way that a day before when you have to take the return flight you come back to Leh and visit local places. However, unpredictable weather up the mountains may ruin the plan and one may get stuck between the mountains in the middle of the road.
Stay overnight at Pangong and Nubra valley camps and enjoy being close to nature.
If possible, travel with a private vehicle since you will be able to ask the driver to stop whenever needed. There will be instances while travelling when you have the urge to stop and capture the beautiful landscapes. Remember, you may not be coming back again.
Don't try to cover too much. The monasteries and other places offer some breath-taking views but there is too much travelling when you visit these places. Instead, spend some time to enjoy the picturesque views on the way.
Ladakh Travel Tips For Travelers
As suggested by the locals, avoid exerting on the first day as altitude sickness may kick in a few hours post arrival.
Keep yourself hydrated all the time.
Ask your driver to carry the chains along whenever you travel because if it snows, nothing will come to your rescue as much as these chains will. The reason they are needed is to keep the car from skidding.
12 Astounding Spots For Trekking In Ladakh That Need To Be On Every Hiker's Bucket List In 2022
Our Experience With Travel Triangle
Excellent, Sareer Travels and in particular, Mehvish assisted us a lot and made sure that the entire stay and travel is without any hassle. Moreover, Fayaz whom we met at Leh made sure that we have all the inner line permit and the other necessary documents with the vehicle. Our driver Madhu was experienced, however, he was an introvert and did not interact much during the tenure of the trip.
For a memorable and adventurous vacation in Ladakh, let TravelTriangle plan a Ladakh trip for you and your family. Include some of the best experiences on your holiday to Ladakh in June and create fond memories together.
Frequently Asked Questions
Is June good time to visit Leh?
Yes, June is a good time to visit Ladakh as all the street courses open up and travelers can visit Leh city. Also June is the best time to visit Ladakh by bike.
Is there snow in Ladakh in June?
Yes, Ladakh in June experiences snowfall. However, the snow begins to dissolve by mid-June and therefore travelers are required to visit before all the snow melts.
What should I wear in Leh Ladakh in June?
Travelers are advised to wear warm woolen clothes in June when in Ladakh. Thermal undergarments & sweat shirts and fell-sleeved pullovers are a must when visiting Leh in June.
What is special in Leh Ladakh?
Ladakh is famous for its beauty and unique culture. The place also holds a lot of Buddhist monasteries and exciting water sports are also hosted here. ThePashima Shaw of Ladakh is very famous among tourists.