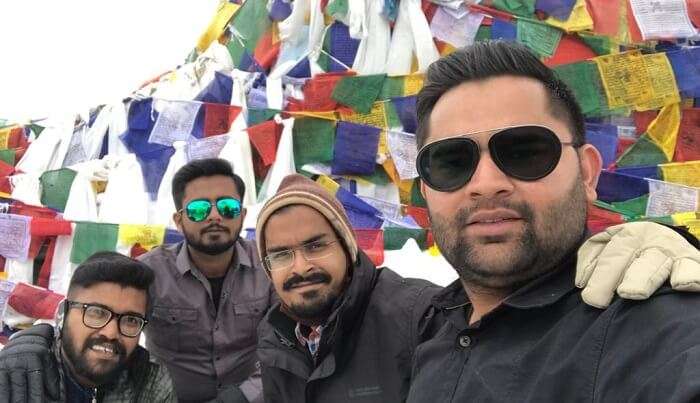 It is every traveler's dream to go on a road trip to Ladakh. Unsurprisingly, Ashok chose to travel to Ladakh with his friends to breathe in the mountain air and camp besides the famous Pangong Lake. Read on to check out whether his Ladakh itinerary for 7 days lived up to his expectations or not.
My friends and I had been planning to embark on a trip for the longest time, but one way or another life always got in our way. Anywho, in the last week of June, I made a spontaneous decision to take a trip to Ladakh. I discussed the plan with my friends, who thankfully were on board with the idea immediately. Without further ado, I consulted TravelTriangle for the best deals and discounts. They assured us that our trip to Ladakh in June will be a trip each and every one will remember for our entire lives. Well, they weren't wrong!
Details Of Our Ladakh Itinerary For 7 Days
Trip Cost: INR 69,300
No. Of People: 4 adults
Trip Duration: 7 days and 6 nights
Inclusions: Breakfast, dinner, airport transfers, welcome drinks on arrival, government taxes/VAT, service charge, hotel tariff, cab for sightseeing, Jain food
Exclusions: Lunch, English speaking driver, camel ride, entry fee charges, flight fare, rafting cost
Ladakh Itinerary For 7 Days
Day 1: Arrival in Leh
Day 2: Visit Magnetic Hill and Gurudwara Patthar Sahib
Day 3: Arrival in Nubra Valley
Day 4: Visit Diskit monastery and drive to Pangong Lake
Day 5: Visit Thiksey Monastery and Sindhu Ghaat
Day 6: Local sightseeing
Day 7: Departure
5 Pristine Ladakh Lakes You Ought To Visit For A Tranquil Vacation!
Weather In Ladakh In June
We visited Ladakh in the month of June. Truth be told, it is the best time of the year to visit Ladakh as it is not teeth-chattering cold. The cold is bearable since you get ample sunshine in the day time. The snow had started to melt in the month of June and we were able to head out to some of the most beautiful lakes in Ladakh.
Our Top Experiences From Our Ladakh Itinerary For 7 Days
If you're feeling a little overwhelmed while planning your Ladakh trip in June, don't fret. We have shortlisted some of the tourist attractions in Leh that you can cross off your bucket list:
1. Magnetic Hill – Defying Gravity




Defying the Law of gravity, this place is close to the Gurdwara Shri Patthar Sahib. It has been noticed that when a vehicle is parked on neutral gear on this metallic road the vehicle slides up-hill. Whether you believe it or not, it doesn't matter because it happened right in front of my eyes!
Ladakh In April 2022: When Your Adventurous Heart Yearns For The Himalayas!
2. Gurudwara Shri Patthar Sahib – Seek Blessings


The Shrine known as Gurdwara Patthar Sahib is situated about 25 kms. Short of Leh town on the Leh-Srinagar road. Built in everlasting memory of Shri Guru Nanak Dev Ji the great prophet who sanctified the place by his sacred visit during the year 1517 while on his second missionary tour (2nd Udassi 1515-1518). The Guru reached here via Nepal, Sikkim, Tibet Yarkand and Leh after having spiritual discourses with the siddhas at Mount Sumer (Central Himalayas).
3. Ladakh Hall Of Fame – Step Back In Time










The Hall of Fame is a glorious museum constructed by the Indian Army. It is worth a visit for every citizen. You can see the memorabilia, eminent defense personalities with biographies, images and weapons used during the Kargil and other key strategic battles fought in Ladakh and belongings of the enemy soldiers found at war site.
4. Sindhu Ghat – Savor The Beauty






The Sindhu Ghat at Choglamsar village at the bank of River Indus was inaugurated on the 1st of June 2001 by L. K. Advani. Every year, Sindhu festival is held on this bank of river. The festival is an ideal opportunity for travelers from all over the country and the world to visit this wonderful region and to savour its charm.
Our Amazing Trip To Ladakh In June Will Make You Pack Your Bags Right Away!
Where To Stay In Ladakh
In Leh, we stayed at the Hotel Royal Plaza and at Pangong Lake, we crashed at Summer Camp. Overall, we had a pleasant stay in the hotels in Leh Ladakh. Hotel Royal Plaza served us some delicious vegetarian food. Hot water was available only during the day as the hotel is equipped with a solar water heater. The rooms are fitted with large windows that give you a bird's eye view of the valley. The camp, on the other hand, offered us an excellent view of the lake.
Food In Ladakh
The food in Ladakh was the best part of the trip. I have heard many people say that food is expensive in Ladakh, but I don't agree with this. The food prices were quite reasonable at the restaurants in Leh. I don't remember the name of the restaurants we visited, but the food was simply great, especially the Chinese dishes.
Shopping In Ladakh
Diskit is the main village of headquarter of Nubra valley, which has a small market consisting of a row of shops and about 500 years old Gompa on the hilltop. Shopping is one of the most eccentric things to do in Ladakh that you will come across, so make sure you utilise this opportunity well. I suggest you definitely include this experience on your Ladakh itinerary for 7 days.
12 Astounding Spots For Trekking In Ladakh That Need To Be On Every Hiker's Bucket List In 2022
Leh Ladakh Travel Tips
Now that we have shared our Ladakh itinerary for 7 days, here's a list of Leh Ladakh travel tips that I believe will help you avoid mistakes and vacation like a pro:
1. Make sure you're carrying medicines like Diamox, Dexamethasone, Aspirin.
2. Buy a postpaid BSNL because that's the only mobile network that works in Ladakh.
3. Keep sufficient amount of cash with you at all times.
4. If you're wondering what to pack for ladakh trip, let me tell you that it gets extremely chilly at Pangong Lake and Nubra in the night. Carry enough winter jackets and sweaters.
Our Experience With TravelTriangle
Our experience with TravelTriangle was spectacular, if I had to sum it up in one word. Our agent went out of his way to make sure we were having a good time and all our requests were taken into account. The concerned person customised the trip according to our requirements and preferences. Our English speaking driver was friendly too.
8 Tourist Circuits Of Ladakh To Cover The Best In 2022
The views of the snow capped mountains and the serene Pangong Lake are reasons enough to visit this stunning destination in India. We hope our Ladakh itinerary for 7 days will come in handy for you when you plan your trip to Ladakh in June. Make sure you book your trip with TravelTriangle to avail exciting deals and discounts!
Queries Regarding Ladakh Itinerary For 7 Days
If you have any questions vis-a-vis our Ladakh itinerary for 7 days, you will find the answer below. Take a look:
How to reach Ladakh?
If you wish to go from Mumbai to leh, you can reach Srinagar or Manali by flight or train from Mumbai and then proceed towards Leh by bus. The Mumbai to Leh flight will take you anywhere between 8-10 hours to reach your destination.
Is Khardungla Pass open in December?
Khardungla Pass is open in December but it may be possible that buses and other vehicles stop running on this route because of layers of snow.
Is it okay to visit Leh in December?
It will be unbearably cold in Leh in December, but I don't see why can't you travel to the destination assuming you're well equipped against the cold.
Is a passport required for Leh Ladakh for Indians?
No, a passport is not required for Leh Ladakh for Indians.
Which month is best for Ladakh?
The best month to travel to Ladakh is June because the snow starts to melt and you get more daytime hours as compared to the other months.