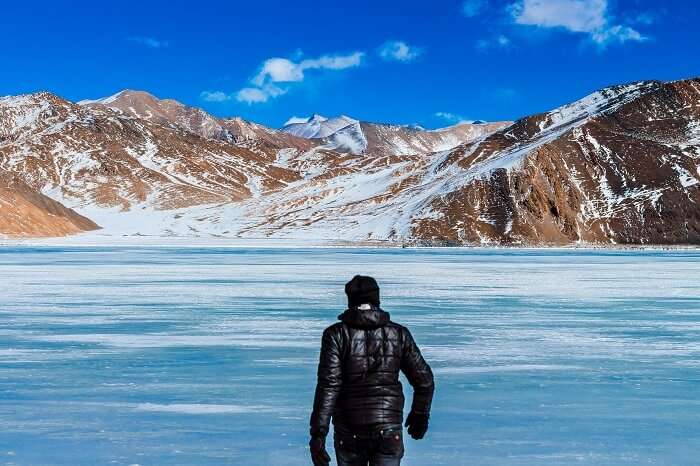 In the month of April, the trees of the barren land stand still, like the silent observers of the snowy mountains, the low-hanging clouds, and the midnight sky of Ladakh. The mountains of Ladakh lay in a never-ending line like the spine of the earth, the curling trails are no more covered in snow blanket, the old shelves of the local shops are once again filled with colorful prayer flags, and the hotels & homestays are all set to welcome you with a warm embrace. April brings a new life to Leh and Ladakh, and you are welcome to experience it.Are you ready to experience Ladakh in April? Read our blog until the end before embarking on the trip of your dreams.
Things To Do In Ladakh In April
Planning of visiting Ladakh in April? Here is the list of experiences you should definitely have while you are on your adventurous Ladakh trip in April. Take a look:
Bike Trip
A Room With A View
Trekking
Visit Pangong Tso Lake
Visit Magnetic Hill
Hit The Highest Road
1. Bike Trip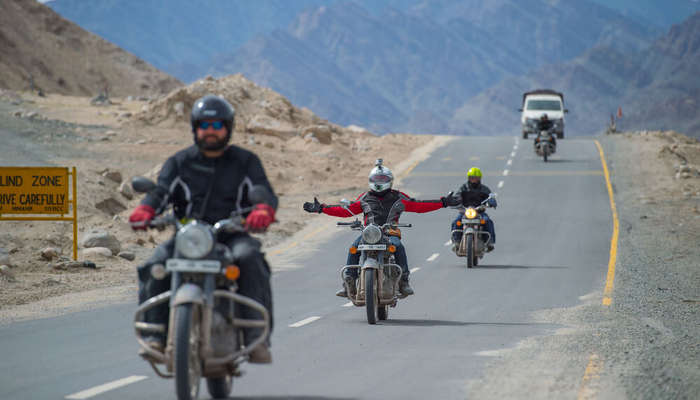 Imagine this: snow-clad mountains, rugged landscape, soaring peaks, dangerous routes, and roaring bike engines. Going on a Ladakh bike tour is all about good vibes and the undying spirit of a rider. Every biker dreams of going on a Leh Ladakh bike trip once in their lifetime. The best time to go on a bike trip to Leh Ladakh is from the months of June to September. These months enable the bikers to enjoy the best of Ladakh.The Ladakh temperature in April is pleasant enough for a bike trip.
Must Read: Leh Ladakh Bike Trip 2019: Everything You Need To Know From The Scratch!
2. A Room With A View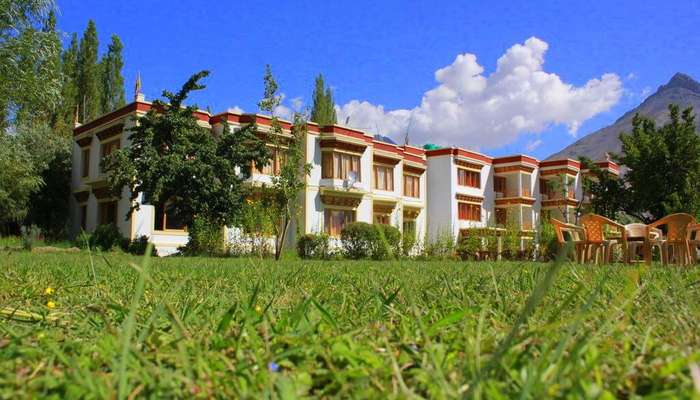 You can experience Ladakhi hospitality that is famous all over India by staying at any of the best hotels in Ladakh. You get brilliant service, organically produced food, surreal views and lavish interiors. The hotels in Ladakh are not exorbitantly priced. They will fit your budget. Most of the hotels are a stone's throw away from popular tourist attractions. They're nestled amidst lush greenery and scenic valleys. Who wouldn't want to book a room here?
Suggested Read: 10 Hotels In Leh Ladakh For A Cozy Stay: Luxury And Budget Options
3. Trekking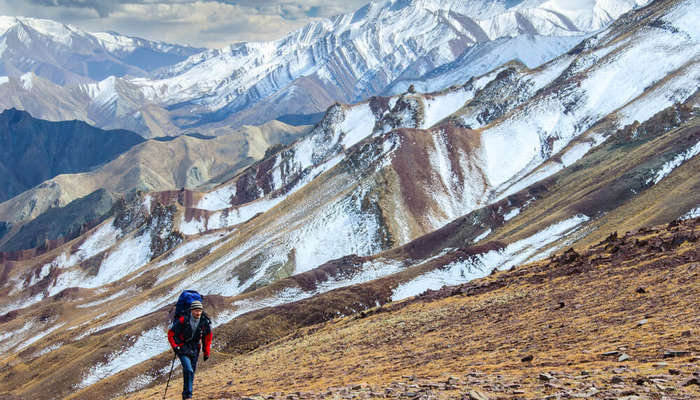 Trekking in Ladakh enable us to view the unusual wildlife on the trek trail. Some of them are nimble ibex, the Tibetan wild ass, Tibetan antelope, various species of wild sheep and goats, snow leopard, yak, marmot which can be seen throughout the year. Rare birds such as hoopoe, Tibetan snow cock, lammergeyer, golden eagle and others migrate to Ladakh during summers. These uncommon visuals of enchanting animals and birds cannot be seen in our city life. The Ladakh weather in April is pleasant enough for trekking.
Suggested Read: 10 Astounding Treks In Ladakh That Need To Be On Every Hiker's Bucket List In 2019
4. Visit Pangong Tso Lake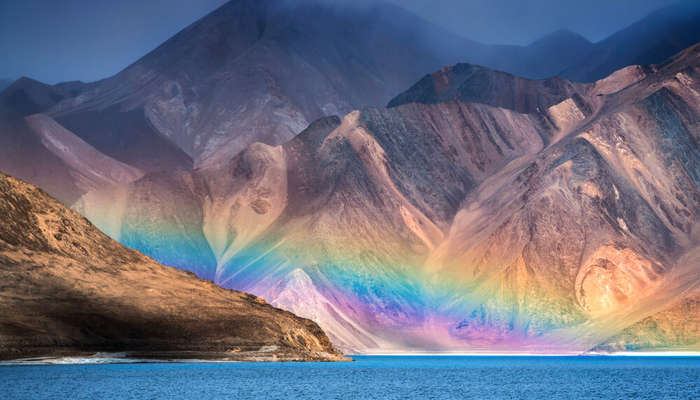 Pangong Tso (translated as "high grassland lake" in Tibetan) is a spectacular lake in the Himalayas situated at a height of about 4,350 m and 134 km long. The colour of Pangong Tso Lake changes to the different shades of blue, green and an unusual red. Pangong Tso is an endorheic lake because the water flow is terminated before reaching the ocean hence the minerals and salts are retained in this lake. Since there is no way for salt outflow, the water in the lake is salty. The average temperature of Ladakh in April hovers between 6-20 degrees.
Suggested Read: Pangong Tso Lake: At 4350 m It Will Take All Your Blues Away
5. Visit Magnetic Hill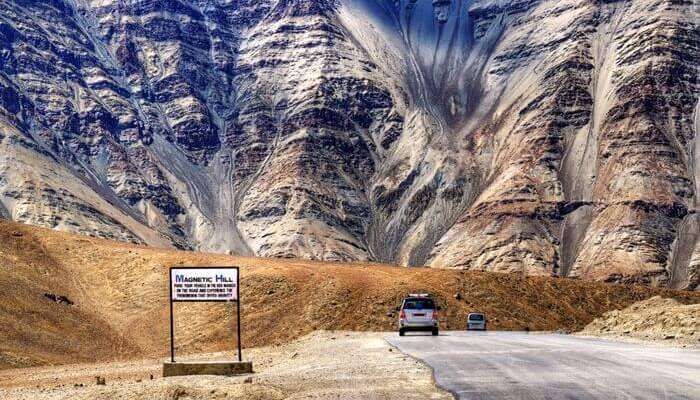 Suggested Read: Magnetic Hill In Ladakh: A Handy Guide To Unravel This Mystery In 2019
The Magnetic Hill in Ladakh is a road stretching on the Leh to Kargil national highway in the Himalayan region at an altitude of 14,000 KMs which is about 30 km from Leh. Magnetic Hill has Sindhu River flowing in its east which gives it picturesque beauty with the background of magnificent Himalayan Mountains. It is also known as the 'gravity hill' since the area layout and the surrounding land creates an optical illusion by making a downhill slope appear to be an uphill slope. So, if a car is kept in neutral gear, it will start rolling uphill against gravity up to 20 Km per hour speed on its own. It is conceived that this mysterious wonder happens due to magnetic force.
6. Ride Through Umling La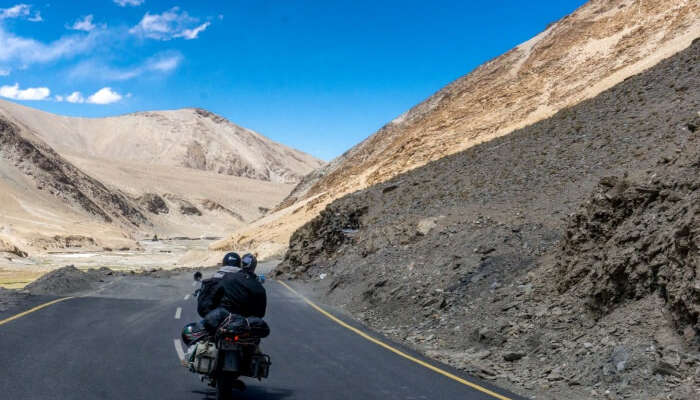 Umling La is higher than Khardung La and passes through Umling La Top, at an elevation of over 19,300 feet. Before the construction of this road, Bolivia is believed to have held the record in the past for having the highest motorable road. Its road to the dormant volcano Uturuncu was at an elevation of 18,953 feet. The 86 km long road was completed under BRO's Project Himank.In the past, Project Himank has constructed roads such as Khardung La and Changla Pass in Leh.
Further Read: 8 Experiences That Make Ladakh In May 2019 A Heartwarming Trip
The temperature in Ladakh in April is perfect for planning a trip to Ladakh for sure. The mountain of Ladakh and the vast green patches lay like a beautiful storybook picture. Let's visit the land of cold desert mountains this month to be a part of the beginning of summer.
Frequently Asked Questions About Ladakh In April
Q. Is KhardungLa pass open in April?

A. Yes, KhardungLa pass is open in April.
Q. Is there snow in Leh in April?

A. Your chances are brighter if you visit Leh in early April, preferably the first week.
Q. Which car is best for Ladakh trip?

A. Mahindra Thar, Mahindra Scorpio, Tata Safari Storme and Mitsubishi Outlander are the best cars for Ladakh trip.
Q. Which is the best month to visit Ladakh?

A. It is a tie between April and May.
Comments
comments