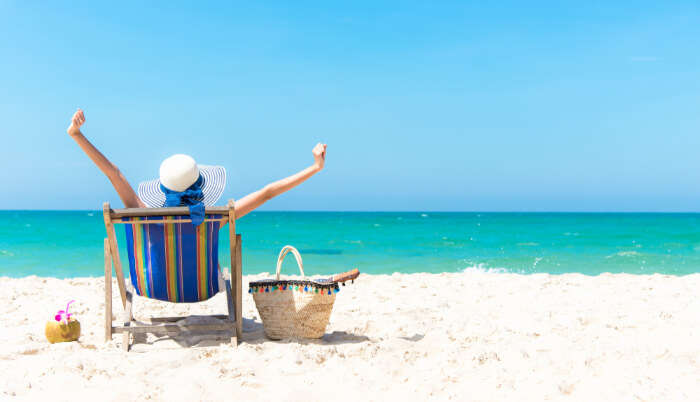 Planning your vacation around spots that are underrated and unexplored can be quite amazing. Not only do these spots have quite a whole range of hidden gems, but they are also quite soothing and peaceful as well for those who don't necessarily want to indulge in the rush. All that being said, the Laxmanpur beach is one such spot that you need to check out before it's too late. If you have been planning on a vacation that's not something mainstream, this spot is perfect for you to look into.

If you have been inquisitive about the place, there are some important insights that we would love to share with you.
Best Time To Visit Laxmanpur Beach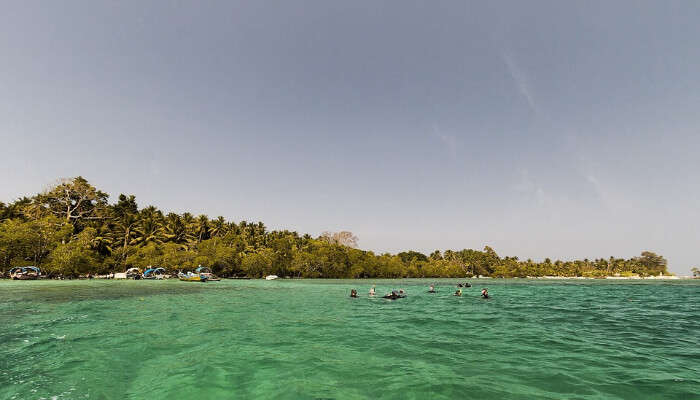 Image Source
If you want to enjoy the optimum temperature and a soothing climate around, visiting Laxmanpur beach in between December to May is possibly the best time of the year. Not only is the weather pleasant during that time, but it is also the peak season to witness some of the important events happening around.
The place itself is quite slow and laidback, so you shouldn't necessarily expect something crazy and out of the box when you visit this spot. It is perfect for those people who are seeking some sort of a recluse after the hectic schedule and stress in life.
The temperature around the spot during the peak season does keep on fluctuating between 14 degrees Celsius to 30 degrees celsius which is pretty decent for a port city. Apart from the Laxmanpur beach in Neil island, you can also explore the spots around while you are there which further adds to the experiences you garner there.
If possible, avoid visiting during the summer months because the weather can get extremely humid and uncomfortable for people who aren't used to that kind of weather.
Top 6 Things To Do In Laxmanpur Beach
When it comes round to the array of activities that one can indulge in the beach, the options are quite limited. The majority of the people do visit this place and an extension of their trip to Andaman, so finding activities to explore around here can be a bit of a struggle if you do come to ask us.
But, that doesn't mean that you can't do anything on Laxmanpur beach no. 1 because there are certain activities that can intrigue you.
1. Watch The Sunset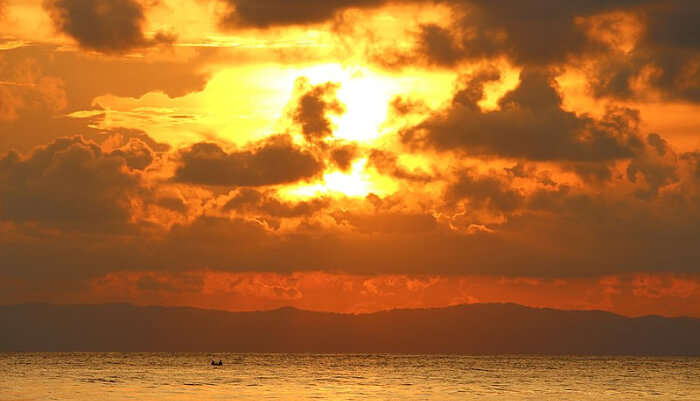 Image Source
When we mentioned that laxmanpur beach is a recluse for some, we meant it. The reason why that is the case is that watching the sunset around is probably one of the best experiences that you can have there. The hues of orange and pink dissipating into the horizon with the splashing waves around just make up for the perfect experience that you wouldn't even think of.
That being said, it is also one of the serene experiences that one can explore and just relax while sitting down on the beach. There is not much to do, which is why you should plan things around properly.
Must Read: Nightlife In Andaman: 6 Phenomenal Ideas To Enliven Your Vacay
2. Photography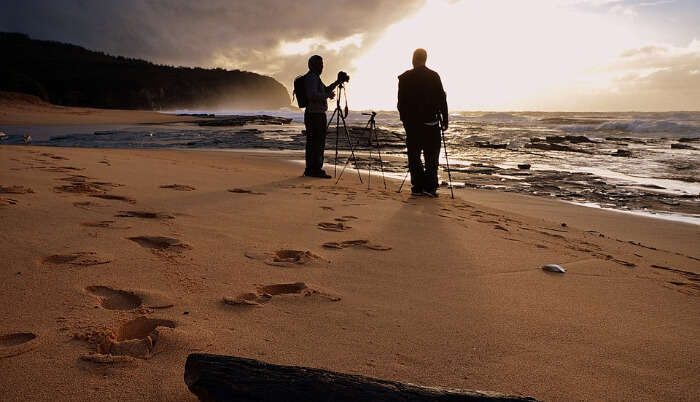 Image Source
If you are into photography and just basically capturing all the small moments in your camera, you are going to love visiting the Laxmanpur beach in Andaman. It is surrounded by a picturesque landscape and is perfect for you to capture some stills while you bask in the peace around. It isn't necessarily the best option during the night but go visit up and early to cherish the moments together.
Make sure that you do visit during the sunrise, if possible because the view around that time is nothing short of breathtaking. In addition to that, you also can test out your hands exploring the Havelock islands nearby and click more pictures there.
Suggested Read: A Guide To Kala Pathar Beach In Andaman For An Enthralling Vacay
3. Just Relax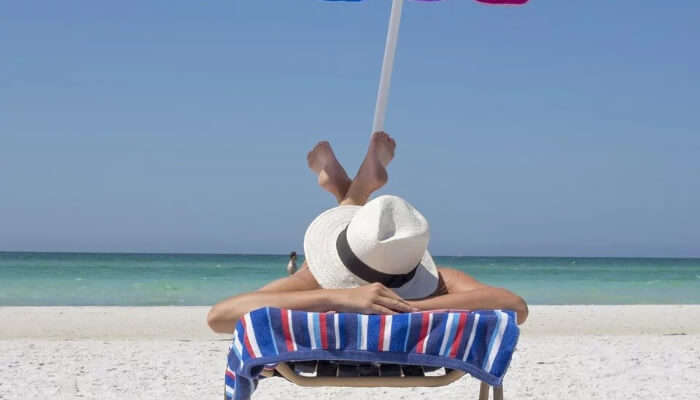 Image Source
For those who aren't much into the activities and just want to revel in the beauty of nature, we would suggest that you simply just relax by the beach and enjoy the sun. Pack some essentials to set up a small picnic and just relax while listening to the gushing of the sea waves beating down on the shore on the beach.
The tranquillity of the beach, paired with the subtle soothing climate does make this a perfect activity without you even realising that.
Suggested Read: Winter In Andaman: A Guide To An Awesome Vacation In 2021-22
4. Sunbathing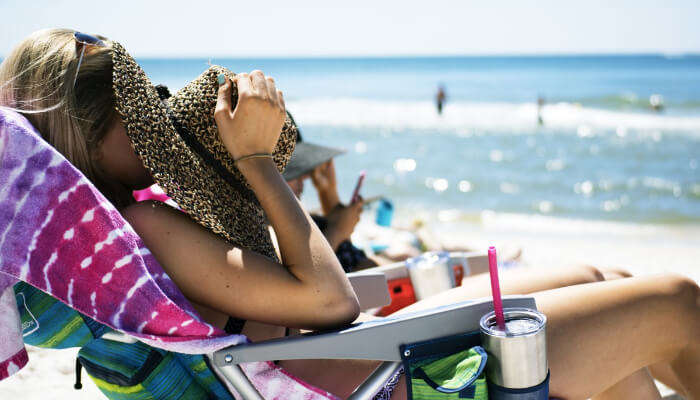 Image Source
If you are in the mood to get some tan on, sunbathing is yet another popular activity that you can indulge in. This isn't something we would suggest you do for long because the UV rays from the sun aren't the healthiest for the skin but nevertheless, it does count for an activity that you can do while in Laxmanpur beach.
Suggested Read: 53 Best Places To Visit In Andaman For A Mesmerizing Holiday Experience
5. Snorkelling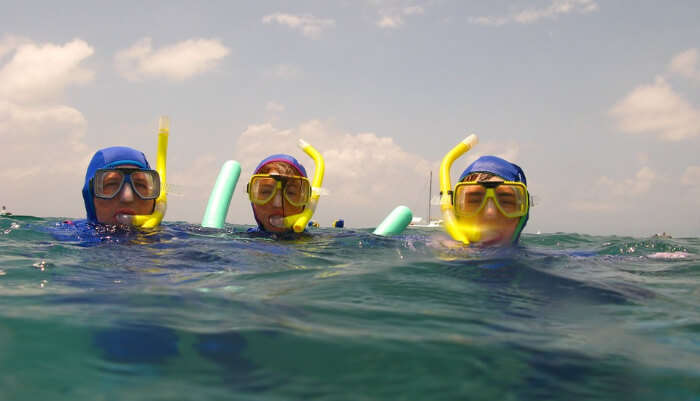 Image Source
Not many people are into this activity but if adventure is what you go by, you need to try this one out. Exploring underwater life during high tide is possibly one of the best experiences that you can gather around. The vibrant sea life underneath is equally enthralling and nerve-wracking but in the best way possible. If you are planning on visiting this beach, exploring this activity is an absolute must.
Suggested Read: Rutland Island Guide: Andaman's Untouched Island That's Got Everybody Talking
6. Scuba Diving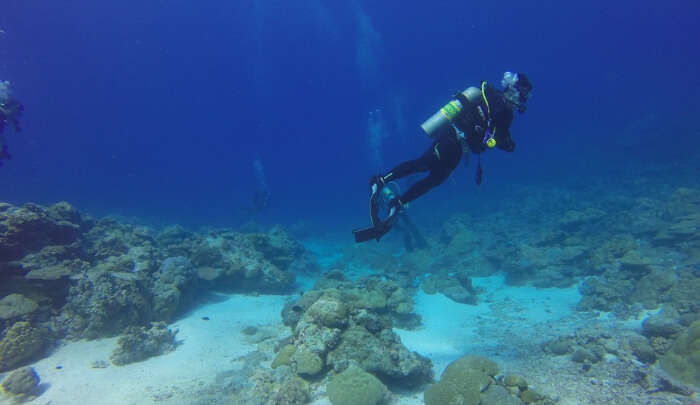 Image Source
For those peeps who do want to go all out and jump right in, scuba diving is yet another option that you can look into. It is quite a popular activity around that place that you can check out and explore the options. But, make sure that you have the equipment and professionals guide you properly through the process before you do end up jumping right in.
Suggested Read: Learn About The Local Tribes Of The Andaman Islands At Anthropological Museum, Port Blair
Top 6 Places To Visit Around Laxmanpur Beach
With the activities sorted, the next thing that we have to focus on is the places that you can visit and explore around. If you have been planning the trip, make sure that you do have everything sorted out for good.
Let us take a look at some of the places to explore nearby, shall we?
1. Neil Island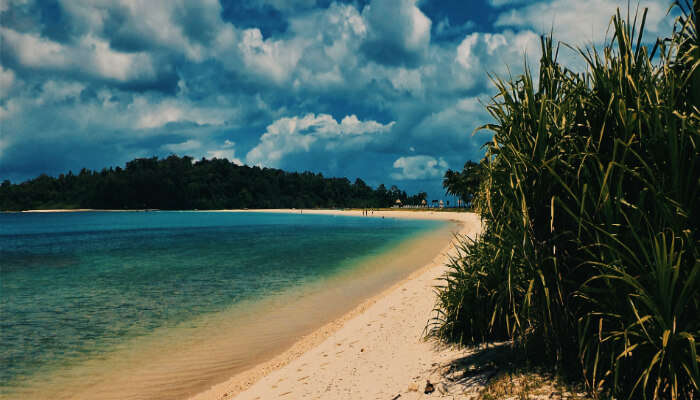 Image Source
Given that the Laxmanpur beach is located in the Neil island, it is a given that you need to explore the place around. It is a very laid back and quaint island that has a very peaceful surrounding for you to explore around. It is located in the south of Andaman and is filled with several breathtaking spots to visit and explore, from the beaches to coral reefs, the options are quite extensive. It is an amazing spot to explore if you are on a romantic trip, so don't forget that.
Known for: Snorkelling, glass-bottom rides
Suggested Read: Top 6 Iconic Museums In Andaman That You Must Check Out When You're Here
2. Bharatpur Beach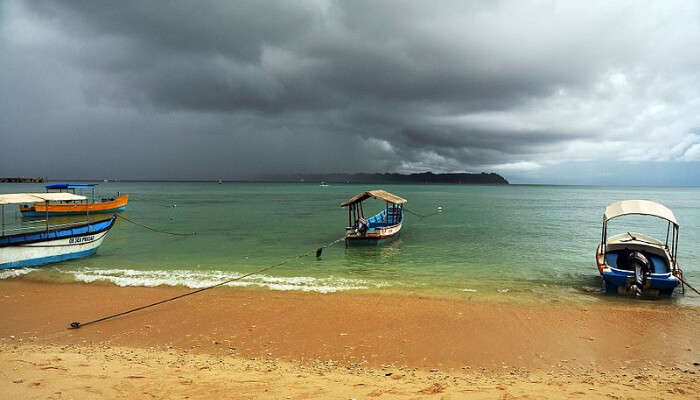 Image Source
While you are done exploring the Laxmanpur beach, the next best spot to explore around has to be the Bharatpur beach. It is known for its wide range of water sports and activities that you otherwise wouldn't stumble across which is what makes it such a good option to visit. Apart from the beach and waves, the place is also encircled by the groves of coconut trees and wildflowers, further making it an amazing option to look into. If you want to catch a break and just rejuvenate your mind and body, this is the spot to explore.
Known for: Water sports
Suggested Read: 14 Thrilling Water Sports In Andaman For Which Require No Swimming
3. Radhanagar Beach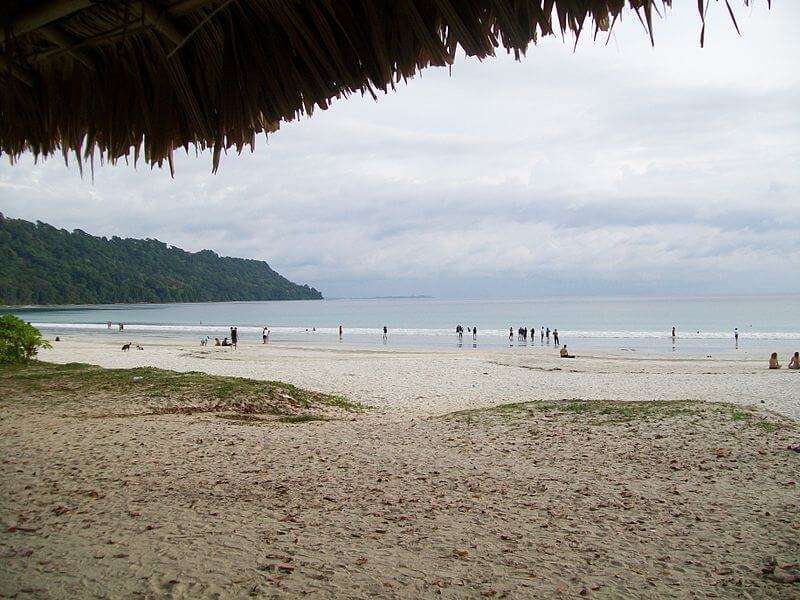 Image Source
Another amazing spot that you can explore the Radhanagar beach which is quite closely located to the Kalapathar beach. It has been ranked among the top 10 beaches in India so that itself calls for everything, doesn't it? The beauty of the place is too enigmatic to be explained in words. It is located a lot closer to Havelock island.
Known for: Swimming, scuba diving, parasailing
Suggested Read: Your Handy Guide To Mahatma Gandhi Marine National Park In Andaman
4. Natural Bridge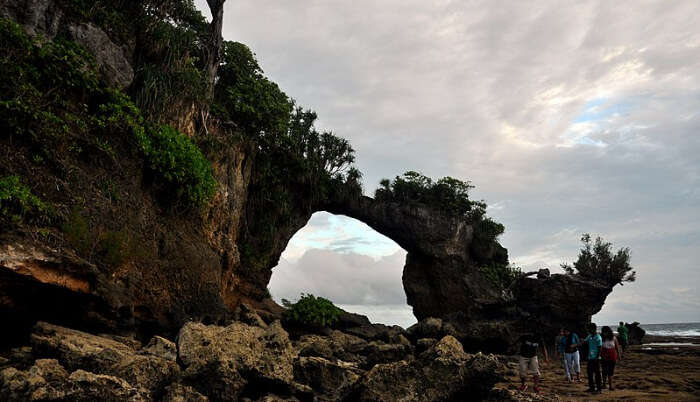 Image Source
As weird of a place as it might sound, the Natural Bridge is yet another popular tourist spot that is located around in Laxmanpur beach. The laid out natural formation of rocks makes it an outstanding spot to step on and walk and explore. The set of rocks is what forms of the entire bridge and the pristine quality and the experience of walking down on them further adds to the experience even further.
Known for: Walk down the bridge
Suggested Read: Markets In Andaman: 7 Markets That Are A Shopaholic's Paradise And You Can' Miss
5. Elephant Beach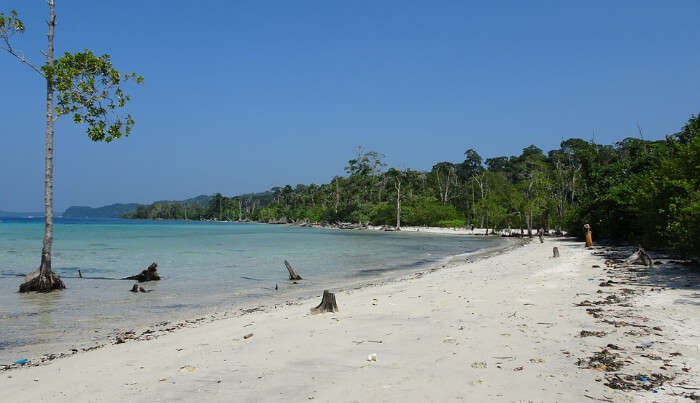 Image Source
While you are in Laxmanpur beach Andaman and Nicobar islands, we would suggest you explore the elephant beach as well. The combination of the vibrant coral reefs paired with marine life makes it an outstanding experience that you won't be able to miss out on. It is perfect for families to visit and explore around and the coral reefs are too beautiful for you to pass upon.
Known for: Diving, snorkelling, kayaking, mirror boating rides
Suggested Read: Andaman In October: Guide To Enjoying A Fun And Paradisaical Vacation!
6. Barren Island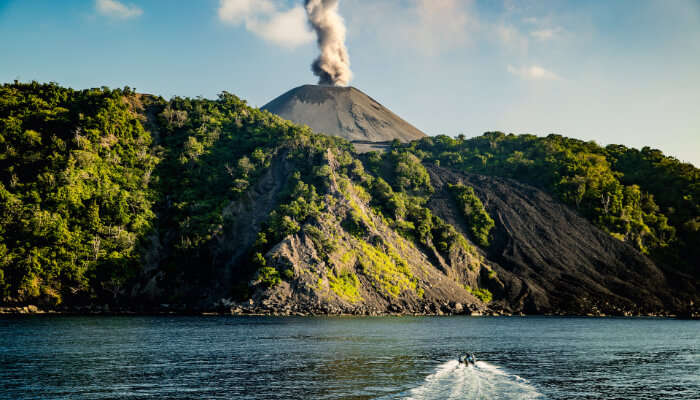 Image Courtesy: round.glass
Last but not least on the list of places to visit around Laxmanpur beach includes the Barren island. It is the only active volcano in Southeast Asia which last erupted in 2017. The place is too unstable for human inhabitants but you can definitely visit and explore the place and witness the volcano around by yourself.
Known for: Nature walk
Suggested Read: Limestone Caves In Andaman: Riveting Facts About The Million-Years Old Caves
How To Reach Laxmanpur Beach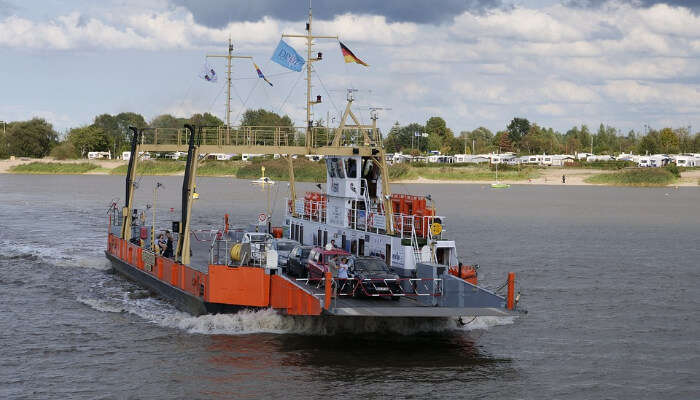 Image Source
When it comes round to the Laxmanpur beach, there are two ways you can visit this place. One is from the Havelock island and the other one is from Port Blair. To help you get a better idea, we are going to share some insights with you.
From Port Blair
There are several governments and private ferries from Port Blair that travel to and fro from the Laxmanpur beach. It is located on the Neil island and takes around 2 hours to reach from Port Blair. Two boats leave from the Phoenix Bay Jetty and there are some private jetties as well that you can talk to.
From Havelock Island
As we mentioned before, to reach the laxmanpur beach, you need to take the jetty from Havelock island as well. You cannot book the government-operated ferries online, so get the bookings done from the counters two days before you want to go. Otherwise, there are some private ferries which take bookings online that you can further check.
Further Read: 10 Quirky Things To Buy In Andaman You Shouldn't Return Without
If you are planning a vacation to Laxmanpur beach, there are some important things you need to know about. These are some of the highlighted ones that you just can't miss out on. Make sure that you do have everything planned out because they further have things sorted out and about. So, starting noting down pointers for your vacation to Andaman right away!
Disclaimer: TravelTriangle claims no credit for images featured on our blog site unless otherwise noted. All visual content is copyrighted to its respectful owners. We try to link back to original sources whenever possible. If you own the rights to any of the images, and do not wish them to appear on TravelTriangle, please contact us and they will be promptly removed. We believe in providing proper attribution to the original author, artist or photographer.
Please Note: Any information published by TravelTriangle in any form of content is not intended to be a substitute for any kind of medical advice, and one must not take any action before consulting a professional medical expert of their own choice.
Frequently Asked Questions About Laxmanpur Beach
How can one reach an elephant beach from Havelock?
Two ways can help you reach the Elephant beach from Havelock. One is by taking a boat from the island to the beach which takes around 20 minutes, otherwise, you can also walk around the route which takes about the same time.
How to travel to Neil Island from Port Blair?
Ferries are the best option to travel from Port Blair to Neil Island. There are both government-run and private ones. You can check any of them out and see which one fits your budget the best.
How many days are good for a trip to Andaman?
It is often suggested that you do have a week's trip planned if you want to cover some of the important spots around without any kind of fail whatsoever.
How can one reach Radhanagar beach from Laxmanpur beach?
The path is quite easy. All you have to do is book a jetty or walk down the road if you have the time and patience for it.
Is sea walk in Andaman a safe option?
When it comes round to the sea walk, it is safe in Andaman. You can also indulge in water sports there if that is something that intrigues your mind.
What is Havelock island famous for?
Havelock Island is famous for its beaches and coral reefs. The view around is quite breathtaking, further making it an amazing site to visit and explore.
How can one visit Havelock island from Port Blair?
If the government jetties aren't available, we would suggest opting for the private ferries that can take you around. Make the bookings beforehand though.
Is there something that one shouldn't do in Laxmanpur beach?
There isn't any kind of restrictions around on the beach. Just maintaining general decorum is more than enough to get you by.