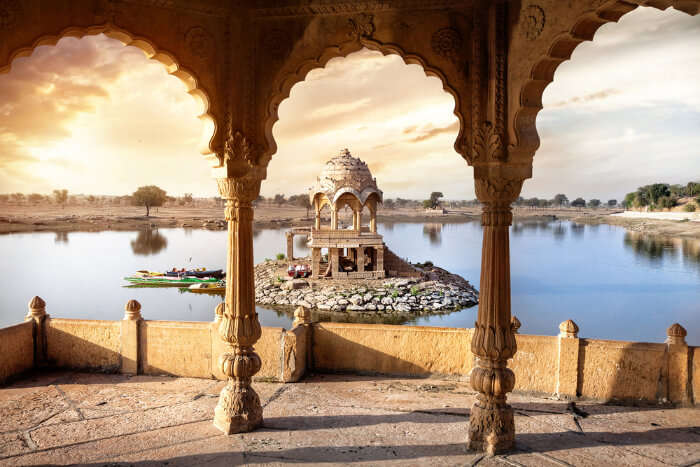 From luxury loaded resorts, hotels, spas, cruises, to even trains, India is home to the most regal experiences one can ask for. Endowed with the best of services to pamper you for life, you must indulge in some of these luxury India tours at least once in your life to familiarise yourself with the royal side of India and bask in richly experiences like the Rajas and Maharajas of old! So, dive into the most opulent tours in India right here, some of which may require you to sell your kidneys (kidding!).
Luxury India Tours: 16 Best Royal Experiences In India

Image Credit – Simon for Wikimedia
From luxury resorts and hotels to spas and cruises, India is home to some of the best luxury services. Pamper yourself with these royal experiences like Rajas and Maharajas for atleast once in your life.
Maharajas Express
Palace On Wheels
Amanbagh Resort
The Oberoi Udaivilas
Umaid Bhawan Palace, Jodhpur
Park Hyatt Goa Resort And Spa, Goa
The Oberoi Cecil, Shimla
Oberoi Vrinda Cruise
Mahabaahu Cruise
Jiva Spa
Angsana Spa
Ananda In The Himalayas
Most Luxurious Private Pool
Most Luxurious Bath
Most Opulent Floating Residence
Most Regal Golfing Experience
Most Luxurious Trains In India
Equipped with every bit of class and facilities that you can ever imagine, these royal trains in India don't just give you stunning views, but also sheer luxury to spoil yourself.
1. Maharajas Express

Maharajas Express has been voted as the 'World's Leading Luxury Train' at the World Travel Awards 2012 and also listed among the World's Top 25 Trains 2011 by The Society of International Railway Travelers. The elegant train is among the best options for luxury India tours with a lavish onboard accommodation, majestic dining facilities, impeccable services, and delightful off-train excursion programs. The royal first runner-up of the Conde Nast Travelers Reader's Choice Travel Awards boasts of 14 gorgeous guest carriages with deluxe cabins and presidential suites to accommodate over 80 passengers on board.
Mayur Mahar and Rang Mahal are two absolutely stunning restaurants aboard the train where guests can feast on delicious international and Indian cuisines under an amazing hand painted fresco ceiling. The luxury travel carriage also features a lounge bar called The Rajah Club and a thematic bar namely Safari Bar with a fine range of spirits and wines.
The train plies on 5 different routes that takes travelers through the scenic cities and villages of India like Jaipur, Jodhpur, Ajanta, Ranthambore, Agra, Mumbai, Udaipur, Khajuraho, Varanasi, Lucknow, and Delhi. The train operates between October and April.
Prices starting from: INR 2,57,950/- per person (for a 4 day journey)
Google Rating: 4.6
Website | TripAdvisor Reviews
Must Read: Top 12 Summer Festivals In India You Must Plan Attending
2. Palace On Wheels

A list of luxury tours in India can never begin without the mention of India's first luxury train, the Palace on Wheels. The the winner of PATA Gold Award, Palace on Wheels has been voted as the World's 4th Best Luxury Train. The train has 14 salons that can accommodate up to 88 guests. These lavish salons are named after the erstwhile princely states of India, the likes of which include Alwar, Bikaner, Bharatpur, Bundi, Dungarpur, Dholpur, Jaipur, Jhalawar, Jaisalmer, Jodhpur, Kota, Kishangarh, Udaipur, and Sirohi.
Tastefully designed to give travelers the most regal Rajasthan luxury tours, these salons are decorated with miniature paintings, furnishings, upholstery and mirror work, all reflecting utter royalty. Each salon has 4 coupes (sleeping rooms) with an attached toilet and a mini pantry. Along with this, each salon has its own captain valet and an attendant called 'Khidmatgar'.
The train has two restaurants onboard, called Maharaja Restaurant and Maharani Restaurant. These restaurants serve table d'hôte meals with an assortment of the most delicious Rajasthani cuisines. The authentic ambiance on the in-house bar and the finest selection of alcoholic and non-alcoholic beverages will surely blow your mind, the reason why Palace on Wheels is among the best luxury trains in India! The train also has sitting lounges where guests can unwind and relax, making this luxury tour in India an unforgettable part of their lives.
The Palace on Wheels train operates between September and April, wherein the 7 nights 8 days journey takes guests through 7 cities and lets them experience a tour of their beautiful attractions.
Palace On Wheels Route: Delhi – Jaipur – Sawai Madhopur – Chittorgarh – Udaipur – Jaisalmer – Jodhpur – Bharatpur – Agra – Delhi
Prices starting from: INR 2,10,000/- per person
Google Rating: 4.3
Website
Luxury Hotels & Resorts In India
Basking in sheer indulgence and the most royal of experiences and outlook, these luxury resorts and hotels in India are the ultimate abode of all who wish to be treated like the kings and queens of old.
3. Amanbagh Resort

A Mughal inspired resort in Alwar district of Rajasthan, Amanbagh Resort is located 40 km from Sariska National Park and is surrounded by the lush Aravalli Hills. The In-Persian architecture of the resort gives it an incredibly regal look and makes it a hot favourite among people visiting Alwar.
Location: Ajabgarh 301027, India
Prices starting from: INR 53,553/- per person
Amenities: Well maintained garden spaces, restaurant, pool pavilions, terrace haveli suite, garden haveli suite, courtyard haveli suite, ayurvedic spa
Google Rating: 4.4 | TripAdvisor Rating: 5
Website | TripAdvisor Reviews
Suggested Read: The Ultimate List of Adventure Holidays In India For Summer
4. The Oberoi Udaivilas

There's nothing more opulent than the palace of Oberoi Udaivilas In Udaipur. Don't believe us? Book a stay here and see for yourself! Along with stunning views of the beautiful Lake Pichola till the spectacular City Palace, the hotel also has an amazing architecture with reflection pools, cool marble, ornate carvings, inlay work and intricate carvings in the interiors are enough to attract visitors.
The palace presents the perfect blend of all the modern luxuries and the old worldly charm of erstwhile princely rule. Each room has huge bedchambers with large private terraces, while the luxury suites have private swimming pools and walk-in closets. The restaurants serve everything from international cuisines to regional and Rajasthani delicacies.
Location: Haridasji Ki Magri, Udaipur 313 001, India
Prices starting from: INR 37,813/- per person
Amenities: Kohinoor Suite, Spa, Miniature Painting School, arrangement of sightseeing tours, dinner on the Promenade, private dinner under the lakeside dome, 2 restaurants, bar, pool, heated pool, courtyards and gardens, gymnasium, luxury spa
Google Rating: 4.7 | TripAdvisor Rating: 5
Website | TripAdvisor Reviews
5. Umaid Bhawan Palace, Jodhpur

A marvel made out of golden-yellow sandstone, Umaid Bhawan Palace Jodhpur happens to be one of the largest royal residences in the world. The incredible architecture of this palace reflects the gallantry and romance that Jodhpur is famous for. The impeccable staff and service is know to spoil the guests of Umaid Bhawan for life.
From magnificent views of the palace gardens and the spectacular Mehrangarh Fort, to the unique themed dinners that speak volumes of the pompous desert kingdom, Umaid Bhawan is bathed in sheer luxury and opulence. Each room here was once occupied by the Maharaja.
Location: Near Circuit House, Jodhpur 342006, India
Prices starting from: INR 31,152/- per person
Amenities: 2 restaurants, bar, fitness centre with gym, games like polo, tennis and croquet, hot tub, heated pool, indoor pool, outdoor pool, heritage walks, Jiva Grande Spa
Google Rating: 4.5 | TripAdvisor Rating: 5
Website | TripAdvisor Reviews
Suggested Read: 24 Influential Travel Bloggers Of Who Fuel Our Wanderlust
6. Park Hyatt Goa Resort And Spa, Goa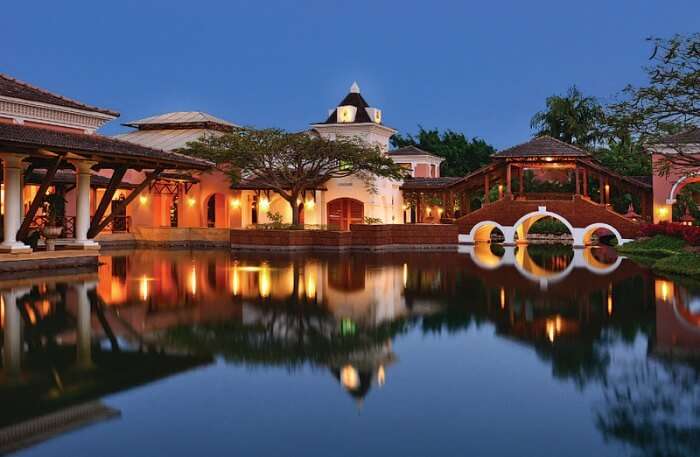 Situated in the picturesque village of Cansaulim, Park Hyatt Goa Resort and Spa is spread over a sprawling area of 45 acres. Magnificent beachfront gardens and a Goan village design are what make this resort unique. It offers a great combination of comfort, style and unique local flavour. A stay at this outright regal resort is among the best options for your luxury India tours.
Location: Arossim Beach, South Goa, Cansaulim 403712
Prices starting from: INR 23,780/- per person
Amenities: Well landscaped gardens, waterways and lagoons, exquisite restaurants, a poolside bar, Wine Room, pousada-style guestrooms and suites, spa-inspired bathing.
Google Rating: 4.5 | TripAdvisor Rating: 4.5
Website | TripAdvisor Reviews
Suggested Read: 30 Places To Visit In India In April: Beat The Heat This Summer Like A Pro
7. The Oberoi Cecil, Shimla

Located within the mighty Himalayan ranges, the Oberoi Cecil is a grand heritage resort that symbolise the colonial history of Shimla. Dating back nearly a 100 years, this resort presents the original British era grandeur. The guests are transported back in time as they walk over its wooden floors, immerse themselves in its crackling fires and colonial era furniture, and are whisked away by its welcoming atmosphere. Apart from luxurious experiences inside the hotel also provides great views of the surrounding mountains and valleys, which makes it one of the best luxury resorts in India.
Location: Advanced Study Road, Shimla 171004
Prices starting from: INR 22,213/- per person
Amenities: Outdoor activities such as a colonial heritage tour, walk in the woods and the train ride, restaurant, spa, en-suite lavish bathrooms, lush gardens, speedy 24X7 room service
Google Rating: 4.5 | TripAdvisor Rating: 5
Website | TripAdvisor Reviews
Suggested Read: 10 Best Hotels In Jodhpur: Heritage, Luxury, & Budget Stays
Luxury Cruises In India
The cruise vacations in India are truly spectacular. From family affairs to romantic statement, India has some of the most indulgent and luxurious cruises for its guests.
8. Oberoi Vrinda Cruise

Oberoi Motor Vessel Vrinda Cruise offers the most luxurious cruise in the backwaters of Kerala in India. The most royal cruise option in India, Oberoi Vrinda Cruise provides couples and honeymooners a romantic escape amidst the gentle lapping of palm fringed and lush surroundings of backwaters of Kerala. A dinner under the star lit sky aboard the open air deck of this cruise is an experience your maiden will never forget.
Boarding Point: C – 46 / 452 (II), Bristow Road, Willingdon Island, Kochi, Kerala 682003
Prices starting from: INR 99,000/- for 2 nights 3 days (double sharing)
Amenities: King sized Deluxe Cabins, cultural performances, high speed Internet, 24-hour personal butler, restaurant with range of international and local delicacies, traditional rice boat tour,
Google Rating: 4.4 | TripAdvisor Rating: 5
Website | TripAdvisor Reviews
Please Note: Motor Vessel Vrinda does not sail in the monsoon season, that is, between 1st May and 31st October.
9. Mahabaahu Cruise

Charting through the mesmerizing Brahmaputra river, the Mahabaahu Cruise bestows travelers with unmatched luxury and the best of experiences onboard. Sail through the mightiest river in Asia when aboard this regal vessel in the Indian North East and witness the profusion of wildlife, spot the Big Five of the jungle, and explore the myriad cultures of the many villages and towns on the shores.
Boarding Point: Pandu Port, Guwahati, Assam
Prices starting from: INR 1,57,500/- for 7 nights 8 days (double sharing)
Amenities: Suites and Superior Cabins with and without balcony, yoga sessions, fitness centre, swimming pool, restaurant, lounge and bar, bakery, off-shore excursions, Ayurvedic massages, sauna, salon, business centre
Website
Suggested Read: 30 Budget Trips In India For That Pocket-Friendly Escape
Luxury Spas In India
India is known as the hub of Ayurveda and meditation, the best ways of healing the mind, body and soul according to the ancient Indian science of well being. When you tastefully fuse it with yoga, natural healing, spa, aqua or Tibetan healing, you get the following most rejuvenating, but at the same time super luxurious the spa therapies at some of the most regal hotels and destination spas in India.
10. Jiva Spa

Rejuvenate your senses aboard the Jiva Spa Boat, the floating spa at Taj Lake Palace. It can't get more refreshingly romantic than this! Jiva Spa provides the ultimate experience of luxury tours in India at the shimmering heritage hotel of Taj Lake Palace. The hotel is nothing less than a white marble wonder which appears to be floating in the turquoise waters of Lake Pichola.
Combining the best of Indian and Western therapies, Jiva Spa offers a plethora of therapeutic massages and beauty treatments in its swanky spa section and signature spa salons. You can book yourself and your amour the Royal Suite with its private treatment room and Jacuzzi for the most luxurious and romantic experiences at Taj Lake Palace.
Location: Taj Lake Palace, Udaipur 313001, India
Prices starting from: INR 39,458/- per person
Google Rating: 4.6 | TripAdvisor Rating: 5
Website | TripAdvisor Reviews
11. Angsana Spa

Built exclusively for providing authentic and regal spa experiences, Angsana Spa lets you experience the curative power of nature. Located in the outskirts of Bangalore, this destination spa provides you a wide range of award winning therapies, beauty treatments and massages to help you revive your body and soul.
Location: Angsana Oasis Spa And Resort, Main Doddaballapur Road, Northwest County, Rajankunte, Bengaluru, Karnataka 560064
Prices starting from: INR 42,000/- per person
Google Rating: 4.1 | TripAdvisor Rating: 3.5
Website | TripAdvisor Reviews
Suggested Read: Reconnect With Your Inner Self At These 20 Yoga Retreats In India
12. Ananda In The Himalayas

India's first Destination Spa and winner of several awards for best spa in the world, Ananda in the Himalayas is the finest definition of luxury and yoga. Your luxury tours in India are incomplete without a visit to Ananda which offer a range of refreshing therapies and treatments along with yoga and meditation sessions in a emotionally, spiritually and mentally uplifting setting. Overlooking lush hills and picturesque valleys near the Yoga Capital of India – Rishikesh, Ananda combines the wisdom of Ayurveda, Yoga and Vedanta to give you the most unique and immersive experiences in the world.
Location: The Palace Estate, Tehri – Garhwal,, Narendranagar 249175, India
Prices starting from: INR 56,000/- per person
Amenities: Pool, restaurant, fitness centre, bar, lounge, spa, free parking, free WiFi, heated pool, outdoor pool, hot tub, golf course, airport transfers, banquet room
Google Rating: 4.5 | TripAdvisor Rating: 4.5
Website | TripAdvisor Reviews
Suggested Read: 41 Perfect Destinations To Spend Your Summer Holidays In India
Luxury Experiences In India
How can these be left out when one's talking about the luxury tours in India!
13. Most Luxurious Private Pool

The haveli-styled mansion of Amanbagh in Ajabgarh, Rajasthan was once the site of the hunting lodge of the Maharajah of Alwar. The hotel now features 24 suites and 16 poolside pavilions, each with a private swimming pool, which stays cool in the summer and is turned into a jacuzzi in winters!
The private pools, along with a garden, marble bathtub, and a covered outdoor dining and lounge area in this hotel make up the most luxurious private pool in India. Other perks offered here include a private spa with yoga, meditation and Reiki, as well as an organic garden where highly experienced chefs prepare the best of meals to tickle your taste buds.
Location: Amanbagh Hotel, Ajabgarh, Rajasthan
Prices starting from: INR 71,188/- per person
Google Rating: 4.4 | TripAdvisor Rating: 5
Website | TripAdvisor Reviews
Suggested Read: 39 Best Places To Visit In October In India
14. Most Luxurious Bath

Yes, you read that right! Your luxury India tours can also provide you with the most opulent and sensuous bath experience. Visit the Oberoi Amarvilas that provides fascinating views of the Taj Mahal for the most intriguing experience of bathing ever! With its 57 rooms, seven suites, marble endowed bathrooms, and a private, open-air terrace, this hotel is sure to make you feel like kings and queens.
The bath is supplemented with amazing features like spa that uses ancient Thai techniques, hot stone massage, Ayurvedic treatments, and honey citrus body wraps. The water is sprinkled with rose petals, milk, and skin softening rose bath that will whisk your fair lady off her feet once she sets foot in it!
Location: The Oberoi Amarvilas, Agra
Prices starting from: INR 56,239/- per person
Amenities: Pool, restaurant, fitness centre, bar, lounge, spa, free parking, free WiFi, heated pool, outdoor pool, airport transfers, banquet room
Google Rating: 4.6 | TripAdvisor Rating: 5
Website | TripAdvisor Reviews
15. Most Opulent Floating Residence

The list of luxury India tours is incomplete without mentioning this absolutely gorgeous and regal floating residence – the Kumarakom Lake Resort! Each of the 50 suites and villas at this resort endow guests with stupendous views of the lake and a private pool, but what blows their mind is the experience of sailing in houseboats here. Measuring up to 80 feet long, each air-conditioned boat boasts floor-to-ceiling windows, a bedroom, a living room, kitchen, and a spa salon with the best Ayurvedic treatments.
Each houseboat is guarded by two experienced boatmen to navigate along with a private chef specializing in authentic ad finger-licking Kerala delicacies and seafood. With utmost luxury, impeccable services, and the best of views, Kumarakom Lake Resort has truly turned the concept of cruising in the Kerala backwaters around.
Location: Kumarakom Lake Resort, Kottayam, Kerala
Prices starting from: INR 35,127/- per person
Amenities: Luxury houseboat, pool, restaurant, concierge, spa, bar, lounge, fitness centre, outdoor pool, children activities
Google Rating: 4.6 | TripAdvisor Rating: 4.5
Website | TripAdvisor Reviews
Suggested Read: 35 Exotic Places To Visit In December In India To Enjoy A Surreal Vacation!
16. Most Regal Golfing Experience

Tee off like a boss at one of the finest golf resorts and clubs in India. With the first 72 par 18 hole golf course built in the world outside UK, the Royal Calcutta Golf Club in Kolkata is a true beauty. It is testament to the the fact that the golf scene in India is fast catching up with international golfing venues. Royal Calcutta Golf Club is the perfect amalgamation of style, class, and luxury for the elite golfers.
Location: 18, Golf Club Road, Tollygunge, Kolkata, West Bengal 700033
Total Cost for Golf: INR 11,400/- per person (excl. of taxes)
Timings: 5:15 AM to 6 PM (Tuesday, Wednesday, & Sunday) | 5:15 AM to 9 PM (Thursday, Friday, & Saturday)
Google Rating: 4.5
Website
Further Read: Incredible Luxury & Romance: These Best Resorts In India For Honeymoon Have It All
Intrigued? We bet you are! Live an unforgettable luxury experience and discover exceptional India's natural beauty. We promise you a great time and memories for lifetime. So, which one of these luxury India tours are you willing to go bankrupt for? Let us know in the comments below.