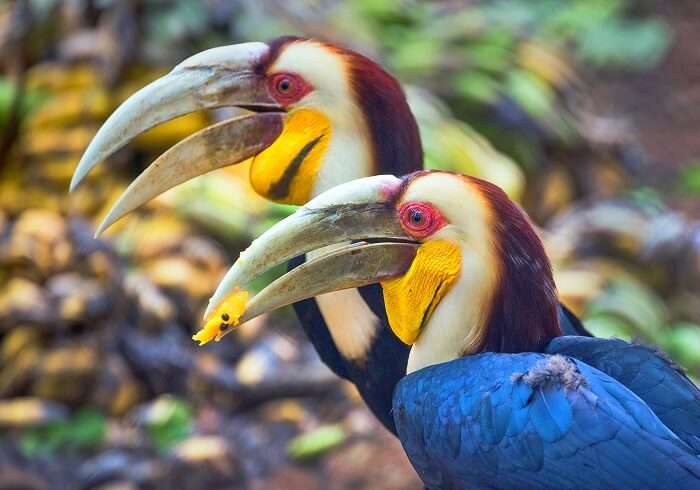 Assam easily outshines its six sisters when it comes to natural beauty and wildlife. Blessed richly with a diverse array of flora and fauna, Assam is among the most picturesque and pristine realms with thick jungles, tropical climate, and utter greenery till where the eyes can see! While these are distributed amid the number of national parks in Assam, we bring you the finest that you must check out on your next trip to the North East.
Owing to its fair share of lush greens and thick jungles with ample amount of marches and water resources, Assam is home to a breathtaking ratio of rare species of plants, animals, and birds. Let's look at Assam's best wildlife parks to know what draws the country's wildlife enthusiasts, nature lovers, and adventure seekers here.
The 5 Best National Parks In Assam
Here's our handpicked list of national parks and wildlife sanctuaries in Assam:
1. Kaziranga National Park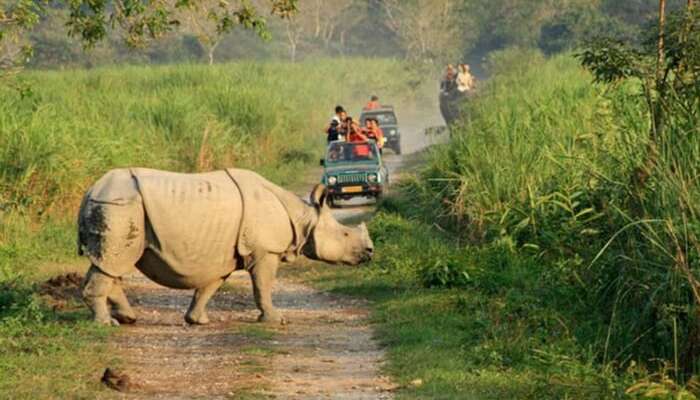 Suggested Read: Kaziranga National Park, Assam – Off To The World's Largest Home Of Rhinos
Known as one of the most diverse wildlife sanctuaries in India, Kaziranga National Park is the indisputable home of the one-horned rhinoceroses. Owing to the four major rivers of the North East that intersect here, this lush abode is the home to the rarest of species of flora and fauna. Apart from animals, the park is also popular for its majestic bird life. Known the world over as one of the best national parks in Assam, Kaziranga allows guests to indulge in fun elephant safaris, jeep safaris, and boat rides.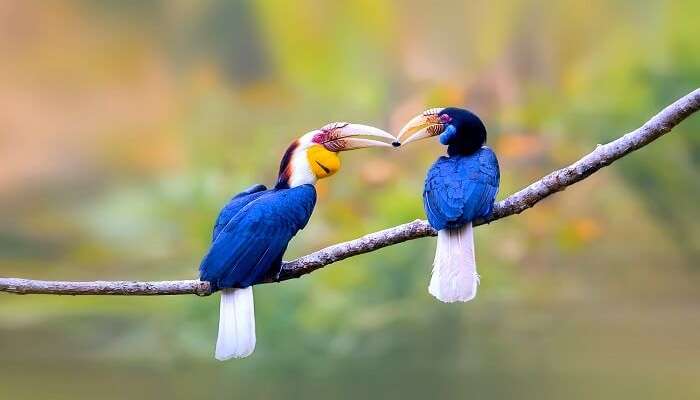 Fauna: One-horned Rhinos, Asian Elephants, Royal Bengal Tigers, Jackals, Wild Boars, Barasingha (Swamp Deer), Leopard Cats, Monitor Lizards
Avifauna: Fishing Eagle, Oriental Honey Buzzard, Himalayan Griffon, White-tailed Eagles
---
Sikkim-Gangtok-Darjeeling Holiday Packages On TravelTriangle
Visit Sikkim and explore Yumthang valley, Tsomgo Lake, Gangtok, Nathula Pass, and Pelling. Experience peace and tranquility while exploring Buddhist monasteries, snow-capped mountains, and wildlife sanctuaries. Book packages inclusive of airport transfers, cab, resort, sightseeing, and meals.
---
2. Manas National Park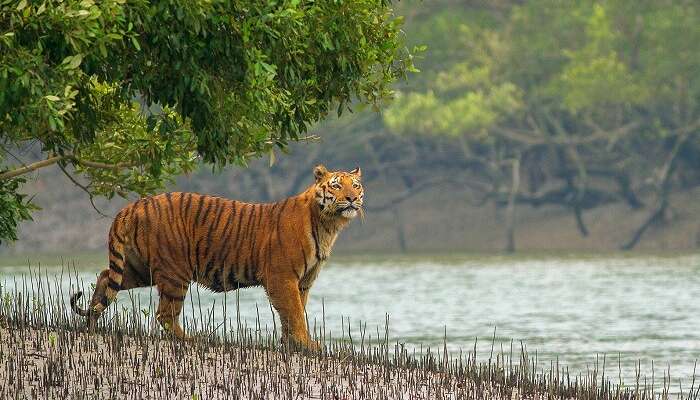 Suggested Read: 10 Tourist Places In Assam: Unveiling The Hidden Charm Of The North-East
Lying on the north-eastern side of Assam, Manas National Park shares its boundary with Bhutan and has a typical tropical monsoon kind of climate year-round. Manas is home to the world's share of twenty five endangered species. The park is now a recognised World Heritage Site owing to its rare biodiversity, forested slopes of the Himalayas, and the constantly shifting channels of the Manas river that contributes to much of the beauty of this place.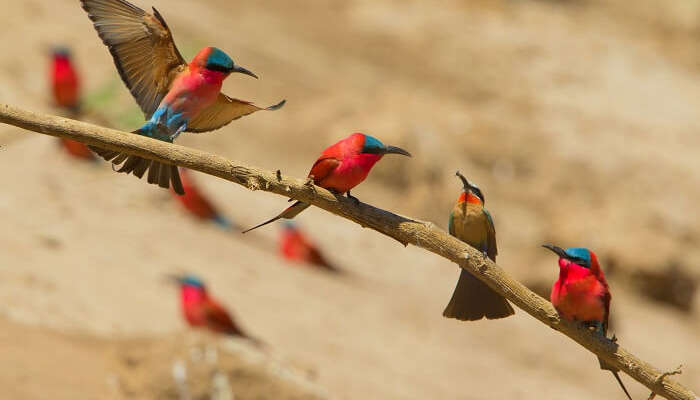 No doubt it holds a prominent position in the list of list of national parks in Assam.
Fauna: Wild Water Buffaloes, Assam Roofed Turtle, Golden Langur, Hispid Hare, Pygmy Hog, and more
3. Dibru Saikhowa National Park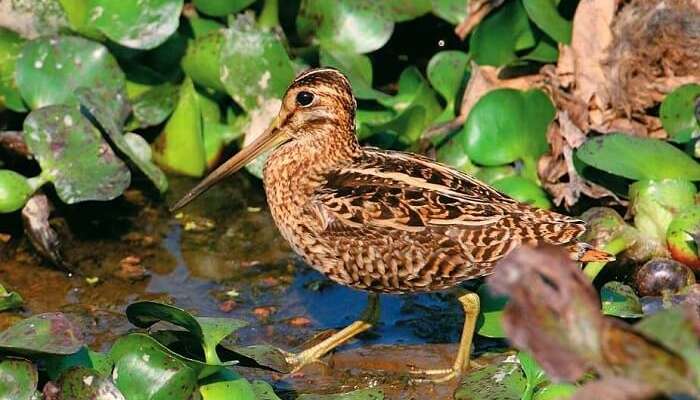 Suggested Read: 10 Top Things To Do In Assam That Guarantee A Northeastern Holiday Like None Other
Spread across an area of 340 sq km, the wetlands of the Tinsukia district in Assam are what constitute the Dibru Saikhowa National Park. Still in its pristine and untouched form, this is an amazing wildlife sanctuary in Assam that is home to some of the rarest creatures on the planet. The wetlands and marshes of this area also attract many winged visitors, because of which the park witnesses more than 500 species of migratory and native birds.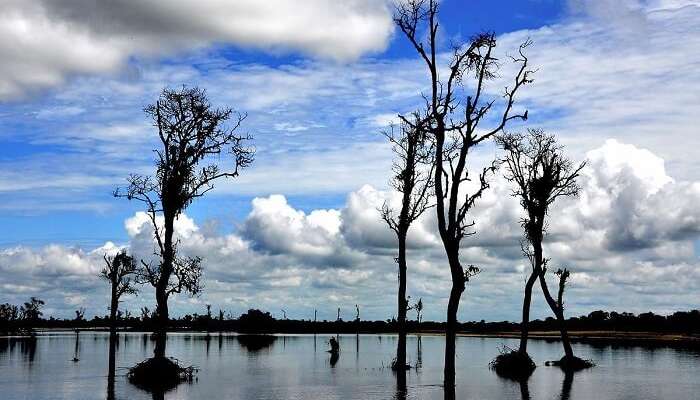 Image Source
Other than wildlife safaris and birdwatching, what makes this one of the best national parks in Assam drawing tourists from all over India is the unparalleled opportunity to go on a boat safari and spot the Gangetic River Dolphins.
Fauna: Wild Water Buffalos, Hoolock Gibbon, Tigers, Elephants, and more
Avifauna: White-Winged Duck, Marsh Babbler, White Rumped Vulture, and more.
Book North East Holiday Packages with TravelTriangle
4. Nameri National Park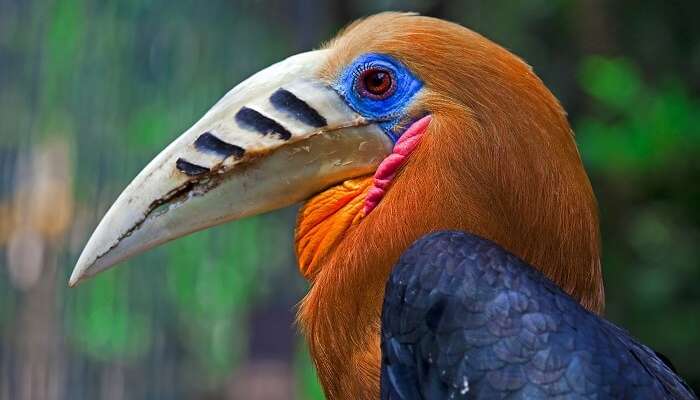 Located on the Eastern Himalayan foothills, this park gives you not only the chance to spot some of the country's rarest animal and bird species, but also bestows unbeatable views of the snowy peaks of Himalayas and endless meadows of orchids. The Nameri park shares its boundary with Arunachal Pradesh and somewhat merges with the Pakhui Wildlife Sanctuary, giving visitors the best of both worlds!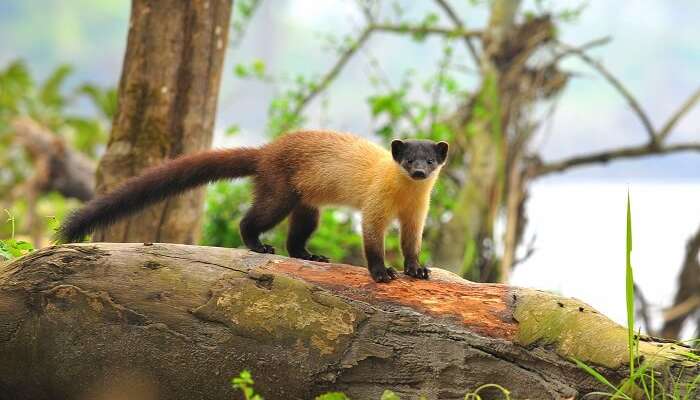 Suggested Read: Beautiful Hill Stations In Assam To Rejuvenate Your Senses
The park is a haven for birdwatchers owing to its marshy landscapes and ecology. But what actually makes it shine out in the list of national parks in Assam is its Elephant Reserve where elephants are taken care of and visitors get a rare chance to interact with these majestic beings.
Fauna: Royal Bengal Tigers, Himalayan Black Bear, Wild Boars, Indian Giant Squirrels
Avifauna: Ibis Bill, Wreathed Hornbill, Black Stork, Rufous Necked Hornbill
5. Orang National Park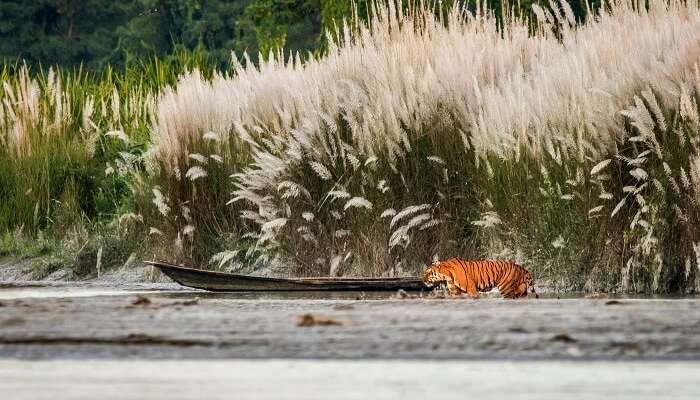 Nestled snugly on the northern shores of the Brahmaputra, the Orang National Park or Rajiv Gandhi National Park is the popular home of the one-horned rhinos of Assam. The park is a small one, spreading to just about 78 sq km, but what it lacks in size, it makes up in its uniqueness. The park provides shelter to more than 50 species of fish and is unbelievably rich in fauna, which contribute majorly to its stunning landforms and scenic charm. With a wide array of fauna and tranquil visions of its flora, it definitely is the finest wildlife sanctuary in Assam.
Fauna: Otters, Hog Deer, Indian Civet, Rhesus Macaque, Bengal Porcupine, Indian Pangolin, Indian Fox
Avifauna: Kingfishers, Pintails, Woodpeckers, and more
Suggested Read: 15 Best Assam Food Options For The Foodies Traveling To North East!
So, which of these magnificent wildlife sanctuaries and national parks in Assam will you be visiting first? Let us know in the comments below and share this with all your adventure loving wanderers. Book a trip to Assam and gallivant away on your adventurous escapade!
Frequently Asked Questions About National Parks In Assam
Still got queries? See if this helps you out:
Q. What is the best time to visit the national parks in Assam?
A. The ideal time to visit the wildlife sanctuaries and national parks in Assam is during the summer months, that is, from April to June. The weather during this time is favourable for a wildlife safari and birdwatching, and one has a chance of spotting maximum of Assam's fauna and avifauna during this time. The temperature in Assam in summers ranges from 32°C to 38°C.
Q. Which national parks in Assam should one visit to spot tigers?
A. Almost all the major national parks and wildlife sanctuaries in Assam are home to the Royal Bengal Tigers.
---
Looking To Book A Holiday Package?
Book memorable holidays on TravelTriangle with 650+ verified travel agents for 65+ domestic and international destinations.
---
Comments
comments