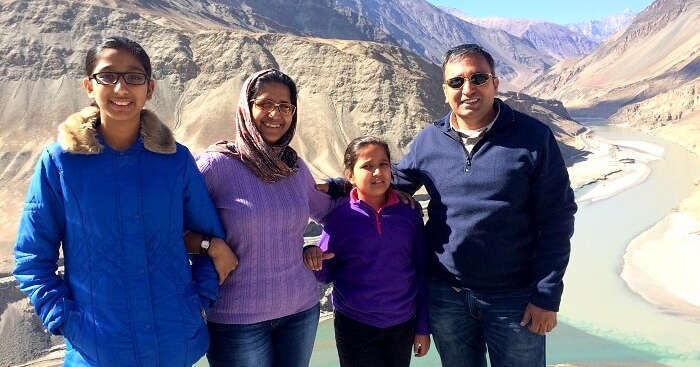 Manish Jain and his family had an amazing time on their trip to Leh Ladakh. He elaborates on their ultimate mountain experience and shares how a visit to the cold mountain desert gave him a fresh perspective on life and holidays. Manish booked his 10 Night 11 Days Ladakh family package from TravelTriangle for INR 90,000/- and it included their hotels, meals, sightseeing, and transfers. Let's read their journey account.
Both my wife and I realize the importance of travel. Every year, we plan at least one trip and go on a family holiday to explore, rejuvenate, and refresh our senses. These holidays offer excellent experiences and quality time to us since we get to closely interact with our kids and each other. And this year, we were visiting our dream destination – Ladakh.
Ladakh was on our mind since two years and when finally we had time, we decided to do the ultimate mountain trip with our kids. Our search for a suitable travel package had now begun and internet was our best option. TravelTriangle too was discovered on the internet and after visiting the website and understanding that it was a marketplace for travel agents and travelers, I decided to give them a try ( a lot of positive reviews also encouraged my decision).
Upon my trip request submission, I soon received a call from their travel representative who understood my requirements and connected me to various travel agents for best quotes. After selecting the best quote and itinerary, I finalized my trip and just like that, everything was sorted.
Our Itinerary Of 10 Days Leh Ladakh Family Trip
Do go through our 10 days itinerary of Leh Ladakh family trip and plan your family vacation soon to spend some quality time with your family.
Day 1: Delhi To Leh And Hotel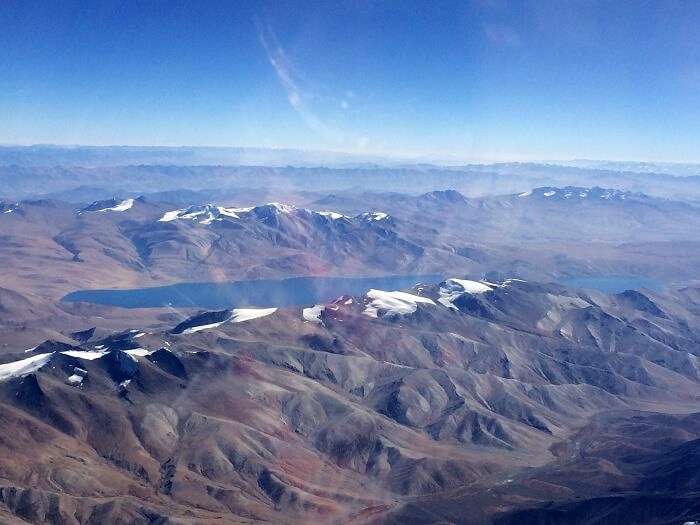 We arrived in Leh from Delhi via a flight. It was a clear day and we saw our first view of the beautiful mountains from the plane itself. The pilot also highlighted the Tso Moriri lake located at an altitude of about 15,000 Ft. and encompassed by snow-capped mountains from all sides. It was a mesmerizing view and by the time the plane landed, we were more than excited about landing and experiencing everything. The plane landed around 10:00 AM and after exiting the airport, we were transferred to our hotel "Nature's land" located in upper Changspa in Leh.
The staff at the hotel gave us a warm welcome and proceeded on for a hot cup of tea before having lunch.
Rest of the day was spent in leisure – relaxing in the room, watching movies, and playing cards. This leisure day was basically part of our acclimatization to higher altitude.
Also, from our room, we could see the snow-capped mountains and Shanti Stupa. And overall it was a nice sunny day where we thoroughly enjoyed the warmth of the afternoon sun from our rooms. We really enjoyed the first day of our Leh Ladakh family trip!
Day 2: Local Sightseeing In Leh Town And Shanti Stupa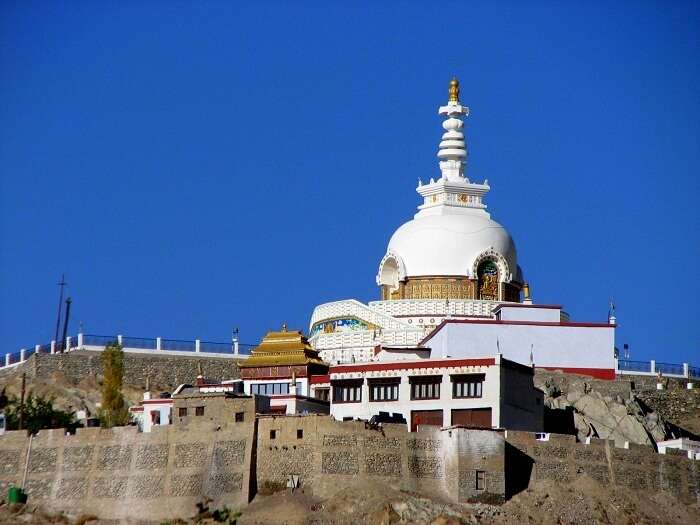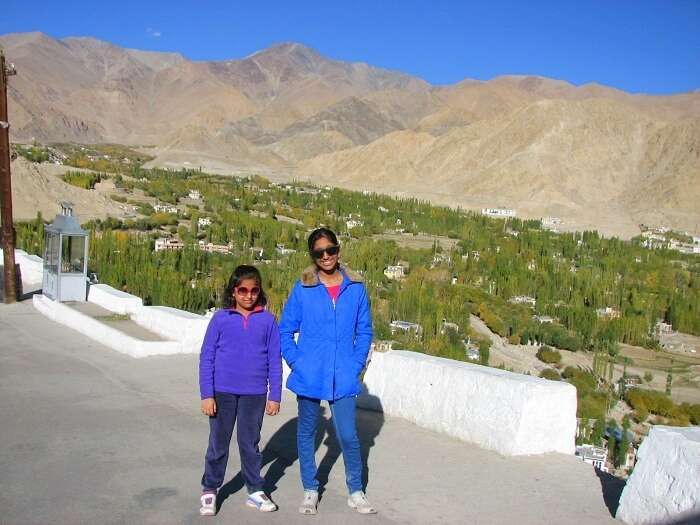 This was the second day of our Ladakh family trip which was spent in acclimatizing to the altitude and soaking up the sun inside the hotel room. In the afternoon we went to Leh local market and Shanti Stupa. We also saw the Leh Palace from a distance and did some local shopping. We later returned to our hotel and called it a night.
Day 3: North Pullu, Khardung La, South Pullu, And Nubra Valley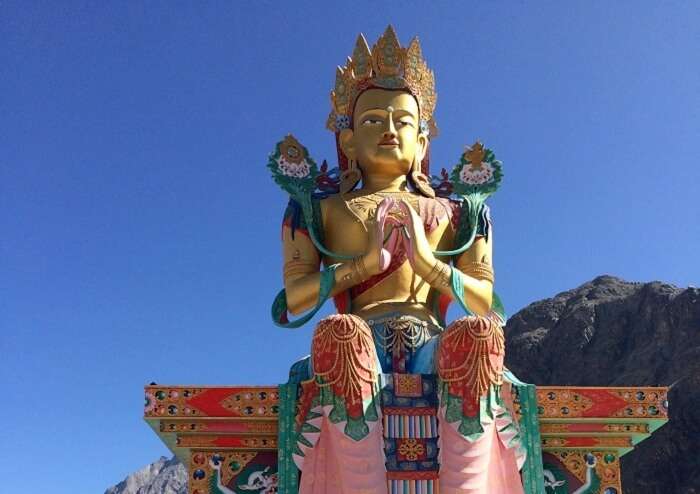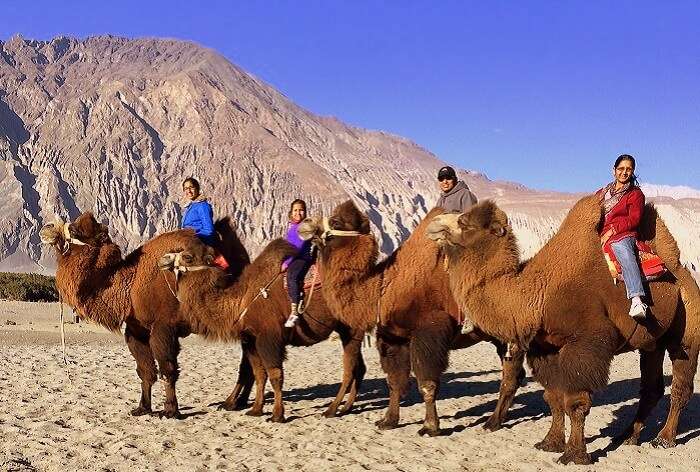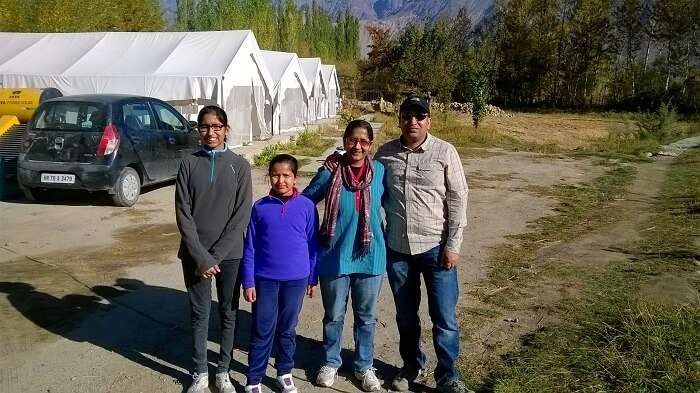 After having a sumptuous breakfast at the hotel we set off for Nubra Valley around 9:00 AM in a Toyota Innova. Our driver's name was "Stanzin". He was a young man from Lamayuru. Apparently, Stanzin, is the most popular name in Ladakh as it is also the Tibetan name of current Dalai Lama. As soon as we started he switched the car music to play Tibetan mantra and it was very peaceful to hear the chants early in morning.
The altitude of Nubra Valley is little less than that of Leh, around 10,200 ft. and the terrain is also is very different from Leh. One can find mountains, sand dunes, and the river in close proximity to each other. We reached Nubra Valley around 4:00 PM after taking short halts at North Pullu, Khardung La, South Pullu, Khalsar, and Shyok River. Stanzin suggested to not stop at Khardung La while going since he said they would take a longer break while coming back. Our lunch was at a Punjabi dhaba in Khalsar.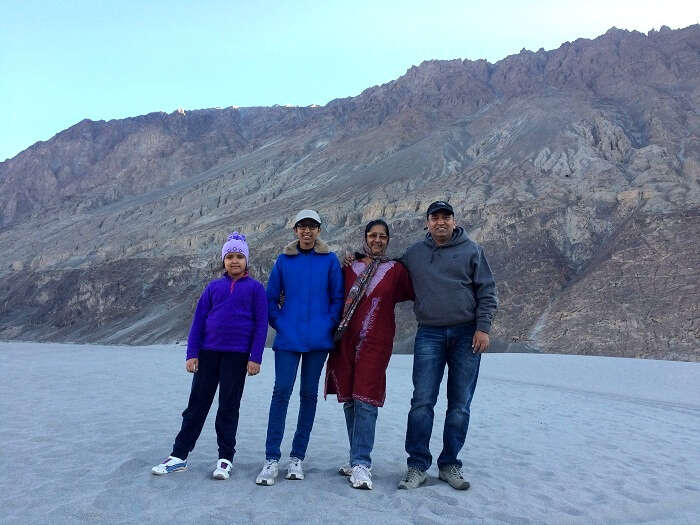 On the way, BRO had a lot of interesting signs to warn the drivers and the best one was "Don't be a Gama in the land of Lama". This was and has stuck in my mind since I saw it many times. I guess it meant not act like "Gama", the strongest person in "folklore" and rather acclimatize well before heading out.
At Nubra, our first stop was at 32 metre statue of Maitreya Buddha near Diskit Monastery facing down the Shyok River. After paying our tributes to Buddha on the third day of our Ladakh family trip, we headed to Diskit Monastery located at 10,315 ft.
Stenzen suggested not going up the monastery as the stairs are very steep. But, I climbed the steep stairs and was awed at the ambience inside the Gompa. It was my first monastery visit in the land of Lama and I realized how peaceful it is to live here.
Thereafter we headed to Shangri-la camp near Hunder village and after relaxing for a while, we went to see the sand dunes and Bactrian camels (popularly known as double humpback camels). These camels have a historical with the region as they were used on the traditional silk route. They are rare and found only at a handful places in the world with Hunder village being one of them. A ride on them was fun for the entire family. Thereafter we spent some time on sand dunes.
By the time we reached our tents in Shangri La camp it was night and the caretakers had lit the camp with lamps. It was an amazing experience. The dinner was served at 8:00 pm and comprised of of soup, chapatti, rice, vegetables, and lentils. After the dinner, a short walk inside the camp under the sky full of stars was like a "cherry on the cake". Kids were excited on seeing so many stars at the same time. Our trip had just begun.
Head To Ladakh In Winter 2022 For An Adventure Of A Lifetime
Day 4: Nubra Valley, Khardung La, And Leh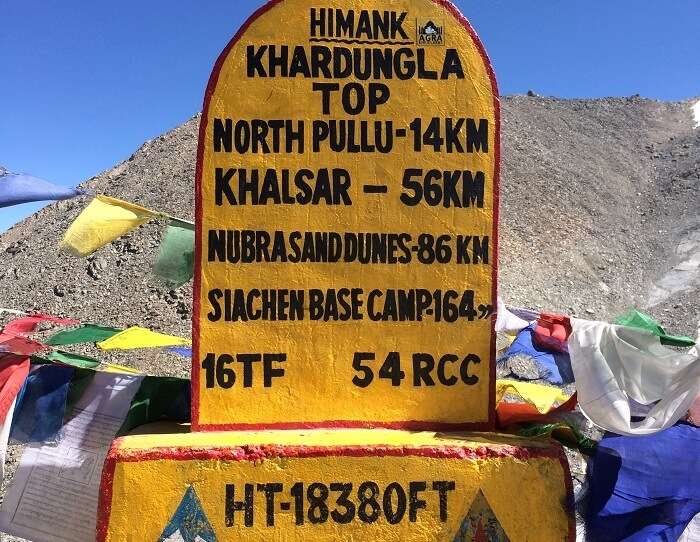 We woke up in the morning to chirping sound of birds and flowing river. Water in the taps was icy cold. As planned, we got ready for our trip back to Leh. The caretakers of the camp had arranged a wholesome breakfast for us and with our bellies full, we started at about 8:30 amidst the Tibetan mantra playing in Stenzing's Innova.
On our way back we stopped at Khardung La for an extended time (about 20 mins). By this time, I had acclimatized well, while my wife and kids had a mild headache. I had tea at an ARMY run canteen while enjoying the light breeze of thin air.
We were at the highest motorable pass in the world at an height of 18,380 ft. Siachen base camp (world's highest battleground) is about 164 km from here. Thanks to Indian Army for protecting our borders and many thanks to BRO in making these places accessible to common man. The decent to Leh was very fast and by 2:00 pm we were back in the hotel. The fourth day of our family trip to Leh Ladakh was quite adventurous!
7 Secrets Of Ladakh That Only The Hills Whisper
Day 5: Pathar Sahib Gurudwara, Magnetic hill, And Drass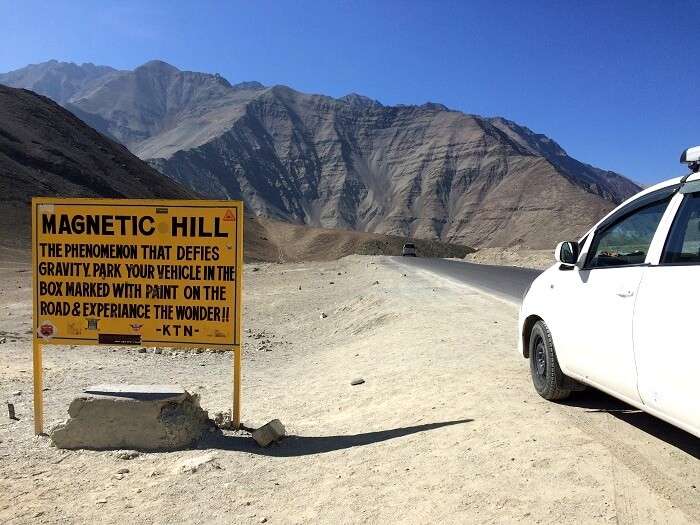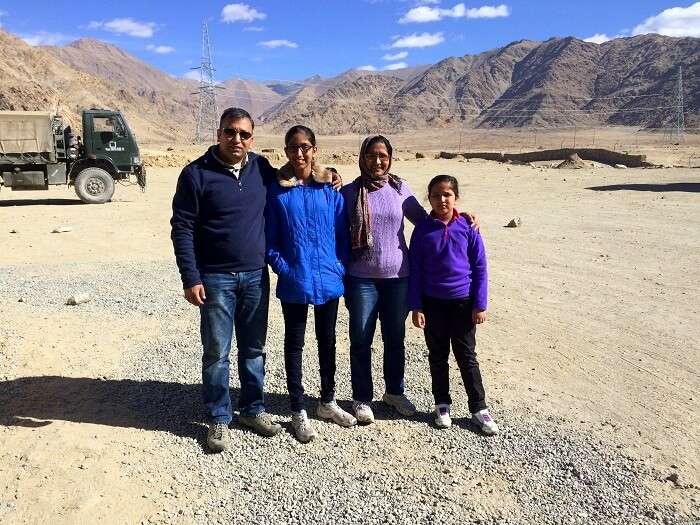 We left the hotel early around 8:00 AM and headed on to the Leh-Srinagar highway towards Kargil on teh 5th day of our family trip to Leh Ladakh. On the way we stopped at Pathar Sahib Gurudwara, Magnetic hill, Confluence of Indus/Zanskar river, Lamayuru Monastery, and Khaltsi. At Magnetic hill, vehicles appeared to roll uphill without any external force, while they were actually going downhill. It is an optical illusion, but an interesting one. Stanzin switched off the car's engine to demonstrate the phenomenon.
View of the Indus and Zanskar river was like pulling a page from the history book at school. On our way we also stopped at the Lamayuru for a lunch break and also visit the centuries old Gompa there. Lamayuru is situated midway between Leh and Kargil and grabbing the opportunity, Stanzin made a quick visit to his home here. Meanwhile, we also saw a Lama doing prayers. Back on the road, after Lamayuru, we stopped at Khaltsi to buy dry fruits.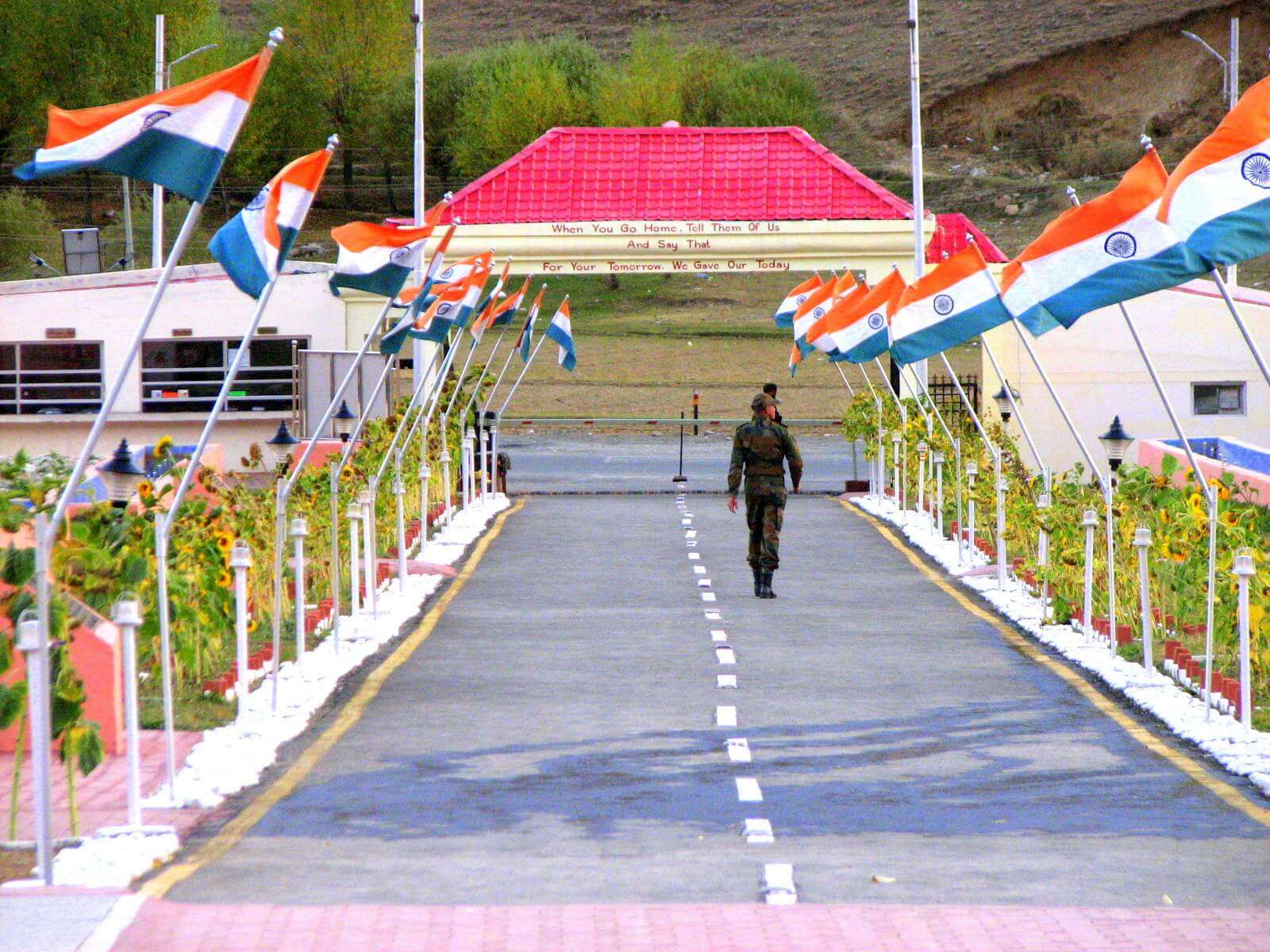 Continuing our journey, we reached Kargil around 4:00 PM. Upon our arrival here, we changed taxi's to visit "Kargil War Memorial" in Drass. Visiting the war memorial was a must on our itinerary. So we drove on NH 1 towards Srinagar along the "Suru" river (Suru is a tributary of "Indus" river). We reached war memorial at about 5:10 PM.
Upon our arrival here, there was a mixed feeling of pride and emotions while going past the exhibits. We saw "TOLOLING" peak and numerous points where actual conflict happened. And as we saw an ARMY jawan standing guard looking towards the peaks, I felt the pain of those soldiers guarding our borders in such harsh terrains so that we can sleep peacefully in cozy homes.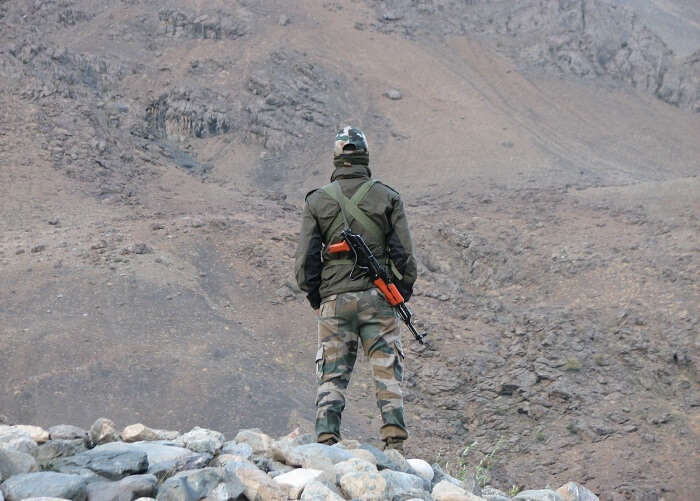 Drass is world's second coldest inhabited areas after Siberia. While the temp in Oct was around 7 degrees, it goes to -30 degrees in winters. And this guard would still be standing there guarding our border from the enemy. We came back to Kargil later that evening and spent the night in a hotel.
Camping In Leh 2022: Sleep Under The Stars & Wake To The View Of Himalayas!
Day 6: Kargil, Namik La, Fotu La, Moon-land, Alchi, And Leh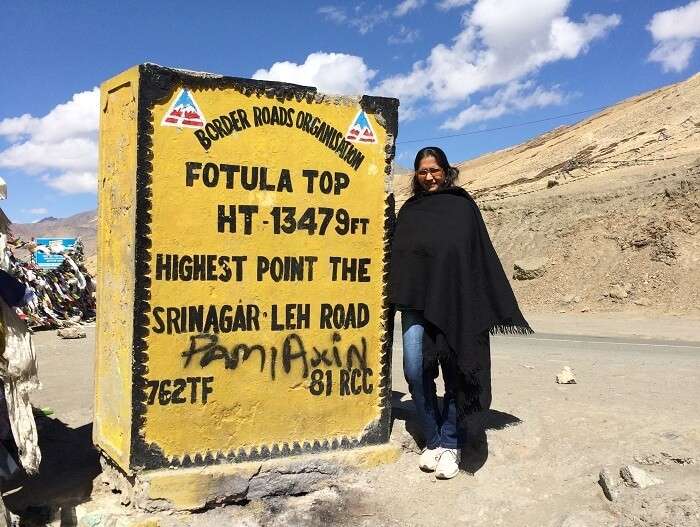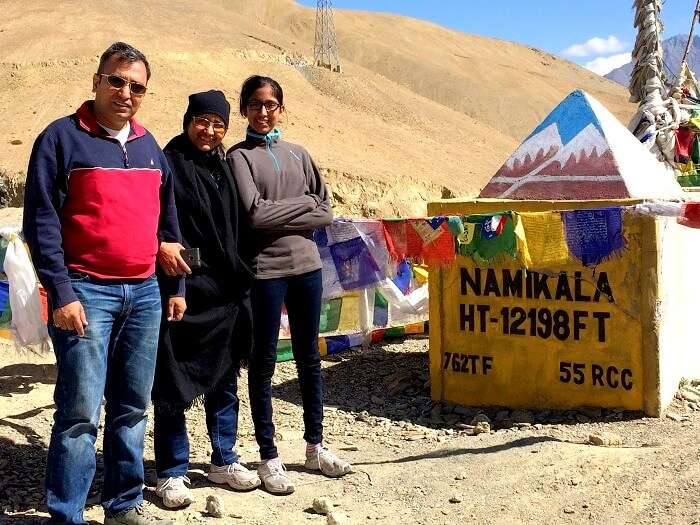 We started our day at about 9:00 AM to head back towards Leh with stopovers in between. Kargil town looked awesome in the morning sun as we bid goodbye to it and headed towards Leh. On the way, our first stopover was at Namik La and then at Fotu La (Prasar Bharti has a radio station in Fotu La).
On the way, we also saw numerous small and medium sized villages and wondered why do these people live so alone in such harsh terrain. After crossing Lamayuru, Stanzin stopped the car at Moonland. Moonland is basically a rock formation that resembles moon surface. It's strange but beautiful. We were amazed to see such difference in rock formations in the middle of Himalayan range.
We reached back Leh around 4:00 pm after taking a lunch break at Khaltsi and taking a stop at Alchi monastery.
Day 7: Leh, Shey Palace, Thiksey Monastery, And Pangong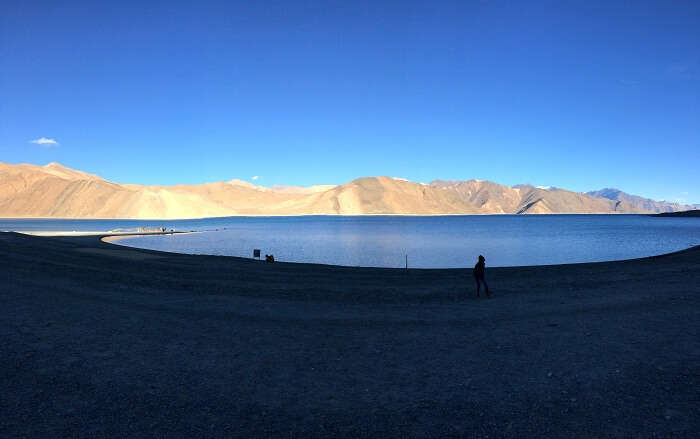 This day was to visit the most famous places in Ladakh. On the way to Pangong, we also stopped by at Druk Padma Karpo School, popularly known as Rancho school as made famous by "3 Idiots" movie. I personally liked the architecture and design of Thiksey monastery.
50 Places To Visit In Leh Ladakh For A Spell Binding Vacation In The Year 2022
Day 8: Leisure Time In Pangong Lake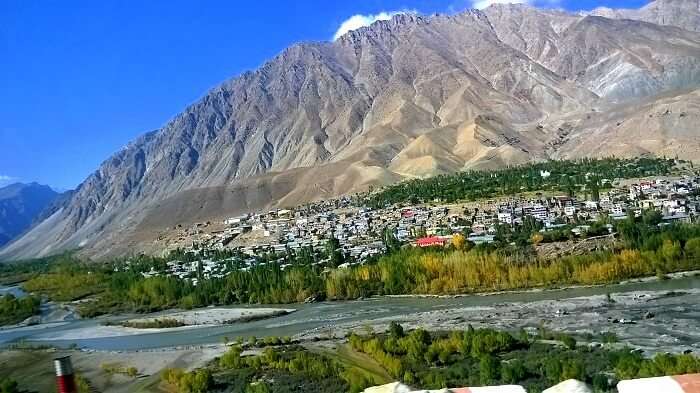 We spent our entire day at Leh today and it was a very peaceful and beautiful time for us. It was certainly a unique experience and the lake mesmerizing blue lake complimented our experience in the most majestic manner.
8 Popular Restaurants In Leh That Let You Relish The True Flavors Of Himalayan Kingdom!
Day 9: Back To Leh Town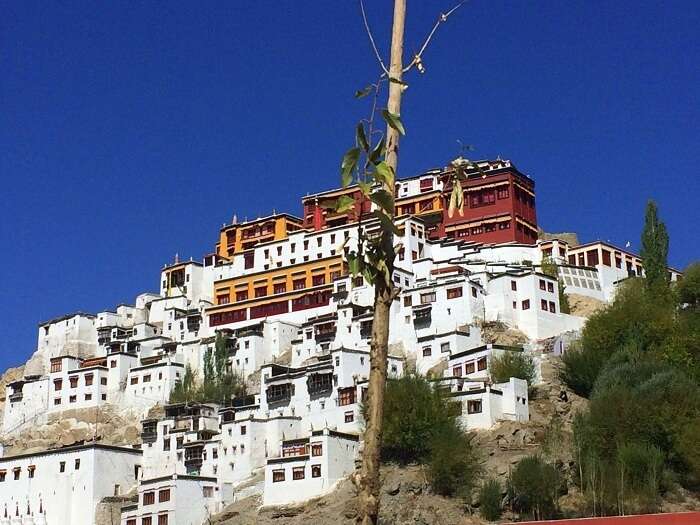 This day, in the morning post breakfast, we began our trip back to the Leh town and the journey was a smooth one. Upon our arrival here, we checked into our hotel, and after resting for a while visited the local market one last time. It was hard for us to leave this beautiful place but we had to do it for every journey has its end.
Day 10: A Happy Farewell To The hills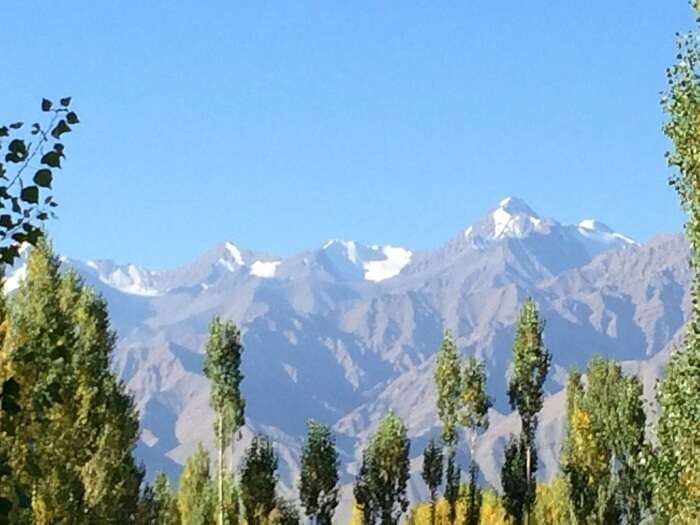 It was our last day today and in the morning after breakfast, we were transferred to the airport for our flight back.
High Points
Kargil War Memorial
Moon land
Low Points
We missed visiting the Tso Moriri Lake since it was very cold there.
Tips For Travelers
Read well about the place, climate, and challenges faced by other people before starting your journey especially when traveling with kids.
My Delhi To Leh Trip With Friends: 5 Days Of Thrill & Adventure
Leh Ladakh was a beautiful experience for everyone in the family. It was a trip that not only gave us a splendid view of the mountains but also showed us the pristine beauty that nature held. On the flip side, we also witnessed its harsh conditions and the efforts our brave soldiers put so as to protect the border. Seeing them filled our hearts with gratitude and patriotism and we were eternally thankful to them for their contribution. In the end, this was a wonderful trip full of nature, sightseeing, history, culture, spirituality, and a lot more.
Ladakh is an amazing destination to explore with family! We bet you are all excited to plan your vacation to Ladakh with your family soon. So, think no more, plan your  Ladakh trip and go on an ultimate mountain experience of a lifetime!
Frequently Asked Questions
Can asthma patients go to Leh Ladakh?
No, its not suitable for an asthama patient to visit Leh Ladakh.
Is smoking allowed in Leh?
Yes, smoking is allowed in Leh but in the Nubra Valley selling cigarettes and smoking in public places is banned.
Can we drink alcohol in Leh?
Yes, you can drink alcohol in Leh.