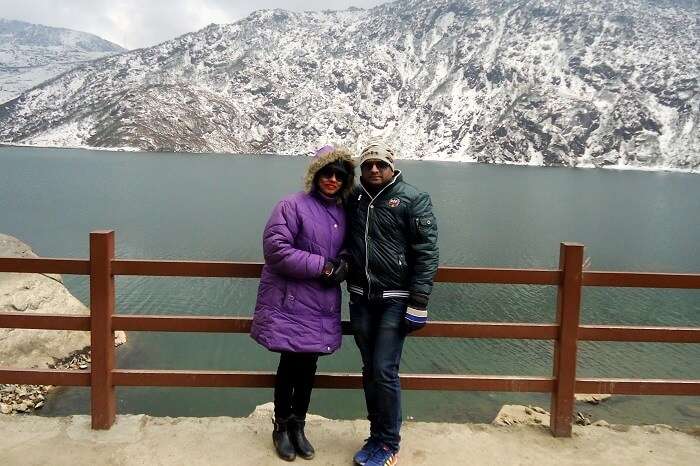 A passionate love for nature and mountains took Manisha and her husband on a scenic 5 night/6 day honeymoon trip to Sikkim and Darjeeling. Their honeymoon love story started from the charming mist-laden hills of Darjeeling and continued till the incredible snow-capped peaks of Sikkim.
Trip Cost: INR 26,000
Trip Duration: 5 nights/ 6 days
Agent Name: Travel Sahyog Gangtok Sikkim
Inclusions: Transfers, accommodation, sightseeing, meals (excluding lunch), and taxes
Exclusions: Lunch, flight tickets, and entry fees
My husband and I prefer visiting places with pleasant weather and abundant nature. A family friend of ours living in Gangtok recommended that a honeymoon trip to Sikkim and Darjeeling would be ideal for us. After doing some research on the weather, we realised that it is the perfect time to visit Sikkim and Darjeeling.
A Honeymoon Trip To Sikkim & Darjeeling That Shows How To Make The Best Of What You've Got!
While searching for travel companies on the internet, I landed on the TravelTriangle webpage. They provided customized packages to clients tailored to their needs. I inquired about a Sikkim and Darjeeling honeymoon package from TravelTriangle and received quotes at a competitive price from their affiliated agents. I finally selected the package offered to me by Travel Sahyog Gangtok Sikkim Agency for our honeymoon trip to Sikkim and Darjeeling.
Both of us were excited for an opportunity to get a break from work, city life, a monotonous routine, and the relentless heat. The honeymoon was still a few weeks away, but the dreamer inside of me already navigated most of the fantastic places we were planning to visit.
Day 1: Flying out to a romantic escapade
Our honeymoon began with a flight from Jaipur to Bagdogra. We arrived at 2 pm and straightaway proceeded towards Gangtok in our allotted cab. Enroute, we saw the refreshing Teesta river as it showed us the way to Sikkim. After a four-hour ride, we arrived in Gangtok.
Hotel Berries, our accommodation in Sikkim, was at least 10 kilometres away from the city. At first we didn't mind the location, but once we wanted to visit MG road market for a simple walkabout, we realized how far it was.
Experiencing Blissful Vibes Of Clouds & Mountains On A Honeymoon To Sikkim
In the evening, we hired a local taxi to go for shopping at MG Road. We returned to the hotel at 9pm and rested for the night.
Day 2: Sightseeing in Gangtok
Post breakfast, we got ready for sightseeing in Gangtok. We boarded the cab and started the day by visiting the Bakthang falls. It was a refreshing sight at the falls, where we clicked lots of pictures. Next up, we visited Tashi view point and Ganesh Tok where we got panoramic views of the mountain range around Gangtok.
After lunch, we resumed sightseeing by visiting the Flower show, Handicraft center, and Chorten Stupa. The spirituality and depth of culture in Gangtok was something that moved my soul deeply.
 Experiencing The Sweet Delights Of North East India: A Beautiful Family Trip To Sikkim & Darjeeling
After finishing sightseeing by 5 pm, we went on to explore the MG road market. A bout of shopping filled me with excitement and enthusiasm after a tiring day spent exploring the city.
Day 3: Paradise in snowfall
The next day, we woke up early and got ready for our trip to Baba Mandir and Tsomgo Lake. Our journey today took us high in the mountains of Sikkim, 12000 ft., to be precise.
Firstly, we arrived at Baba Mandir and climbed its steep stairs to visit the temple. It is operated and managed by the Indian army, and dedicated to a soldier who fought bravely during the Indochina war.
 TravelTriangle Helped Making Pankaj's Family Trip To Sikkim & Darjeeling A Memorable Experience
Afterward, we proceeded towards the mesmerizing Tsomgo Lake. I could feel a certain dizziness here, which reminded me of the intense altitude we were at. However, all the dizziness magically dissipated as soon as I saw the stunning view of the lake and the snow capped mountains around it. We enjoyed a lot in the sub-zero temperatures as Tsomgo Lake and it was by far the best place we saw in Sikkim.
Alas, at 3 pm we started our descend back to Gangtok. We arrived at the hotel and decided to head out to MG Road market yet again for some shopping and dinner. This day, we bought plenty of decorative items and gifts for our family.
Day 4: A visit to the Queen of the Hills- Darjeeling
This morning, we checked out of the hotel and proceeded towards Darjeeling. En route, we met the Teesta river again, but this time at a point where it merged with Triveni river. Later on, as we passed by some lush-green tea gardens, we realized that Darjeeling could not be too far way.
We checked in at The Rink Heritage Hotel at 3 pm. In the evening, we went for some shopping in Darjeeling and there were many good shops selling souvenirs, gifts, and clothes at very reasonable prices. I would definitely say that Darjeeling has much better places to shop than Gangtok.
 Conquering Adventure Sports In Land, Air, & Water: Arunav & His Friends Did It All In Sikkim & Darjeeling
Afterwards, we returned to the hotel and had a delicious dinner to end yet another memorable day on our honeymoon trip to Sikkim and Darjeeling.
Day 5&6: Sightseeing in Darjeeling and returning home with memories
The next day, we were supposed to visit Tiger Hill to view the sunrise over Mt. Kanchendzonga at 4 am. However, we chose to skip that as the morning was expected to be cloudy. At 8 am, we had a quick breakfast and departed for sightseeing in Darjeeling.
First up we visited the holy shrine of Ghoom Monastery, followed by the scenic Batasia Loop which is a spiral railway track created in the shape of a loop, where tourists come to spend time in the gardens and watch the toy train pass by. We finished our sightseeing by visiting the Zoological Park and the colorful Tibetan refugee centre.
 Sanjay's Honeymoon Trip To Sikkim & Darjeeling Gives Adventure And Love A Whole New Meaning!
We returned to the hotel early in the evening, so that we could have sufficient time to pack our bags. A good night's sleep was definitely needed before a long day of travel.
The next morning, after breakfast, we checked out and were dropped to the airport in our cab. This marked the end of our honeymoon in Sikkim and Darjeeling.
We weren't simply going back home with a bag full of souvenirs and decorative items, we were also taking back with us countless memories stored in our minds. It was a privilege to have gone on this fabulous trip with my husband who motivates and compliments me at every step of the way. We developed impeccable love and understanding for each other during our honeymoon trip to Sikkim and Darjeeling.
High points:
Visiting the snow-covered Tsomgo lake at 12000 ft was an amazing adventure.
Seeing the tea gardens in Darjeeling was a major item checked off my travel bucket list.
Low points:
We would've preferred a hotel in Gangtok inside the main city instead of living 10kms outside.
We missed our visit to the art gallery because the driver didn't plan the sightseeing tour properly.
Tip to travelers:
For shopaholics, the mall road in Darjeeling would be a much better and economical place to shop than the MG road market in Gangtok.
A new adventure at every step. Book your Sikkim honeymoon package and let the romantic vibes of Sikkim amaze you!
---
Looking To Book Your Honeymoon Package?
Book memorable honeymoon on TravelTriangle with 650+ verified travel agents for 65+ domestic and international destinations.
---