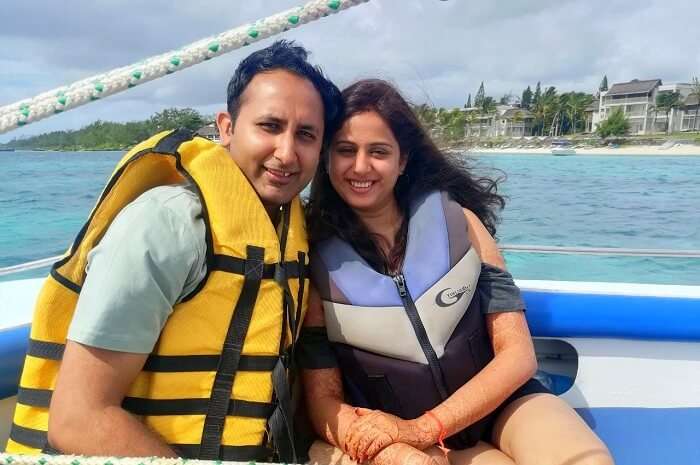 Our honeymoon trip to Mauritius was a dreamy affair – just the way we had imagined. Spending time with each other amidst the beaches and hills of Mauritius was something that we had only dreamt off but fortunately all of it came true in the most romantic way possible. And we have to thank Mauritius for that!

Both my wife and I love traveling. While I am more of an explorer / nature lover kind of a person, my wife on the other hand is an ocean child. And so while we were searching for best places to go on honeymoon, we shortlisted a few which fit our preferences. The top 3 places for honeymoon that we shortlisted were Bali, Maldives, and Mauritius.
In the end, Mauritius was the winner for it had the best of both worlds – nature and entertainment along with the most mesmerizing views of the ocean.
Booking a Mauritius Honeymoon Package from TravelTriangle
TravelTriangle was found via internet when we were looking for packages. We liked that they could give us a customized itinerary and quotes based on our requirements and immediately filled in a form. Long story short, we soon got a call from them and after understanding their requirements, they connected us to multiple agents who started giving us quotes. We selected the best one from "World Holiday Online Who Travels" and were soon sorted when it came to our Mauritius Honeymoon Package.
Here are the details for the same
Trip Type: Honeymoon
Cost: INR 168500
Duration: 6 Nights 7 Days
Inclusions: Hotels, Breakfast & Dinner, Sightseeing, Transfers, and Flights
Exclusions: Personal expenses
Travel Agent connected via TravelTriangle: World Holiday Online Who Travels
Day 1: The Radisson Experience

After we landed in Port Louis, we met the agents representative at the airport, who had already arranged for our transfer to Radisson Blu Poste Lafayette. However, once we reached the hotel, we were told that our room wasn't available since a flight had got cancelled, and the guests weren't able to checkout.

Stay Inside These Bubbles For The Most Luxurious Stargazing Experience In Mauritius
But the excellent manager came to our aid and offered us a room at the Radisson Blu Azuri which even had a plunge pool. He had made an offer which we couldn't refuse and we were more than happy to be a part of it.
Upon reaching the property, it was clear that why this 5 star resort in Mauritius was was better than the 4 star one which we had booked. It was simply gorgeous!
Day 2: The average North Island tour





Your Guide To Summer In Mauritius: Weather, Attractions, Activities & Tips
We were a bit sceptical from the very beginning about visiting the North Island of Mauritius and today when we finally visited it, we realised that we were right. Apart from the fort, there was nothing much to do at least for us. Travelers who love shopping and want a modern island experience would like the ambience of Le Caudan Waterfront but we were not one of those. To each its own, but north island wasn't our cup of tea and could have been excluded has we wanted it to be. Oh and yes, we did return to our original books resort, Radisson Blu Poste Lafayette and that property was too, nothing short of fabulous!
Day 3: Water adventures at Ile Aux Cerfs Island



Destination Of The Month- The Perfect Romantic Vacation To Mauritius In February
Today was one of the most exciting days of our honeymoon trip to Mauritius. We visited the Ile Aux Cerfs island and were transferred there via a speed boat. The ride in simple words, was truly exhilarating. At the island, we also indulged in parasailing and even tried the Jumper Ride. My wife and I loved both of these experiences for they truly brought out the fun and tropical side of Mauritius.
Day 4: Enjoying the leisure day at resort



14 Best Restaurants In Mauritius That Have Taken Fusion Cuisine To A Whole New Level!
As per our request, nothing was planned on this day for we wanted to enjoy a day at leisure soaking in the sun in Mauritius. The private beach of our resort was beautiful and my wife and I had a really good time chilling here with each other. One of the most important aspects of a honeymoon is to spend quality time with each other and relax and that is exactly what we did today.
Day 5: The incredible South Island tour

We visited the South Island today and it was an interesting experience. We began from the volcano region which was kind of average and then later moved on to see the huge Shiva statue and the Jyotirlinga Temple. Here, we heard a lot of interesting stories about the people of Mauritius and also saw a number of intriguing historical sites.




Our Romantic Mauritius Trip: A Perfect Blend Of Nature, Adventure, Cruise, And Wildlife!
Next up was Chamarel Waterfall which by the way, was beautiful. We had a nice team clicking pictures here and soaking in its refreshing vibe. This was followed by a visit to the Seven Colored Earth and yes, it was a cool site and we loved its beauty!
Day 6: A visit to the Grand Baie Market

Their Honeymoon Trip To Mauritius Struck Gold With Adventure At A Tropical Paradise!
This was once again a leisure day and we devoted it to visit the famous Grand Baie Market. One of the best places for shopping in Mauritius, I would recommend this market to all for one can find a great deal of items to buy along with an even greater scope of bargaining.
We also enjoyed a nice meal at one of the famous restaurants in Mauritius, the Happy Rajah restaurant and that one too was a delicious affair. The decor, the food, hospitality, and presentation – all were excellent here. Totally recommend it for a nice Indian meal.
Day 7: Ending our trip with a relaxing massage
Remember the slight hiccup that we had on our first day in Mauritius regarding the hotel, well, as it turned out, the resort had also offered us free massages to compensate for the inconvenience and we were more than happy at their hospitality and agreed to take it.
Needless to say, the massage was really good and offered a perfect ending to a perfect honeymoon in Mauritius.
We would also like to thank Sunil, the concierge at the hotel, who arranged for keeping our luggage for four hours post the checkout.
Final Thoughts

 Looking For Water Villas In Mauritius? Constance Le Prince Maurice Is A Dream-Come-True!
The bright and sunny vibe of Mauritius complimented our love story perfectly. The island proved to be a lovely destination for a new beginning and in the end, it's tropical allure, luxury, water sports, and warm hospitality completely won us over. Mauritius was too good!

Our best moments from the trip
Water activities and vibes at Ile Aux Cerfs
Both the Radisson Resorts and their private beaches
The meal at Happy Rajah and Grand Baie Market
Witnessing the many marvels of nature on the South Island Tour
The departing massage at the hotel
Things that could have been better
Our handler could have been more proactive when it came pickups
The North Island Tour was an average experience
Tips for travelers
Try zip-lining and underwater scooter ride in Mauritius if you can
If you are looking for a relaxing holiday, choose your resort very carefully. Spending a little extra can go a long way when it comes to the overall experience.
If you too want a dreamy honeymoon like they did, we recommend you choose a suitable Mauritius Honeymoon Package from TravelTriangle and go for a customized itinerary.