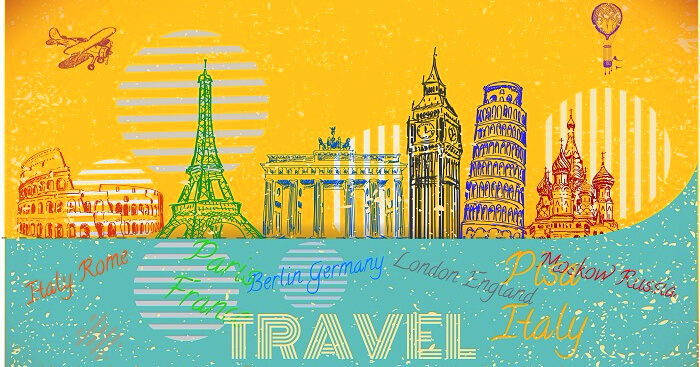 A holiday in Europe is in everyone's bucket list. Be it the mesmeric hills of Switzerland, gorgeous Paris, sun-kissed Mediterranean beaches, or the heritage monuments of Greece and Italy, Europe impresses travelers of all kinds.For those who are planning for this fascinating destination, here are a few travel tips on Europe for a smooth and seamless holiday.
Europe Travel Tips For The First-Timers
1. Visa requirements
For traveling in different European countries one needs to apply for Schengen Visa, from the consulate or embassy of the particular country you are visiting. Here are some important points, one must know before applying.
Your passport should be valid for 6 months post the date of travel. The passport should have at least two blank pages and there should be copies of all the previous Visas applied through the same passport.
The documents that are required for Schengen Visa are visa application form, photographs, complete itinerary, all tickets and hotel booking confirmation vouchers, approved leave application from the employer (NOC from schools for children) and sufficient fund.
To apply for Schengen Visa, you need to have a valid and authorized travel insurance of minimum €30,000 coverage within the entire Schengen area.
Tourists traveling to multiple countries should apply for a visa of the country with a maximum number of days, irrespective of the first port of entry. In case, it is the equal number of days in both or multiple countries, then the visa should be applied for the first port of entry. Such as if someone is traveling to Netherland and France with 4 days in Netherland and 6 days in France, the visa should be applied for France, even if Netherland being the first port of entry.
2. Best time to take a trip to Europe
If a fascinating European holiday is on your mind, try to plan the same in offseason. Summer in Europe is the peak season and thousands of tourists from different parts of the World visit Europe. Beaches are crowded, hotel rates and flight tickets are steep and one can notice long queues at the popular tourist attractions. As most of the famous attractions are open round the year, traveling in Europe in the off-season is the best idea. One can save on flight tickets, hotel accommodation and get rid of overcrowded places.
3. Currency
Wise and judicious use of any foreign currency is essential on any international vacation and Europe is definitely not an exception. The first and foremost guidance regarding currency usage is that do not exchange money at the airport. You can get better rates in the city or get it exchanged from India, before traveling.
MasterCard, Diners, Visa and American Express debit and credit cards are extensively accepted all over Europe. But it is always advisable to use currency card or International travel card during the holiday. Most of the authorized nationalized and private sector banks issue this International travel card. You can issue this card from any bank in India and pre-load Euro for smooth and hassle -free transaction in Europe.
It is advisable to carry cash but use the same only where it is absolutely necessary. Rest, use travel card elsewhere. There are many countries like Croatia, Sweden, Denmark etc that do not use Euro and have their own currency. Try to keep these countries in your plan. Travel expenses will be comparatively cheaper there.
Must Read: Here's How To Spend A Weekend In Most Beautiful European Cities
4. Travel by train
Most of the Europe travel guides recommend traveling by train when traveling from one country to other. We strongly support this suggestion. Depending on the destination, train travel is way easier, hassle-free and economical than air travel. For instance, if you are traveling from Brussels to Paris, taking a flight is difficult and quite expensive. Instead, book tickets in either Thalys or TGV and reach Paris in nearly 2 hours. But is its equally important to book train tickets in advance as well, to avail the best deal.
5. Local Language
Do not assume that everyone knows English in Europe. One of the best travel tips for Europe is to know some of the keywords in local languages of the country you are traveling to. If Paris is in your plan, learn some key French words or if you are in Italy, know some of the basic Italian words.
6. Mobile connection
Another very important travel tip for Europe is regarding mobile connection. There is no such SIM card which can be used in every European country, so it is always advisable to travel after activating International roaming plan as per the countries to visit, before departing from India.
Suggested Read: Summer In Europe: Top 10 Offbeat Places For A Fabulous Vacation!
7. Book online tickets
Europe is all about fascinating monuments and structures. There are huge palaces, museums, churches and gardens that leave every traveller awe struck. To enjoy a smooth and hassle-free visit to these monuments, book the entry tickets online. There are separate queues for online ticket holders and in this way, you can avoid long queues.
8. Packing tips
If you are confused about what to pack for Europe holiday, here is the checklist on the essentials that you must carry. Carry a small backpack for day excursions, cotton wear and shades for summer, umbrella and raincoat as Europe receives unexpected rain. But the most important thing about Europe is footwear. Carry sneakers and walking shoes mostly as the best way to explore the city is by walking and hiking. If you are travelling to Greece, keep high heels at bay as there are many monuments that do not allow women wearing high heels.
9. Shopping tips
The most important tip for shopping in Europe is to explore the local markets, instead of swanky stores and boutique shops. The items at street markets looks amazing and lively and it's so much fun picking the best knick knack and souvenir by a hearty bargain. One thing that every traveller should keep in mind about Europe shopping is that; greeting a shopkeeper and exchanging pleasantries with him is counted as a social etiquette and never forget to do that.
Suggested Read: Romance, Luxury, Comfort and Beauty, Her 8 Day Trip To Europe Had It All
10. Food tips
With varied options of cuisines, the various countries of Europe will always spoil you with choices. If you are a food enthusiast and wish to taste different platters, visit the local bistros and roadside cafes rather than classy restaurants. Moreover, when visiting different countries, always try to check out their food specialties like when in France always try various cheese and local wine, while when in Belgium, try different types of waffles and if you are visiting Greece, pamper yourself with various flavours of Greek yogurt and Greek salad.
So now you are loaded with all the amazing and useful Europe travel tips. Go through it once again before taking off to Europe.
Further Read: Honeymoon Destinations In Europe: Explore The Lesser Known Gems In 2017
Comments
comments