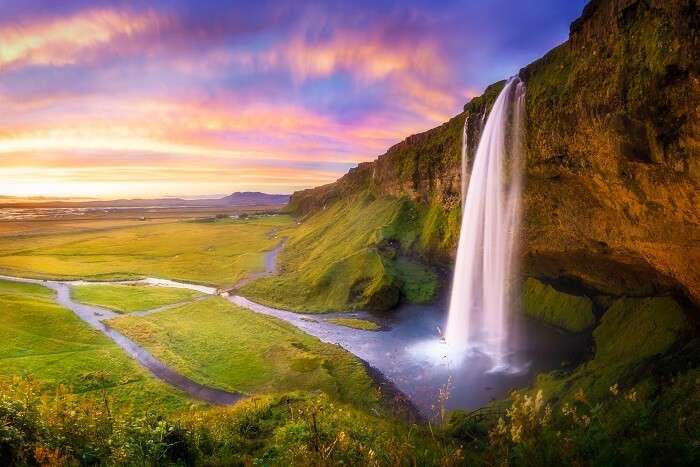 The Gods had patiently (and creatively!) carved out the landforms of Iceland. It's true that wherever you turn your head, you're sure to find picture-perfect landscapes in Iceland that might even fetch you thousands of followers on Instagram! But we suggest you leave your cameras aside and enjoy the marvels of nature with bare eyes, and not a viewfinder.
But why should you really visit Iceland? There are hundreds of reasons why Iceland is an artist's muse and a photographer's fascination, and we bring you some of them right here:
Here Are Some Of The Most Compelling Reasons To Visit Iceland!
The world is still oblivious to the beauty the Land of Fire and Ice beholds. We have unveiled here a small part of it that will surely leave the world gasping for breath!
18. The sun refuses to set in the summers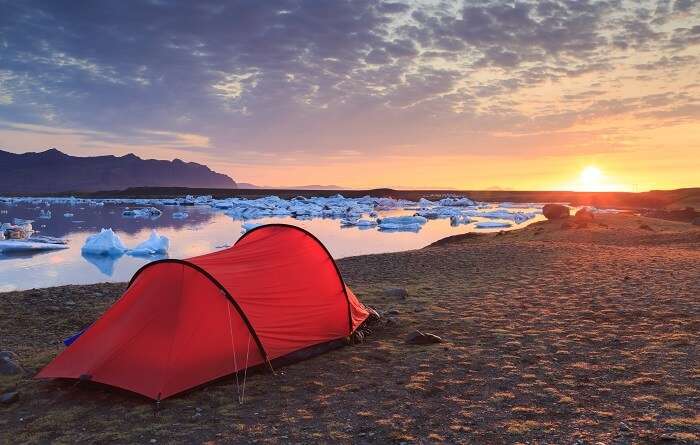 Since Iceland is situated just below the Arctic Circle, the days are way too long in the summers. Between mid-May to late July, the 'Midnight Sun' sets after midnight and rises again before 3 AM. Imagine having dinner and going to bed while the sun still shines bright right outside the window!
It might be eerie and require some getting used to, but it sure as hell will give you a unique perspective to Iceland's strange landscapes.
17. And when it does set, multi-coloured lights dance in the sky

Must Read: Iceland In December: 15 Experiences For Having The Best 2022 Winter Vacay Ever!
Iceland is among the best places on the planet to see the northern lights (Aurora Borealis) from September to mid-April. Get into your super jeep on a still winter night, get far away from the city's electric lighting, and you're sure to have the best nightly sightings of this astral show ever!
Where: Just outside Reykjavík
---
Europe Holiday Packages On TravelTriangle
Explore the most beautiful places to visit in Europe, from Paris to the Venice canals and from the Greek islands to the Swiss alps. Book customized packages by expert agents on TravelTriangle. Inclusive of airport transfers, cab, resort, sightseeing and meals. Best holiday experience Guaranteed. Book Now
---
16. The Blue Lagoon Spa is unlike any spa in the world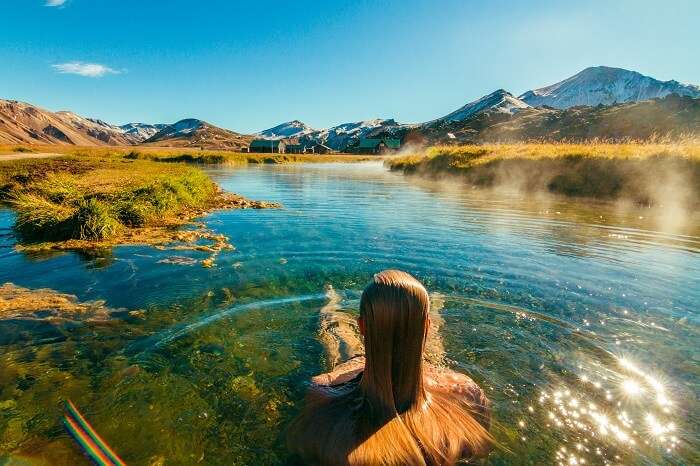 Crystal-blue geothermal water, a tantalising heat of about 102 degrees, and spectacular views of snow-covered lava rocks in every direction – How can a dip in this jacuzzi not be on your bucket list?
Soak up in the Blue Lagoon all day long, absorbing its age-defying healing powers, and you'll surely emerge feeling like a new person! It's the best way to unwind after a long day in Iceland and to catch up on the latest gossip.
Where: Laugardalur Park, outside downtown Reykjavik
15. The crystal ice caves look like they're from another world

Take up any Glacier Tour or Ice Climbing Tour in Iceland and you'll surely get a chance to visit one of Iceland's many ice caves. These 'crystal caves' temporarily form at the edge of glaciers and are completely mesmerizing from the inside.
In fact, don't worry about 'finding' one. The country possesses more than 4,500 square miles of glacier, so there's no way you won't be walking on or under ice during any part of your trip.
Where: Solheimajokull glacier on the south coast of Iceland
14. The beaches have black sand, basalt caves…and ICEBERGS!
Though Iceland doesn't have sunny weather during most of the times, its gorgeous beaches are still something to write home about.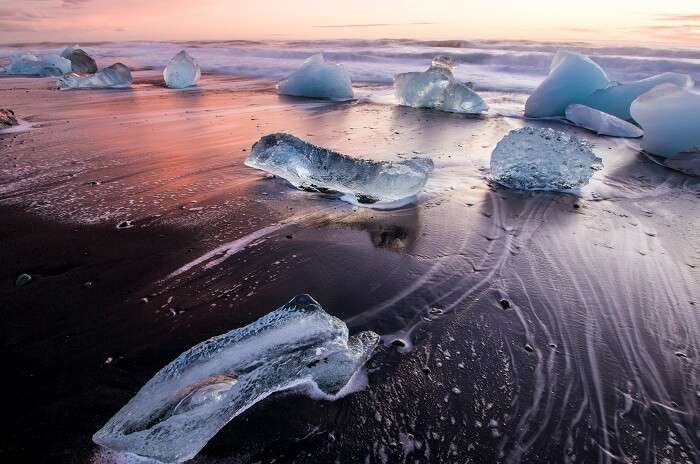 While some have black sand, others are dotted with oddly shaped rocks.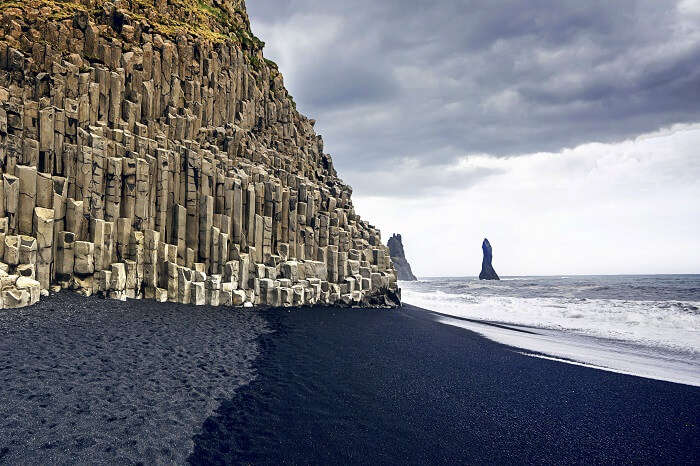 Suggested Read: 10 Best Places To Visit In Iceland That Will Leave You Drooling All Over!
While some boast of columns of unique basalt caves, other have table-sized glasslike icebergs tumbling in the surf.
Where: Reynisfjara Beach (basalt caves) | Jokulsarlon beach (icebergs and black sand0
13. It's exactly as beautiful as it looks in the Game of Thrones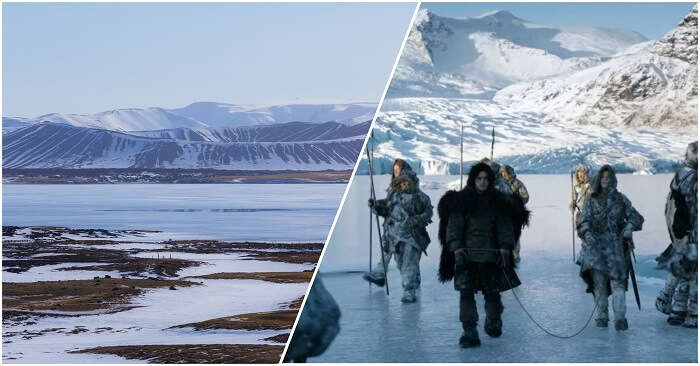 After using artificial snow in season one, the makers of GoT shot in the wilds of Iceland. Wanna know which Icelandic locations feature in this fantasy drama series?
Mance Rayder's wildling army camped at Lake Myvatn near Akureyri in season three
Jon Snow and Ygritte spent the night at the cave of Grjotagja
Vatnajokull glacier is the location of "the land beyond the Wall"
12. Forget Game of Thrones, all of Hollywood loves it!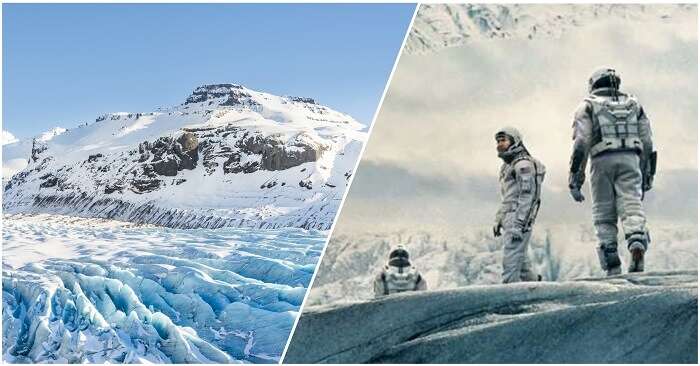 Image Source
Owing to its breathtaking landscapes and surreal topography, Iceland has played host to dozens of Hollywood (and Bollywood) blockbusters. It's a beloved land of cinematographers and filmmakers! You may have spotted some of its regions in movies like:
Star Wars: The Force Awakens (shot in Seljavallalaug)
Interstellar (the place where Matthew McConaughey sought another world)
Noah (the hill where Russell Crowe, followed by two of each animal, reckons mankind's second coming)
Prometheus (the place where Michael Fassbender arrived to understand the darkest secrets of the farthest galaxy)
Fun Fact: The song 'Gerua' from the Bollywood flick 'Dilwale' was shot at locations like Sólheimasandur (the black sand beach with plane remnants), Jökulsárlón (the glacial lake), and Skógafoss (a waterfall with basalt formations) in Iceland.
11. Birdwatchers will never want to leave!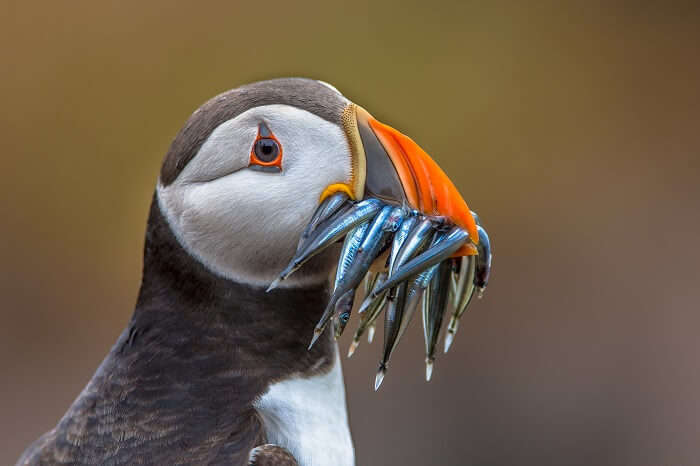 Suggested Read: 10 Things To Do In Iceland You Shouldn't Miss At Any Cost!
From northern waterfowls, gaudy harlequin ducks, Golden-tufted Slavonian grebes, ptarmigans, red-necked phalaropes, to the delightful puffins, you're sure to find the most amazing of bird species in Iceland unlike anywhere else. In fact, you'll be surprised to know that birdwatching is one of the major reasons to visit Iceland.
Where: Dyrholaey | Skjalfandi Bay
10. You can descend into and roam under a volcano!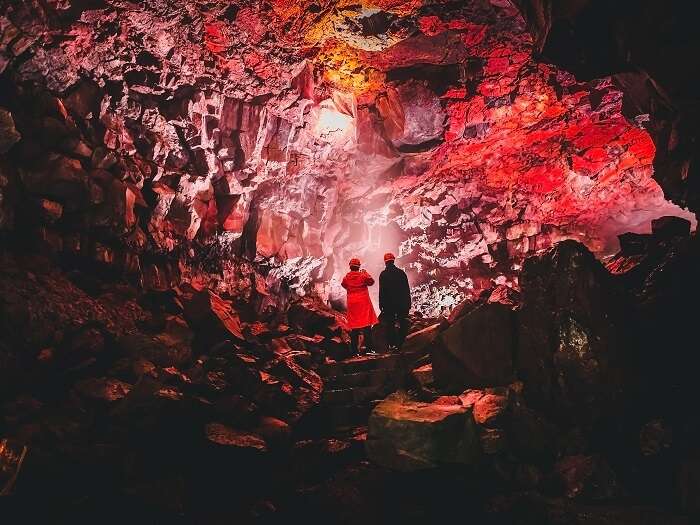 Iceland has countless active volcanoes. As a matter of fact, Iceland exists because of volcanic eruptions. Though the chances of spotting an active volcano erupting are next to none on your trip to Iceland, a visit to one will definitely be a thrilling experience.
You can take the Þríhnúkagígur volcano tour that will take you on an excursion into the cold heart of a dormant volcano. They'll let you descend into the mountain with the use of small elevators, where then you can roam around and explore the caverns.
Where: Þríhnúkagígur volcano
9. The volcanic rivers look like abstract paintings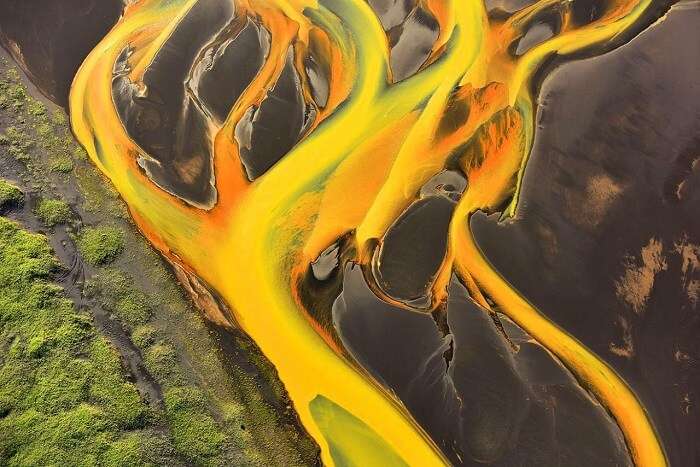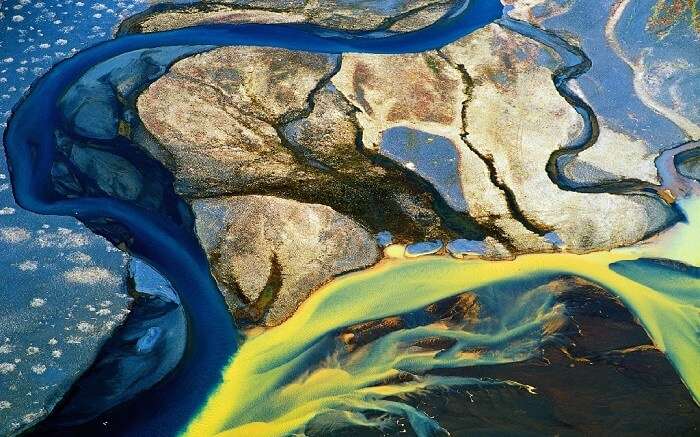 Image Source
Many of Iceland's rivers flow via its glacial ice, greenscapes, and beds of volcanic ash. From the skies, this landscape looks more like an abstract painting or digital art than a natural phenomenon. And a good one too!
8. You might come across Elves (not kidding!)
"The one thing you must never do in Iceland is upset an elf!"
Better yet, what you really shouldn't do in Iceland is upset Icelanders over the concept of elves. They take their elf-stories very seriously and are firm believers in the existence of these Huldufólk (hidden folk). They believe they are everywhere – hiding behind rocks, behind waterfalls, and even in volcanoes and glaciers. Do not disturb them if you wish to return home in one piece!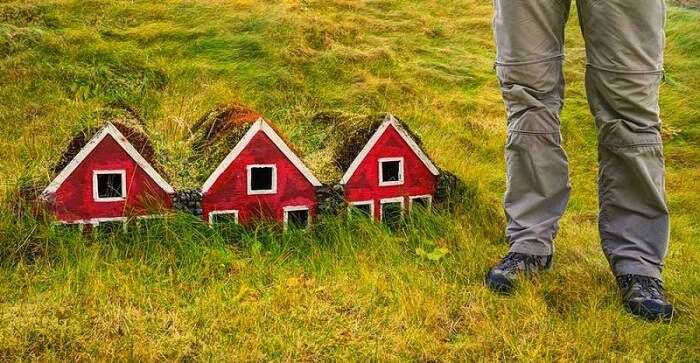 Suggested Read: 15 Most Stunning Countries To Visit Before You Die
In a survey done in 2006, 37% of Icelanders said they believe elves exist. So much so that most of Iceland's roads and construction projects get altered or halted so as not to disturb these creatures. Many families even have small wooden elf houses in their gardens. Curious, isn't it?
Tip: Wanna know about elves but too scared to ask the locals? Visit the Elf School in Reykjavik for all your queries.
7. Pink, Green, Yellow, Purple – the mountains of Landmannalaugar have all the colours of the palette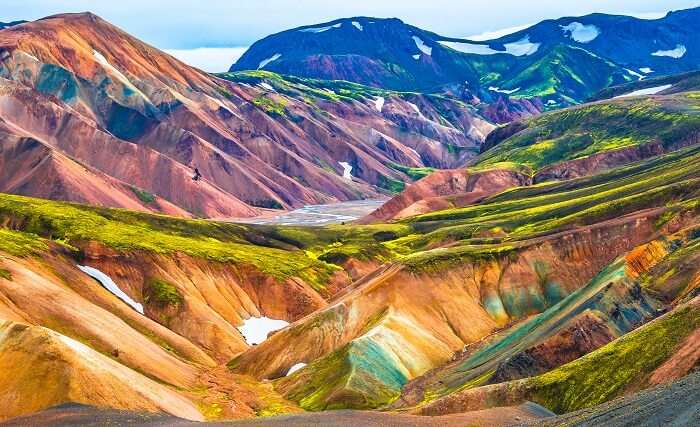 Move over 'lush green hills'. Add a little colour to your love for mountains at Iceland's Landmannalaugar region. A popular destination in Iceland for both nature lovers and hiking enthusiasts, Landmannalaugar is also home to the multicoloured rhyolite mountains that display a magnificent array of colors – pink, green, yellow, purple, black, brown, white, and more!
Where: Landmannalaugar region
6. It's "Europe's Best Place For Whale-Watching". Savvy?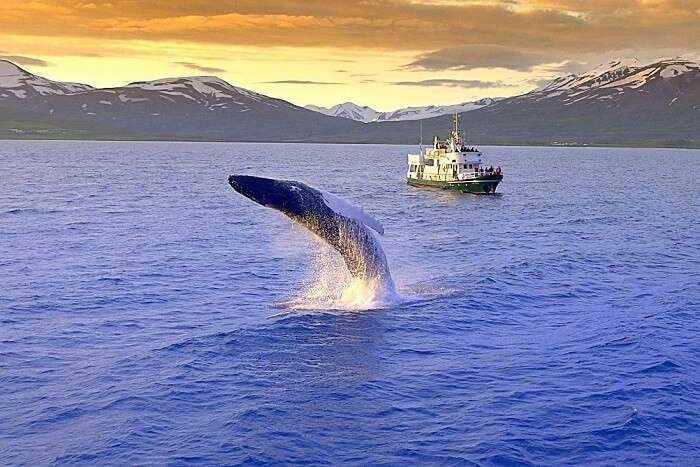 Image Source
Humpbacks, minkes, bottlenose, blue – you name it, they have it! Whale Watching is a rage in the fish-rich North Atlantic and Arctic waters around Iceland between the months of April and October. People from around the world come to witness these majestic rulers of the sea. Sailing through the quiet, calm bay flanked by snow-capped mountains while joyful whales of all shapes and sizes hop around in the ocean – simply magical!
Icelanders don't just promise a 99% sighting chance during this time, but deliver on it! Nothing can beat the experience of a face to face encounter with Icelandic whales in their natural habitat.
Where: Reykjavik | Husavik
5. Harpa has more to offer than just Icelandic Opera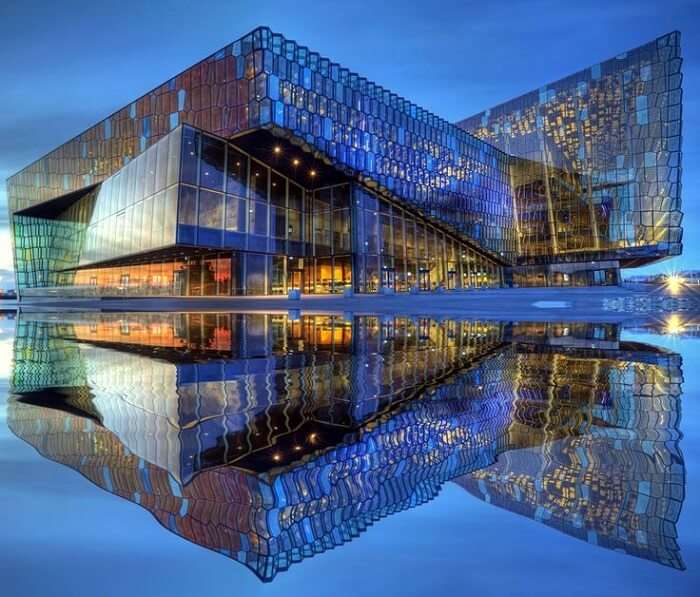 Suggested Read: Safest Countries To Visit In 2022 For Your Next Incredible Adventure
You think natural wonders and dramatic landscapes are all that Iceland has? No way. It boasts its remarkable share of urbanisation and avant-garde architecture. The most prominent example of this is the Harpa, the dazzling concert hall and conference center known for its ultra-modern design and bubbling creative energy. If its rich exteriors of glittering glass-block facade do not blow off your mind, the unimaginably luxurious interiors definitely will!
Fun Fact: The outer glass-block facade changes color on the Reykjavik Harbor.
4. The unique waterfalls are a sight for sore eyes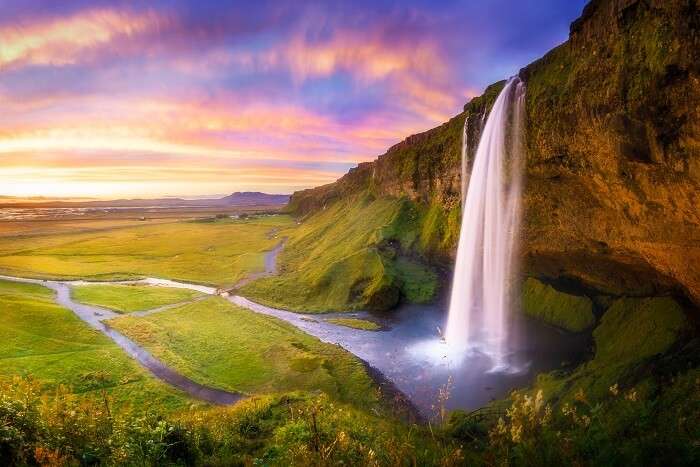 If you're wondering how something as common as 'waterfalls' could have landed in the listing of reasons to visit Iceland, then you really need to take a trip to this paradise right away. The waterfalls of Iceland are it's one of the most sought after attractions.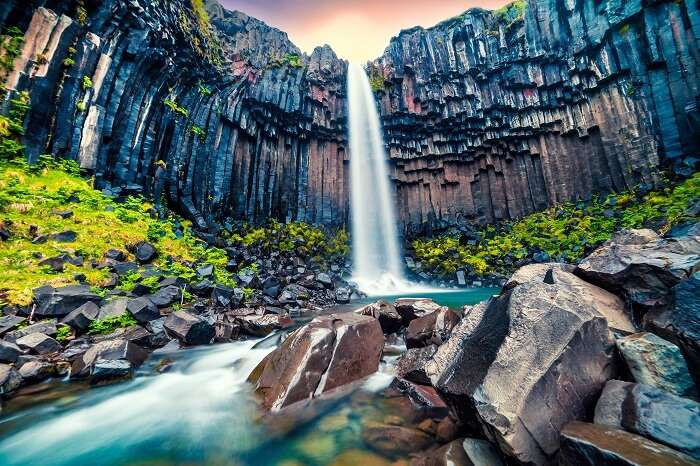 Surrounded by a variety of natural landforms like basalt caves, glaciers, and more, each of the many falls in Iceland is unique and equally flabbergasting for travelers of all types.
Where: The Svartifoss Waterfall, one of the best waterfalls in Iceland
3. Foodies will not leave disappointed!
Fermented shark. Smoked puffin. Smoked trout. Smoked lamb. Butter-drenched potatoes. Dried fish. Mashed cod au gratin. Fresh waffles – Some may not entirely find it appetising but Iceland's cuisine surely provides for a mean hearty dinner.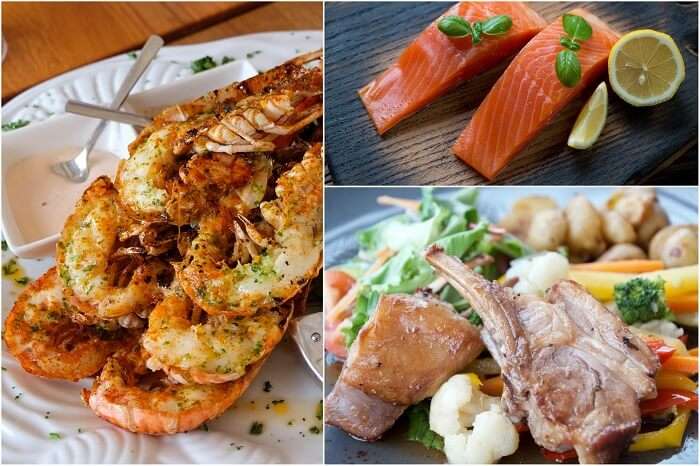 Iceland bears some of the harshest living conditions on earth, and that is reflected in the diet of the Icelanders. In addition, advancements in greenhouse and farming technologies are what contribute to the fresh, natural ingredients you'll find in any Icelandic kitchen.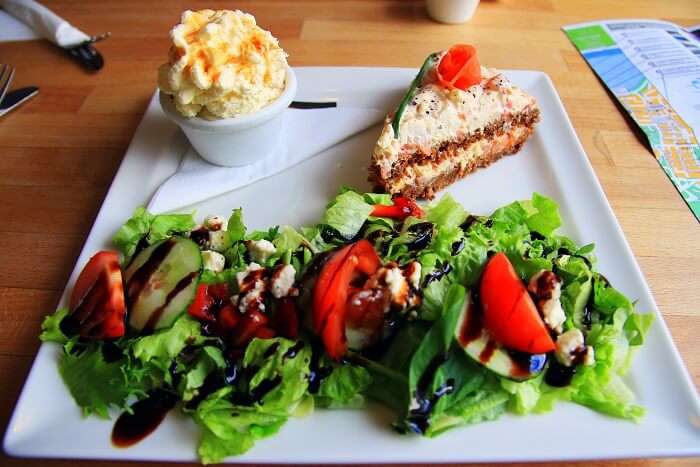 It's surely an ecstasy for meat lovers, but Iceland's cuisine provides loads of options for vegetarians as well. It speaks volume of the locals' culinary creativity. Embrace it for once, and every dish on your platter will turn into a delightful adventure!
Tip: Since most of Iceland's ingredients are imported, food tends to be a little expensive. On an average, a meal for two costs around INR 2,700/- (£30) in a restaurant in Iceland.
2. You can explore the country on foot, bicycle…or Icelandic Ponies!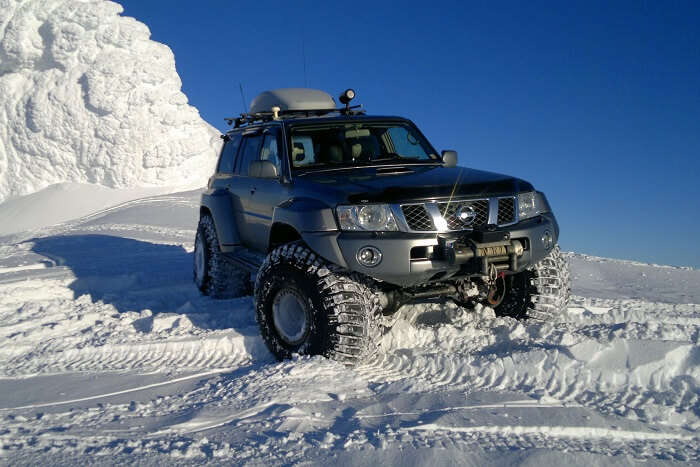 Suggested Read: The Retreat At Blue Lagoon Iceland Has A Perfect Escape Plan For Summers & We're Packing Already!
The diversity of landforms in Iceland can be explored via different means. You can take hiking tours up mountains and dormant volcanoes, jog through jungles, stroll on the black beaches, climb crystal glaciers, ride super jeeps on tough terrains, or ride bicycles cross-country. There's no dearth of ways in which you can explore this paradise.
However, if you're looking for an authentic Icelandic experience, then horseback should be your style!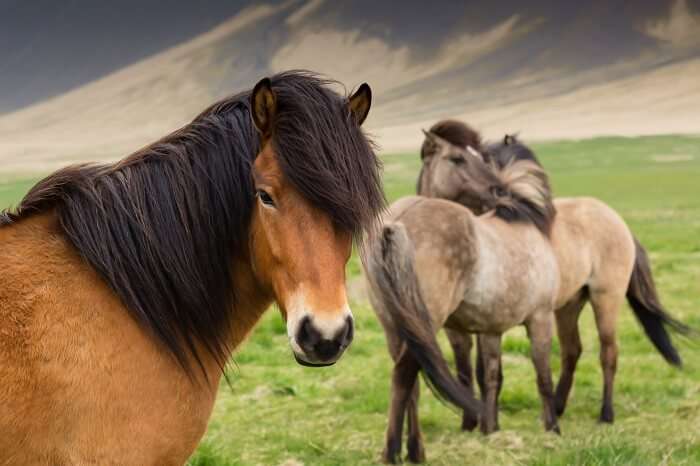 An Icelandic horse is a unique, pony-size breed known for its strength, and sure-footedness in extremely rugged terrain. Their shaggy hair might make them look like they have a lot of 'swag' about them, but they are surprisingly gentle and spirited creatures. They can get you to and fro almost all inaccessible Icelandic wilderness, while making you feel like an original Viking settler at the same time.
1. The people of Iceland are super cool
There's a reason Iceland continuously tops the measurement for quality of life – the United Nations Human Development Index. It happens to be a progressive, modern society where Icelanders take pride in their past. Friendly, generous, and happy, the natives of Iceland will surely welcome you with open arms and let you have the best of experiences in their country.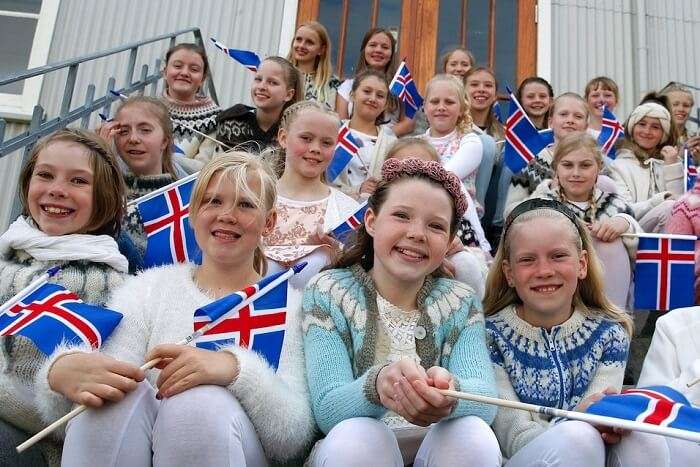 Image Source
Life isn't easy for Icelanders, but you'll always see them with a smile on their faces! The harsh natural environment has taught Icelanders how best to exist under extreme conditions and harness natural resources that they create for their own sustenance and prosperity.
Fun Fact: There are no orphanages in Iceland!
Further Read: Alaska Cruise Tours: The Most Scenic Cruise To Tame The Pacific Ocean
Amazing, aren't they? Got any more fascinating reasons to visit Iceland? Pop them in the comments below.
---