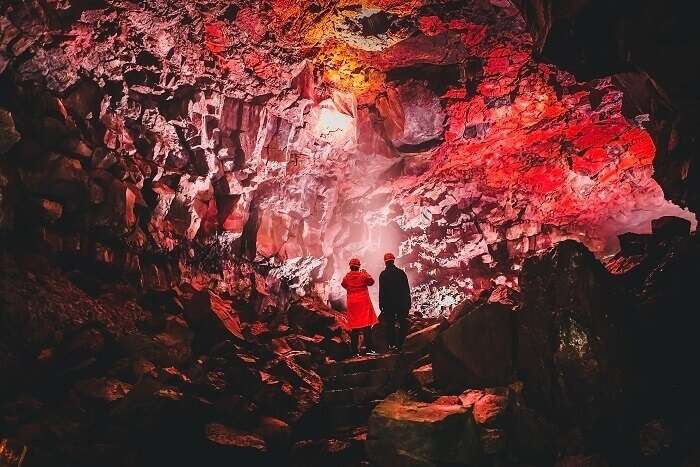 All of us have heard of a lot of treks uphill the volcanoes and all the adventure junkies out there must be ticking off some such treks right now too. But do you know that now after the climb you can descend too into the Thrihnukagigur Volcano in Iceland? The world's only active volcano tour in Iceland is one of its kind and a completely fascinating experience for all its travelers.
How To Do The World's Only Active Volcano Tour In Iceland

Suggested Read: Let Us All Raise A Toast To Iceland's Beer Spa!
The Iceland volcano hike begins at the Blue Mountains Country Park and the vistas are breathtaking. The hike is around 2 miles one way on the rugged uneven yet easy to hike terrain and takes 45-50 minutes one side. Once you reach the base of the volcano through the hiking Thrihnukagigur Volcano Tour or a helicopter ride, an exciting open elevator ride awaits you.

The travelers are first harnessed to safety gear after which the 198 meters descent begins. It is a slow 6 minutes ride allowing one to enjoy the yellow, orange, blue, violet and red coloration on the insides of the volcano. This Iceland Active Volcano Tour is totally safe and a guide is there with the hikers at all times.
Once inside, the travelers can tour for about half an hour before they ascend back to the base of the volcano. The chamber inside is enormous and three football fields can fit into it. The lights seeping in create great effects for all the shutterbugs. Once back at the base, enjoy the tasty Icelandic soup before you begin your hike back through the amazing Iceland landscape.
Further Read: 18 Magical Reasons To Visit Iceland That You Just Can't Say No To!
Enticed to visit? Book your trip to Europe with TravelTriangle and take the world's only active volcano tour in Iceland now!