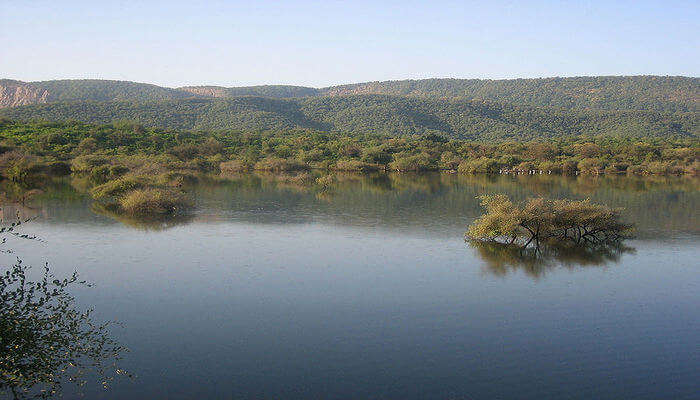 Rajasthan—the Land of Kings—is truly a king among the lands! Be it eco-tourism, Wildlife Sanctuary Tourism or Spiritual Tourism, this state remains an unparalleled destination for tourists of all kinds. It ranks among the top tourist spots in the Indian subcontinent even among the tens and thousands of foreign tourists as well. It is not an exaggeration to say that no foreign tourist to India returns their respective homes without visiting Rajasthan.
Several National Parks in Rajasthan are the centre of attraction and thus see millions of tourists throughout the year. Rajasthan is a land of extravagant palaces and forts apart from being equally famous for its exquisite flora and fauna. Also known for its rich culture and heritage, there are many things on display even to this day. Its vibrant traditions are a treat to watch and savour. Valour and spirit of nationalism runs through this land and in its people.
Top National Parks In Rajasthan
Though the western part of Rajasthan are barren desert lands, the rest of the land are are fertile and home to exquisite species of birds and animals. To preserve such endangered animals, the state has developed a large number of Sanctuaries and National Parks. All National Parks in Rajasthan are famous for unique things and attract tourists from all over the world.
While it's a big ask to list out all the numerous National Parks located in Rajasthan, the listicle below focuses on the best national parks in Rajasthan which you must visit during your tour. The purpose is to provide you with a bird's eye view of the places so that, you, as a tourist don't miss anything.
1. Ranthambore National Park: Day Long Tour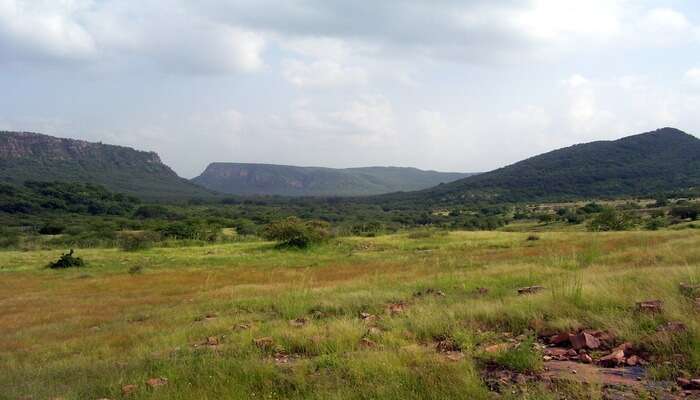 This sprawling National Park in Rajasthan is spread over 282 sq. km. It had been originally established as the Sawai Madhopur Game Sanctuary by the Indian Government in the year 1955. But later, it was converted into Project Tiger Reserve in the year 1973 with the declaration of it to become a National Park from November 1980. The adjoining forest area was declared as the Sawai Man Singh Sanctuary and Keladevi Sanctuary respectively.
Subsequently, Ranthambore National Park in Rajasthan has come to be known as the Sawai Madhopur Park also. The park is home to the Bengal Tiger and is a sought after place in India for tourists seeking a glimpse of this majestic animal in its natural habitat. It is also famous as a heritage site due to the presence of a large number of historical ruins across the huge park. A visit to this park is a visual joy of assessing its seething natural environment, rare types of trees and protected animals roaming about freely during the day time.
The terrain in this National Park is of twin nature. At some places, dry deciduous forest area stretches across miles – while a few green grassy meadows can also be witnessed here. The park offers adventurous Safari rides where tourists need to book well in advance. Usually, such rides start at fixed times of 6.30 AM and 2.30 PM every day of the week.
Another distinctive feature of this National Park in Rajasthan is the Ranthambore Fort. Standing at about 700 feet from the ground; this 10th-century fortress is situated inside the park and also houses 3 temples which are dedicated to Lord Ganesh, Lord Shiva and Lord Ram.
Location: Sawai Madhopur, India
How to Reach: Jaipur Airport is the nearest, 160 km away while Sawai Madhopur Railway Station is at a distance of 11 km from this park. Tourists can avail local buses, taxis or cabs to reach the park from the railway station.
Best Time to Visit: Ideal season to see animals in this park is from November to May.
Fees: Nominal entry charges are applicable. To avail Safari rides, each ride of three hours duration costs anywhere between INR 900 to INR 1,400 per person.
Must Read: 14 Places To Visit Near Alwar That'll Help You Make Your Rajasthan Trip More Productive
2. Keoladeo National Park: Evaluating Nature And History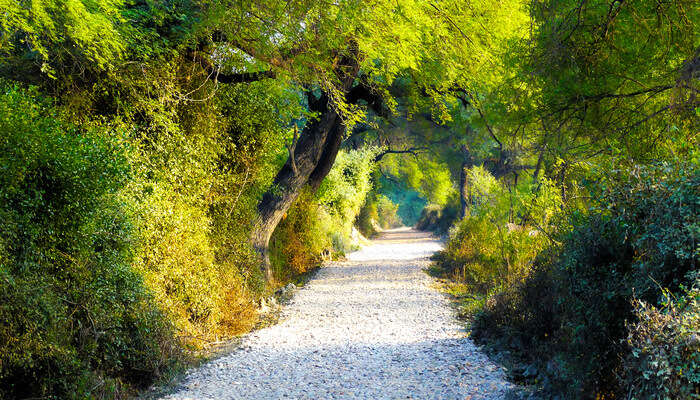 Being a UNESCO World Heritage Site and more popularly known as Bharatpur National Park, Keoladeo National Park is virtually a bird-hive. Ornithologists from worldwide locations frequently visit this park to have a glimpse of some of the rarest species of birds. Nearly 250 species are known to reside here while thousands of species including famous Avifauna and Siberian Cranes migrate during the cold season.
Strategically located between Agra and Jaipur, it is considered as one of the most famous national parks in Rajasthan. The park is a shelter to mammals like Golden Jackal, Striped Hyena, Fishing Cat, Jungle Cat, Nilgai, Sambar, Blackbuck and Wild Boar amongst others. Large pythons are also visible while hibernating during the cold season. Spread over an area of 29 sq. km., Bharatpur National Park in Rajasthan is famed for the well-demarcated trekking paths.
Tourists can either hike or bike on this path. Alternatively, human-pedalled rickshaws are also available for hire. It is a pleasure to experience an early morning or late evening boat ride in the lake. Intermix of dry deciduous forests and grasslands with sparse vegetation are the hallmarks here.
Timings: From sunrise to sunset
Location: Bharatpur city is nearest to the sanctuary – 180 km from New Delhi; 178 km from Jaipur and 55 km from Agra city.
How to Reach: By road, it takes a little over 5 hours from Jaipur. Regular rail services connect Bharatpur with all major cities like Delhi, Mumbai, Jaipur and Agra. Bharatpur Railway Station is about 5 km from the park/bird sanctuary.
Fees: Nominal entry charges are applicable.
Suggested Read: Explore Top 13 Things To Do In Sikar: The Magnificent Desert City Of Rajasthan!
3. Trip To Sariska Tiger Reserve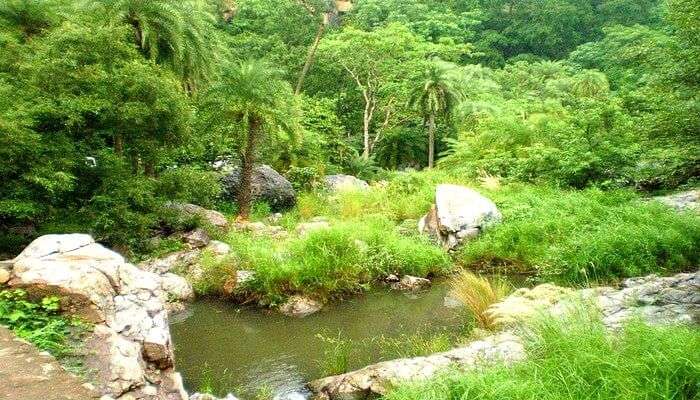 The erstwhile Sariska Wildlife Sanctuary is now known as Sariska Tiger Reserve. It is snuggled in the Aravali Hills over a vast expanse of 800 sq. km. Dry deciduous forests, grasslands, cliffs and rocky mountainous areas dot this National Park in Rajasthan. This picturesque park is home to a wide variety of animals including Bengal Tiger, the protected Nilgai Cheetah, Wild Boars, majestic Sambars, Indian Leopard, Jungle Cat, Mongoose and Monkeys.
Sariska Tiger Reserve is also home to a variety of rare birds including white-throated Kingfisher, Indian Peafowl, Partridge, golden-backed Woodpecker et al. It is a virtual paradise for bird watchers.
This park hosts numerous tourist attractions like Bhangarh Village, Kankwari Fort, Temple of Neelkanth, Hanumanji Temple, Sariska Palace and Viratnagar to name a few. Bhangarh village is renowned for the historical ruins and is a known haunted location. The Sariska Palace was an abode of royal family for hunting expeditions. Viratnagar hosts Buddhists relics dating back to the 3rd and 4th centuries.
Location: Alwar district of Rajasthan – 60 km from the capital city of Jaipur.
Timings: From 6 AM to 3:30 PM.
Best Time to Visit: From October till May end.
Fees: For Indians – INR 80 /- per person; for Foreign Nationals – INR 470 /- per person and for Video Camera – INR 400 /-.
How to Reach: Sariska is well connected to Alwar, the nearest city thus regular bus and rail services are available. Jaipur Airport connects it by air and buses or taxis ply to and fro the park for a ride of nearly one and a half hours. Jaipur Railway Station is the nearest railway station.
Suggested Read: 5 Places To Visit In Rajasthan In January Which Has Something More Than Just The Palaces!
4. The Captivating Mount Abu Wildlife Sanctuary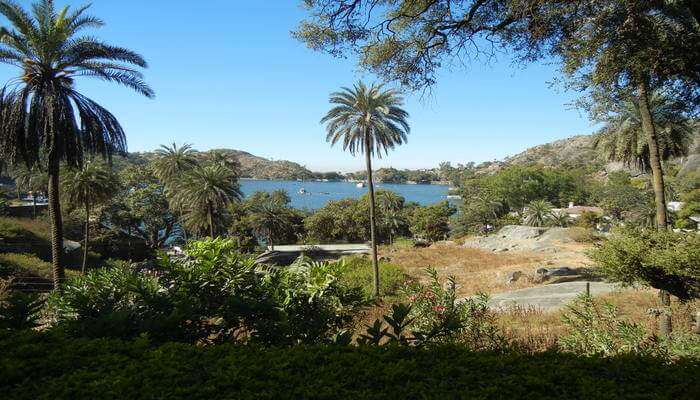 This Wildlife Sanctuary is located in the Aravali Mountain Ranges which are considered to be the oldest mountains in India. It is a plateau – 19 km in length and 6 km in width with its altitude ranging from 300 to 1,722 meters above the mean sea level. It is a hub for numerous sightseeing spots and remains a perfect destination to view the best of wildlife across Rajasthan.
Mount Abu is a hill station rich in biodiversity comprising of the sub-tropical thorn forests in its foothills. Many herbal medicinal plants are abundantly found here. Tourists can view a large variety of Orchids as well. The southern-western part of this park is rich in the bamboo forests. Rich haul of fauna finds place in Mount Abu Wildlife Sanctuary. Most endangered species of Jackals and Hyena are also found here. Apart from these two species, a large variety of animals like Hedgehog, Indian Fox, common langoor, Mongoose and Wild Boar are abundantly found here.
Best Time to Visit: Winter months stretching from October to March are ideal months to visit.
Fees: Jeep safari service is available for tourists convenience. The safari ride costs upwards of INR 300 per person and takes 3 to 4 hours to complete.
Timings: Remains open from 9.00 AM to 5.30 PM every day.
How to Reach: Distance from Jaipur is roughly about 500 km and takes nearly 7 hours by road. Nearest railway station is Morthala Railway Station, 18 km from Mount Abu. From the railway station, you can hire a cab or a bus to reach here. Nearest airport is located in Udaipur city at 108 km from this sanctuary.
Location: Nearest city is Mount Abu.
Further Read: 7 Places To Visit Near Rajasthan For A Cultural Holiday Experience
Above mentioned popular National Parks in Rajasthan are the treasures in the state with great national importance. Whenever planning a tour to Rajasthan with a theme to explore the flora and fauna and having intentions to explore rich biodiversity, make sure that the above mentioned National Parks located in Rajasthan must find an inclusion in your itinerary.
Frequently Asked Questions National Parks in Rajasthan
Q. What is the best time to visit Rajasthan?
A. Being one of the hottest places in the country, weather conditions vary during the year. It is usually very hot and dry in most parts of the year. Winter from November to March is harsh and thus October to April is best suitable to travel.
Q. What type of clothing is required to be taken on a tour to Rajasthan?
A. Being both hot and cold climatic place, tourists to Rajasthan are advised to carry clothing depending on the time of their visit. Cottons are best during summers while heavy woollens are must during winter seasons.
Q. What is the local cuisine in Rajasthan?
A. The traditional Rajasthani food is mostly made up of vegetarian kinds of stuff with medium to hot spicy tinge. Lots of locally brewed beverages, depending on the climatic conditions of summer and winter, are available.
Q. Which is the best place to stay and tour to the National Parks?
A. While Jaipur is the Capital city of Rajasthan and as such ideal in terms of accommodation, it is advisable to find accommodation at the places nearby the respective National Parks for a better spend of time. That will save a lot of travel up and down to Jaipur.
Q. Are tourist guides available at the monuments?
A. Yes, almost all places are serviced by the tourist guides.
People Also Read:
National Parks In Maharashtra National Parks In Goa National Parks Near Delhi
Comments
comments