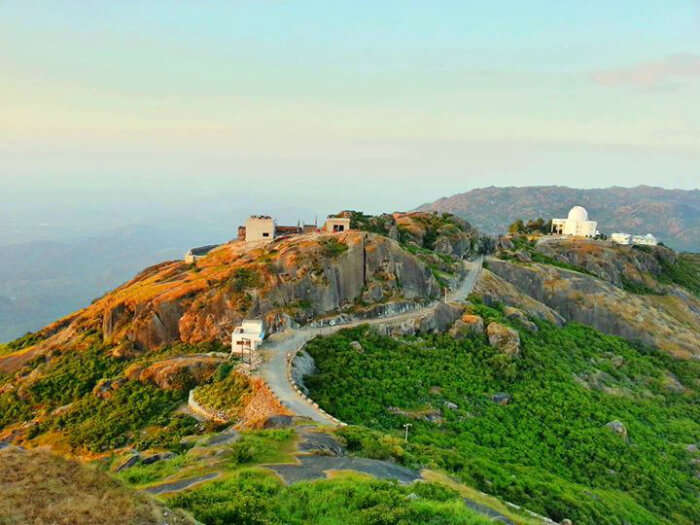 In a vast expanse of desert and drought-ridden plains of Rajasthan, Mount Abu takes pride in being the only hill station. It lies in the Aravalli Mountain range at the border of Rajasthan and Gujarat, and is considered a great spot for pilgrimage, apart from being a major tourist attraction courtesy its location, natural splendor and amazing places to visit in Mount Abu.
Best Time To Visit Mount Abu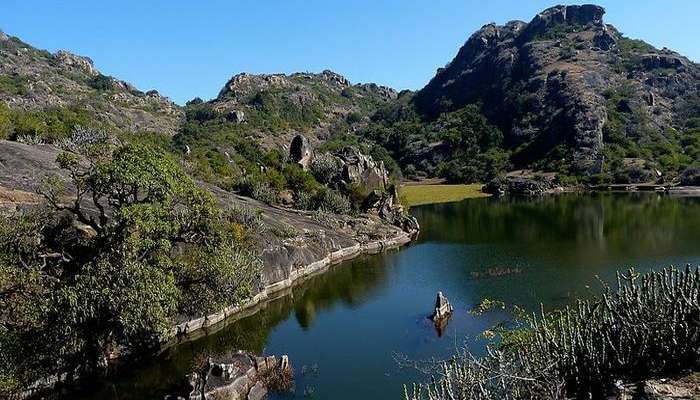 Visit Mount Abu during the months of April to June to bask in the pleasant summers. The temperature during these months range from 23°C to 33°C. If you wish to soak in the rain amidst lush greens, plan a trip anytime between July to October. And to embrace the winter chill, November to February is the time when you must come here. The temperature during winter ranges from 12°C to 29°C.
Top 16 Places To Visit In Mount Abu
Here are some of the best places to visit in Mount Abu for those looking for an escape from the scorching heat of Rajasthan, while also experiencing its royal demeanor:
1. Dilwara Jain Temples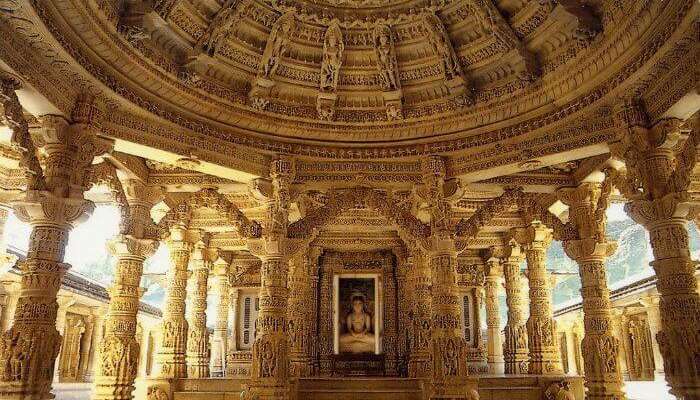 Image Source
With its intricate marble artwork, ornamental carvings, flawless stone laying technique, & smooth sculptures, the Dilwara Jain Temples in Mount Abu are sure to leave one awestruck. Built in the 11th and 13th century AD, the temple consists of a complex series of 5 Jain temples under it, namely Vimal Vasahi, Luna Vasahi, Pithalhar, Khartar Vasahi, & Mahavir Swami. Its unique architecture and mesmerising outlay makes it one of the most attractive tourist places in Mount Abu and a must visit spot for pilgrims.
Distance from Mount Abu: 2.6 km
Timings: 12 noon to 6 pm
Ideal for: History lovers, art lovers, pilgrims
---
Rajasthan Holiday Packages On TravelTriangle
Explore Rajasthan, the land of Maharajas. Experience its royal cultural heritage, luxurious hotels, camel safaris, pristine lakes, and magnificent forts and palaces. Cover the best of Jaipur, Udaipur, Jodhpur, Jaisalmer, Pushkar and Ranthambore at best prices with TravelTriangle.
2. Nakki Lake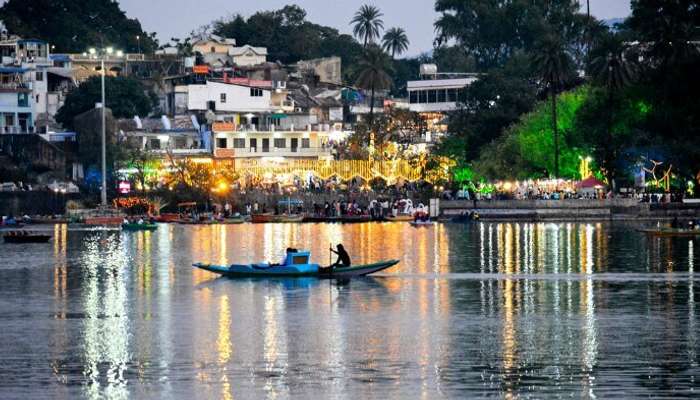 Believed to have been dug out by the Gods themselves, the clear blue water of the lake turns into amazing shades under the changing sky. Nakki lake is a very special place to visit in Mount Abu owing to the fact that Mahatma Gandhi's ashes were immersed here. The lake is surrounded by plenty of eating joints catering to every type of visitor.
Altitude: 1200 m
Ideal for: Picnic, trekking, boating, relaxing
Timings: 9:30 am to 6 pm
Admission fee: INR 50/- to INR 100/-
Must Read: 15 Best Hotels In Mount Abu
3. Peace Park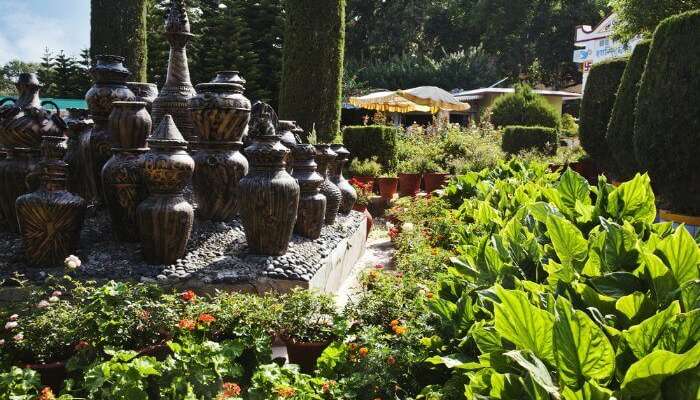 This serene establishment is a part of the Brahma Kumaris spiritual abode and among the essential places to visit in mount abu for those looking for an escape from the stressful city life. People come to Peace Park to surrender themselves to its calm environment and indulge in meditation. In addition to meditation, the park is also a great spot for a variety of activities and offers immense natural beauty. One must explore the park via a guided tour in order to ensure that they do not miss out on capturing the true essence of this place.
Timings: 8 am to 7 pm
Ideal for: Meditation, rejuvenation, picnic, playing
4. Mount Abu Wildlife Sanctuary
Image Source
Home to leopards, the ferocious feline predators, this subtropical paradise is known for its huge variety of flora and fauna. The vegetation cover at this lush green paradise consisting of sub-tropical thorn forests in the foothills and subtropical evergreen forests along the higher altitudes houses a plethora of rare and endangered species of animals and around 250 species of birds. With so much to explore, the Mount Abu Wildlife Sanctuary is among the best places to visit in Mount Abu
Timings: 9:30 am to 5:30 pm
Ideal for: Wildlife spotting, jungle safari, jungle trekking, wildlife photography
Suggested Read: 20 Perfect Destinations To Spend Your Summer Holidays In India
5. Guru Shikhar Peak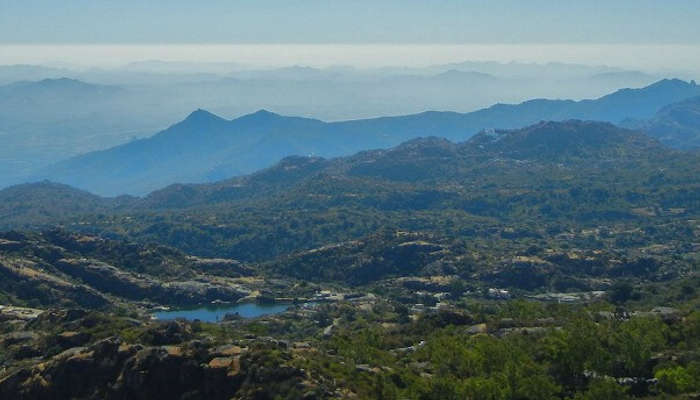 Image Source
The Guru Shikhar Peak, located inside the Mount Abu Wildlife Sanctuary, is the highest peak in the entire Aravalli Mountain Range and in Mount Abu. Offering breathtaking panoramic vistas of the surrounding region, Guru Shikhar is among the most favoured tourist places in Mount Abu. While here, one can also visit the famous temple of Guru Dattatreya, who was believed to be an incarnation of the Hindu deities Brahma, Vishnu and Shiva, all in one.
Timings: 9:30 am to 5:30 pm
Ideal for: Trekking, picnic, pilgrims, landscape photography
Tip: Do not carry alcohol as this place is considered holy.
---
Planning your holiday in Rajasthan but confused about what to do? These Rajasthan travel stories help you find your best trip ever!
Real travel stories. Real stays. Handy tips to help you make the right choice.
---
6. Sunset Point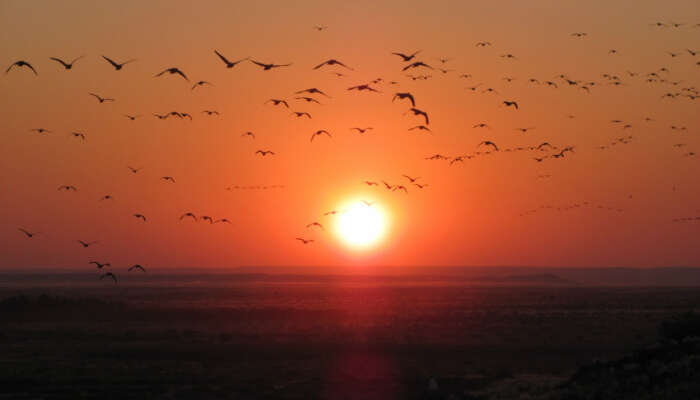 Image Source
The most ideal place for couples in Mount Abu, the Sunset Point is among those tourist attractions in Mount Abu where one can find absolute peace and serenity. As the name suggests, the Sunset Point is known for offering the most dazzling views of the sunset. Visitors can either walk, or horse ride upto the point. The place is perfect for those looking for a quiet evening amidst the greens watching the sun paint amazing colours in the sky as it dives beyond the hills.
Ideal for: Relaxation, horse riding, trekking.
Suggested Read: 25 Spectacular Road Trips In India For That Passionate Traveler In You
7. Abu Road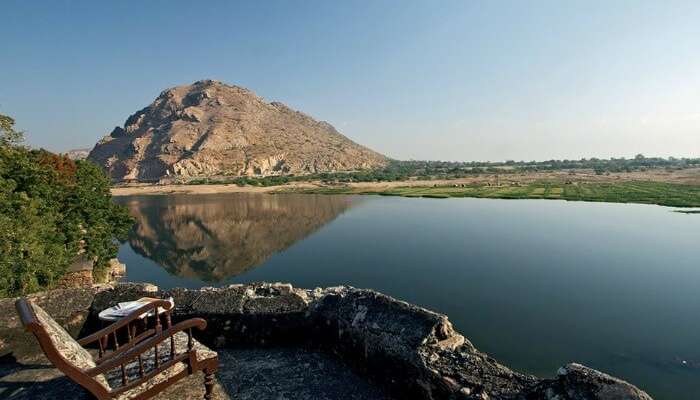 Image Source
Situated near the Banas River, Abu Road essentially refers to a railway station located here amidst stunning surroundings. This place houses many temples significant in the Hindu mythology, displaying a beautiful work of Indian architecture, which places Abu Road among the top places to visit in Mount Abu for pilgrimage. The Banas River happens to be a fabulous picnic spot in itself and is frequented by locals and tourists alike.
Ideal for: Picnic, pilgrims, nature lovers
Best time to visit Abu Road: November and December
Best time to visit Banas River: July to October (Monsoons)
Must try: Rabri, the local and highly delicious sweet dish
8. Achalgarh Fort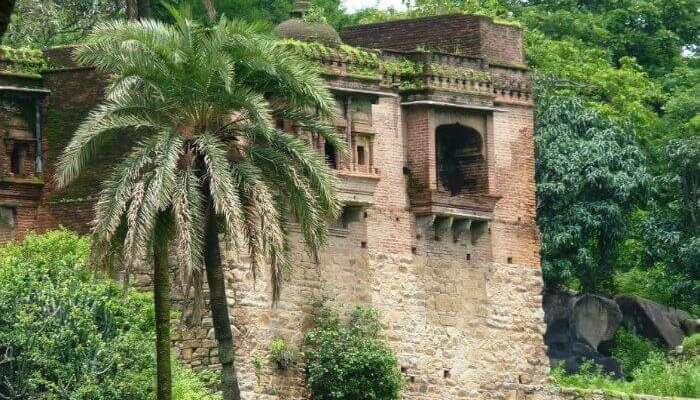 Image Source
Originally built by the rulers of the Paramara Dynasty and later reconstructed by Maharana Kumbha of the Mewar Kingdom, Achalgarh is a ruined reminiscence of a once pompous, majestic fort and an ancient kingdom. The fort is among the most popular places to see in Mount Abu, owing to its ancient temple dedicated to Lord Shiva, known as the Achaleshwar Mahadeva Temple, and to its outstanding location which provides one breathtaking views of the surrounding city and the hills. The superior architecture of the fort, with its two monumental towers carved out of grey granite marking the entrance, and that of the temple, with its huge foot impression of Lord Shiva, a brass figurine of the cow Nandi, & three sculptures of buffalos near the pond, attract armies of tourists to this place every year from around the world.
Ideal for: History geeks, pilgrims, art lovers, landscape photographers
Suggested Read: Mount Abu Honeymoon Point: Witness The Mystical Beauty Of Nature
9. Trevor's Tank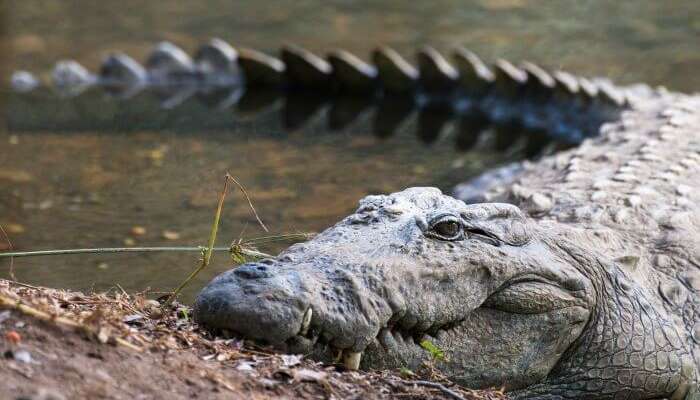 Image Source
Though the park is primarily a man made crocodile breeding spot near Mount Abu, the lush green surroundings and the enriching, fresh atmosphere of this park will make one forget the main reason of its existence! Trevor's Tank, or Trevor's Crocodile Park also houses various other animals than crocodiles which obviously dominate the park. Apart from being a breeding ground and home to these deadly reptiles, the park is also a heaven for birdwatchers. All in all, it's among those pristine Mount Abu tourist places that attract all sorts of tourists from peace seekers to nature lovers and photographers.
Distance from Mount Abu: 5 km
Ideal for: Picnic, kids, wildlife and nature photographers, nature lovers, bird watchers
Best time to visit Trevor's Park: November and December (winter)
10. Toad Rock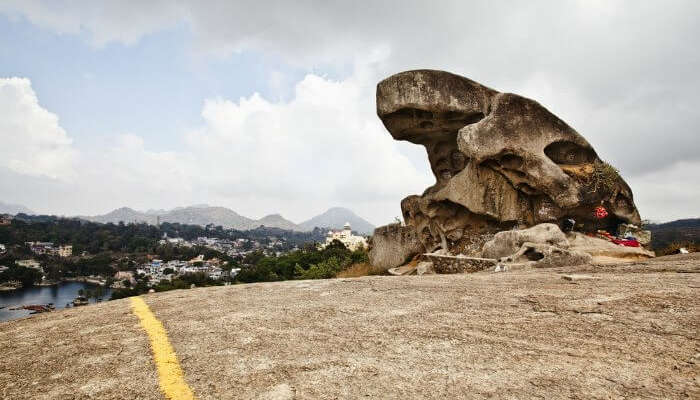 Located adjacent to Nakki Lake sits one of the fascinating places to explore in Mount Abu. The Toad Rock is a unique rock formation that resembles a toad and attracts many curious visitors on a regular basis owing to its queer shape and its fantastic location. One can easily climb this rock, sit, and enjoy magnificent views of the Nakki Lake and the beautiful city beyond.
Ideal for: Peace seekers, picnic, trekking, boating
Suggested Read: 10 Engaging Things To Do In Mount Abu: Boating, Trekking, Camping & More
11. Sri Raghunath Temple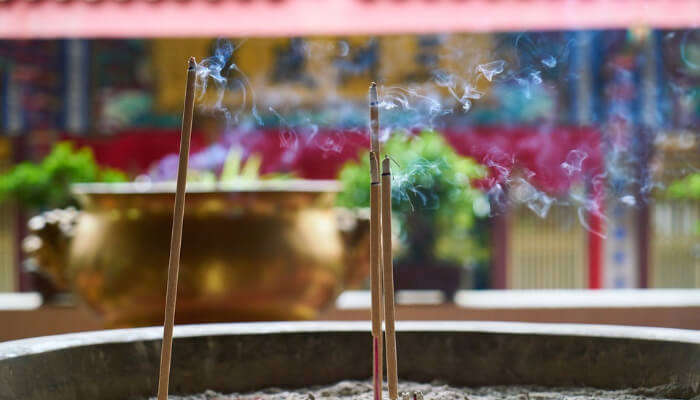 Image Source
If you wish to spend some time amid the divinity and peace, Sri Raghunath Temple is among the best places to visit in Mount Abu. Located near Nakki Lake, the temple was built in the 14th century. Dedicated to Sri Raghunath Ji, who was believed to be the reincarnation of Lord Vishnu, the temple's architecture also attracts tourists. If you're anywhere near Toad Rock or Nakki Lake, do not forget to pay a visit to this holy place.
Location: Near Nakki Lake, Mount Abu, Rajasthan
Entry fee: NA
12. Honeymoon Point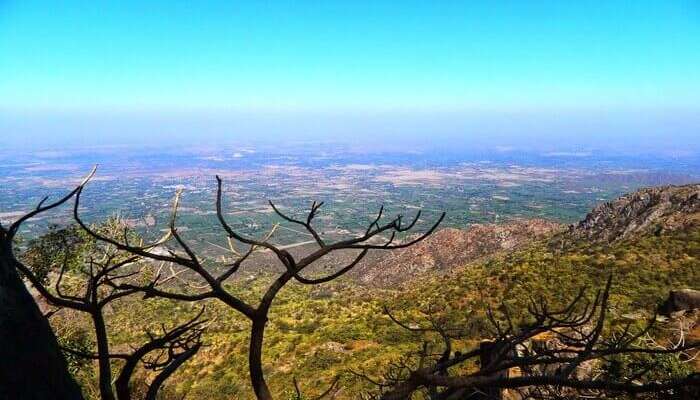 The name itself says that it's one of the most romantic places to visit in Mount Abu for honeymoon. As Mount Abu is a little hill station, every tourist attraction is nearby. If you want to witness the sunset from a mountain top with your special one, go to Honeymoon Point at least 30 minutes before sunset. The place's beauty and the cool winds will certainly make your day. Honeymoon Point is a 2-km hike, so be prepared; keep a water bottle with you and some snacks.
Opening hours: All days from 6am to 6pm
Suggested Read: 8 Villas In Mount Abu That Are Beautiful & Luxurious
13. Tibetan Market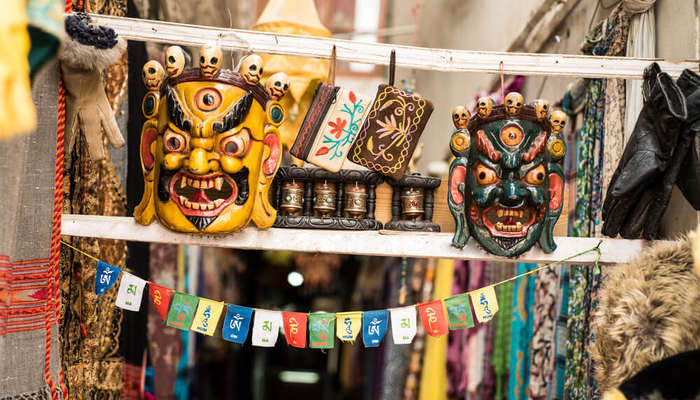 Whether you're a shopaholic or not, everybody loves exploring a Tibetan market on their vacation to a hill station. One of the most vibrant places to visit in Mount Abu, the market is an exciting amalgamation of street shops and emporiums. From stylish clothes to gorgeous junk jewelry, there's not a fashionable thing you won't find here. It's paradise for those who love shopping and bargaining.
Location: Sunset Point Rd, Machgoan, Mount Abu, Rajasthan 307501
Ideal for: Shopping
Timings: 10 am to 11 pm
Admission fee: NA
14. Adhar Devi Temple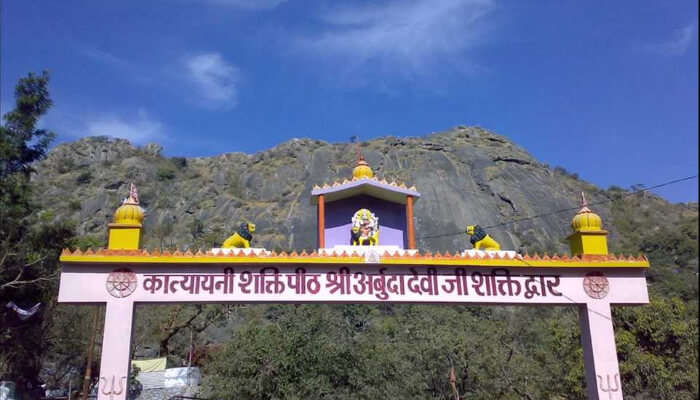 Adhar Devi Temple is a highly regarded shrine in Mount Abu dedicated to Hindu goddess Durga. The temple is inside a cave and to reach here, you would have to climb 365 stairs. But once you are up there, enjoy the positive and spiritual vibe. Also enjoy the breathtaking view of the surrounding lush green hill, from the top. The footfall of worshipers and tourists are high during the festive seasons related to goddess Durga, especially Navratri.
Location: Arbuda Devi, Mount Abu, Rajasthan 307501
Ideal for: Sightseeing, worship, adventure
Timings: NA
Admission fee: NA
Suggested Read: Mount Abu Snowfall? Decode The Myth Of This Pristine Paradise!
15. Universal Peace Hall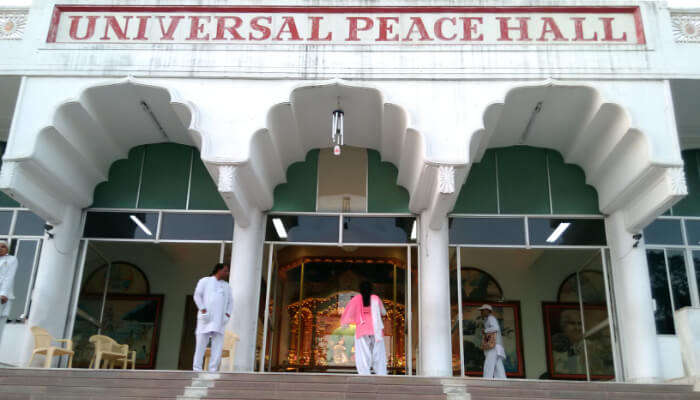 Built in 1983, the Universal Peace Hall is a place for grand get-together. This place has seating space for about 5,000 people. It also has an office where interpretation in 16 dialects is done simultaneously. This place is open to travelers for visits and welcomes about 8,000 individuals every day.
Location: MDR 60, Mount Abu, Rajasthan 307501
Ideal for: NA
Timings: NA
Admission fee: NA
16. Gaumukh Temple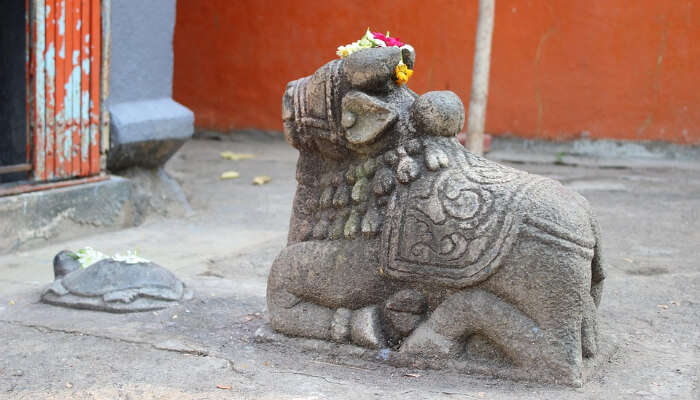 Gaumukh Temple is a Hindu shrine in Mount Abu located amidst beautiful surroundings. It is believed that the temple was built to fulfill the commitment given to Saint Vashishth. According to the belief, this is the site where the saint used to carry out ritual sacrifice (yagna) because of which created the 4 prominent Rajput groups. You would also find an Agni-Kund, a tank structure, in the temple compound which is said to be the site of yagna.
Location: Goumukh Path, Goumkh, Rajasthan 307501
Ideal for: Sightseeing, worship
Timings: NA
Admission fee: NA
Suggested Read: 8 Best Hotels In Mount Abu For Honeymoon Couples
How To Reach Mount Abu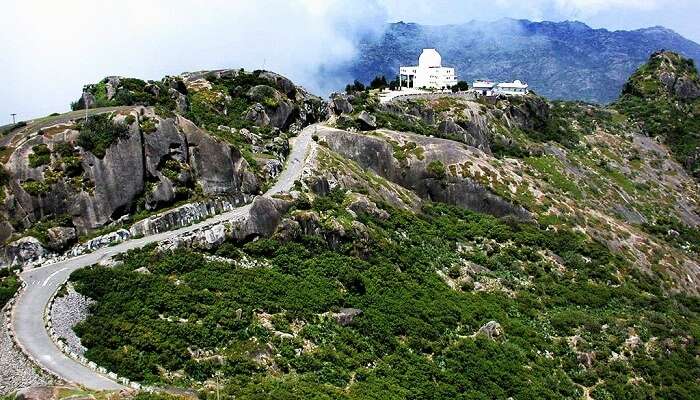 Here are the ways you can reach Mount Abu for a trip:
By Air: Take a flight to the Maharana Pratap Airport or Dabok Airport at Udaipur at a distance of 210 km from Mount Abu, or to Sardar Vallabhbhai Patel International Airport in Ahmedabad which is 221 km away from the same. Dabok Airport is connected to major Indian cities like Delhi, Mumbai, & Jaipur. Take a cab/taxi from the airport to reach Mount Abu.
By Train: Take a train Abu Road Railway Station which is the nearest to Mount Abu and connects the city with all the major railheads of the country.
By Road: Take one of the State Government run buses that connect Mount Abu to all the major neighbouring cities like Delhi, Jaipur, Udaipur, & Jaisalmer. Or simply drive all the way to Mount Abu which is connected to major cities via NH 8 and NH 14.
Further Read: A Complete Guide To Mount Abu Summer Festival 2019 For First Time Visitors

With all these awesome places to visit in Mount Abu, where would you be setting off to first? Let us know in the comments below or contact us to create an awesome Rajasthan trip for you. If you have you already explored this gem of Rajasthan, share your experience with us to help the fellow travelers.
Frequently Asked Questions About Places To Visit In Mount Abu
Q. Which is the most famous place in Mount Abu?
A. Guru Shikhar is the most famous place to visit in Mount Abu. It is situated at a height and offers scenic views.
Q. Does snowfall in Mount Abu?
A. No, Mount Abu does not experiences any snowfall. But because it is located at a high altitude, the pressure of air is high and the temperature is low. This results in condensation of water and forming of ice at many places in Mount Abu.
Q. What is the best time to go to Mount Abu?
A. Bring a hill station amidst a desert state, winter season is the best time to visit Mount Abu. October to March are the winter months.
Q. How can I go from Udaipur to Mount Abu?
A. The cheapest way to reach Mount Abu from Udaipur is by boarding a State Transport vehicle which will take approximately 4.5 hours. The fastest way to reach Mount Abu from Udaipur is through a car/taxi/van which will take around 3 hours.
Q. Is Mount Abu worth visiting?
A. Mount Abu is a hill station with many temples. If you are someone who likes sightseeing, hiking and visiting temples, this is for you.
Q. How many days are sufficient for Mount Abu?
A. 2 days are sufficient for visiting Mount Abu. In 2 days, you can easily cover the major attractions of the city. 
Q. What can I buy in Mount Abu?
A. Some of the best things to buy in Mount Abu are bangles, kota sarees, jaipuri quilt and more. With so much to offer, it won't let you go empty-handed.
Q. Does Mount Abu have an airport?
A. No, Mount Abu does not have an airport. The nearest airport is located in Ahmedabad. So, if you want to reach Mount Abu via flight, you will have to get down at Ahmedabad airport.
---
Looking To Book A Holiday Package?
Book memorable holidays on TravelTriangle with 650+ verified travel agents for 65+ domestic and international destinations.
---
People Also Read:
Places To Visit In Kishangarh Places To Visit In Pushkar Places To Visit In Bundi
Comments
comments