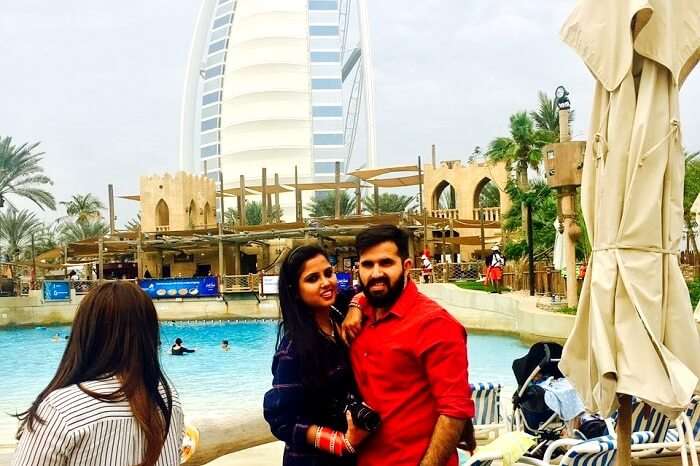 Offering the best of all worlds, Dubai is at the forefront of revolutionizing tourism, be it in entertainment, romantic destinations, adventure, nature, or cuisine. See how Neelkanth describes his 6 night/7 day honeymoon trip to Dubai that made him enjoy, overcome fears, and spend precious time with her other half
Trip Cost: INR 1,16,000
Trip Duration: 6 nights/7 days
Trip Inclusions: Flights, transfers, accommodations, sightseeing, and breakfast
Month of Travel: February 2017
My sister booked a Mauritius honeymoon package and she enjoyed the experience. Hence, we also wanted to make use of TravelTriangle's services for a honeymoon package. We wanted a destination that should not be beach or nature exclusive. So, keeping in mind our budget and time frame, Dubai was the best option available.
I submitted a query with TravelTriangle and soon, Nikhil guided me through the process patiently and meticulously. He provided me with options from various travel agents at different quotations. I selected the best offer given to me by 'View Holiday Trip' agency.
Suggested Read: Top Things To Do On A 5 Day 4 Night Family Trip To Dubai
Our honeymoon trip to Dubai was booked smoothly and, since then the excitement and anticipation for Dubai began. We had lined up lots of enthralling and adventurous things to do on this trip to Dubai which promised to us a memorable honeymoon.
Here's a brief itinerary of our honeymoon trip to Dubai
Day 1: Arrival in Dubai at 4 pm – Check into the hotel – Rest & leisure – Explore market – Dinner
Day 2: Breakfast – Dubai City Tour at 9 am- Visit to the Dubai Mall – Visit to Burj Khalifa in the evening – Dinner – Return to the hotel
Day 3: Breakfast- Visit to Hindu temple – Shopping gold at Meena Bazaar –  Desert safari at 3 pm – Quad bike riding – Dinner – Return to the hotel
Day 4: Day tour to Abu Dhabi – Sightseeing tour of Abu Dhabi – Ferrari World – Dinner – Return to the hotel
Day 5: Breakfast – Leisure and shopping – Evening dhow cruise – Barbeque dinner
Day 6: Breakfast – Departed for Wild Wadi Water Park – Return in the evening – Dinner – Rest
Day 7: Breakfast – Shopping souvenirs, chocolates, and perfumes – Check out – Depart for airport
Hotel review of Fortune Karama Hotel, Dubai
Suggested Read: Awesome Things To Do On A 6-Day Family Trip To Dubai
The Hotel was very nice. They upgraded our room from standard to deluxe without any extra charge levied on us. The hotel was next to the metro station and only five minutes away from major markets. The food catered to us was delicious. We were unsure how good the vegetarian food would be, but after having meals, we were pleasantly surprised.
Hotel Rating- 5/5
Places to visit in Dubai for shopping and entertainment
Shopping on a honeymoon trip to Dubai at that time of the year was a blessing as we were in the middle of the annual shopping festival which provided nice discounts on valuable products like gold, chocolates, gadgets, and perfumes.
Here are some important tips and guides for people who are looking to indulge in shopping and entertainment in Dubai
Buying gold in Meena Bazaar
Suggested Read: Viraj & His Family's Economical Trip To Dubai Turned Into A Lavish Experience With Pleasant Surprises!
It's a good idea to take one day to explore the market entirely and study which places offers what prices. Once you know the best price, go and buy the product. The price of the electronics vary around 20%.
For buying gold, prefer going to Meena Bazaar over Gold Souk market in Bur Deira, purely because Gold Souk has a lot of competition and a very small room for bargaining.
The prices of gold will and always remain constant throughout Dubai, what makes a difference is the making price charged by the jeweler (which is negotiable).
Gold should be bought in limited, and not in excessive quantity so that one can easily avoid paying an import duty
Living the thrill of Ferrari World
It is a good idea to take a guide on your tour to Ferrari World in Abu Dhabi as guides in Dubai are generally very informative and helpful.
The guide even told us about the rides we should not miss at any cost on our Ferrari world experience. Our experience was very good. My favorite ride was Formula Rossa – world's fastest roller coaster and Flying Aces (the scariest ride). I was hesitant on getting onto the rides but my wife urged me to try all the rides.
People can easily spend a full day in Ferrari World, as it has many rides and roller coasters.
Shopping for gadgets, perfumes, and dates in Abu Dhabi
An ideal place to buy electronic gadgets like mobile phones at cheaper price which offer international warranty, instead of a country specific warranty given by electronic retailers around the world.
The original dates market is in Abu Dhabi where the world renowned dates get imported from Saudi Arabia and Yemen.
Known internationally for its perfume (also called Itr), Abu Dhabi has a wide variety of aromas that will brighten up your senses.
Slip and slide in the Wild Wadi Water Park
Wild Wadi Waterpark at Jumeirah Beach is one of the famous water park attractions in Dubai.
Again, I was hesitant to go on the big water slide, which is the flagship of this water park. But my wife being herself, she encouraged me to take these rides. And I have to say, no matter how much I fear, these rides were excellent to do once you had taken the leap.
One thing we loved about the water park was the water was lukewarm. So it was very comfortable spending time in the water along with cool breeze.
The boat tour within wild wadi water park takes the tourist not only downstream but upstream as well.
As I look back on my honeymoon trip to Dubai, my heart will be filled with fond memories and colorful pictures of a week spent in luxury and comfort with my wife. My wife and I share a much better understanding and bond with each with other after this amazing adventure to Dubai. We saw serene beaches, marvelous cities, beautiful monuments, and adventurous theme parks all packed into one unforgettable trip. 
Suggested Read: Nightlife In Dubai: What's In The Store For The Kind Of Traveler You Are
Highlights:
I overcame my fear of dangerous roller coasters and heights all thanks to my wife.
Low points:
The agents should be a bit more proactive in offering options for amusement parks. In my case, I had asked the agent to include all the theme parks like Ferrari World and Wild Wadi Waterpark in the package.
Dubai has something in store for everybody. Book your Dubai honeymoon package  and live life king size in Dubai!