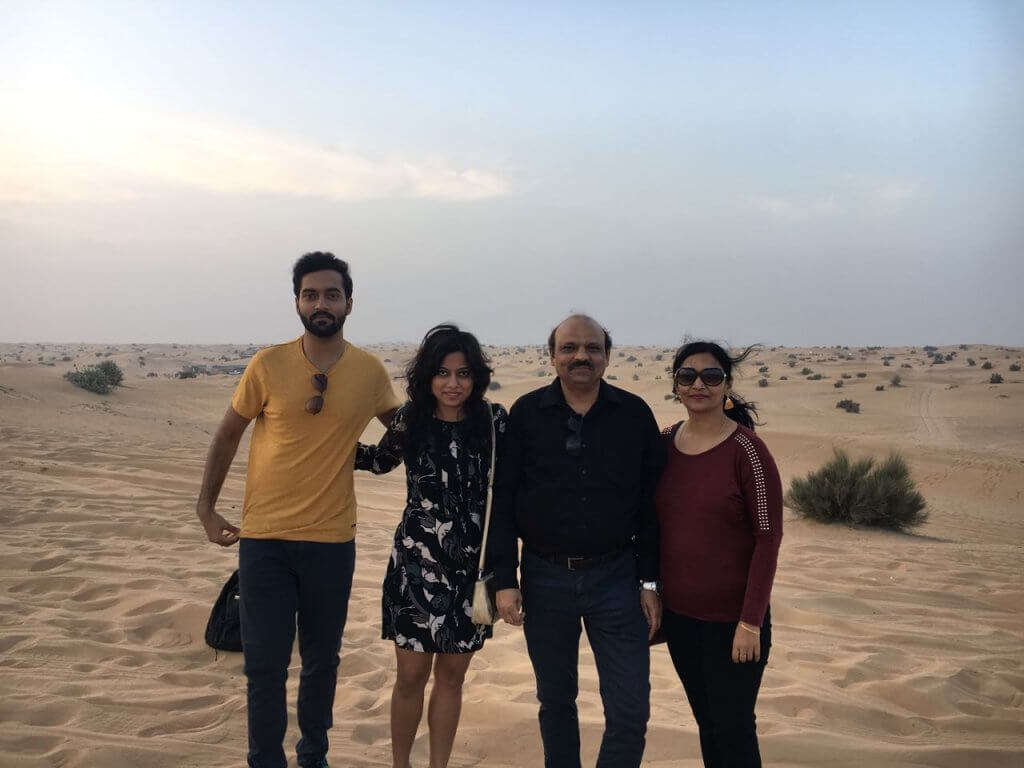 Sanjay and his family had a gala time covering the best places in Dubai amidst the sand and sun kissed beaches in their 5 Day trip. Read on to know how their trip was so even you can book Dubai family tour package and enjoy with your loved ones!

'To travel is to live'. At least, That's what they say.
I enjoyed traveling with my family, but I never thought about why I liked it so much. I guess It's a good breather from the mundane city life and gives you a chance to relax and experience the vibe of a new place.I get all that, but there nothing more to it for me. So when the family trip was being planned, I did my usual tasks: Decided our budget and start looking for places where we would have been able to enjoy both sightseeing and adventure activities. Dubai fit the description perfectly.

Next task was to select an agent. While researching on the internet, I came across TravelTriangle, an online travel site which provides customized travel itinerary depending upon the budget and convenience of the travellers for trip to various locations across the world. Their 5 Day 4 nightDubai family tour package catered to all our requirements in terms of sightseeing and other activities as well as budget. I knew that this was the right decision I was taking.
What I didn't know was how this trip will make a traveler out of a city life person.
Trip Type: International family trip
Month of Travel: December
Duration of the trip: 5 Day/4 Night
Weather in Dubai during month of travel: Pleasant; temperature ranges from 20 to 25 c
Inclusions: Flights, Accommodation at St. George hotel, breakfast, transfers, sightseeing tour of Dubai city and Abu Dhabi, desert safari and much more.
Exclusions: Paid activities, if any
Cost of package: INR 2,04,399
Agent name: View Holiday Trip
Our travel route:
Touchdown Dubai

Suggested Read: Nightlife In Dubai: What's In The Store For The Kind Of Traveler You Are!
We boarded our flight from Mumbai and landed in Dubai on time. On arrival, we were given a sweet welcome and taken to our hotel by the TravelTriangle Representative. After we reached our hotel, we finished our check in formalities and went to our rooms.
Trust me, St. George hotel is one of the best hotel experiences I have had in sometime. The location was really very nice, with the hotel being situated in the bank of the Dubai creek. The rooms were very comfortable and spacious and faced the man made beautiful creek . The staff was very cordial and helping and put in extra effort to make our stay as comfortable as possible.

After relaxing in the room for sometime, we went for Dhow cruise in the evening. Our dinner was arranged in the cruise itself and it was very delicious. There was also an arabic dance performance which was a real treat to watch. We enjoyed there for good two three hours and later came back to our hotel and called it a night, very content with how the first day in Dubai went.
Dubai city tour

Suggested Read: Burj Khalifa: The Tallest Building In The World
Day two was reserved for Dubai city tour and it was an awesome experience. Our guide was very experienced and made the tour very informative. As we were passing by the buildings, he was telling us about their history and how Dubai was set up. We covered places like Arabic art gallery, Sheikh's palace and those skyscraper buildings, which literally took my breath away. Dubai is such a perfect mix of history and modernism that you can do nothing but appreciate it in all its sheer glory.
On one hand ,there are places like Sheikh's palace and Dubai museum at Al Fahidi fort in one hand, which would take you back in time,and on the other hand, there are buildings like Burj Khalifa which would make you marvel at modern man's capability.

We visited Atlantis, The palm, one of the best hotels in the world. It is everyone's dream to get a chance to stay in this hotel. From swimming in Dolphin bay to taking the lost chamber aquarium tour, there are a variety of things to do for every kind of traveler there. One can spend an entire day there and not get bored.

Suggested Read: 26 Free Things To Do In Dubai And Experience Over The Top Luxury Without Spending A Penny
We were most excited for Burj Khalifa for many reasons. It's the tallest building in the world and trust me, the view from top is as breathtaking as you would imagine it to be. In the evening, the city lights below look so lovely that you wouldn't want to leave from there.
Post sightseeing, we came back to our hotel and slept off, exhausted from the day activities.
Dune bashing and Desert safari

My kids were looking forward to this day as we were go for desert safari. Dubai's desert safari is famous all over the world and the dunes offer great opportunities for a great desert experience. And it lived up to its name; we ended up having a lot of fun. We traveled to our camp in the land cruiser which was perfect for driving in the desert. It took us around 40 minutes to reach there and post reaching we were welcomed with drinks and an amazing belly dance performance. At night one could see millions of stars in the sky outlining the great dunes.
This was, undoubtedly, one of the best parts of the trip.
The grandeur of Abu Dhabi

We were to leave for Abu Dhabi for bus this day. Though one could have taken a private car but the bus ride turned out to be a pretty amazing experience.The beautiful blue sea and scenic beauty added charm to our road drive from Dubai city to Abu Dhabi. Post reaching there, we first visited the Sheikh Zayed Grand Mosque, one of the most beautiful mosques in the world. One feels at peace, just sitting there after offering dua.
After that, we visited the Ferrari world, known for the world's fastest roller coaster ride. That ride, is not to be missed, under any circumstances. It will give you an adrenaline rush like no other. And there are other great rides and activities to choose from such as the the G ride, sports arena, Ferrari museum etc.

Suggested Read: Dubai Trip: A Perfect Tour Guide For Families Traveling To Dubai
We stayed there for some hours and believe me, we did not want to leave the amusement park at all. The kids were quite sad when it was time to leave. We reached our hotel by night and packed our luggage as we had our flight back to Mumbai the next day
We bid adieu to Dubai and hoped that we will, in future, return to this oasis in the desert where life throws beautiful surprises in the most amazing manner.
This trip made me realise that travel is one thing that is a must for everyone trying to get through life when it gets stressful or busy. It is what brings happiness and contentment in our lives. I am very glad that my family accompanied me in this trip and we got to create the loveliest memories which we would cherish in times to come.
Highlights
The roller coaster ride at Ferrari world is one thrilling experience and a must-do for every traveler
Desert safari is a joyful experience and can be enjoyed by all kinds of travelers
Low points
The only annoying part was waiting for other passengers to arrive in the bus as the bus doesn't move till its completely filled
Tips for future travelers
Carry water and sunscreen when heading out for sightseeing
One should try the local markets for purchasing Gold, spices,watches and other electronic goods as they are quite cheap
So now you know that Dubai is an ideal destination for a family trip, what are you waiting for? Book a Dubai family tour package now!