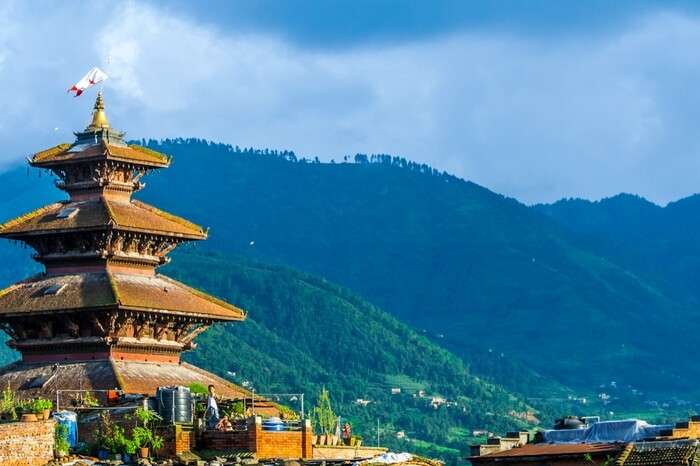 In the gorgeous valleys of Nepal, one can explore the ancient temples that tell stories of the bygone days. Seeing people practice their rituals that have been passed from generation to generation is a common yet fascinating sight. As you pass the beautiful Nepal temples, you can smell the delicious food (Prasada) cooking on the wood ovens in the kitchen or open area of the temples. The best preserved medieval town of Bhaktapur in Nepal and the spectacular Kathmandu valley has temples that are worth a visit for their uniqueness and beauty.
Temples in the surreal valleys of Kathmandu
1. Pashupatinath Temple – A UNESCO World Heritage Site

Image Source
Located near River Bagmati in Kathmandu Valley, Pashupati Nath is one of the oldest and most popular temples in Nepal. Locally translated into 'Lord of the Animals', this holy place is devoted to Lord Shiva and considered as one of the most sacred Shaivite places in Asia. Pashupati Nath features 2 storied pagoda-like building with a sanctified Shiva linga inside. Only Hindu pilgrims are permitted to enter the temple premises.
Opening hours: 4am – 12pm & 6pm – 7pm
Must Read: 10 Best Hill Stations In Nepal: Beauty In The Lap Of Nature
2. Budanilkantha – Where Lord Vishnu resides amidst lotus in an open air pool

Image Source
The most interesting part of Budanilkantha, also known Narayanthan temple, is the reclining Vishnu statue, carved from a basalt monolith. The statue is placed on Shesha – a multi-headed snake, lying on a lotus pool. Located the base of Shivapuri Hill, Budanilkantha temple permits only Hindu devotees inside, while others can observe this idol from a distance. In late October and early November, Haribodhini Ekadashi is celebrated in Budanilkantha, pulling thousands of tourists every year.
3. Dakshinkali – To the fearless Goddess

Image Source
Near to Pharphing Village, 14 km from Kathmandu city, Dakshin Kali stands as one of the most popular temples in Nepal. Dedicated to Kali – the fearless deity, this temple is famed for animal sacrifices by local Hindu people to fulfill their wishes. Such animal sacrifices, mainly male goats and cockerels, are seen on Tuesdays and Saturdays and during Dusshera or Dashain festival.
4. Gokarna Mahadev Temple – One of the popular Mahadev temples in Nepal

Image Source
Raised by Gopiran Bharo, Gokarna Mahadev Temple, located in the village by the same name is one of the most significant Shiva temples in Nepal. The temple is adorned with a charming idol of Shiva and Parvati sitting on a golden throne or Torana. Devotees visit Gokarna Mahadev Temple to pay homage to their deceased fathers on Gokarna Aunsi, which is usually around the month of September.
Must Read: Trekking In Nepal: 20 Treacherous Treks To Challenge Your Nerves
5. Swayambhu Temple – Holy place for both Hindus and Buddhists

Swayambhu Temple, located on a conical shaped hill near Thamel, offers a stunning view of Kathmandu City. Popular as 'Monkey Temple', one needs to ascend 365 steps and pay INR 200 as the entry fee to reach the temple complex. Along with golden Buddha shrine, prayer wheels, and the numerous small temples surrounding the main temple building, made of pure gold are worth a visit. Though Swayambhu Mandir faced major destruction during Nepal earthquake of 2015, it still continues to be one of the must visit temples in Nepal.
Opening Hours: 7 am – 10 am
6. Bajrayogini – The famous tantric temple in Nepal

Image Source
The list of famous temples in Nepal will be incomplete without Bajrayogini or Gum Bihar. The temple is located on the banks of Sali Nadi in Sankhu valley of Kathmandu. Surrounded by numerous small temples and caves, the three storied main temple building has the idol of Swasthani – the chief goddess of Bajrayogini, beautifully decorated with ornaments and shining attire. People visit this temple during the month of Magh to take a holy dip in the Sali River and worship Swasthani deity. Moreover, Bajrayogini fair is also celebrated in the temple complex in March-April, which is also a major crowd puller.
Temples in Bhaktapur in Nepal
7. Suryabinayak Temple – The temple of the curing God

Image Source
Dedicated to Lord Ganesha, Suryabinayak Temple is 1500 years old. This temple is one of the four significant Ganesh shrines in Kathmandu, the other three being Chandra Binayak, Jal Binayak, Ashok Binayak, and Chobar Binayak. Suryabinayak Temple is located in Bhaktapur in Nepal and known as the 'temple of the rising Sun'. Perched on a hilltop, the temple complex can be reached by climbing few steps.
Suggested Read: 15 Engrossing Things To Do In Nepal For All Adventure Junkies!
8. Changu Narayan – A heritage of Lichhavi Dynasty

Image Source
Originally built in the 4th century and now a World Heritage Site by UNESCO, Changu Narayan is a marvelous temple dedicated to lord Vishnu. Surrounded by Champ trees, this temple features a two-story pagoda structure, carvings of Tantric deities, stone carved lions guarding all the four doors, and a huge Garuda statue. Changu Narayan is the oldest temple in Nepal. Unfortunately, Changu Narayan has faced severe demolitions during 2015 earthquake and is closed now for restoration work.
Opening Hours: 4 am-12 pm & 5 pm-9 pm
Temple in Gorkha in Nepal
9. Manakamana Temple – Worship to fulfill desires of heart

Image Source
Bhagwati is the chief goddess of Manakamana or 'wish fulfilling temple'. The goddess is worshiped here as an incarnation of Parvati. The temple is perched on a ridge in Gorkha region of Nepal overlooking the river valleys of Trisuli and Marsyangdi. The temple can be reached by a thrilling 8-minute long cable car ride from Abhukhaireni or can be trekked up the hill. Every year on Kartik Panchami and Baisakh Panchami, two grand fairs are celebrated in Manakamana temple, alluring thousands of pilgrims.
Suggested Read: 30 Unexplored Places In India
Nepal temples in Muktinath Valley
10. Muktinath Temple – A popular temple in the Annapurna circuit

Image Source
Listed as one of the 51 Shakti Peethams, Muktinath temple is believed to be the place where Sati's forehead was fallen. Snuggled at an altitude of 3710 meters, Muktinath Temple is one of the most ancient temples in Nepal dedicated to Lord Vishnu. The main temple is surrounded by 108 bull faces and comprises of a pure gold idol of Vishnu. The water flowing through these bull faces is used for sacred bath. Muktinath Temple is also known as Muktinath-Chumig-Gyatsa amongst Buddhist followers.
Further Read: Nepal Honeymoon Guide: Here's What You Need To Plan The Romantic Vacation
Whether you're the religious type or someone who has an interest in the beautiful architecture of Nepal, you'll love your trip to the ancient temples in Nepal. Book a tour package to Nepal and let the captivating history of Nepal fascinate you.
---
Looking To Book A Holiday Package?
Book memorable holidays on TravelTriangle with 650+ verified travel agents for 65+ domestic and international destinations.
---