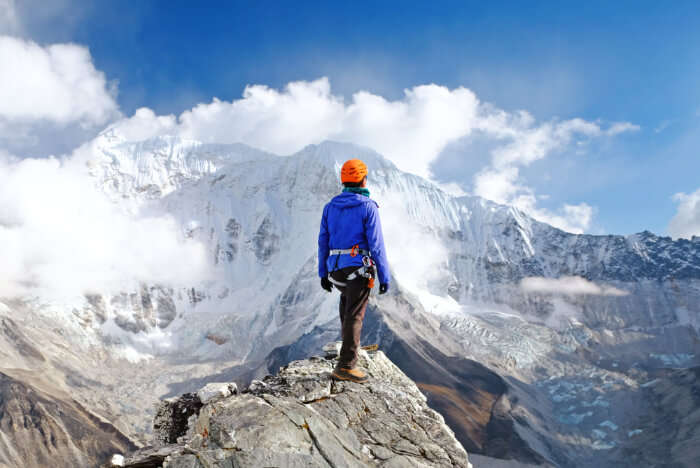 As said by Edward Abbey – "May your trails be crooked, winding, lonesome, dangerous, leading to the most amazing view. May your mountains rise into and above the clouds." I've been in love with mountains since I can remember, but if you've ever trekked in your life then you would know that mountains have a way of dealing with your overconfidence. Mountains challenge every climber's nerves to the full. From the dizzying heights of Annapurna Base Camp to the fickle trails of Langtang Valley, these trails for trekking in Nepal aren't for the faint of heart. Will you dare to climb these mountains in Nepal? If yes, here are some that'll test your limits everyday.
20 Trails For Trekking In Nepal
Treks in Nepal are divided in two categories: teahouse and camping. Teahouses are accommodations available on popular trek routes like Manaslu Circuit Trek and Annapurna Base Camp Trek. These treks let you stay in small rooms at minimal cost and sometimes free of cost. Most of the teahouses are family-owned small hotels that serve basic home-cooked meal.
1. Manaslu Circuit Trek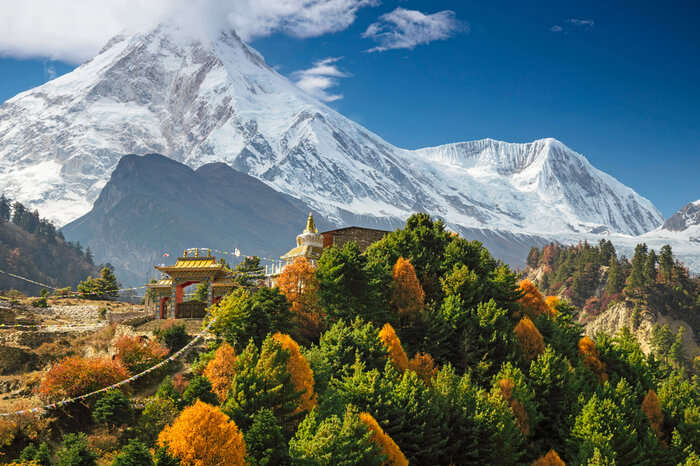 Manaslu—the 8th highest mountain in the world is a restricted reason, which makes it a lesser explored place. Nevertheless, this breathtaking trek is a perfect balance of mountain and culture. It's mainly for those planning to trek to experience Nepali culture along with mountain views. One can see ancient monasteries on their way to Manaslu. Previous mountaineering experience isn't required for this trek, but fitness is a must. Manasalu Circuit Trek is one of the best treks that showcases incredible panorama of Nepal-Tibet border.
Duration: 11 to 25 days
Difficulty level: Hard
Trek type: Teahouse trek
Max. elevation: 5100m
Required permits: ACAP, MCAP, RAP
Restrictions: A minimum of 2 trekkers are required for a permit for the circuit
Must Read: 11 Alluring Places To Visit In Nepal For Honeymoon
2. Kanchenjunga Base Camp Trek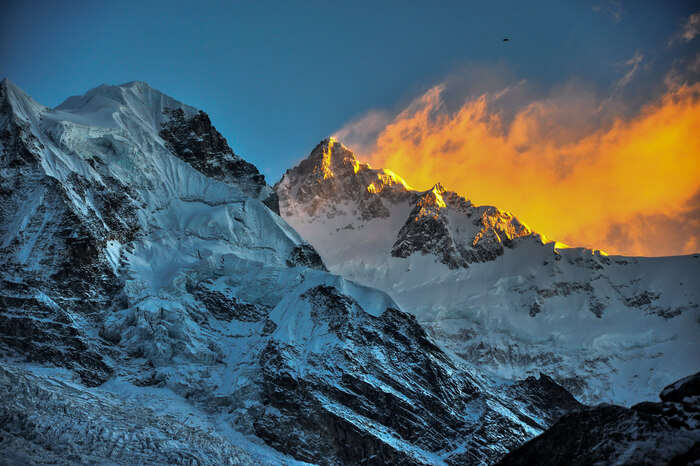 If you are determined to go for trekking in Nepal, then what's better than Mount Kanchenjunga? The third highest peak in the world is about 8,586m high. For the natives of Sikkim, the Kanchenjunga peak is Sikkim's patron deity. This trek takes you to the Alpine meadows where temperature is quite extreme. The untouched forests, high-altitude wetlands, and alpine meadows are home to endangered red panda, Himalayan black bear, and snow leopard.
Duration: 12 to 26 days
Difficulty level: Hard
Trek type: Teahouse
Max. elevation: 5134 m
Required permits: RAP and KCA
3. Annapurna Base Camp Trek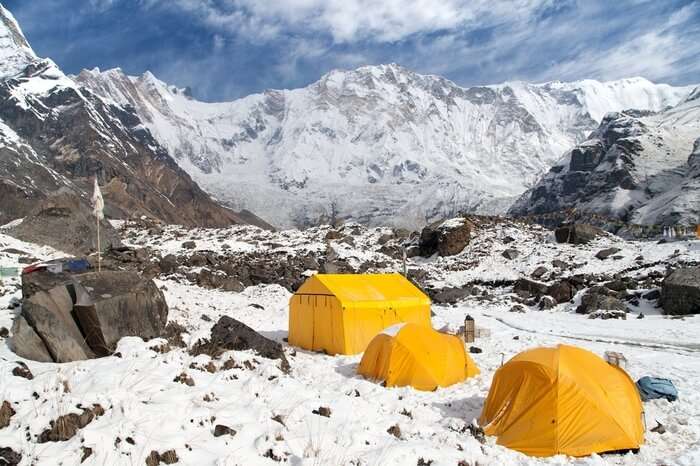 Also called Annapurna Sanctuary Trek, this pleasant trek takes you deep into the mountains. This trek beautifully combines paddy fields, rhododendron forests, and different landscapes. The location of the base camp is so magnificent, set amid the statuesque peaks of Annapurna I at 8091 m, Annapurna South at 7219 m, Hiunchuli at 6441 m, and Machhapuchhre at 6993 m.
Duration: 7 to 11 days
Difficulty level: Easy to Moderate
Trek type: Teahouse
Max. elevation: 4130m
Required permits: ACAP, TIMS
Suggested Read: Sagarmatha National Park: A Spectacular Bioreserve In The Lap Of Mount Everest
4. Upper Mustang Trek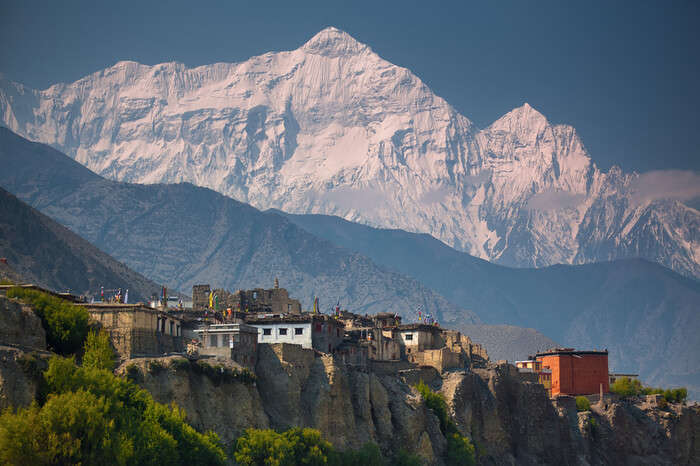 Upper Mustang is a geopolitically sensitive area, which opened for trekking in 1992. It's not just the unbelievable beauty of the mountains that attract trekkers, but also the caves that are carved into cliff walls, 16th century Buddhist monasteries, and the vibrant Tiji festival in Lo Manthang. The landscape and culture of this region is similar to that of Tibet. Trekking to Upper Mustang required at least 10-day permit and a guide.
Duration: 10 to 15 days
Difficulty level: Moderate
Trek type: Teahouse
Max. elevation: 4230m
Required permits: ACAP and RAP
5. Annapurna Circuit Trek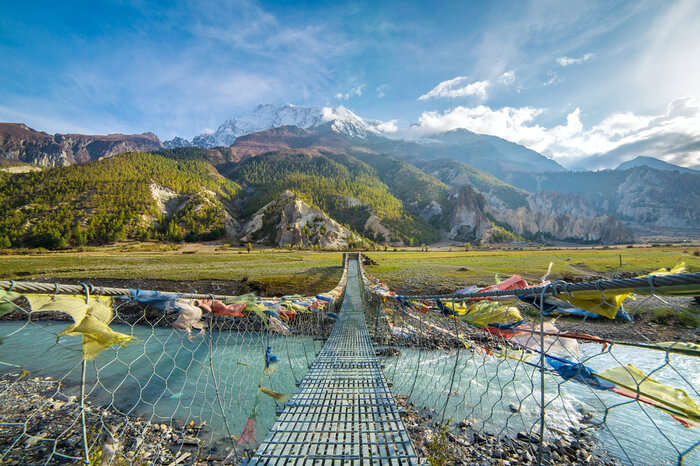 Known for high alpine and incredibly arresting views of Machhapuchhre, Manaslu, Annapurnas, Dhaulagiri, and Langtang Himal—Annapurna Circuit Trek is a difficult trek that takes you through remote hamlets, rhododendron forests, and villages. On this trek, you'll also come across ancient monasteries that are important parts of Buddhist culture.
Duration: 15 to 21 days
Difficulty level: Difficult
Trek type: Teahouse
Max. elevation: 5416m
Required permits: ACAP, TIMS
Suggested Read: 42 Most Popular Tourist Places In Nepal You Ought To Visit On Your Trip!
6. Makalu Base Camp Trek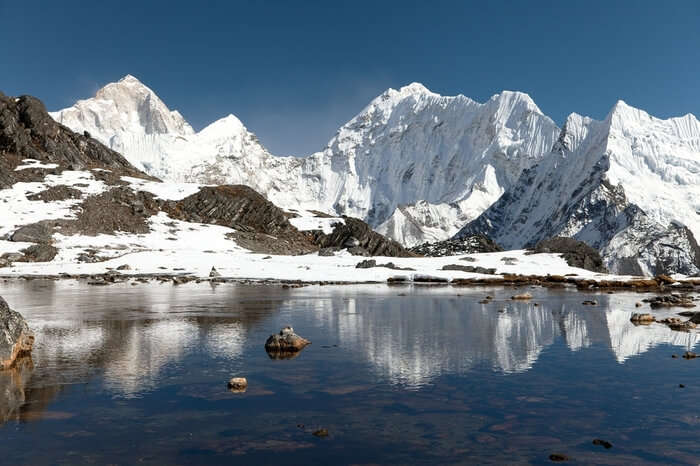 Popular for its remote farming villages, Makalu Base Camp Trek is relatively inaccessible, which means it receives few trekkers. The snowclad mountains and ethnic Himalayan lifestyle is sure to mesmerize your as you trek to Makalu. Just like any trekking in Nepal, this one is filled with excitement and adventure too. It's a perfect one for avid trekkers who're in search of tranquility and wilderness.
Duration: 20 to 23 days
Difficulty level: Difficult
Trek type: Teahouse
Max. elevation: 5517m
Required permits: TIMS
Suggested Read: Triund Trek: A Trekking Paradise For Experts & Beginners
7. Langtang Valley Trek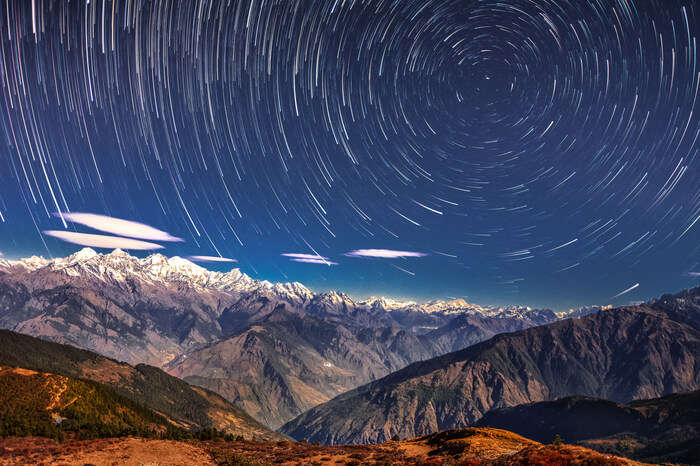 Image Source
Langtang Valley Trek is a journey of beautiful landscapes, which is combined with the vibrant and peaceful culture of Nepal. It's a relatively shorter trek with low-altitude and spectacular views. Trekkers can combine this trek with Helambu valley and Gosainkund lakes, which will take about 23 days to complete.
Duration: 7 to 21 days
Difficulty level: Moderate
Trek type: Teahouse
Max. elevation: 4700m
Required permits: TIMS
8. Dhaulagiri Circuit Trek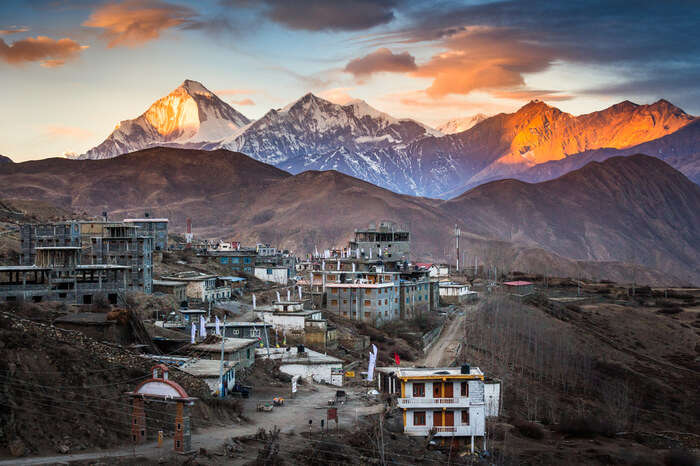 The 7th highest mountain in the world, Dhaulagiri Circuit Trek is a real adventure for experienced trekkers. From farming villages to alpine pastures, uninhabited valleys, and views of some high peaks, this trek is challenging and exciting. Set out on this journey if you want to experience the best trekking in Nepal. For over 30 years, Dhaulagiri was thought to be the world's highest mountains after it was discovered by Westerners in 1808.
Duration: 12 to 21 days
Difficulty level: Challenging
Trek type: Camping
Max. elevation: 5360m
Required permits: ACAP
Suggested Read: Best Trekking Places In India: Your Month-wise Trekking Guide Is Here!
9. Rara Lake Trek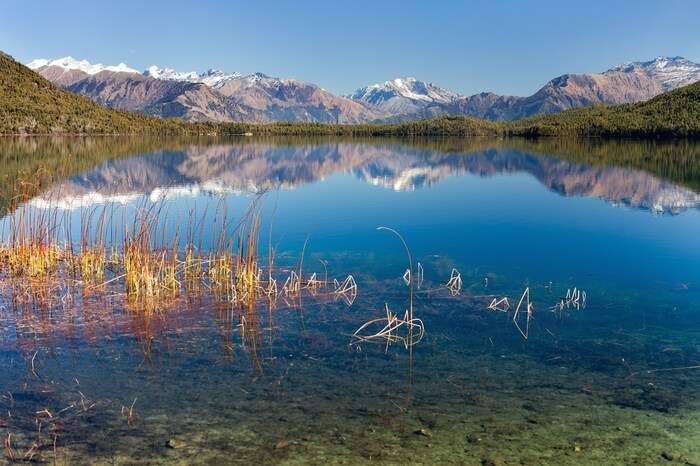 Rara Lake is the largest lake in Nepal and just a few hours walk from the nearby airstrip. It's home to hundreds of species of birds, which makes it look like a fascinating sight. Rara Lake Trek lets you witness the most beautiful views on the north-western most side of Nepal. It's a great trek to catch a glimpse of culture along with breathtaking scenery. From here, trekkers can head to the royal highway to the palins, the old salt route to Humla, or take thrilling paths into Dolpa.
Duration: 8 to 14 days
Difficulty level: Easy to Moderate
Trek type: Camping
Max. elevation: 3200m
Required permits: No
10. Upper Dolpo Trek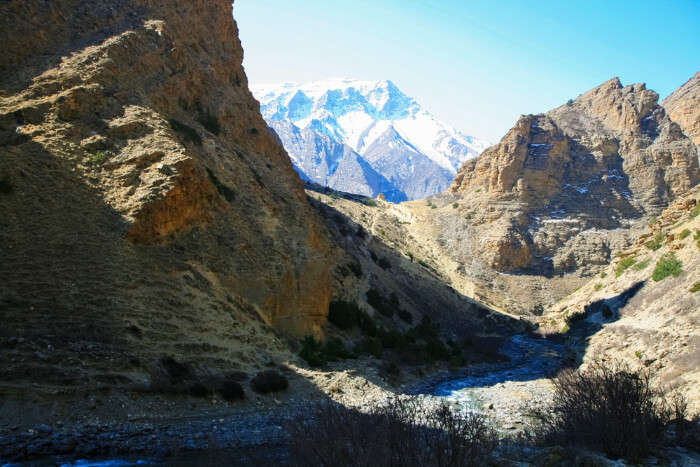 Upper Dolpo is a remote and an unbelievably gorgeous Buddhist part of Nepal. On this trek, you'll meet beautiful people, see old gompas, and ancient villages that'll leave a great impression on you. Situated amid Tibetan plateau and Dhaulagiri mountain ranges, the region was closed for trekkers until 1989.
Duration: 21 to 27 days
Difficulty level: Difficult
Trek type: Camping
Max. elevation: 5350m
Required permits: RAP
Types of permit required for trekking in Nepal
ACAP Permit (Annapurna Conservation Area Project)
TIMS permit (Trekkers' Information Management System)
RAP permit (Restricted Area Permit)
KCA permit (Kangchenjunga Conservation Area)
MCAP permit (Manaslu Conservation Area Project)
If these mountains make you want to push your boundaries, trek up, experience a new culture, and breathe in the solitude of Himalayas, then this is time to pack your beautiful 65l backpack and follow the treacherous trails.
11. Everest Base Camp Trek

Image Source
Situated at a height of 29, 035 ft, Everest Base Camp is a promising destination for variety in views from snow-laden mountains to eye soothing greenery. This trek also offers an unforgettable experience of difficult treks like Kala Pattar, Nangkartshang. Imagine you are walking and everything around you is transforming itself into something, magnificent in view which only our master nature can create. You will be breathing in that pure and cool air which revitalizes you and fills you with life to your deepest cores. Don't miss out on sunrise and sunset while you are here. They are going to leave you with memories for lifetime.
Duration

: Around 12 days

Difficulty level

: Moderate

Max. elevation

: 5364 m

Required permits

: TIMS Card, Gaurishankar Conservation Area Permit, Sagarmatha National Park Permit, and the local permit in Lukla
Suggested Read: Nepal In October: A Traveler's Guide To This Beautiful Paradise!
12. Cho-La Pass Trek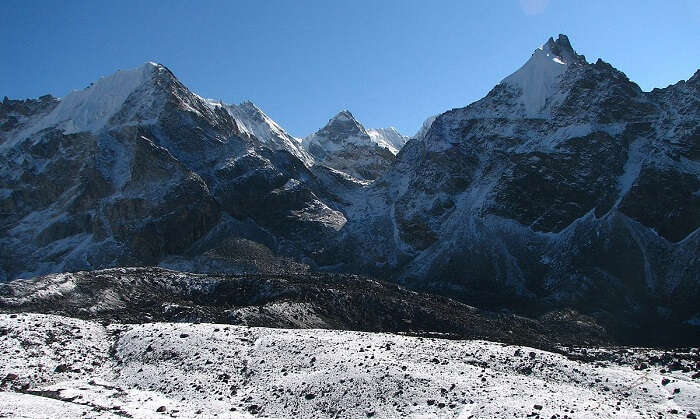 Image Source
The Cho La Paas trek is an ideal trek for people who look for challenges and opportunities to overcome them. This trek passes through Gokyo Lake, Gokyo Ri and Chukang Ri. These places provide you with rare view of ice falls and glaciers of Mahalangur Himalayan range. If you want a break from the monotonous city life then this trek is what you need. It passes through remote villages and beautiful monasteries. The view of Gokyo Ri valley at a height of 5,420 meters will leave you mesmerized. This trek offers you clean and clear lakes along with traditions of the local folks, widely known as Sherpas.
Duration

: 19 days

Difficulty level

: Difficult

Max. elevation

: 5420 m
13. Rolwaling Trek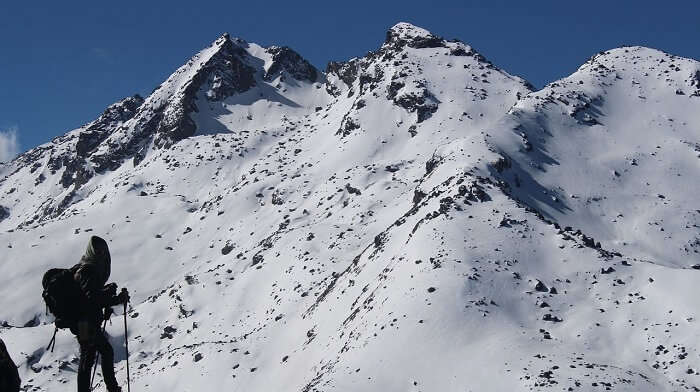 Image Source
Rolwaling valley is situated in the east-central part of the Nepal sharing border with Tibet. Trek to Rolwaling Himal includes magnificent views like Melungtse and Gaurishankar. It's a place must for hikers who prefer to connect with different cultures and their lifestyles. Undoubtedly, the flora and fauna. Grab your backpack & tent and head towards this trek as it is going to be an unforgettable trek mainly because of the rare scenic beauty it has in store for the people who dare to courage. This place is also popular for the legendary tales of Yeti, the snowman. You need technical mountaineering skills and equipments while you are on this trek.
Duration

: 20 days

Difficulty level

: Difficult

Max. elevation

: 5755 m
Suggested Read: 10 Best Places To Visit In Nepal In June For A Raw Adventure
14. Island Peak Trek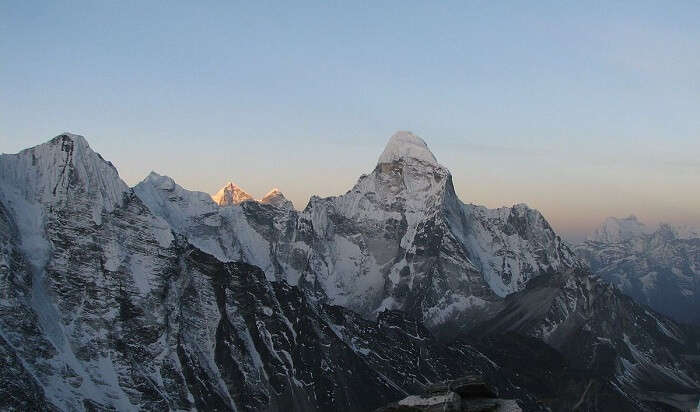 Image Source
Situated at a height of 6189m above sea level in Khumbu/Everest region of Nepal, Island trek is a perfect journey towards its base camp. You need to have mountaineering experience to reach to the peak. This peak is surrounded by sea of glaciers and the top also provides the view of the fourth highest mountain in the world, Lhotse. You need to be still patient with this trip and you will realize how you can turn the odds into moments of subliminal gratification. This trek promises you with rare Tibetan artifacts and then lead to the unimaginable serenity of nature. It would be a source of lifelong stories.
Duration

: 19 days

Difficulty level

: Difficult

Max. elevation

: 6189 m
15. Landruk Trek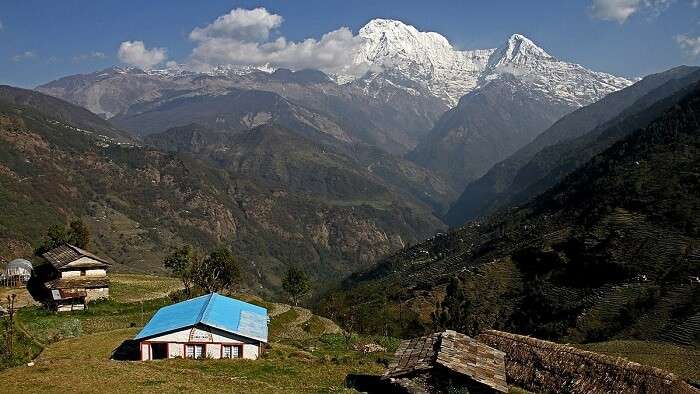 Image Source
Landruk is a small village at 1,500 metres altitude which leads you to the Annapurna base camp. This trek takes you through rice fields to spectacular scenery of countryside. The trek passes through dense forests before you reach Ghandruk village. Annapurna sanctuary adds to the beauty owing to its rich flora and fauna. You also get to explore areas of alpine vegetation and unusual views of sunset sunrise. The lodges available in the village provides a lifetime worth memories. Ever changing hues of the sky during the trek makes it more surreal.
Duration

: 7 days

Difficulty level

: Moderate

Max. elevation

: 1640 m

Required permits

: ACAP entry permit
Suggested Read: Nepal In May: A Handy Guide To Enjoying In Summers
16. Siklish Trek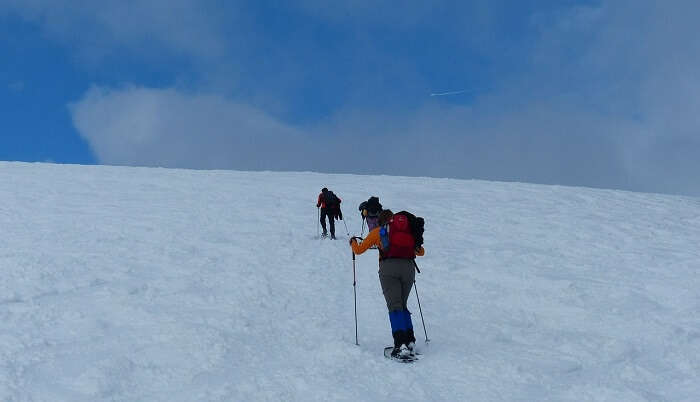 Image Source
The trek to the top of Siklish begins at Beganas Tal (Lake) and on heading towards north from there to the Madi Khola, we reach Siklish (1,980m.) among the folks of remote village of Gurung in Nepal. This place is a blessing for people who try to escape from their present complexities to mend the chaos within them. You can have jungle safari, rafting and other fun activities in the pristine form of nature. The terrains also pose challenges for hikers but the desire to go further leads you to miraculous places. You also get to see mighty Himalayas from here which is why it is one of the best places for trekking in Nepal, Himalayas. 

Duration

: 7 days

Difficulty level

: Moderate

Max. elevation

: 3000 m
17. Three Passes Trek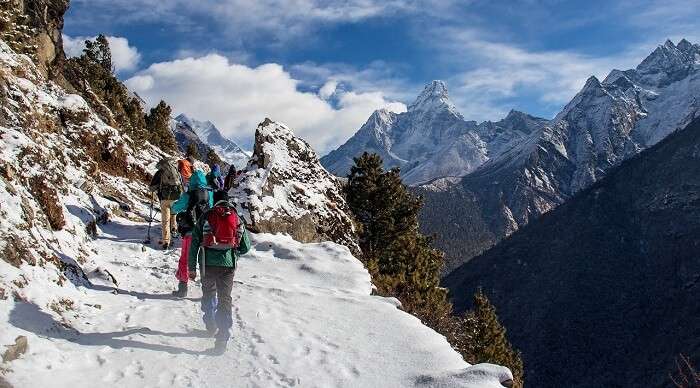 Image Source
The Three Passes trek is great for experiencing the higher altitudes of Himalayan range along with difficult trails of teahouse treks. In order to immerse into immense joys which these place hold for all souls who want to escape their mundane life for an awaiting moments of introspection and self-therapy. The variety of emotion is what these sublime views of snow-laden mountains evoke. Take a journey around the entire Everest region. Hiking on the rough terrains of passes of Renjo la (5388 m), Cho La (5380 m) and Kongma La (5535 m) provides stunning views of Mount Everest. This trek covers most of the prominent places of Everest region.
Duration

: 21 days

Difficulty level

: Moderate to difficult

Max. elevation

: 4700 m
Suggested Read: Nepal Nightlife: 10 Hotspots That Are Perfect For Your Evening Escapades
18. Gosaikunda Pass Trek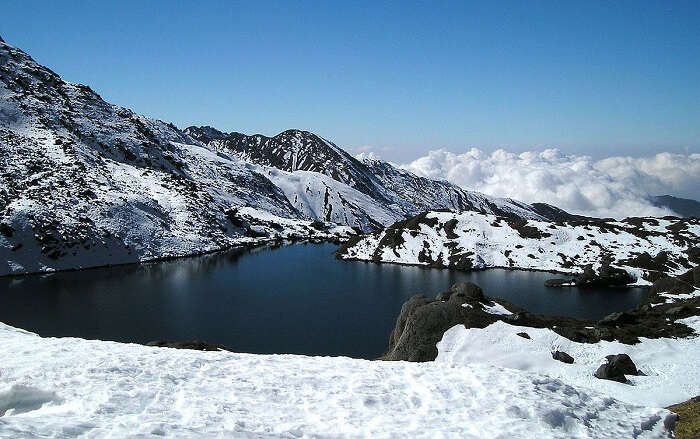 Image Source
Gosaikunda Pass Trek offers views of serene lakes and vivid rock mountains. It's an easy to moderate level difficult trek but the Suryakunda pass which is located at the height of 4,630m/15,140 ft provides you through beautiful scenic views. Local folks have maintained wonderful lodges to stay and enjoy the beauty of surrounding mountains. From lush green fields to thick forests and holy lakes, this trek offers you a package of variety of flora and fauna. You can also witness Tibetan Buddhist culture in this part of the region. The village folks are very welcoming towards the hikers and campers. Take your backpack and get ready to experience the majestic creation of nature in its pristine form.
Duration

: 12 days

Difficulty level

: Moderate

Max. elevation

: 4610 m 

Required permits

: TIMS Card and Langtang National Park Entry Permit
19. Dhampus Trek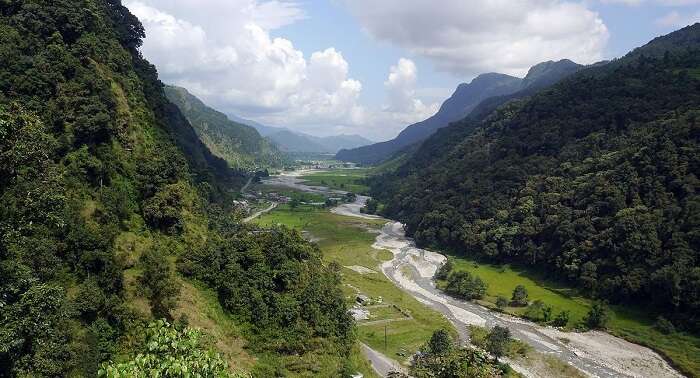 Image Source
The trek to Dhampus takes you through scenic beauty of Machhapuchhare and Annapurna range. It's an easy yet pleasant trek to a height of 800 meters, which makes it quite popular for tourism. You can also visit this place with your family and dear ones. It takes you through green countryside to terrace farms and lush forest. This region is closer to Annapurna conservation area where you can see rare species of animals and eye soothing flora of the region. Besides, it provides you panoramic view of the great Himalayas. Come to this edenic setup and get closer to the gateway to the giant Himalayas. It is one of the best trails for trekking in Nepal for beginners.
Duration

: 3 days

Difficulty level

: Easy

Max. elevation

: 1780 m

Required permits

: No permits needed till Dhampus Trek
20. Arun Valley Trek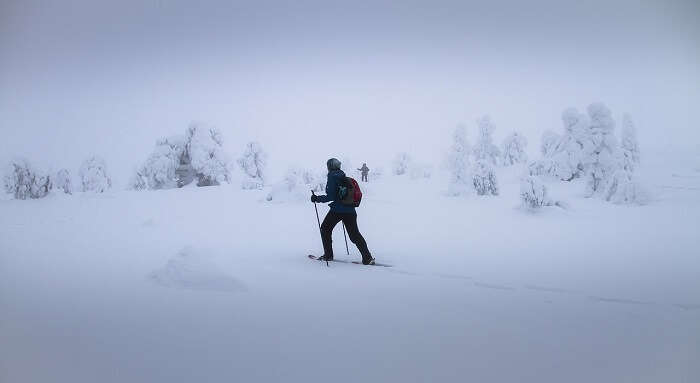 Taking through deep forests and remote villages, this trek offers solace in nature's lap along with glimpses of preserved cultural artifacts and knowledge. This trek is worth experiencing for those who go beyond their own aspirations and do not compromise when encounter challenges. Salpa Pokhari pond holds special attraction for tourists as it is widely popular as a pilgrimage which makes it a perfect place of peaceful hiking as well as ancient cultural affairs. Don't hold back your wish to reconnect with nature. Take such challenges and rediscover yourself to change for better.
Duration

: 15 days

Difficulty level

: Moderate to difficult

Max. elevation

: 3414 m
Suggested Read: Canyoning In Nepal: Get That Adrenaline Rush Experiencing This Enthralling Activity!
Tips For A First Time Trekker In Nepal
Start off easy. Take a shorter trek in the lower altitude regions before taking a difficult higher altitude trek.
If you're trekking in an offbeat region, make sure you hire a guide or book through a trek organizer.
Always, always listen to your body, no matter how fit you are. Trekking for days can be exhausting, so if your body asks for rest, give it that.
We suggest not to buy those sleeping bags, mattresses, and fat jackets you will never use again. You can get all trekking equipment and necessary items on rent.
Try to pack your back light.
Bring your extra passport size photos and keep your identity proof with yourself.
How To Prepare For Trekking In Nepal?
Start working out 2-3 months before starting your trek.
A trek in Nepal can be really challenging, so prepare mentally.
Research and learn about Nepal's culture and its people.
Get the right medicines for your trek.
Prepare yourself for altitude sickness.
Further Read: 10 Offbeat Trekking Spots In The Himalayas
The above given trails for trekking in Nepal can be a life-changing experience for you. The call is yours! Plan a trip to Nepal now for the most exuberant treks of your life! It is time to call your trek buddies and check off one of these trails. 
Disclaimer: TravelTriangle claims no credit for images featured on our blog site unless otherwise noted. All visual content is copyrighted to its respectful owners. We try to link back to original sources whenever possible. If you own the rights to any of the images, and do not wish them to appear on TravelTriangle, please contact us and they will be promptly removed. We believe in providing proper attribution to the original author, artist or photographer.
Please Note: Any information published by TravelTriangle in any form of content is not intended to be a substitute for any kind of medical advice, and one must not take any action before consulting a professional medical expert of their own choice.
Frequently Asked Questions About Trekking In Nepal
What is the cost of trekking in Nepal?
An average trekking guide might cost around $30 while the higher-end guides with special language skills can cost approximately $50. In addition to that the porter's charge atleast $15 to $18 per day.
How hard is trekking in Nepal?
The treks on Nepal range from moderate to difficult which is up to 4,500 m. Not all the treks around this range are difficult and the majorly the treks are classified as Moderate like the Annapurna Circuit.
Is it safe to go for trekking in Nepal?
The popular trekking routes of Nepal are equipped with all the amenities and is quite safer as compared to the other off-beat paths. For the people who are taking the trekking for the first time, it is recommended to take a professional guide to avoid any mishap.
Which is the best trek in Nepal?
The best and mesmerizing treks in Nepal are the Everest Base Camp trek, Annapurna Circuit Trek, Chisapani, Ghandruk trek, Langtang Valley trek and the Manaslu Circuit trek.
What are the essential requirements for trekking in Nepal?
For the people going for trekking in Nepal must pack things like hiking boots, camp shoes, wool socks, Lightweight trekking pants, trekking shorts and also T.shirts.
How long is the Manaslu trek?
The Manaslu trek is approximately 17 days trek where the actual distance covered in a day is somewhere around 15-20 kms. In this trek, a person is not required to walk continuously for a long time.
How long is the Langtang trek?
The Langtang trek is comparatively an easier one than other treks and alongside it is also far less busy. The duration of the trek is around 7 days and it takes approximately 10-12 days to complete that.
---
Looking To Book A Holiday Package?
---
People Also Read: