A lot of sunshine and a never-ending sleek stretch of sand is what make the desert of Jaisalmer an ideal allure for travel enthusiasts. And what better way to enjoy the beauty than a desert safari in Jaisalmer – the golden city. From strolling the sand dunes to enjoying the sight of traditionally adorned camels, there are many things to do in Jaisalmer that make it is an ideal place to be included in a trip to Rajasthan.
Vibrant nights make the heart and soul of the desert safari camp in Jaisalmer. Wherein you throb to the tune of local music and bask in the glory of the moments. These nights are epitomized by folk dance, traditional music, and the grand Rajasthani Thali – that's how the safari lures you!
Two Types of Safaris in Jaisalmer
Do you wish to explore safaris on your vacation and want to experience an amazing ride on a camel or a Jeep? Here is the list of Safaris you may consider on your next trip.
1. Camel Safari: Enjoy your ride on the ship of the desert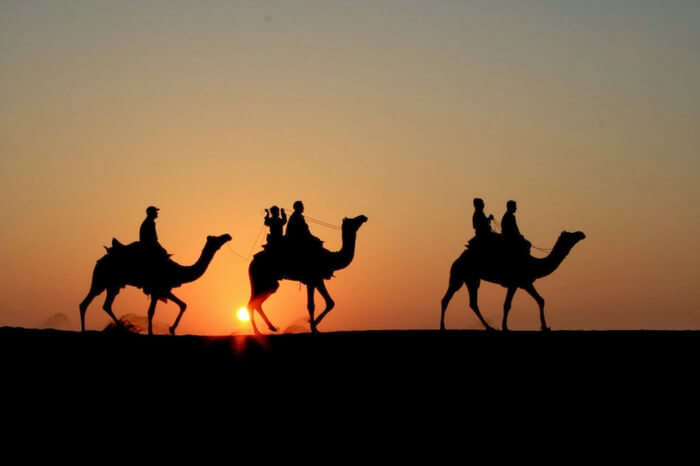 Comprising all major attractions in the desert, the camel safari in Jaisalmer is the most sought after activity as you plan for a desert safari in the dunes of the 'golden city'. Sit on the back of a camel holding on to its hump as it takes you on a bumpy ride across the Thar.
The ride takes you to the remote areas of the desert and presents you with the best flora and fauna. Also, you come across various settlements where the indigenous residents of the place live. Explore the wide riches of the desert and enjoy the picturesque sunset, which makes it certain that camel safari is the best desert safari in Jaisalmer.
If you are a quickie, embark on a short camel safari in Jaisalmer and explore the beautiful dunes of Sam Desert. Soon after the ride, be prepared to behold one of the most beautiful sunsets behind the dunes. Head to the camp in the evening, and get a grand traditional welcome with aarti-tika and dhols. Enjoy the welcome drink along with the Rajasthani folk dance and music at your preferred desert safari camp in Jaisalmer.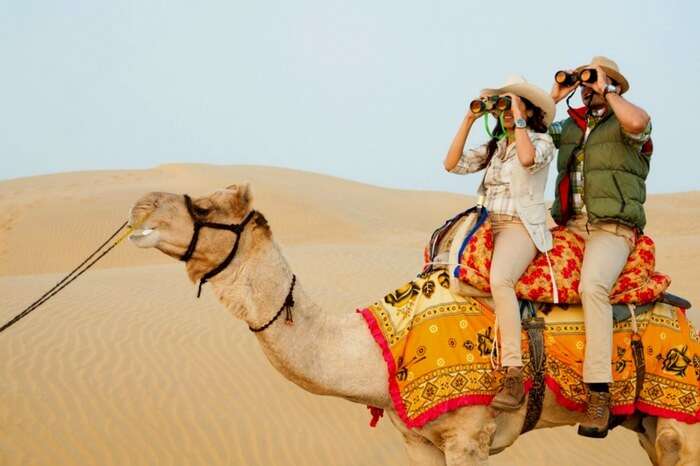 Attractions of the camel safari in Jaisalmer: Catch the gorgeous view of the sunrise, Kuldhara- an abandoned village, the desert wildlife, oasis, and magical sunset
Time taken: A complete full-day ride takes around 5-6 hours, which is usually spread across two sessions of camel safari, one in the morning and the other one in the evening. The afternoon burns like a furnace, therefore, people often take rest during the afternoon by the oasis. 
Charges for sunset camel safari: INR 1500 per person onwards (dinner included)
Charges for overnight camel safari: INR 1850 per person onwards
Best time for desert safari in Jaisalmer: November to March
Jaisalmer desert safari timings: 5:00 am to 10:00 pm
20 Things To Do In Rajasthan That Make It The Ultimate Vacation Destination In 2022!
2. Jeep Safari: A ride along the gusty wind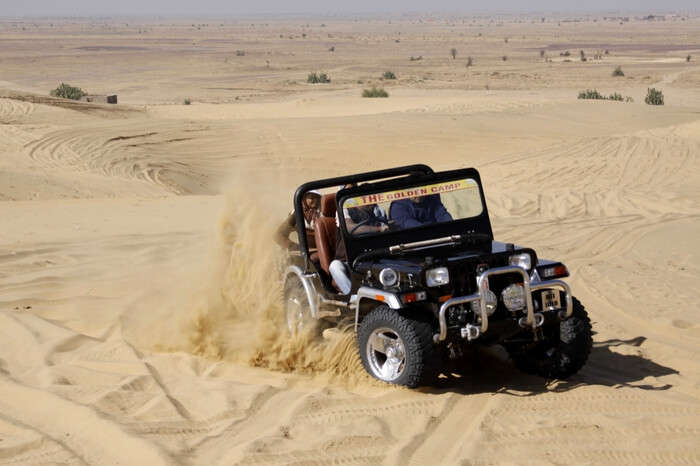 The most popular activity after camel safari in Jaisalmer, jeep safari takes you across the unexplored beauty of the Thar Desert with much ease and comfort. Jeeps, as compared to camels are swift and make for a fun ride along the glittering sand dunes. The fact that jeep safari is the most popular activity among most of the tourists headed for a desert safari camp in Jaisalmer, speaks a lot about it.
Usually, the jeeps used for the safari are 4×4, with an open top. Mostly it begins with a visit to the Fossil Park or Desert National Park followed by a pit stop at Sam Sand Dunes (given in detail below) and finally taking the visitors to Padholi Sanctuary while covering the best that the desert has to offer.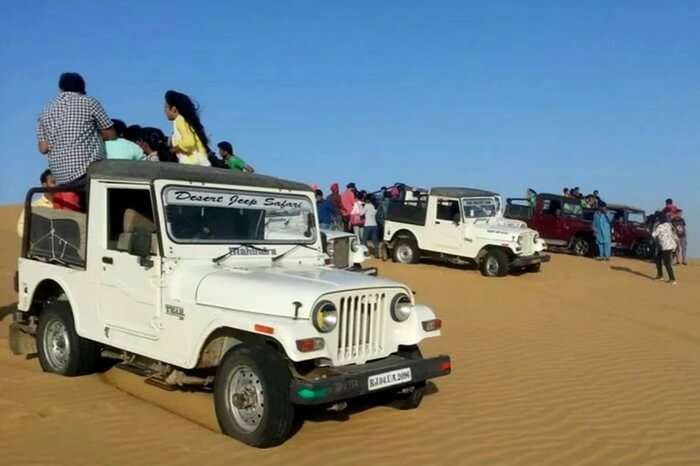 Attractions of jeep safari in Jaisalmer: Fossil Park or Desert National Park, Sam Sand Dunes, Padholi Sanctuary, spend a night in one of the households of Padholi village. They are still untouched by outside influence.
Time taken:
To catch sunrise: 5-6 am
To catch sunset: 6-7 pm
Charges for a jeep safari in Jaisalmer: INR 1200 per person onwards
Tips for desert safari in Jaisalmer
Carry a hat, cap or turban along with sunscreen and sunglasses
Cover yourself up properly with a long-sleeve shirt, long trousers, sneakers or boots
Remember, the sun turns hostile in desert region
Keep your camera's battery fully-charged, you will find plenty of amazing shots to capture
Don't forget to keep a torch, towel, toilet paper, and medical kit with you
During the winter season, must carry warm clothes for the night hours
Though the Thar desert has plenty of tourist attractions, there are a few that stand out and make your trip to Jaisalmer even more exciting!
68 Places To Visit In Rajasthan: Get A Glimpse Of Rajputana Splendor In 2022!
Key Attractions of Desert Safari in Jaisalmer
While exploring the desert safari you must visit the key attractions in Jaisalmer. There are a lot of exciting activities you can indulge yourself in. Moreover, with the Jaisalmer desert safari package, you can make the best of your trip. So, check out the following things to do while on a desert safari.
Go Dune & Quad biking bashing at Sam Sand Dunes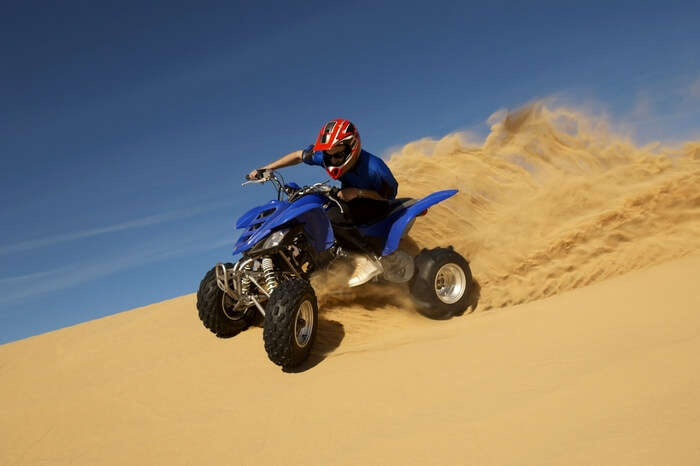 Once you are out in the desert for a safari, Sam Sand Dunes in Jaisalmer can't be missed. It is a desert area towards the edge of Jaisalmer Desert National Park and is a popular tourist destination in Rajasthan. The dunes, located at a distance of 42-45 km from the city, boast of a well-maintained, non-bumpy road that is maintained by the Indian Army.
Akin to the great Sahara Desert, the dunes are at their best during sunrise (4-6 am) and sunset hours (4-7 pm). Going for the jeep safari or camel safari is highly recommended as the stunning beauty of nature would mesmerize you and provide you with escapades perfect for photography. Also, Sam Sand Dunes boast some of the best desert camps in Jaisalmer.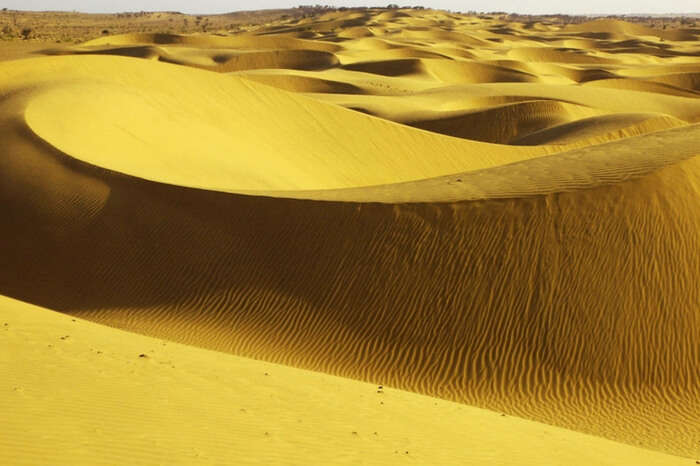 Quad biking and dune bashing are the best things to do at Sam Sand Dunes and are important attractions of desert safari in Jaisalmer. The desert areas near Jaisalmer make an ideal location for dune bashing and off-roading. They are frequented by thousands of adventure freaks who yearn for an adrenaline rush and make their moments of the Jaisalmer trip worthwhile. If you are looking for some amazing biking experience on the dunes, then this is it. Ride the quad bikes and feel like a superhero on a mission.
38 Marvelous Places To Visit In Jaisalmer In 2022
2. Enjoy a Folk Extravaganza at the Musical Evening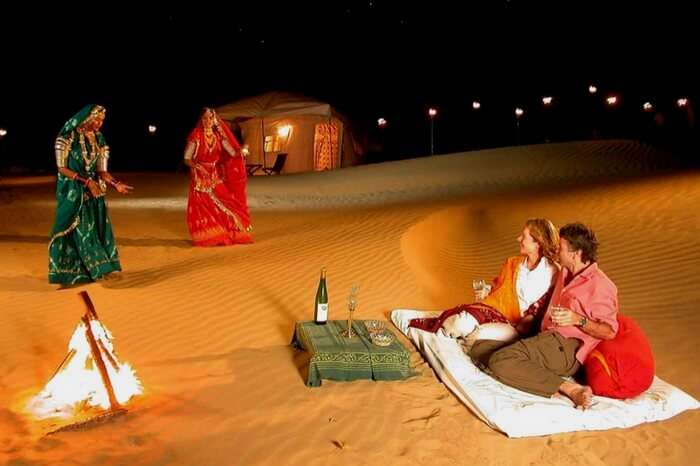 Musical evenings are the heart and soul of desert camps in Jaisalmer. After you have spent an engrossing day fighting dust and sand across the Thar, it's time to rejoice yourself with some refreshing dance moves and folk music in a relaxed environment. Rajasthan has a history of soulful and enlivening music, which makes you tap your feet to its tune.
The night further intensifies with the passage of time and it marks the arrival of Rajasthani Mujra where dancers win it all with their sharp dance steps. The events are lined up in tandem so that the proceedings hold the spectators glued to their seats. The proceedings at the desert safari camp in Jaisalmer are summed up with a lavish dinner in traditional Rajasthani style. Arabian night dances are also considered one of the major allures of Jaisalmer musical nights, brace yourself as you plan a Jaisalmer And Jodhpur Rajasthan Package.
Don't miss to capture the crystal clear view of the night sky, during the midnight hours. It presents a sight worth beholding.
---
Planning your holiday in Rajasthan but confused about what to do? These Rajasthan travel stories help you find your best trip ever!
---
Desert Camps for a Tranquilizing Retreat
Desert safari in Jaisalmer comprises lots of attractions and activities that keep you engrossed. A good stay compliments all the amazing experiences encashed by the tourists.
Desert camps in Jaisalmer are a craze and provide sophisticated facilities during your stay in the desert. Among all the super-luxury hideouts, luxury Swiss tent stays are highly recommended and the most sought-after stays in the desert.
Here are the top 5 desert camps that epitomize the desert safari camp in Jaisalmer:
1. The Serai: An oasis exuding luxury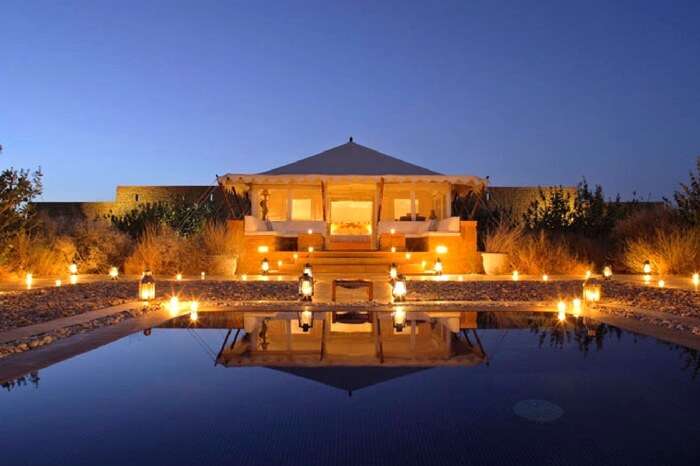 Attractions: Twitchers trail, bush cooking, jacuzzi jets, temple trial, and Kuldhara excursion
Tariff: Starts at INR 40,000 per night
Places To Visit On A 2 Day Trip To Jaisalmer With Friends
2. Damodara Desert Camp: Rustic luxury in the Thar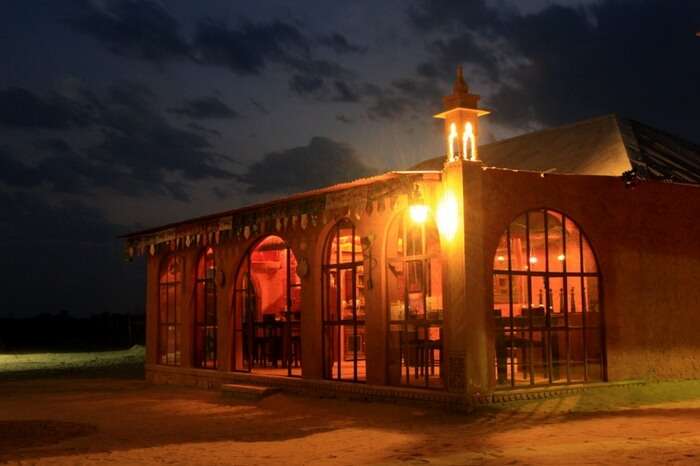 Attractions: Lounge area, board games and cards, sandboards, and stargazing
Tariff: Starts at INR 10,500 per night
3. Winds Desert Camps: Bringing desert life to your disposal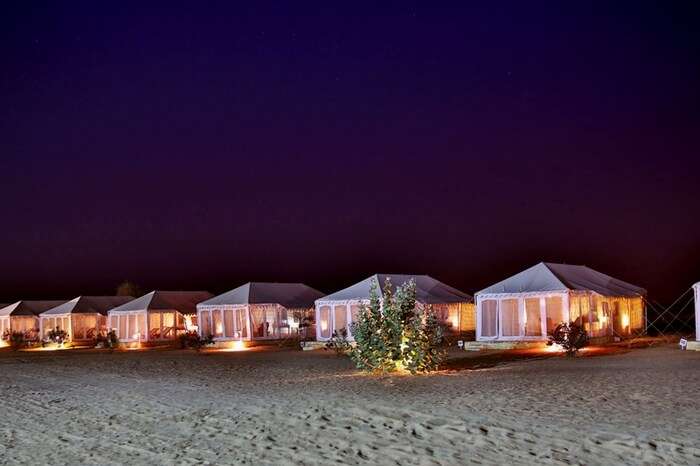 Attractions: Luxury tent with sit out verandah, camel safari
Tariff: Starts at INR 7500 per night
20 Historical Places In Rajasthan That Will Take You Back To The Glorious Past
4. Royal Desert Camp Jaisalmer: Camping done the regal way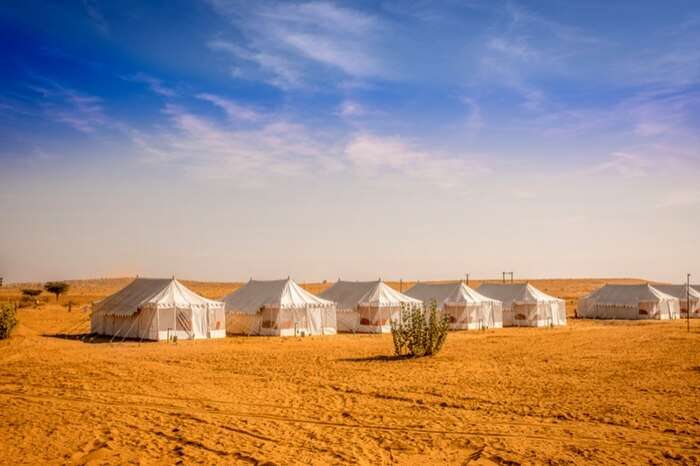 Attractions: The largest variety of Rajasthani cuisine under one roof, Mewar style furniture, modern amenities, a desert safari on jeep and camel twice a day, and pick & drop facilities from the nearest airport
Tariff: Starts at INR 7500 per night
5. Desert Safari Camp: Soak in the abundance of magnificence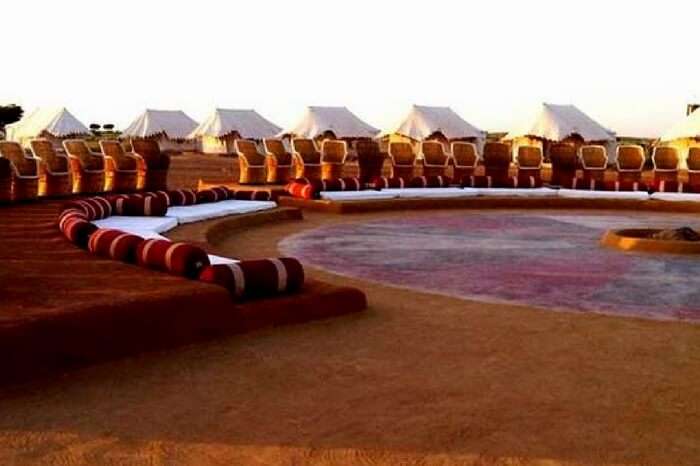 Attractions: Dinner on dunes, parasailing (at extra cost), tented accommodation, and camel ride for sunset
Tariff: Starts at INR 7500 per night
Pulling The Royal Out Of A Random Weekend: Trip To Jaisalmer
How to Reach Jaisalmer
By air: Jaisalmer airport is 5 km from the city and is well connected with Delhi, Jaipur, and Jodhpur
By train: Jaisalmer railway station is 2 km from the city
By road: Interstate buses run from Jaipur to Jaisalmer frequently. There are no direct buses from Delhi to Jaisalmer. Delhi to Jaisalmer via Jaipur is close to 800 km.
10 Exclusive Stays In Rajasthan That Will Leave You Spoilt
Come, explore this little kingdom by the Thar, and know why a desert safari in Jaisalmer is a favourite among adventure seekers. Check out the best-rated Jaisalmer trip packages at TravelTriangle and embark on experiences you've never tried before. 
For our editorial codes of conduct and copyright disclaimer please click here. 
Frequently Asked Questions About Desert Safari In Jaisalmer
Is desert safari worth experiencing in Jaisalmer?
Desert safari is a thrilling ride which one must surely experience when in Jaisalmer. It includes an adventure of a full day camel ride crossing sand dunes in the Jaisalmer desert followed by traditional dinner along with cultural performances at the Desert Camps.
What is the best time to visit Jaisalmer?
October to March is an ideal time to visit Jaisalmer. The weather during this time is pleasant to enjoy the colourful sandy terrain. The summers here are extremely dry and hot and therefore should be avoided.
Where should I stay in Jaisalmer?
Some of the famous Jaisalmer resorts are Suryagarh Palace, Desert Tulip Hotel And Resort, Devi Desert Resort and Retreat, Sand Dunes Resort and Sunshine Desert Camp And Resort. These resorts offer world-class facilities to its travellers.
How many days are sufficient for Jaisalmer?
A minimum of 2 days for Jaisalmer is required so that you can explore the heritage beauty of the fort, enjoy the desert camp experience, engage in other fun activities, shopping at local bazaars.
Is Jaisalmer safe for tourists?
Jaisalmer is a very safe city. The security is tight here as compared to other cities in Rajasthan.
Can you fly to Jaisalmer?
Jaisalmer does not have an airport of its own. The nearest airport to Jaisalmer is Jodhpur airport. It is situated at a distance of around 275 kilometres.
What are some of the interesting things to do in Jaisalmer?
There are some spellbinding things to do in Jaisalmer like visiting Jaisalmer Fort, Jaisalmer City tour, shopping at the local bazaar, parasailing at Kanoi, admiring the wildlife at Desert National Park, trying Rajasthani cuisine.
How many airports are there in Rajasthan?
Currently, there are 6 airports in Rajasthan.
---
Looking To Book A Holiday Package?
---
Comments
comments