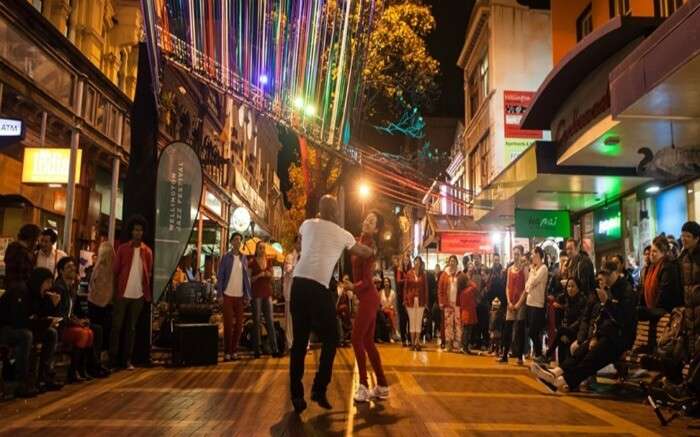 Things are meant to be prettier at night but when it's the nights of New Zealand we're talking about, things get an adventurous makeover! The island nation erupts with joy, music, and adventure with sparkling skyline setting things to perfection. New Zealand nightlife is a wonderful collage of moments spent partying with your buddies in happening discotheques, relishing a dinner at 328 m into the sky, walking a quiet bridge or bungee jumping into the void in Christchurch.
Cities like Auckland, Wellington, and Christchurch have plenty of places that make the city a perfect den for party animals. If you are looking for an ultimate thrill, slip into the darkness of Waitomo Glowworm Caves or try to embrace the lights along firework, the night in New Zealand only gets better as the night progresses.
Get the real taste of New Zealand nightlife, for these 10 heavenly experiences that nocturnal peeps live for!
The best of New Zealand nightlife in Auckland
The night in New Zealand is remarkable because it's happening and completely lit. There are party places that make you savor the night and everyone must live it!
i) Experience the best of pubs, bars & nightclubs in Auckland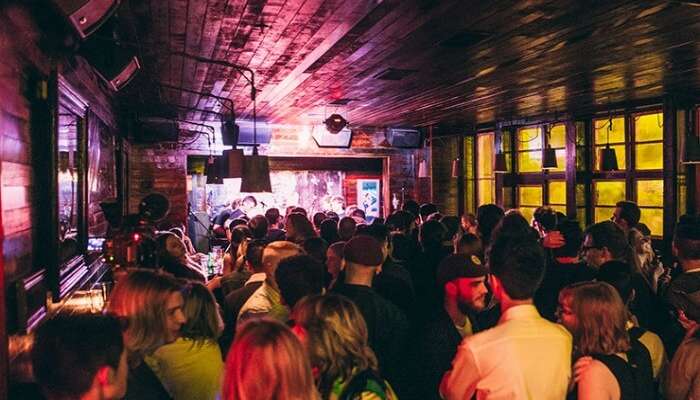 Party's written all over the night as you go out to explore the popular places in New Zealand. Britomart precinct is one of the most thronged places with happening cafes, bars, and restaurants. Chill out with your friends at Britomart Country Club or head to Mexico and Ortolana for these places have live music and wonderful decor. 1885 is the place to dance till you drop.
Ponsonby Road is another upscale area popular for throbbing pubs, bars, eateries, and Auckland nightclubs. Locals call it Auckland's happiest strip for a reason. Treat yourself to some live music at Grand Central, and The Crib. Ponsonby Central is known for bars, coffee spots, and fancy restaurants. From early evening unto the wee hours, these Auckland bars and nightclubs keep you on your toes all the time.
K' Road, Kingsland, and Parnell are other places in Auckland where night just doesn't cease to throb. Bars, clubs, music, and picturesque setting offers you too much to handle.
Must Read: 10 New Zealand Restaurants To Taste The Country's Culinary Masterpieces In 2022
ii) Dance the night away into the early hours on a superyacht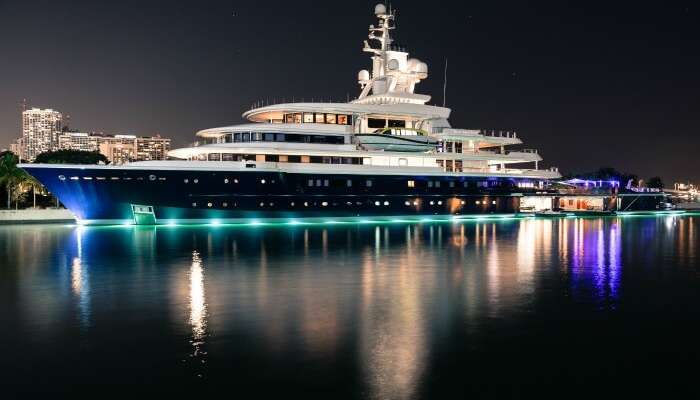 Superyacht ride is the perfect recipe for your night out in Auckland. A ride on the yacht means you would be venturing around the waters and soaking in the best of glittering nature around. To make things more interesting there are Bikini Boats with bikini-clad girls at your service getting you drinks and some exceptional hospitality.
For more details visit the website.
Suggested Read: 20 Best Beaches In New Zealand For A Lazy Romantic Holiday
iii) Walk across the Te Wero Bridge at Viaduct Harbour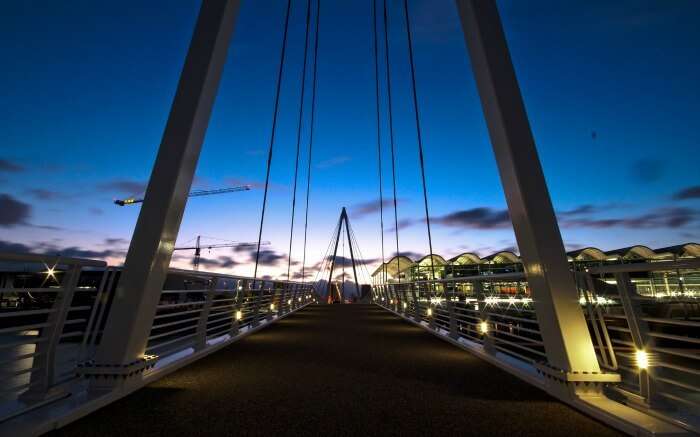 A romantic walk across the Te Wero Bridge at the Viaduct Harbor offers an exceptional view of the surroundings. The place has plenty of restaurants and bars along the waterfront to hang out with super luxury yachts making the backdrop. Host to several world-class events, the Viaduct Harbour area has too much to offer to contain the nocturnal in you.
Suggested Read: New Zealand In Pictures: Capturing The Breathtaking Beauty Of Kiwiland
iv) Dine, play and embrace the night at Skytower in Auckland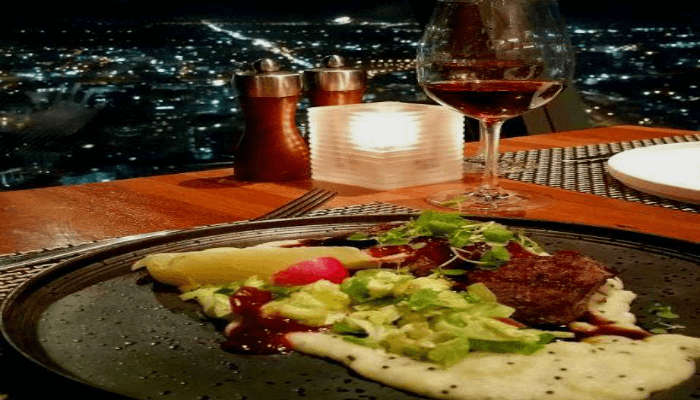 Dining with a view! The 360-degree dining at the Orbit in Skytower could be the most fascinating thing ever. Standing 328 m above the ground, the Skytower is one of the most striking things in Auckland and is indeed a huge tourist attraction. With more adrenaline pumping activities and gaming to follow, the Skytower in Sky City is Auckland's best. And your nightlife in New Zealand couldn't have been better!
Timings
Summer: Sunday – Thursday: 8.30am – 10.30pm, Friday – Saturday: 8.30am – 11.30pm
Winter: Monday – Sunday: 9am – 10pm
Suggested Read: 24 Famous New Zealand Tourist Attractions That One Should Visit In 2022
The best of New Zealand nightlife in Wellington
v) Catch a street performance or a live show at Wellington Night Market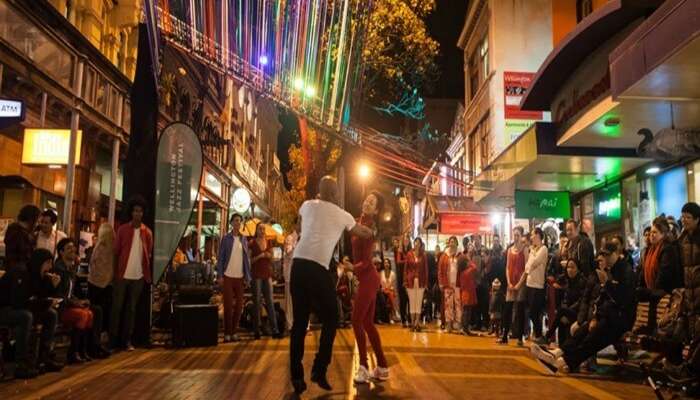 Celebrate New Zealand's cuisine and culture at its best on the Cuba Street. Locals gather here on Fridays and Saturdays to celebrate brotherhood, bonhomie, food, flavor and make the night a memorable one. Street shows, live performances, international food, and lots of glamours can be spotted late into the night in the world's coolest capital. Nothing's better than this community building practice that brings the whole Wellington together.
116 Cuba Street, Wellington is the place to be on Friday & Corner of Cuba and Manners Street, Wellington is the place to go on Saturday.
Timings: 5 pm – 11 pm
Visit the website for more details!
Suggested Read: New Year Parties In New Zealand 2022: Explore The Nightlife Of The Country!
vi) Watch a mesmerizing performance at The Opera House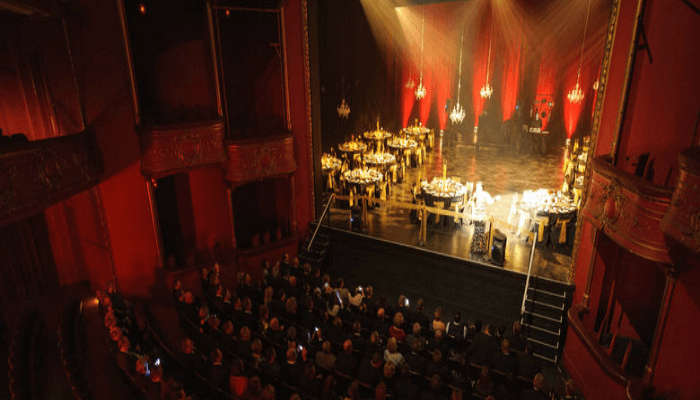 Address: 111/113 Manners St, Wellington, New Zealand
From elegant performances to exciting shows, and from launch event to elegant weddings, The Opera House has plenty of excitement planned for you almost every night. Located in the heart of the capital city the households the pride of Wellington with its exceptional performances and equally elegant surroundings.
Tickets can be bought from the ticket counter at The Opera House. This could be one engrossing night you've been looking forward to.
Suggested Read: 10 Interesting Places To Visit In Nelson When You Are Exploring This Lively City Of Artists
vii) Eat, drink, and celebrate, the capital city is known for the best nightlife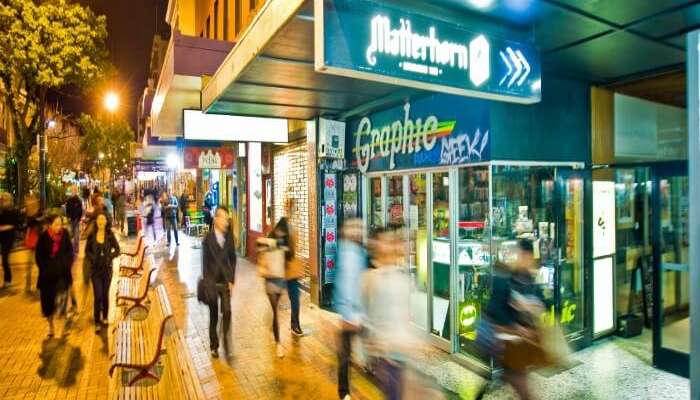 The capital city has the best of happening streets with lovely people and plenty of places to chill out. Bohemian Cuba Street is indeed the coolest place in Wellington. With plenty of clubs, bars, and eateries around there's nothing more you'd want.
Some of the popular bars in the Cuba Street area are Malthouse, Courtenay Arms, and Mishmosh. While popular clubs are The Establishment, RedSquare, S&M's, and Mishmosh. If you are into live music The Rogue & Vagabond, The Library, and Meow are the places to be.
viii) Catch some action at Frank Kitts Park where fire dancers' go fire spinning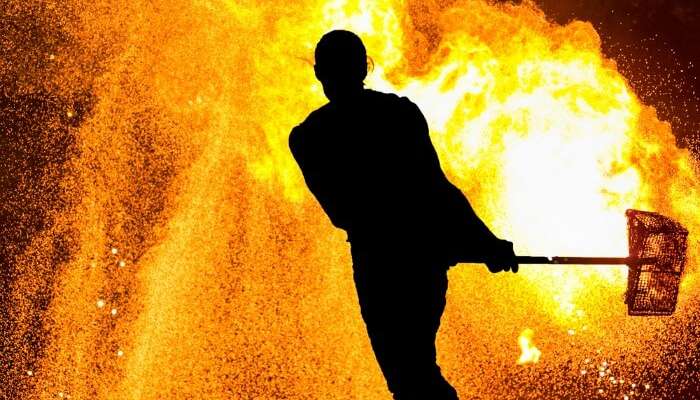 Tuesday nights are popularly known as Fire Nights in Frank Kitts Park in Wellington. The show that takes place mostly during summers is a major highlight of New Zealand nightlife. One of the most beloved places in Wellington, the park has several small spaces for different performances. People of Wellington love music and dance and this is one place to catch the best of nightlife in New Zealand.
Suggested Read: Casinos In New Zealand: 5 Best Places For A Fascinating Outing In This Scenic Land
The best of New Zealand nightlife in Christchurch
ix) Enjoy more music, magic, and comedy at the Darkroom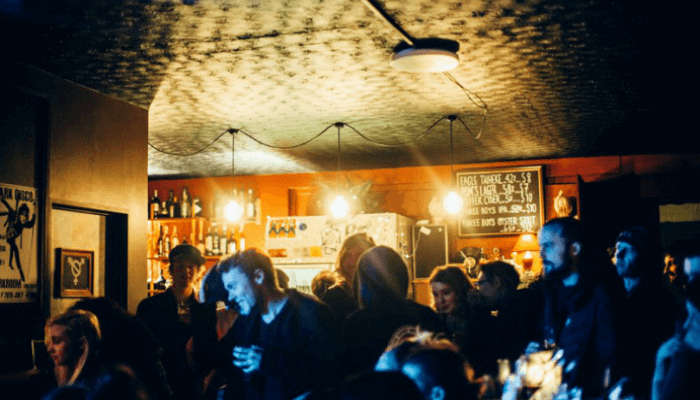 Darkroom is one happening place to go to savor the best of nightlife in New Zealand. Located on St. Asaph Street, the bar boasts of the seekers who go there searching for Jazz, live music, and Indie. A visit here on the first Monday of the month means you get to enjoy the magic night with hypnotists, magicians, and comedians around.
Entry is free on rest of the days but the magic nights are chargeable at NZ$10.
Suggested Read: New Zealand In Winter: Know How To End 2022 On A Perfect Note With This Guide!
The best of New Zealand nightlife in Queenstown
x) Go bungee jumping at night in Queenstown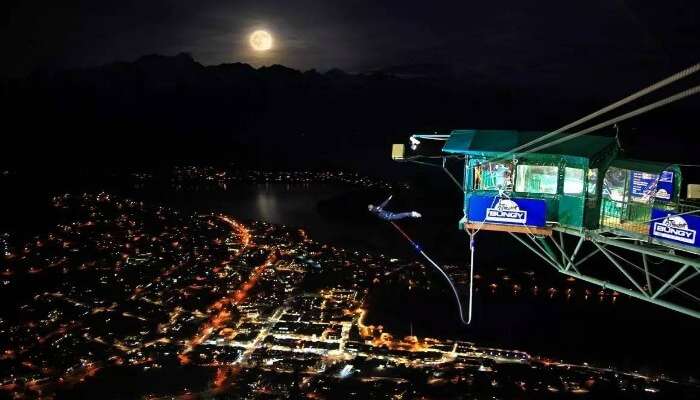 Unlike other happening places around the world, New Zealand is not just about throbbing pubs, wild parties, and happening clubs. Nightlife in New Zealand is as thrilling as it can get. Brace yourself for the next level thrill as you jump from a height of 400m while the city light of Queenstown makes the glittering backdrop.
Bungee jumping in New Zealand at night is a privilege you can avail in winters only!
Also, when the sun goes down and floodlights come into play Coronet Peak in Queenstown is the place to go skiing until 9 pm(Friday & Saturday)
Find out more details here.
Further Read: From Budget To Luxury, A Look At 25 Best Hotels In Queenstown New Zealand!
The night is the time to celebrate and rejoice. New Zealand nightlife gives you a taste of the best that the island nation has to offer. Time to book a trip to New Zealand.
---
Looking To Book A Holiday Package?
Book memorable holidays on TravelTriangle with 650+ verified travel agents for 65+ domestic and international destinations.
---