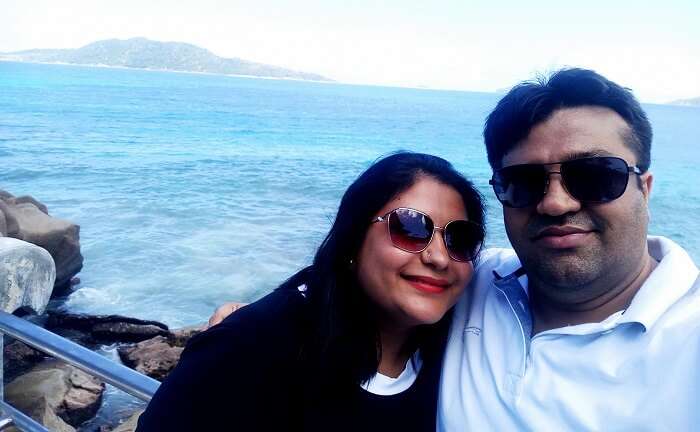 The thought of traveling to Seychelles had imbibed in Pallavi's subconscious mind ever since she saw her friend's scenic pictures on Facebook around February 2017. Though it was her friend's anniversary trip, a luxurious Seychelles vacation was more about reviving their souls and rejuvenating themselves for Pallavi and her husband.
As much as she loves to take a piece of the destination with herself, this time Seychelles took a piece of her heart and here's what she wrote about her wonderful experience which she calls, "Seven Days In Heaven."
It had been 7 years of our marriage and this was our first international trip together. We wanted to go on a total leisure trip which eventually turned out into an adventurous one. Since the chilled weather does not suit me, beaches have always allured me more than mountain destinations. And we felt, what can be a better destination than Seychelles.
Snippet Of Our Luxurious Seychelles Vacation
Trip Type: An utterly luxurious Seychelles vacation
Duration: 7 days and 6 nights
Budget: INR 2,11,999
Agent: Holidays Box
Inclusions: Flights, visa on arrival, accommodation at Oasis Hotel Restaurant & Spa on Praslin Island, Patatran Village on La Digue Island, and Berjaya Beau Vallon Bay Resort on Mahe Island, breakfast, airport transfers, local transfers, ferry transfers, Valle De Mai tour, Anse Lazio tour, full day tour of Full day Marine Park with lunch, GST, and other taxes
Exclusions: Tips, optional tours, additional activities, travel insurance, surcharges, personal expenses, and anything not included in the itinerary
Our Trip Plan: 2 nights on Praslin Island, 1 night on La Digue Island, and 3 nights on Mahe Island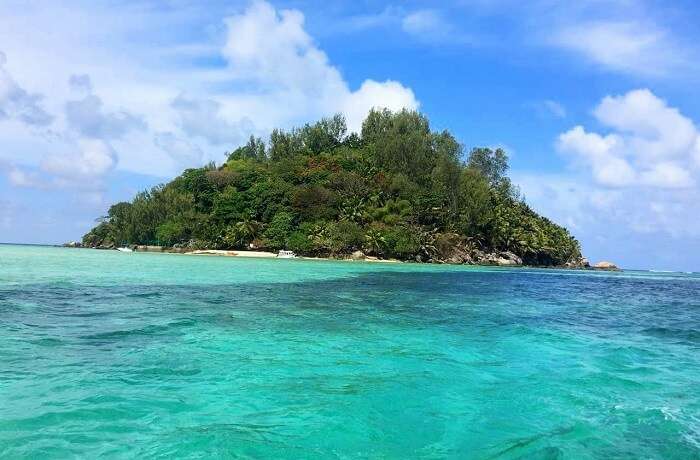 Seychelles Island: All You Need To Know About This Gem Of The Indian Ocean
Since the destination was already decided, we started looking for suitable holiday packages which is when I came across TravelTriangle. I forwarded my request and the response was pretty quick. Out of the three agents proposed I chose Holidays Box and Ms. Richa Gupta was so supportive throughout the trip from planning and changing hotels to informing our delayed arrival at Seychelles. She is a gem of a person and if I were to plan a trip through TravelTriangle again, I would only want it through Holidays Box.
On the day of departure, just when we thought everything was set, we faced a few hiccups as our flight was delayed by 4 hours at Mumbai which is why we missed our connecting flight at Ethiopia. While the officials were giving us an option to take a transit visa and stay at Ethiopia for a day, we managed to talk to the officials and boarded an Emirates flight which took us to Seychelles enroute Dubai. We traveled for a total of 36 hours which was okay with us as we didn't want to miss out on our excursion the following day and suffer a loss of 2 days at the hotel. With a layover of 5 hours, it was quite a detour and we finally managed to step on the stunning Seychelles!
Day 1: Hello Seychelles!
Post a long and tiring flight journey and having reached Seychelles a day later than scheduled, I did not want to waste even a single minute by not doing anything. The first day began with a ride from Mahe to Praslin Island on a super comfortable jetty called Cat Cocos. After reaching hotel, we finished the check-in process and to our luck, the whole day was at leisure as our excursion got postponed to the next day.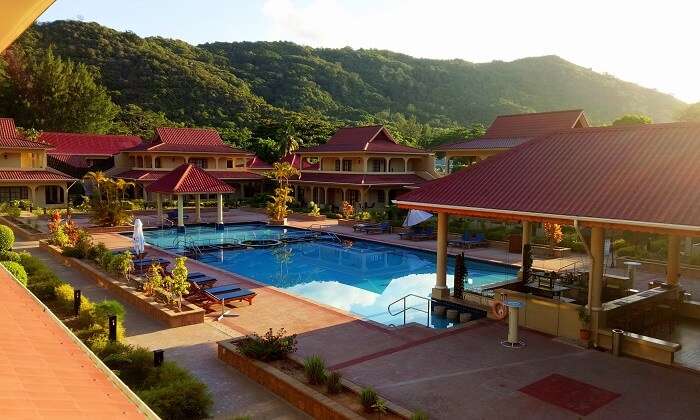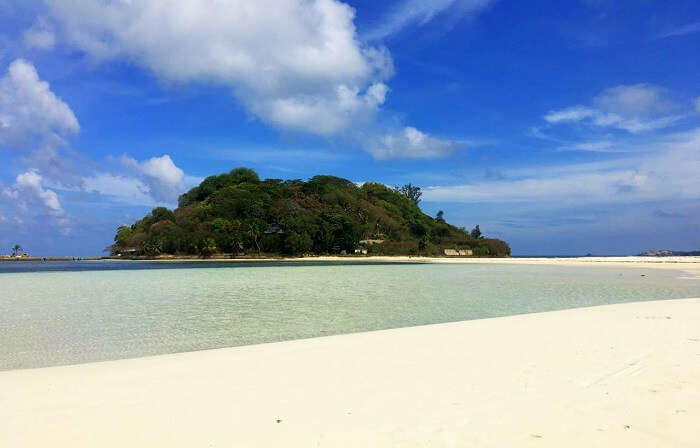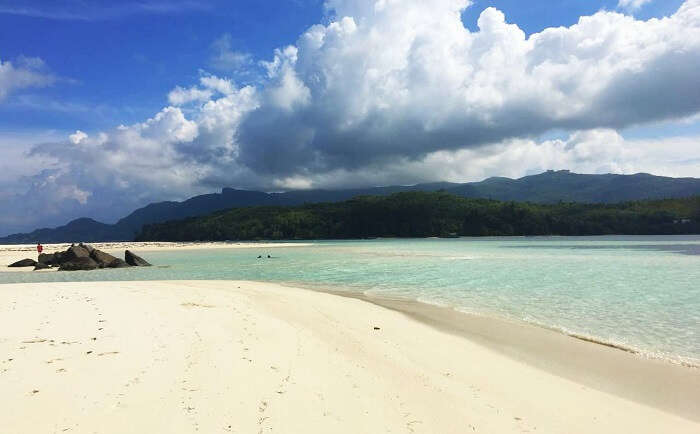 Hence, we decided to enjoy a relaxed lunch near the hotel post which, we left for an Island tour by a local bus via the sea route. It was quite a ride as it was very bumpy and exhilarating at the same time. It was a complete new way of witnessing a beautiful sunset and later in the evening, we returned back to the hotel where we relished a quiet dinner, and retired for the night.
Day 2: Touring The Picturesque Praslin Island
On the second day, we were ready by 9 am for our excursion to Valle De Mai, a UNESCO World Heritage Site which has the tallest palm trees. This place is also the home of the biggest seed in the world, Coco de mer which literally translates into the coconut seed and weighs around 60 to 80 kgs. After a beautiful trek amidst the greens, we shopped at the souvenir shop at Valle De Mai and bought some tiny gifts like key chains, etc.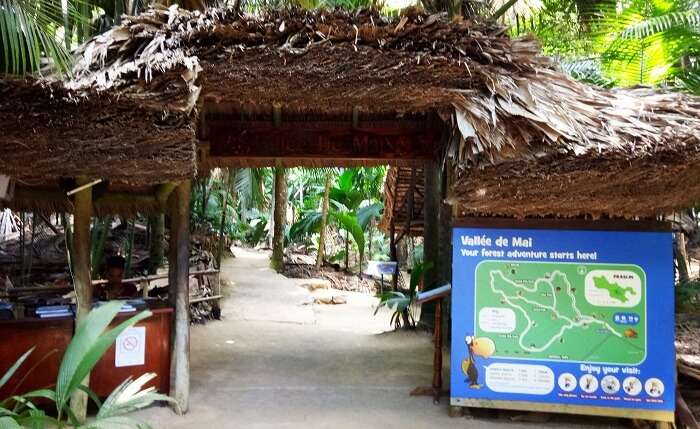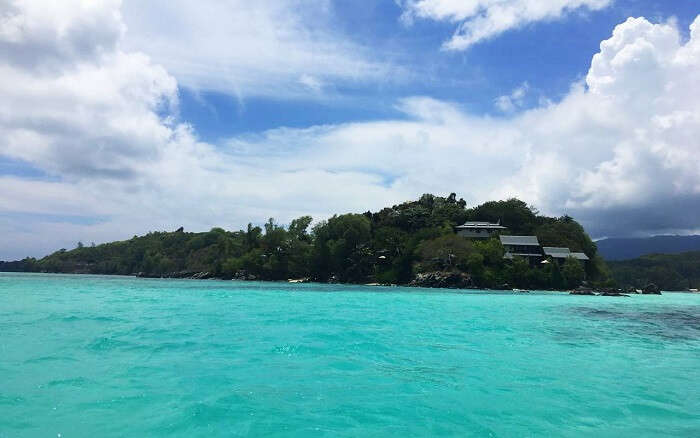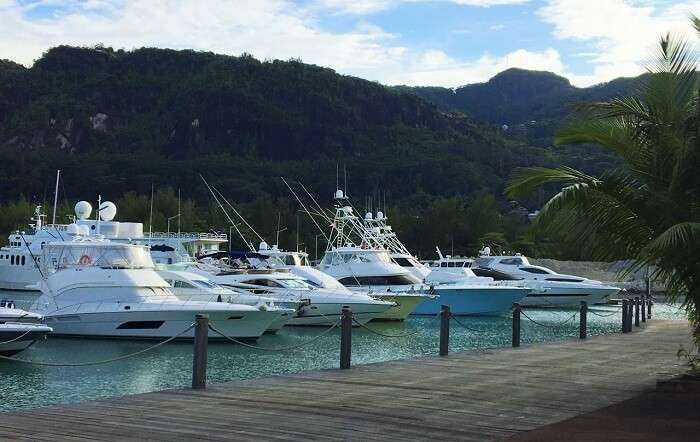 25 Best Things To Do In Seychelles
Post that, we went on to explore the beautiful Anse Lazio Beach which ranks among the top five beaches in the world. Post relaxing on the beach for a while, we relished a scrumptious lunch at the famous Bonbon Plume restaurant and sunbathed for a while before heading towards our next adventure.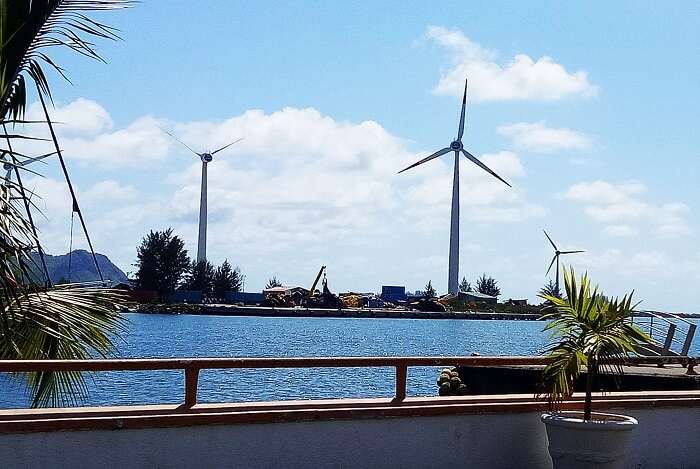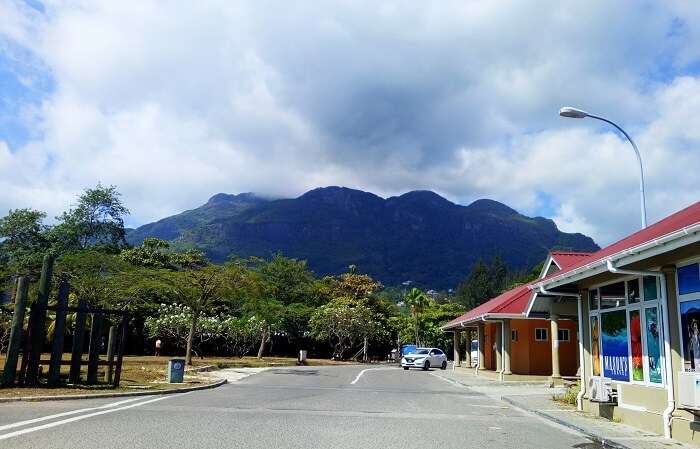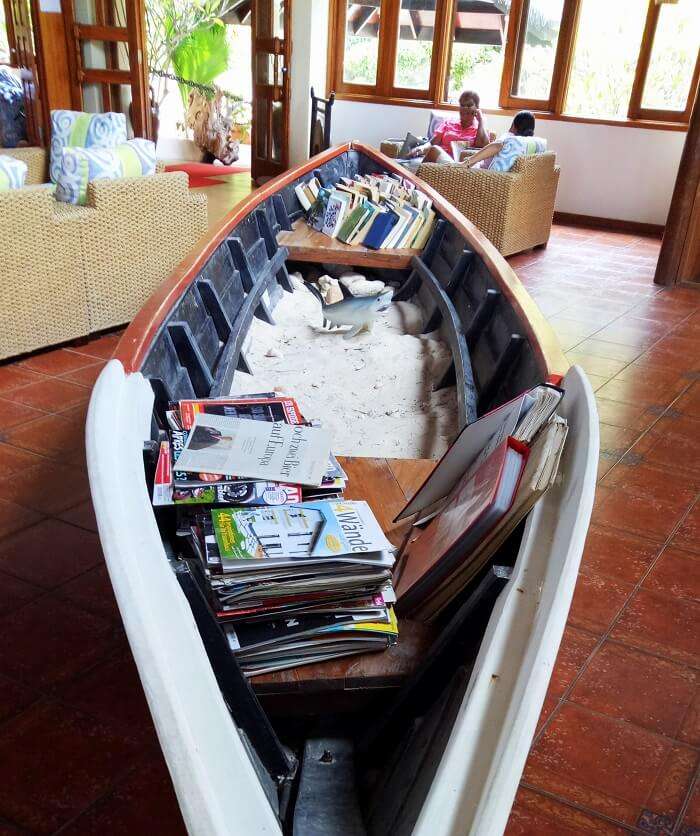 You must explore Takamaka Beach Bar restaurant which is located inside a 5-star property and is a must visit for all. Do reserve a table one day prior to your visit through your hotel staff where you can explore the Anse Georgette Beach which is again one of the best beaches in the world. In the night after a refreshing dip in the pool, we enjoyed a delicious dinner prepared by an Indian chef at the Oasis Hotel Restaurant and Spa wherein we also enjoyed our last overnight stay at the Praslin Island.
Tip: When in Seychelles, please carry towels with you to lie down on the beaches as most beaches don't have deck chairs except a few in Mahe.
Day 3: In Love With La Digue Island
On the third day, we were transferred to our next destination La Digue Island which was located at a distance of 15 minutes via a jetty ride from Praslin Island. If there is a paradise on earth, it is right here and the choice of Patatran Hotel really worked wonders for us. When we reached there, I and my husband were at loss of words for the experience that we had there.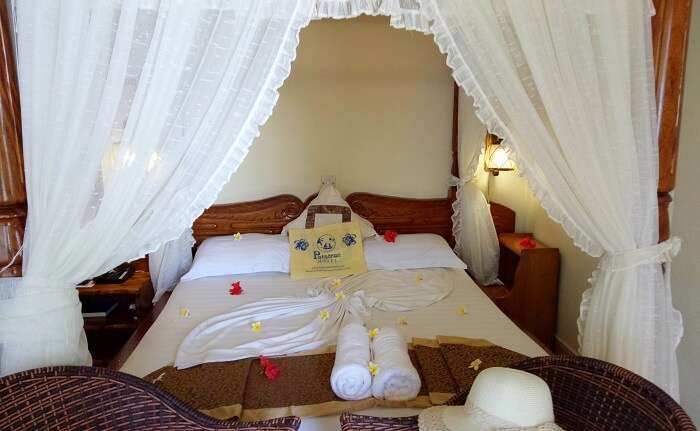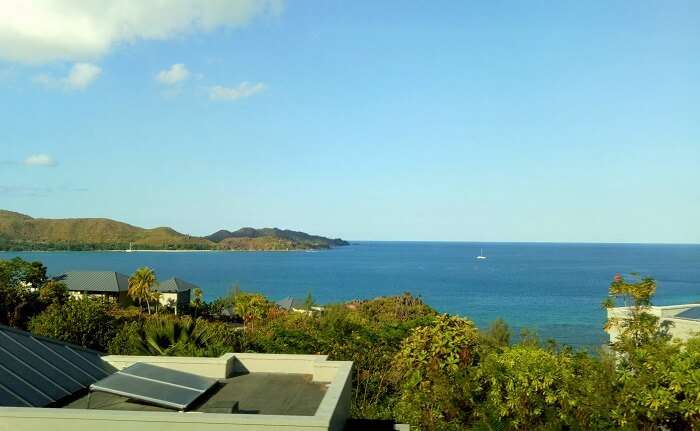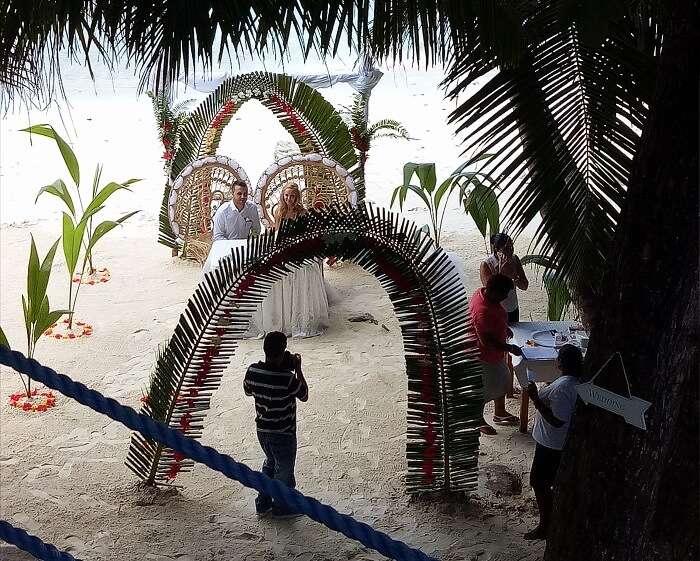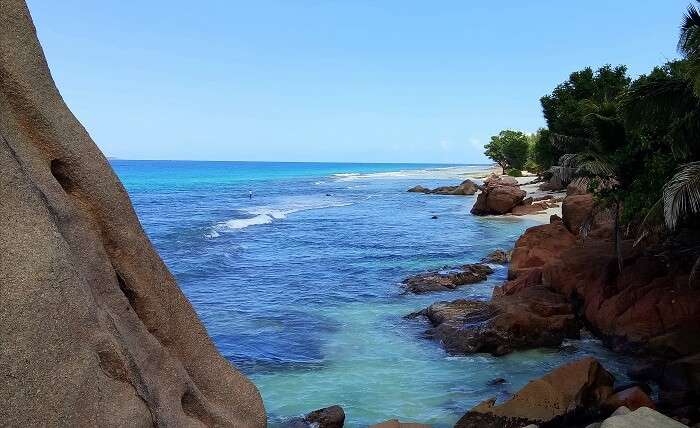 12 Best Beaches In Seychelles For An Euphoric Holiday Experience!
The feeling of standing at the deck of the swimming pool, looking below at the gorgeous waves lashing against the shore, the turquoise sea, and the open sky cannot be described in words. It's a moment that has been etched in my memory and my heart forever. Everything about the hotel right from the location to the room, and from the ambience to the views, were just flawless.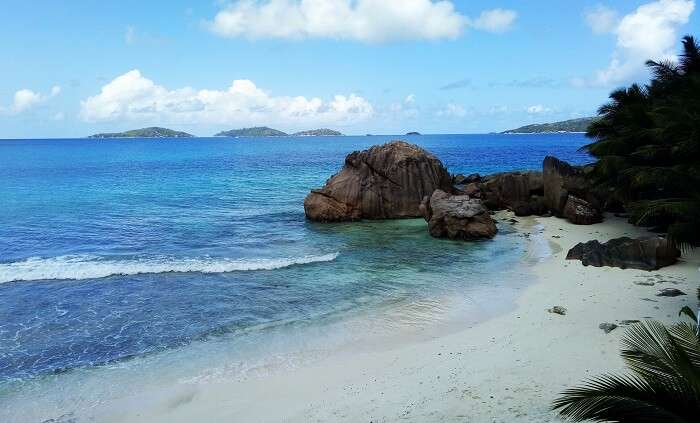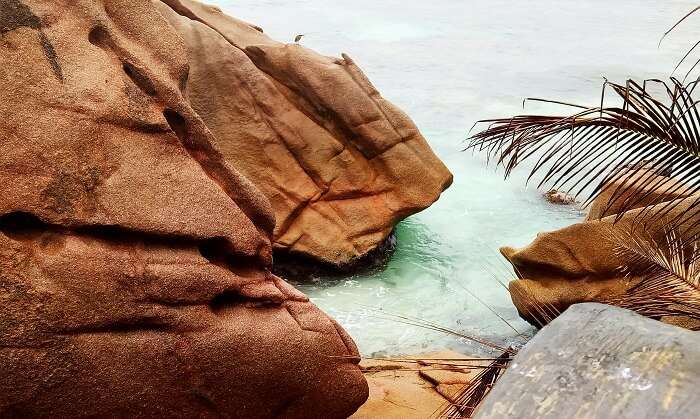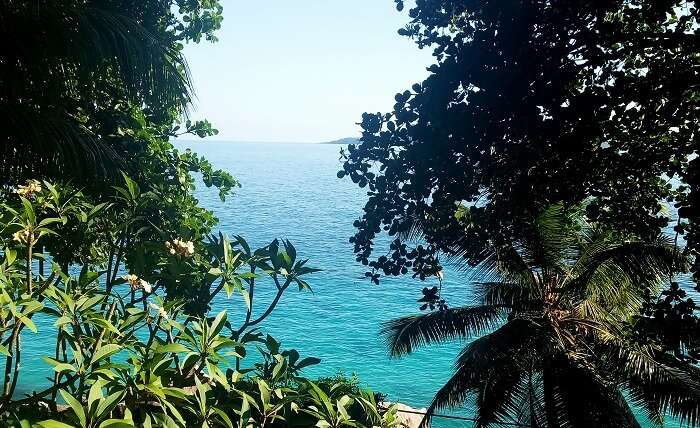 The best part about La Digue Island is that it has very limited mode of transportation from outside. If you are good at cycling then go for the bicycle which can be treacherous as there are plenty of slopes. But for me, I walked which was an equally beautiful option because you walk by the sea absorbing every bit of the goodness of the beach and crystal clear waters. Of all the beaches that are there on La Digue, only a few beaches are recommended for swimming.
Tip: There are cars available which take about INR 150 for a 5-minute ride. Also, there is a hilltop café which needs prior booking as it just has some 10 odd tables.
Day 4: Exploring The Mesmerizing Mahe Island
To add to the beauty of the place, it had rained on the evening I reached La Digue and the showers continued to pour the following morning as well. Although we were stranded in the hotel and couldn't do much, we did enjoy a little walk in the rain. While it poured, we did relax during our leisure time at the hotel on the twin sharing deck chairs within the hotel premises which happens to be the perfect spot to relax, and adore the sea and the weather. After being transferred from La Digue to Praslin Island and having enjoyed a piping hot cup of coffee at the Praslin port, we finally took the jetty to Mahe Island.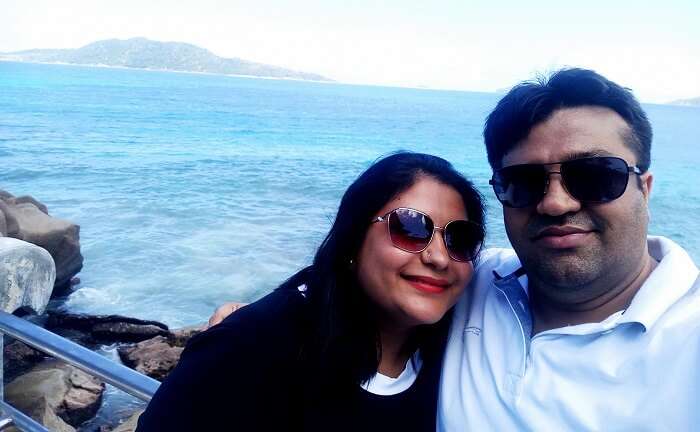 On our way to Mahe via the jetty, I got a chance to sit closer to the jetty's deck window from where I witnessed the most scenic sunset which was to die for. On reaching the island, we checked-in into our last hotel of Berjaya Beau Vallon late in the evening and started exploring the hotel.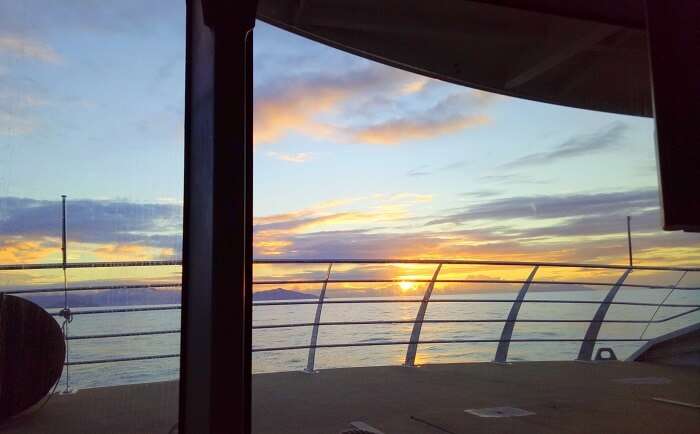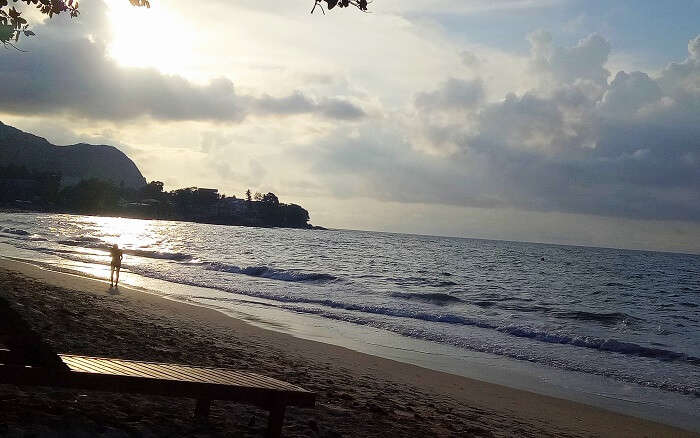 Honeymoon In Seychelles: An Affair To Remember!
The property was fantastic with an easy access to the beach. Enjoy the other amenities at the hotel such as live music every night, local folk dance, relish delicious cuisines at 5 different restaurants, play table games at the casino, and indulge in free non-motorized water sports. Tired from the bumpy jetty ride, we retired for that night post enjoying a delectable Indian power-packed Punjabi meal at the Indian restaurant.
Tip: Here I would like to add that each port except for the ones at La Digue have small cafés which serve you coffee, local beer, and snacks.
Day 5: Sightseeing Around Mahe All By Ourselves!
4 days had passed and on the fifth day, we geared up to enjoy the leisure day to the fullest. And the best way to spend our leisure day was to explore the entire Island till hilltop by renting a small hatchback that cost us about $70 per day and Seychelles Rupees 200 for the fuel. We visited the Hindu temple, the famous Cathedral, and the Victoria market, post which we headed towards the hilltop. Also, the showers of rain made the whole road trip worth the experience and more romantic.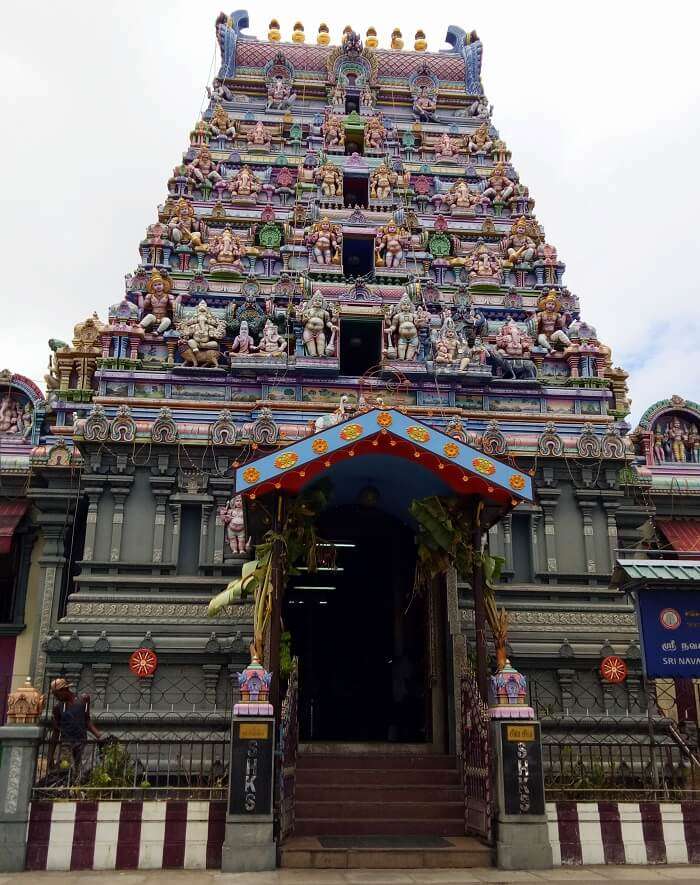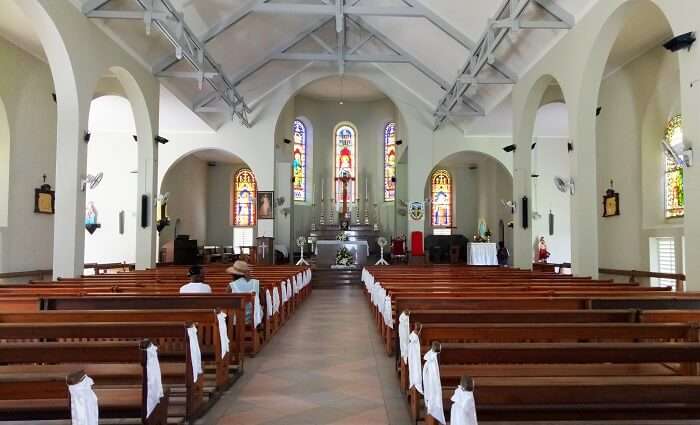 On our way down the hill, we kept exploring different beach sites which were a treat to watch in all the true senses. While we were returning, an adventure streak surfaced once again. Although we were following the Google maps and had paper maps in hand, we missed a turn and reached the extreme end of the island. Fortunately, that beach was secluded with literally no one around. It was a fun adventure which lead us to craft a cherishable memory to capture the crashing waves at the shore in my camera and experience something new beyond the itinerary.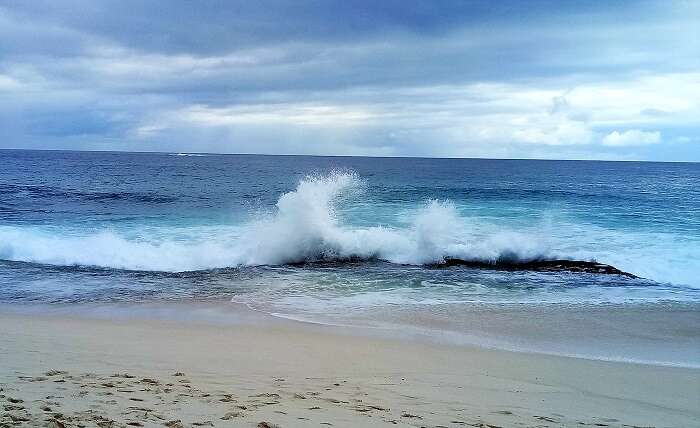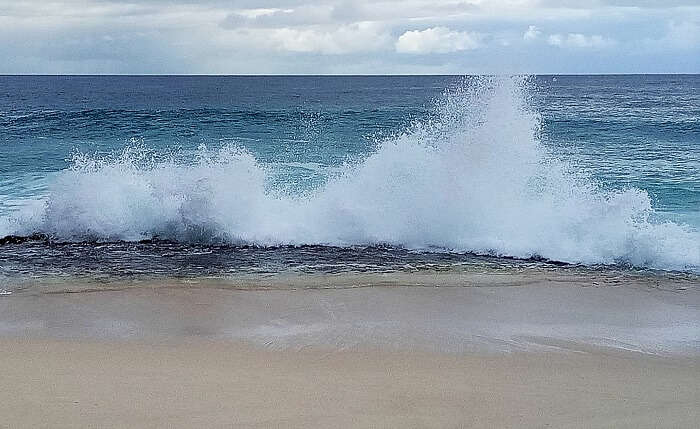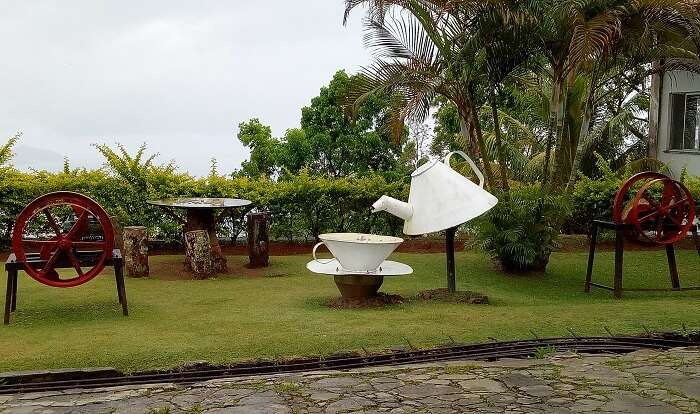 Best Things To Do On A Family Trip To Seychelles
In the evening, we also visited the Eden Island which is a manmade wonder on Seychelles. Post that, we ended the evening by having a late lunch at the Bravo restaurant, which is a must-visit for all. The portions are awesome and the ambience is great wherein you can sit by the yacht port sipping on to your favorite drink, and treating your taste buds to the most delicious food in the island. Later in the night, we enjoyed some live music at the hotel and called it a night.
Tip: For all the chai lovers, there is a tea factory on the hilltop where you can purchase a variety of flavoured tea and also sip some chai at the open cafe and unfortunately, we didn't enjoy the chai much.
Day 6: Dazzled By The Reef Safari Experience
This was apparently going to be the last day in Seychelles and I was excited as it was the Reef Safari day. For a non-swimmer like me, watching the undersea life through a glass boat was a unique experience. We saw some beautiful corals and fed bread to the zebra fishes. Our jetty captain Perry was a brilliant guy and he kept the tempo up the whole day. Our guide was awesome too and I loved the way she took us through the history and the details of the islands included in our reef safari.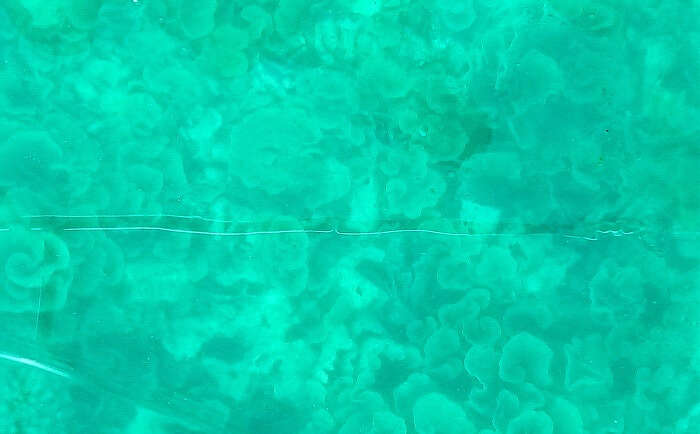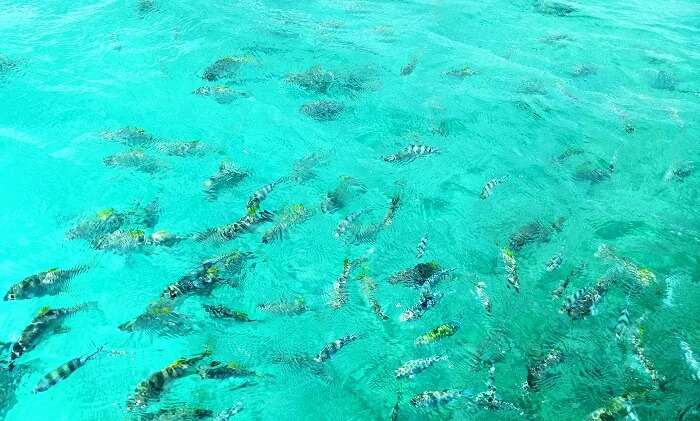 Post the reef safari experience, we explored a few more islands like Round Island, Saint Anne Island, Long Island, and Moyenne Island which also happens to be a home to the giant turtles. Upon reaching Moyenne Island, we fed the giant turtles and post that trekked through the island that led us to the grave of the island owner. The spot from where we started trekking down was breathtaking and the most scenic place to take pictures. It felt as if time stood still and all you wanna do is just stay there without moving an inch.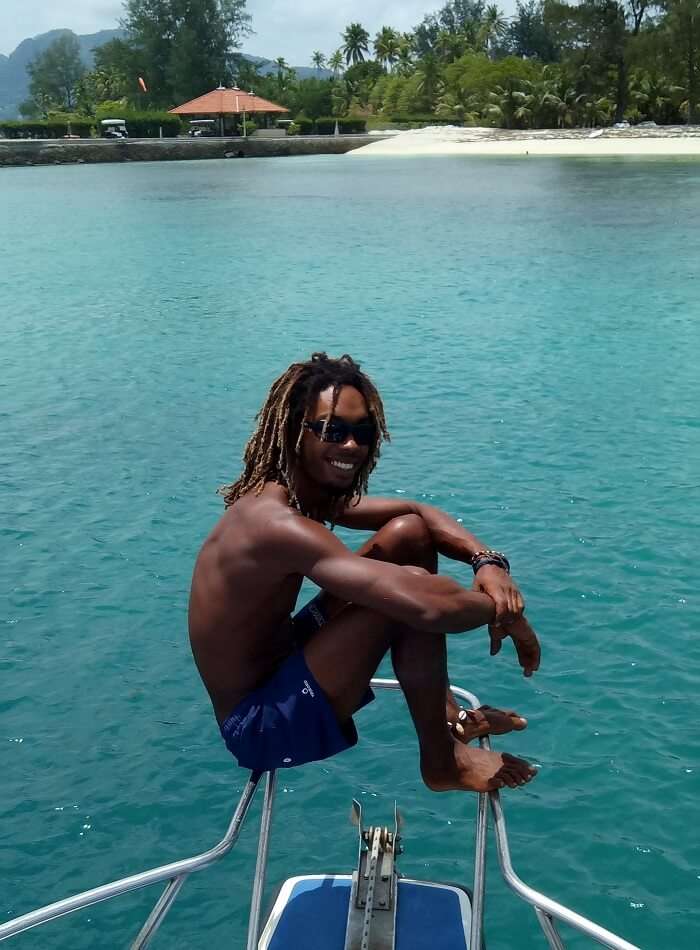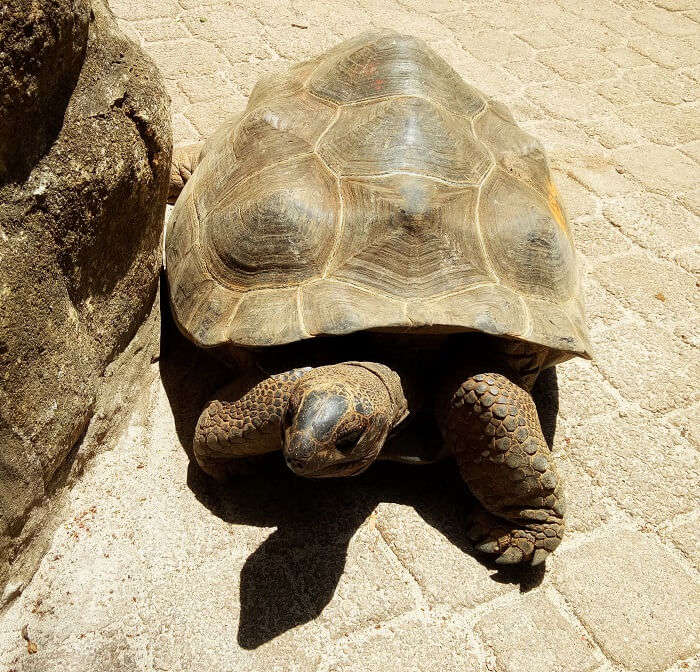 15 Alluring Resorts In Seychelles For A Luxurious Stay
On the way back from the trek we got into the jetty and moved to the snorkeling-friendly part of the sea. While others enjoyed snorkeling, I climbed up to the roof of the jetty and enjoyed sunbathing to the fullest. Basking in the sun under the clear sky and making the most of my vacation in Seychelles, we later delighted ourselves over a lunch on Moyenne Island which was included in our package. Post that, we visited the Round Island during our leisure time and walked on the sea path that connected both the islands. I chose to chill at the beach while my husband went for the sea walking experience which was breathtaking indeed.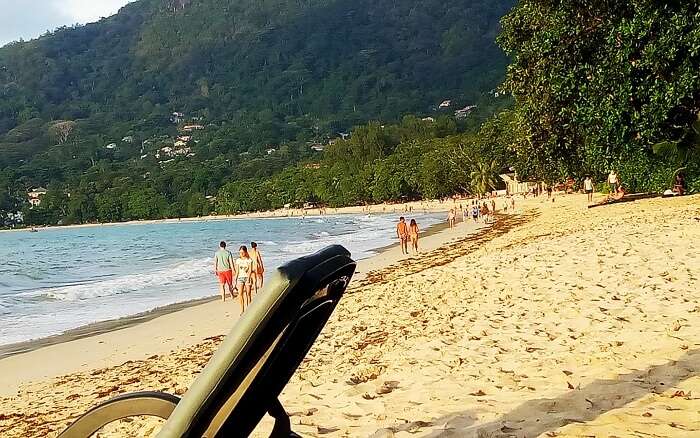 With such scenic beauty that had imbibed in us in great measure, it was finally time to say a goodbye to the Marine Park and get back to the hotel. Being the last evening in Seychelles, we got back to the hotel and freshened up quickly to go to the beach. It was our last evening and we spent it pretty well by watching the sunset, observing the love in the air, couples walking by the beach, and kids building their sandcastles. Everything was so beautiful that my heart broke because I had to bid farewell to the most enchanting destination on the next day.
Day 7: Until We Meet Next Time, Adios Seychelles!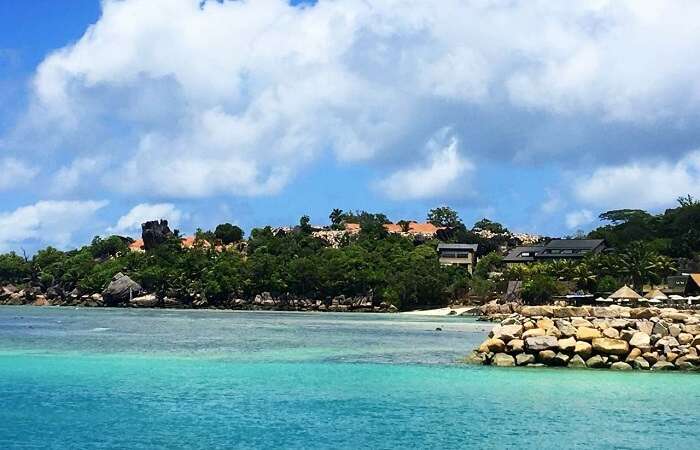 It was our last day in Seychelles and the time had finally come to bid farewell to this beautiful paradise. We had finished our breakfast and the moments were just sinking in slowly. We later proceeded to finish the check-out process post which, we were transferred to the airport, and we set back on a safe and sound journey back to India.
Highlights Of Our Luxurious Seychelles Vacation
Jetty ride from Mahe to Praslin Island via Cat Cocos
Visiting the UNESCO World Heritage Site of Valle De Mai
Exploring the area around Anse Lazio Beach
Admiring the beauty of La Digue Island
Sunset on the way to Mahe Island
Road trip on the Mahe Island
Exploring the man-made wonder of the Eden Island
Last but not the least, enjoying the Reef Safari on Mahe Island
Low Points
Missing our flight and the tiring 36-hour journey for which no one is to be blamed. It just set us back a little as we arrived a day later.
The weather at La Digue Island. It was raining heavily and we had to stay back at the hotel. In that time we could have explored a bit more.
Our Overall Experience With TravelTriangle
It was our first international trip after almost seven years of marriage. It was indeed a special experience which is why I had called this experience "seven days in heaven". It was a trip wherein I felt something different which I had never felt before. And even if I revisit Seychelles, I am sure the experience will remain as fresh as the first time as for those who travel, experiences germinate from the depths of their heart, mind, and soul. And I would like to thank TravelTriangle for making our journey so special and worth cherishing forever.
Tips For Travelers To Enjoy A Luxurious Seychelles Vacation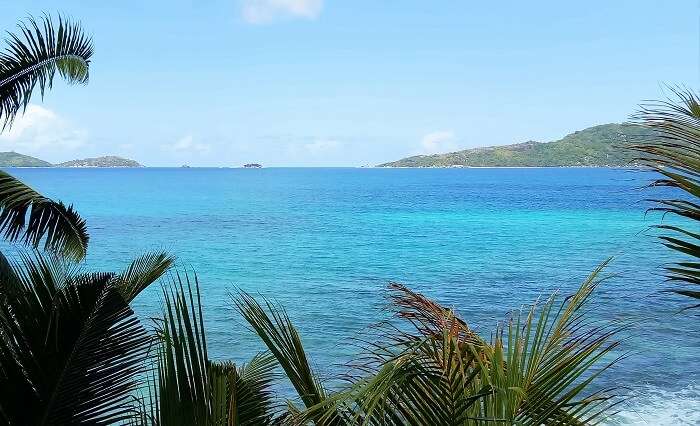 15 Best Hotels In Seychelles For A Perfect Island Vacation
Carry a backpack everywhere even on the beach as it's safer to carry your belongings.
As soon as you check-in to any hotel room, keep your passport and money in the safe as the first thing. For those staying in hotels that don't have lockers, keep your money and passport locked in the suitcase. No staff whether Indian or local is helpful in case something gets stolen.
Be fit as you will have to walk quite a lot.
If you are a vegetarian, please carry enough ready to eat packs.
Sunscreen, hat, glares, and trekking shoes are a must.
Carry light luggage as most of the time is spent on beach. Carry beachwear and since there is no party scene as such in Seychelles, one may not carry too much.
Early to bed, and early to rise should be the mantra in Seychelles as everything begins at 7:30 am and ends by 4:30 pm.
Don't honk while driving as nobody does that in Seychelles.
Bus rides across Seychelles cost SCR 5 to any destination. Bus facility is frequent, better and is available till late only on Mahe Island. Wherever on road you see bus stop written stand there and they will pick you up. Bus ride on Praslin Island is beautiful and bumpy. However, make sure you get into the bus that takes you through route by the sea and not the shortcut.
Shark Chutney is a delicacy which is a must try if you are a non-vegetarian.
Water is expensive, hence, buy a can of 5 litres from the supermarket and refill in smaller bottles which you can carry before you leave the hotel as no restaurant serves water.
Sey Beer is the local beer which is the cheapest option in alcohol. Takamaka vodka, and rum are other good options too.
Bonbon Plume, Bravo, Village Take Away are some of the good restaurants.
Carry towels from hotel if you plan to relax on the beach. No beach has deck chairs.
Be on time if you have booked everything by a travel agent or yourself as they are very punctual.
Get used to listening to Creole music as you don't have any other choice.
Snorkelling and scuba diving are brilliant sports to pursue but not in the rains as nothing is visible.
Since it rains any time in Seychelles, the best months to visit are from December to February as weather is bearable and it becomes very hot and humid during the rest of the months.
$1000 USD is more than sufficient for 2 people for 8 days including duty free shopping. In Seychelles, the souvenir stores are pretty expensive.
Exchange money at the authentic money exchange outlets only.
Looking for a similar experience with your loved one? Book an exciting trip to Seychelles with TravelTriangle and soak in the goodness of azure waters and exotic beaches at the stunning destination of Seychelles.
---
Looking To Book A Holiday Package?
Book memorable holidays on TravelTriangle with 650+ verified travel agents for 65+ domestic and international destinations.
---