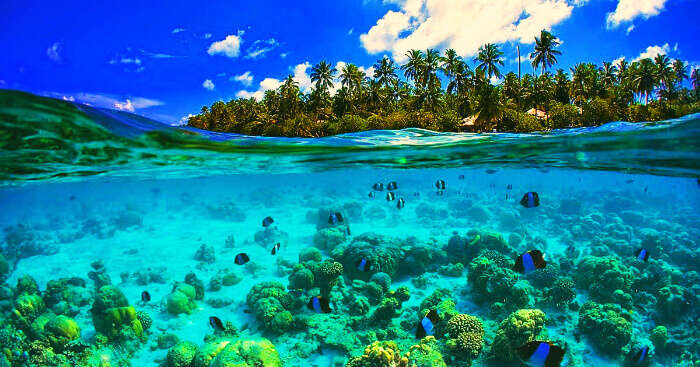 Situated east of Kenya near Madagascar, the Seychelles island is a hidden gem of the Indian Ocean that often goes unnoticed to the eyes of the world. At first glance, the stunning archipelago looks like a dream, a fantasy, a painting whose creator had his imagination run wild. Such is the beauty of this unspoilt paradise on earth. Be it on a honeymoon, a family vacation, or an adventurous retreat with friends, one must plan a holiday in Seychelles at least once in their life.
To answer those thousands of questions you'll have about the destination, we have compiled for you here an all inclusive Seychelles travel guide to help you plan your trip better with the choicest of Seychelles tour packages. Have a look and head out to explore those pristine forests, rare fauna, vivid marine life, mighty mountains, and world's best beaches!
Why Seychelles?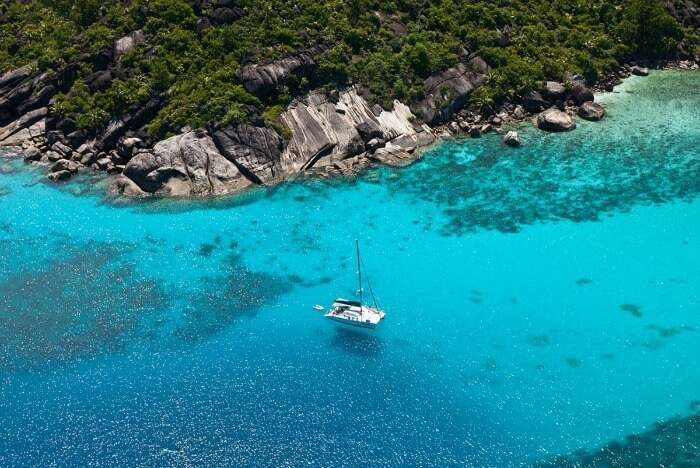 Image Source
Unlike other commercialized tourist destinations, nature has the upper hand here. Seychelles is a complete package of breathtaking beauty, peace & relaxation, comfort and luxurious accommodations, a truckload of experiences for all kinds of travelers, diverse and rare flora and fauna, mind blowing gastronomic delights, a vibrant, flexible culture, all mingled with the amazing Seychelles weather. And the best part- it is still in its pristine, untampered condition, making it an awesome addition to your list of offbeat destinations.
Things you should know about Seychelles
Best time to visit Seychelles: Peak tourist season falls in April, May, October and November. However, one can visit anytime as Seychelles weather is pleasant year-round.
Annual travelers: Approx 2,50,000
How to reach Seychelles: Seychelles is connected to all major cities of the world through its Seychelles International Airport. Other than that, there are Indian Ocean Cruises regularly operating from port cities like Mumbai and Chennai for countries like Seychelles & Maldives.
Ideal trip duration: 7 Nights 8 Days
Average spend: INR 11,000/- (per person per day)
Trip Type:
Adventure Seekers: HIGH
Couples & Honeymooners: EXTREME
Families & Kids: MODERATE
Friends & Backpackers: HIGH
Party Animals: MODERATE
Geography: Seychelles island is located off the coast of East Africa near Madagascar
Language: Seselwa, French, English
Currency: Seychellois Rupee (SCR), where 1 SCR = 5.07 INR
Getting around: Internal flights, ferries, buses and cars
Places to visit in Seychelles
Feast your eyes:
1. Mahé
Jungle-clad mountains. Sparkling white beaches. Picturesque fjords. And a small friendly town in the interiors with a distinct Creole culture. All this and more constitute the largest and most populated island of Seychelles- Mahé. Apart from the friendly, bustling capital city of Victoria, this huge island houses thick tropical forests, buoyant markets, botanical gardens and remote beachfront locations that make it one of the best places to visit in Seychelles.
Where to eat: La Plage Restaurant or Eden for lavish dining, and La Pause or Mimi's Cafe for economical meals.
Vegan? Head to: The Maharajas in Victoria or Mahek Restaurant in Beau Vallon
Suggested Read:Seychelles Food: From Shark Chutney To Bat Curry, Try The Bizarre Cuisine On The Island
2.Praslin island
No Seychelles tour is complete without a visit to Praslin! This untouched, laid back island houses all the beautiful sights that Seychelles is popular for. Its white beaches, lush tropical forests, unmatched beauty, and the famous Coco De Mer has led people to believe that Seychelles is, in fact, the lost Garden of Eden. Praslin is one of the most highly recommended places to visit in Seychelles owing to its wide variety of picturesque, tranquil, and romantic stretches of pearly white beaches like Anse Volbert, Grande Anse, Anse La Blague and Anse Lazio.
Where to eat: Pirogue Restaurant & Bar or La Goulue in Anse Volbert
Vegan? Head to: Indian Ocean or Le Relax Beach Resort
Suggested Read: Seychelles Islands: An Archipelago Of Surreal Beauty And Luxury Resorts
3. Anse Source D'Argent Beach
The most popular and picturesque of Seychelles tourist attractions. Anse Source D'Argent is distinguished by its pink sands, it's absolutely crystal clear and shallow water, and the huge, queer, and imposing granite boulders. Because of its matchless beauty and mysterious aura, this utterly secluded beach on the La Digue island is perfect for a Seychelles honeymoon.
Where to eat: Lanbousier or Snack Bellevue
Vegan? Head to: Le Relax Beach House Restaurant
Suggested Read: Casinos In Seychelles: 8 Best Places To Try Your Luck In This Picturesque Land
4. Curieuse Island
This Seychelles island is a protected bio-reserve and is home to a massive population of giant tortoises that may weigh up to 250 kg. It's a mere 20 minute boat ride from Praslin and has earned its place among the most magnificent places to visit in Seychelles owing to its giant tortoise population, unique red coloured soil, takamaka and mangrove trees, and the natural vegetation of Coco De Mer nuts. The best time to visit Seychelles in order to spot giant tortoises in Curieuse is during February, July and August.
Tip: Don't miss out on your chance to spot some beautiful Black Parrots which are specific to the region.
5. Morne Seychellois National Park
It's the largest nature reserve in Seychelles and houses the highest peak of the country- Morne Seychellois. Its exotic persona never fails to bewitch adventure seekers and nature lovers on their holiday in Seychelles. The entire park is high mountains, thick jungles, an absolutely exotic variety of indigenous flora and fauna, the ruins of old cinnamon distilleries, and some most breathtaking natural landscapes that will make you forget about the outside world in a jiffy. The park has a total of 12 different walking trails, each of them offering trekkers and hikers the chance to interact with the diverse flora and fauna on their Seychelles tour.
Things to do in Seychelles
Be spoilt for choices:
1. Shipwreck diving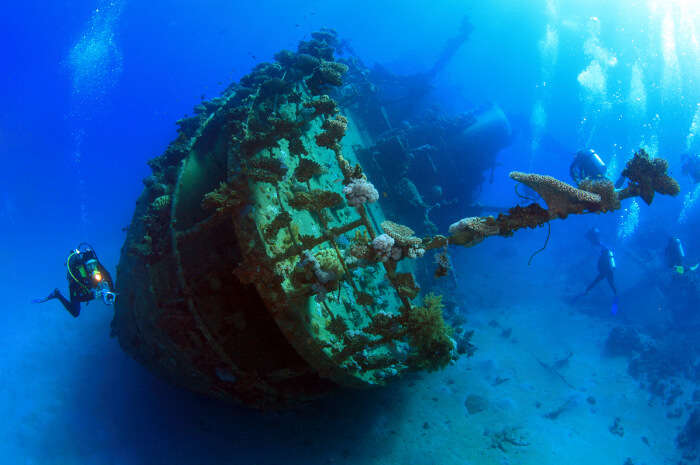 Explore more than striking corals and a vivid marine life when going diving on your holiday in Seychelles. Explore the massive remnants of the Ennerdale, an enormous British Fleet Auxiliary tanker lying at the bottom of the Indian Ocean which makes shipwreck diving one of the most fun things to do in Seychelles for lovers of water.
Where: Near Victoria
Average cost: INR 5,300/- per person
Tip: You can also go for a dive with whale sharks at Mahé & Silhouette Island which costs roughly the same and is a delight in almost any Seychelles weather.
2. Skydiving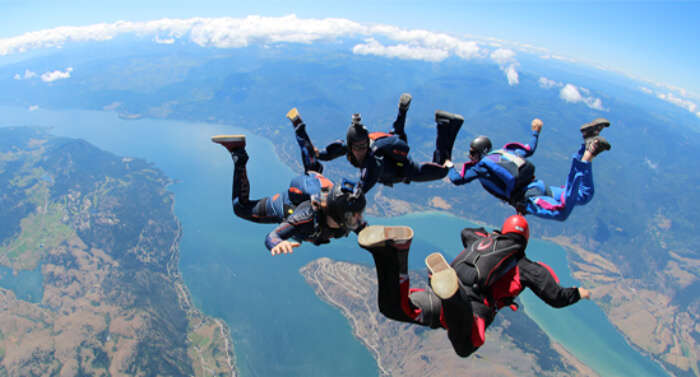 Care for some magnificent aerial views of Seychelles from a height of 14,000 ft? Skydiving is one of the many things to do in Seychelles that draws adventure enthusiasts here. Don't have the time for extensive training? Don't worry. The many diving institutes here also organise tandem dives for beginners so that you don't miss out on this most exhilarating experience when you travel to Seychelles.
Where: Victoria
Average cost (per person): INR 5,500/- (solo dive) & INR 9,000/- (tandem dive)
Fascinated Already? Plan a trip to Seychelles NOW!
3. Helicopter rides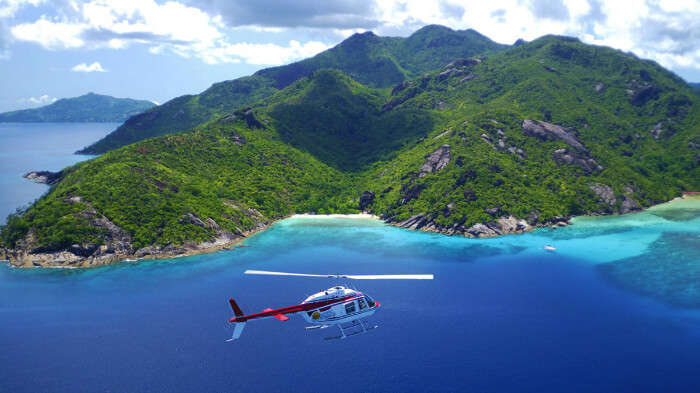 No Seychelles honeymoon is ever complete without a private heli tour over the lush green islands, golden beaches, and turquoise blue waters. A helicopter tour in Seychelles is one of the best things to do in Seychelles for adventure loving couples and also for families with kids. ZilAir near Victoria provides helicopter services to people with first-class facilities and an experienced staff for different sets of duration – 15, 30, 45, 60 and 75 minutes – according to what the traveler chooses, accommodating upto 4 passengers at a time.
Where: Pointe Larue, next to Seychelles International Airport near Victoria
Range of cost (per person): INR 6,200/- (15 minutes slot) to INR 30,500/- (75 minutes slot)
4. Hiking, rock climbing, rappelling and ziplining in Mahé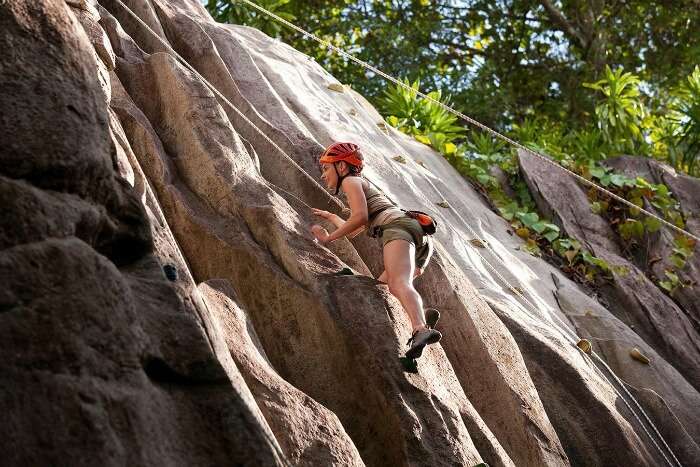 Among the many adventurous things to do in Seychelles, one can indulge in rock climbing, rappelling & ziplining in Mahé. One can also go hiking and trekking in the mystical jungles of Morne Seychellois National Park and gift themselves the most beautiful sights – exotic birds like Fruit Bats, tiny Gardiner's Frogs camouflaging themselves on leaves, hungry Pitcher Plants waiting to gulp down every bee they can attract, and harmless endemic wolf snakes basking in the sun!
Where: SMAC Adventures (rock climbing, ziplining) and Morne Seychellois National Park (hiking), in Mahé
Average cost (per person): Ziplining – INR 4,000/- | Rock climbing & rappelling – INR 3,000/- each | Hiking in MSNP is free of cost!
5. Tropical massage & spa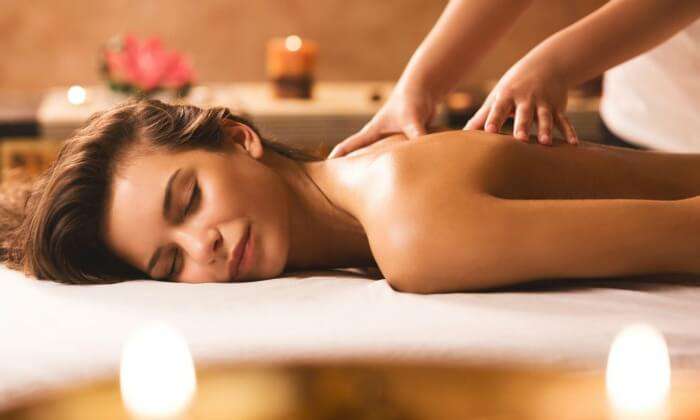 Couples can pamper themselves with a special tropical spa therapy for the most romantic experience when they travel to Seychelles. Indulging in a spa massage while simply relaxing on the beach & enjoying the soothing Seychelles weather with the gentle sea waves making up for some awesome background music is one of the best things to do in Seychelles.
Where: Various fitness centres, yoga retreats, and spa resorts located in Mahé, Praslin, and La Digue.
Average cost: INR 4,500/- per person
6. Feeding tortoises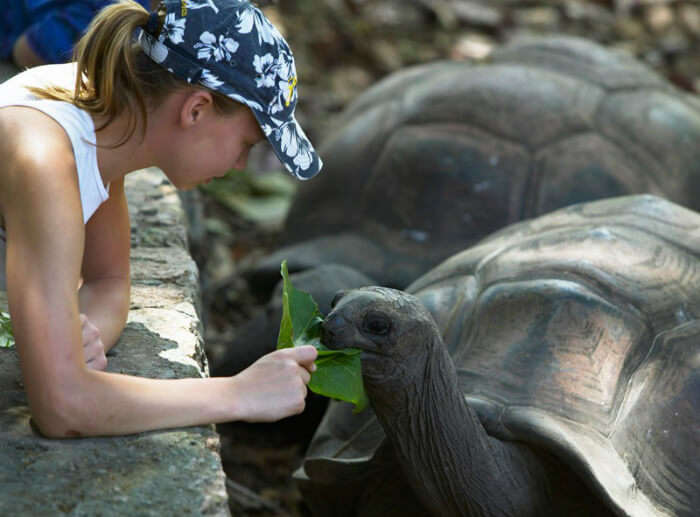 Travelers, especially families with kids, find it an absolute delight to feed these most gentle and adorable creatures of the island nation. Under expert guidance of island representatives around, one can feed fresh vegetables, leafy plants, and fruits to the giant tortoises here.
Where: Curieuse Island
Average cost: Free!
Tip: You can also witness a Shark Feeding session at the Aldabra Nature Reserve in Seychelles which is a totally unique experience.
Where to stay in Seychelles
Revel in luxury, comfort, and outstanding views:
1. Berjaya Beau Vallon Bay Resort & Casino
One of the most recommended Spa & wellness beach resorts in Seychelles, Berjaya Beau Vallon has everything one needs to make their Seychelles tour enjoyable within the constraints of their budget. The 3 star property is surrounded by verdant greens and crystal clear waters and is located on one of the best Seychelles beach – the Beau Vallon bay. Owing to its utterly romantic, picturesque location, it is regarded among the best resorts for a fancy Seychelles honeymoon.
Where: Beau Vallon, Mahé
Tariff range: INR 8,015/- to INR 17,049/-
Ideal for: Families & kids, budget accommodation
Suggested Read: 15 Alluring Resorts In Seychelles For A Luxurious Stay
2. Le Domaine De La Réserve
Quaint beachfront villas, white sands, granite boulders, sparkling blue water and the Curieuse Island in the distance – Le Domaine is nothing short of a beautiful painting embedded on one of the prettiest Seychelles beach on the island of Praslin. Other than beauty, the 4 star resort property offers a myriad of thrilling experiences like nature walks, snorkeling, and kayaking, apart from hosting cultural shows and providing refreshing Spa therapies to visitors.
Where: Anse Petite Cour, Praslin
Tariff range: INR 14,543/- to INR 24,830/-
Ideal for: Adventure seekers, water lovers, couples and honeymooners
3. Le Repaire Boutique Hotel
Redefining luxury and comfort, La Repaire is one of the finest beach facing resorts in Seychelles and the perfect abode for a romantic Seychelles honeymoon. From impeccable services, delish cuisines, fun activities, to recreation opportunities, it offers the most chic experiences to visitors. With grand beach facing and mountain facing rooms, this 5 star property provides downright lavish services along with some promising experiences like island hopping, fishing tours, diving, kayaking, or simply relaxing on one of the most gorgeous beaches in the world!
Where: Anse La Réunion, La Digue
Tariff range: INR 11,955/- to INR 19,291/-
Ideal for: Honeymooners, adventure enthusiasts, nature lovers, destination wedding!
Dreaming of those sun-kissed beaches & tropical jungles? Why wait? Book yourself a customised Seychelles tour package and relish your utterly euphoric holiday in Seychelles!
Further Read: Mauritius Vs Maldives Vs Seychelles Infographic: Which Is Your Ideal Holiday Paradise?