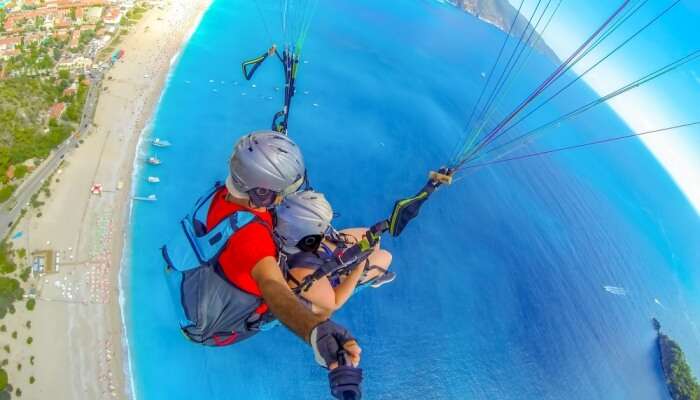 Los Angeles happens to be a popular city for tourists to live the Hollywood experience. But that's not all that this place offers. Not many know that the dream city also offers endless adventure and thrill to those who seek it. While it may have many posh streets and glitzy beaches for stars and celebrities, it too has many ideal spots for some outdoorsy action. There are various opportunities for people to go hiking, mountain biking, and even paragliding in Los Angeles. In fact, the terrain of this city and its surrounding areas are perfect for this kind of adventure, because of which this sport is starting to gain momentum here. Los Angeles is surrounded by various hills, flat lands, and other appropriate locations for paragliding, and here is a list of a few of the best ones where you could try this sport.
10 Ideal Places For Paragliding In Los Angeles And Around It
One must understand that in order to experience paragliding over this fine city, they will need to visit and paraglide from these locations that are located outside the city limits. We have listed some of the best places for Los Angeles paragliding that are near to the city and will bring you over the fabulous landscapes of Los Angeles once you're in the air.
1. Henninger Flats
Though it may not be the best spot for Los Angeles paragliding, it sure makes up for a great one! Henninger Flats is situated near Pasadena, often called Los Angeles' twin city and one of the most famous places near Los Angeles. You'll find it full of sand, plenty of trees, and stunning valleys that will become more gorgeous once you're in the air. The skyline from here will be breathtaking. While you're landing, make sure you aim for far out into the canyon where it's not as populated and the sand will help you get a soft landing. The regulations change frequently, so call ahead before you visit.
Distance from Los Angeles: 19.2 miles
Travel time: 25 minutes
Must Read: Hiking In Los Angeles: 11 Beautiful Trails To Explore The Scenic Scenes Of The City
2. Kagel (Sylmar)
If you're looking for a place to go paragliding in Los Angeles and glide over mountains rather than the ocean, then get to Los Angeles Mission College in Kagel. You'll take off and land in open meadows and grassy plains which gliders find rather easy, while the in-between will involve gliding over mountains. It's the perfect terrain for beginners and amateurs. And the experience of seeing gorgeous mountains from up in the clouds will be unmatched and overwhelming.
Distance from Los Angeles: 26.0 miles
Travel time: 31 minutes
Suggested Read: Top 10 Things To Do In Los Angeles, The Home Of Hollywood
3. Calabasas
Also called the Kardashian Kountry, Calabasas is more than just the home of the Kardashian empire. It hides various valleys and stunning mountain scenery that look awesome from the skies. Located a little further in Los Angeles County, it offers nothing short of a quintessential paragliding experience in Los Angeles. Take-off is from the few launching areas used by the Malibu Paragliding Club, like the one located off of Mulholland Highway. Here, paragliders need to glide off a high hill that overlooks the town of Calabasas, after which they'll be soaring over a multitude of Calabasas hills.
Distance from Los Angeles: 29.3 miles
Travel time: 32 minutes
Suggested Read: 10 Best Hotels In Los Angeles That'll Take Your Breath Away
4. Saddle Peak
This is another popular location for oxygen paragliding in Los Angeles that is situated in Malibu and requires gliders to take off from the Malibu Paragliding Club. Saddle Peak is nestled right next to the Pacific Ocean and provides the perfect paragliding location to fly in and out year-round with the perfect California weather blessing you with cloo winds. During winters, the strong Santa Ana winds in this location contribute to strong thermals, making the experience even grander. You can choose to take-off from any of the five launches at this club, and you'll perfectly on the scenic Malibu beach after some bird's eye views of the ocean. Owing to the steep slope and strong winds, paragliding in Saddle Peak is best suited for intermediate and advanced gliders.
Distance from Los Angeles: 18.8 miles
Travel time: 35 minutes
Suggested Read: Top 10 Tourist Places In Los Angeles That Will Add A Little Glamour To Your Tour
5. Tuna Canyon
Another location in Malibu, Tuna Canyon is home to some of the best hiking trails in Southern California! So, if you love to hike, as well as paraglide, this is the perfect location for you! Tuna Canyon sits near the Pacific Ocean, so while you paraglide down the canyon, you will see a gorgeous widespread view of the location, along with the rest of the Malibu canyons. Since the Santa Ana winds tend to be really strong, this location is perfect for intermediate paragliders.
Distance from Los Angeles: 24.5 miles
Travel time: 35 minutes
6. Corral Canyon
Situated just a little distance away from Pepperdine University, the gorgeous Corral Canyon gives the experience of paragliding to both professional gliders as well as amateurs in the Greater Los Angeles area. Unbeatable and awesome, the paragliding experience at Corral Canyon offers great views since this place sits right on the edge of the Pacific Ocean and is bounded by a picture-perfect tree line. Offering Insta-worthy aerial views during your glide, this is another favorite location of the Malibu Paragliding Club for the best paragliding in Los Angeles.
Distance from Los Angeles: 33.6 miles
Travel time: 45 minutes
Suggested Read: Los Angeles In December: 10 Experiences To Witness The Magical Side Of The City!
7. Mount Wilson
Most people only know this mighty mountain for its beauty. But it holds more than just that! Mount Wilson is another awesome location for paragliding near Los Angeles and it is located amidst the San Gabriel Mountains. With a top elevation of over 5,712 feet, it lets gliders gain great height and momentum so that they can experience utter thrill and exhilaration while flying down. While you're gliding down Mount Wilson, you'll be able to see the edge of the vast Pacific Ocean as well as parts of Downtown Los Angeles all at once.
Distance from Los Angeles: 32.7 miles
Travel time: 52 minutes
8. Mount Lukens
Only Mount Lukens can match the level of thrill and excitement that paragliding over Mount Wilson gives! Which is why it is another favorite location of paragliders in California besides Mount Wilson itself. Located right on the edge of the Greater Los Angeles area, this place is often used by the Sylmar Hang Gliding Association. It's a huge mountain with stunning beauty that sits snugly in the middle of the San Gabriel Mountains and the town of SoCal in Glendale. One must also note that Mount Lukens happens to have the highest point of elevation in the Greater Los Angeles area, which makes it one of the most awesome places for paragliding and hang gliding in Los Angeles.
Distance from Los Angeles: 24.5 miles
Travel time: 52 minutes
Suggested Read: 7 Best Theme Parks In Los Angeles For A Thrilling Holiday Experience
9. Point Mugu
Another famous paragliding spot near Los Angeles is Point Mugu situated near Malibu. It will give you the chance to take-off from the charming Laguna Peak and then soar like a bird over mighty mountains and the gorgeous Pacific Ocean. Just make sure you read up the guidelines and call ahead since there are a few flying restrictions in place here owing to the fact that this place is located near a military site. Two of the major restrictions state that you can paraglide only during the weekend and are not allowed to fly past the PCH.
Distance from Los Angeles: 47.6 miles
Travel time: 59 minutes
Suggested Read: Nightlife In Los Angeles: 10 Places For An Extraordinary Experience After Sunset
10. Blackhawk
Blackhawk is another notable paragliding location near this lovable city that you can get to with just an hour's drive to San Bernardino. Blackhawk is located within San Bernardino and is a true delight for gliders who are met with light, cool winds and the experience of taking off from a high launching point that gives awesome views once you're in the air. Perfect for even beginner and intermediate paragliders, it will offer surreal views of the valleys, the nearby Big Bear Lake, and many low-lying hills that will all make you wish you were carrying your camera in the air!
Distance from Los Angeles: 59.9 miles
Travel time: 1 hour 8 minutes
Further Read: Top 10 Los Angeles Beaches For That Perfect Summer Escapade
Be it a beginner, intermediate, or advanced paraglider, everyone will get the perfect venue for paragliding in Los Angeles, California. From gliding over the Pacific Ocean to soaring high above the mountains, paragliding in this wonderful city and around it offers the most exhilarating experiences to adventure seekers. What's the hold-up? Escape to the US and book yourself a paragliding spot at any of your favorite locations from the ones mentioned above.
People also read
Paragliding In Austria Paragliding In Austin Paragliding In New Jersey
Comments
comments