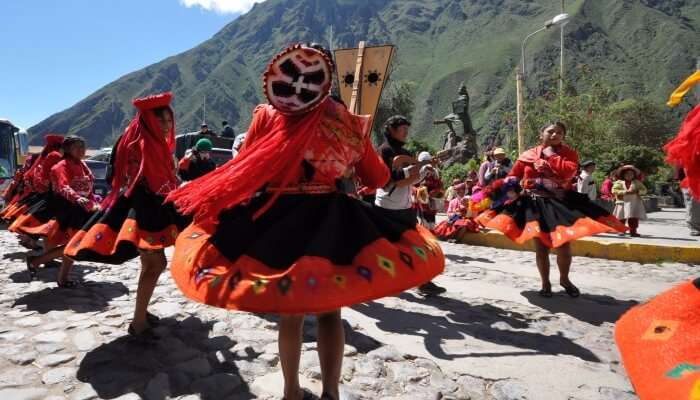 Cover Image Credit: Wikipedia
Nestled at the periphery of the Amazon rainforest, Peru is a scenic heaven which not only allures nature lovers or thrill adventure enthusiasts but travellers of all kinds. Barren mountains, valleys, forests, and lakes pretty much create the scenic canvas of Peru. The country also offers excellent opportunities for hiking, sandboarding, trekking, and river rafting. As the birthplace of ancient Inca Civilisation, Peru has a rich history of mankind, tribes, traditions, and culture and the best of all these is reflected through a series of popular Peru festivals. Here is the handy guide on the Peru festivals that spread happiness amongst locals and tourists.
10 Best Peru Festivals
Listed below are a number of prominentPeru festivals that must be included in the wish list. Make sure you plan your vacation here according to the dates of your favorite ones.
1. Cajamarca Carnival
2. Fiesta De las Cruces
3. Fiesta De las Cruces
4. Fiesta De LA Virgen De LA Candelaria
5. Hip Hop Barranca
6. Inti Raymi Festival
7. Dia De Santa Rosa De Lima
8. Mistura Culinary Festival
9. Puno Week
10. Santuranticuy
1. Cajamarca Carnival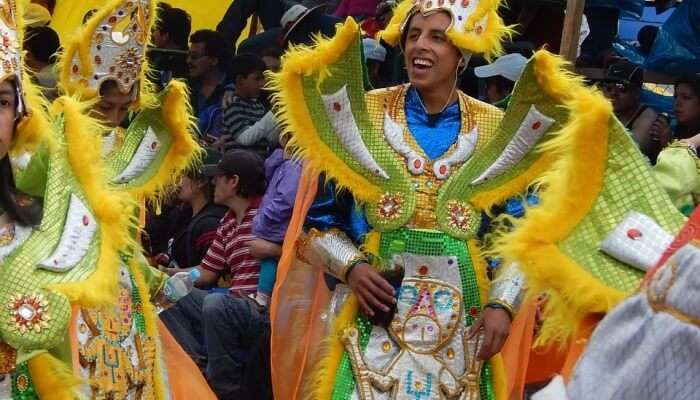 This carnival is one of the most popular Peru festivals. The enthusiastic celebration with dance, music, games, competitions and water fights makes it attractive, alluring almost 60,000 visitors from all over the World. The streets are decorated with colourful ribbons, balloons, and lights. Local people come out in festival dresses, sing carnival songs and pour buckets of water on each other as a part of their traditions.
One can experience gorgeous street parades and take part in 'Paint day' celebration where every person paints each other with colours, water, and flour.
Location: Cajamarca
Date: 26th Feb – 2nd Mar 2022
Must Read: Go Mountaineering In Peru In 2022 To Experience The Thrill Of A Summit!
2. Fiesta De las Cruces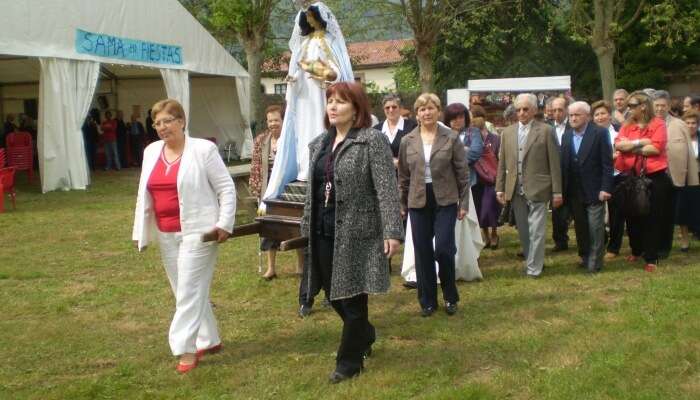 Fiesta De las Cruces is not only one of the most popular Peru festivals, but vastly celebrated across Spain and Hispanic America. Popular as Festival of the Crosses, this is celebrated every year on the 3rd day of May. The festival was introduced in Peru by the Spaniards when they conquered and occupied the Inca empire and established their traditions and culture throughout.
Grand processions are seen on the streets with people holding large wooden crosses ornated with flowers and traditional textiles. This rally is followed by folk music and dances including traditional scissors dance.
Location: Across the country
Date: 3rd May 2022
Suggested Read: Plan An Exotic Peru Honeymoon For An Unforgettable Experience With Your Better Half!
3. Paucartambo Festival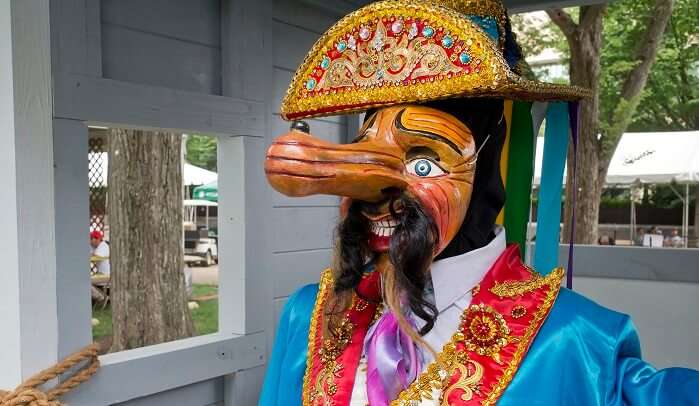 Paucartambo Festival is another popular festival in Peru, celebrated to pay tribute to Virgen del Carmen (Our Lady of Mount Carmel) who is honoured as the Mother of all citizens of Peru. The local people dress up in vibrant traditional costumes wear masks and participate in their forefather's dances.
Amazing fireworks, acrobat, races and fascinating troupe dances are a part of this celebration. Owing to its religious significance, Paucartambo's Festival of Virgen del Carmen was acknowledged as an Intangible Cultural Heritage by the Peruvian National Institute of Culture in 2016.
Location: Paucartambo
Date: 15th July- 18th July 2022
Suggested Read: 9 Coolest Things To Do In Peru In 2022 For The Adventurous Souls
4. Fiesta De LA Virgen De LA Candelaria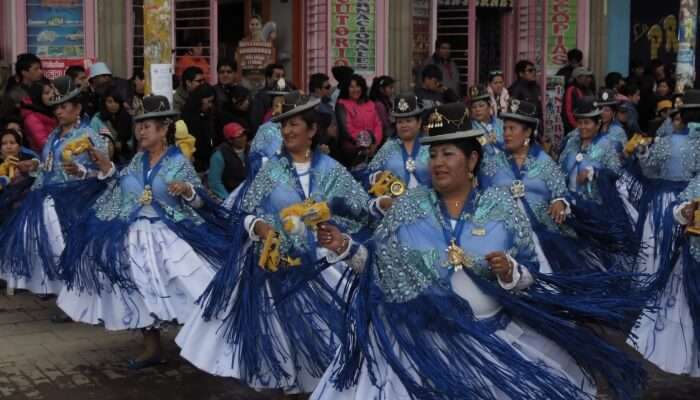 The list of popular Peru festivals has many religious celebrations and Fiesta De LA virgen de LA Candelaria is one of them. Featuring festive masse, rallies, folk music and dance and parades; this celebration looks dazzling and spectacular. Held every year on the second day of February, this festival has three segments, namely solemn, the entertaining, and the trial.
Solemnity is characterized by the mass, entertainment is displayed by brightly costumed dancing rallies along the streets of the Copacabana, and finally, the trial allows participants to partially realize the sufferings and griefs of Jesus Christ via imitation of the Road to Cavalry.
Location: Copacabana, Puno
Date: 31st January 2022
Suggested Read: Sacred Valley Guide: An Encounter With The Treasure Trove Of Peru!
5. Hip Hop Barranca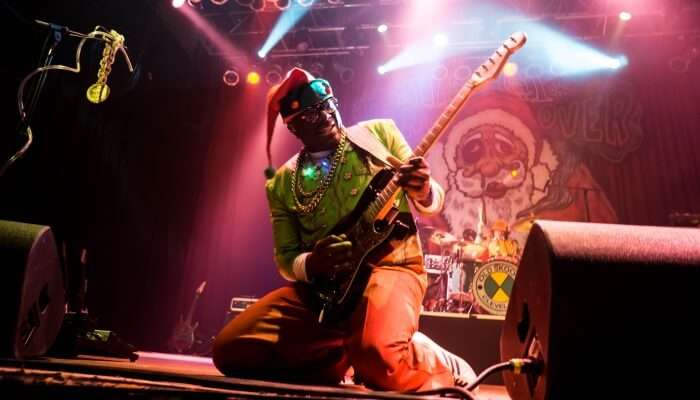 Hip Hop is one of the renowned music festivals in Peru. Along with gorgeous stage performances by budding local artists and reputed talents from the continent, the festival also boasts of art walk tours, band performances and customised tours. One can enjoy a tailor-made tour to renowned night clubs and bars to enjoy stimulating music, performed live.
Location: Barranca
Date: 4th April 2022
Suggested Read: 20 Best Places To Visit In Peru For An Incredible Holiday Experience In 2022
6. Inti Raymi Festival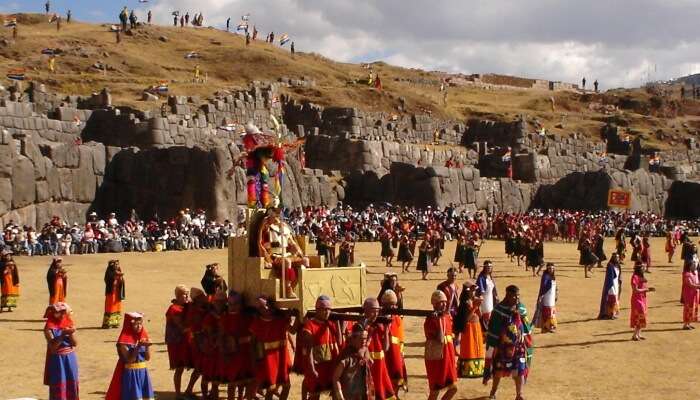 Among all the other popular Peru festivals, this one is celebrated with maximum grandeur. With street fairs, music performances by Peruvian artists and bands and troupe dances; Inti Raymi Festival is rejoiced around Plaza de Armas in Cusco.
Free music concerts are also organised in the evening for everyone. But what makes the celebration of the Inti Raymi Festival truly outstanding is the gorgeous street plays on historic events where renowned Peruvian artists represent iconic historical characters.
Location: Cusco
Date: 24th June 2022
Suggested Read: Inca Trail: For Trekking Through The Marvelous Beauty Of Peru Like Never Before
7. Dia De Santa Rosa De Lima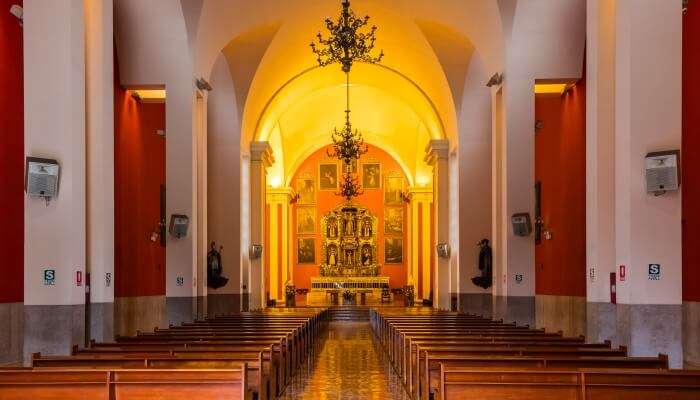 Santa Rosa de Lima is a saint of Peru and local people celebrate Dia De Santa Rosa De Lema to pay respect to this eminent icon. Celebrated since 1671, every year on this day, people dress up and pay homage to the respected saint. It's a holiday in Peru on the day of the festival. Many devotees come to Well of Desires, situated in the Sanctuary of Santa Rosa on Tacna Avenue to pay respect and offer their wish letters.
Location: Lima
Date: 30th August 2022
Suggested Read: Skylodging In Peru: Camping While Hanging Off A 1,200 Feet Cliff
8. Mistura Culinary Festival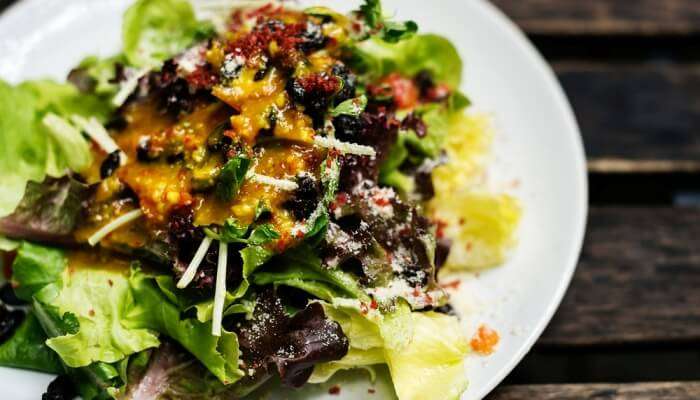 As the name suggests, this Peru festival is about ultimate gastronomic delight and ecstasy. In this culinary extravaganza, swanky restaurants to local food joints, farmers, food truck owners, and food producers treat people with freshly prepared authentic Peruvian delicacies.
From cuy al horno which is roasted guinea pig, rice, soup, quinoa, corn to the meat of chicken. pork and alpaca; one can taste the authentic flavours of everything.
Location: Lima
Date: 11th September 2022
Suggested Read: The Magnificent Colca Canyon In Peru Will Take Your Breath Away!
9. Puno Week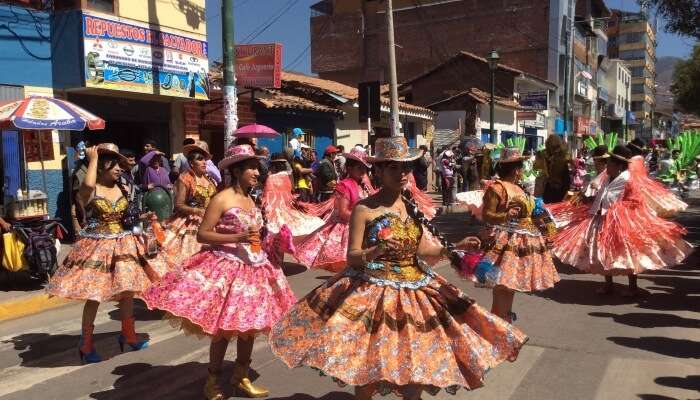 Every year, the first week of November is celebrated in memory of Manco Capac. The festival is held around Lake Titicaca, as mythological pieces of evidence reveal that Capac rose from this ancient lake to find the prehistoric Inca Empire.
This is one of the most sought-after Peru festivals, celebrated for one full week. A spectacular procession moves through the city from the shores of the lake to the town stadium accompanied by music and dance performances.
Location: Puno
Date: November 2022
Suggested Read: Moray Inca Ruin: A Wonderful Pocket Guide For Your Next Getaway To Peru!
10. Santuranticuy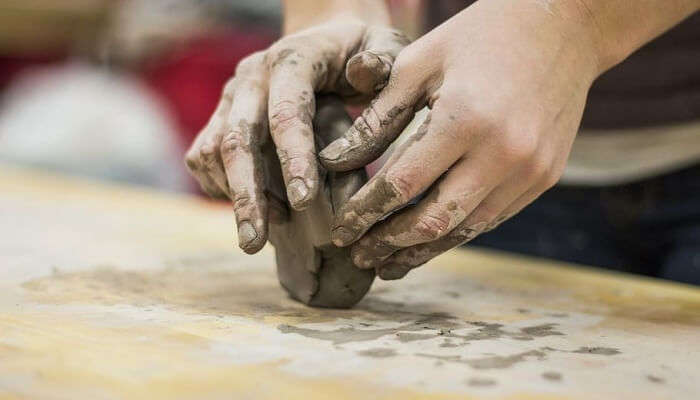 Christmas in Cusco is delightful and beautiful but the celebration before Christmas is equally fascinating. Santuranticuy is perhaps the largest and grandest art and craft fair and temporary Christmas market held a couple of days before Christmas.
In Santuranticuy, which locally translates into 'saints for sale', artisans and sculptors from all over the country come here to sell a variety of figurines. The local people of Cusco even make their nativity scene to decorate their households.
Location: Cusco
Date: 24th December 2022
Further Read: Peru Is Proving To Be An Emerging Travel Destination For Indian Travelers
Hope the popular Peru festivals have enchanted you to include them to your bucket list. Next time, when you plan a Peru holiday with Travel Triangle, customise your travel plan to witness some of these vibrant celebrations and make the most wonderful memories.
Disclaimer: TravelTriangle claims no credit for images featured on our blog site unless otherwise noted. All visual content is copyrighted to its respectful owners. We try to link back to original sources whenever possible. If you own rights to any of the images and do not wish them to appear on TravelTriangle, please contact us and they will be promptly removed. We believe in providing proper attribution to the original author, artist or photographer.
Please Note: Any information published by TravelTriangle in any form of content is not intended to be a substitute for any kind of medical advice, and one must not take any action before consulting a professional medical expert of their own choice.
Frequently Asked Questions About Popular Peru Festivals
Name the popular food festivals in Peru?
The popular food festivals in Peru are National Potato Day, Lima Food Week and Mistura Food Festival.
Which is the oldest festival in Peru?
Cajamarca Carnival is one of the oldest festivals in Peru.
Name the hotels in Cusco?
The best hotels in Cusco are Sonesta Hotel, JW Marriott El Convento and Tierra Viva Cusco Centra.
Name the popular music festivals in Peru?
Inti Rayami Festival, Ultra Music Festival, and Alternativo Music Festival are the popular music festivals in Peru.
Which are the best places to see in Peru?
The best places to see in Peru are Machu Picchu, Lake Titica, The Sacred Valley, Nazca Lines, Remnants of Inca Civilisation, Lima and Cusco.
Which is a tribal festival in Peru?
Inti Raymi is a tribal festival in Peru.
Which are the must-see places in Lima?
The best places to see in Lima are Plaza de Armas, Larco Museum and Hauca Pucllana.