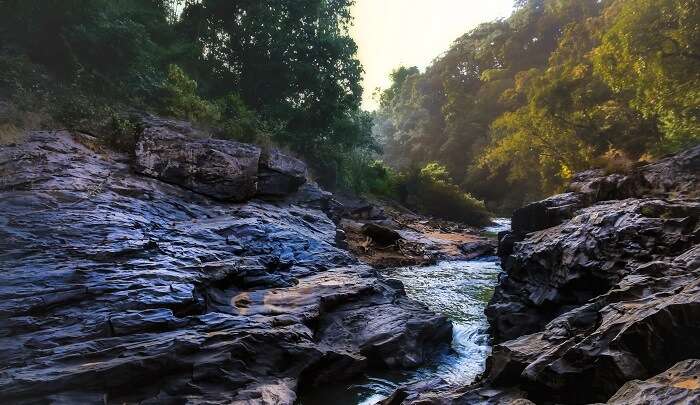 A quaint town in the western ghats of northwestern Karnataka, Dandeli provides tourists with an unreal escape from the bustling city life. Located on the bank of the Kali river, the place is an amazing gateway that allows one to get lost amidst breathtaking wilderness, spellbinding natural beauty, and panoramic views. The place is filled with diverse forms of nature, from mountains, caves, waterfalls to rivers and lush green landscapes, Dandeli allows tourists to experience the feeling of an untamed exploration. And as if this was not enough, there are picnic spots near Dandeli also that you can visit for some extra fun.
8 Best Picnic Spots Near Dandeli
Let's have a look below to know the famous picnic spots of Dandeli. They are located nearby so that you can cover them in less time and enjoy their beauty and serenity for a refreshing experience. Note them down for your next trip!
1. Unkal Lake – 70.7 Km From Dandeli
2. Nrupatunga Hill – 74.5 Km From Dandeli
3. Syntheri Rock – 31 Km From Dandeli
4. Sykes Point – 26 Km From Dandeli
5. Kulgi Nature Camp – 12 Km From Dandeli
6. Supa Dam – 21.6 Km From Dandeli
7. Vajrapoha Falls – 84.1 Km From Dandeli
8. Sathodi Falls – 79.5 Km From Dandeli
1. Unkal Lake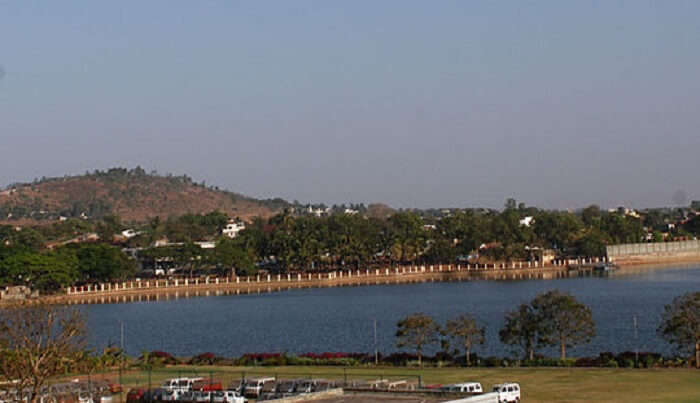 Situated on the edge of Dandeli, the Unkal lake is a famous tourist spot in Hubli. The lake spreads across an area of 200 acres of land and is the biggest water body in the region. A statue of Swami Vivekananda has been constructed in the center of the lake. The lake also has a park adjacent to it, which has evolved into a famous picnic spot. The park offers heavenly views of the lake, especially stunning views of sunsets, allowing people to enjoy the ambiance. The Unkal lake is of religious and historical importance since it is considered to be the karma Bhoomi of saint Sri Siddappajja. Every year an annual fair is organised, including cultural activities in the memory of this great personality.
Distance from Dandeli: 70.7 kms
Things to do: Bird watching, Photography
Best time to visit: October to March
Places to stay: Hotel Metropolis
Restaurants nearby: Splash Bar
Must Read: 15 Exciting Places Near Dandeli That You Must Visit In 2022
2. Nrupatunga Hill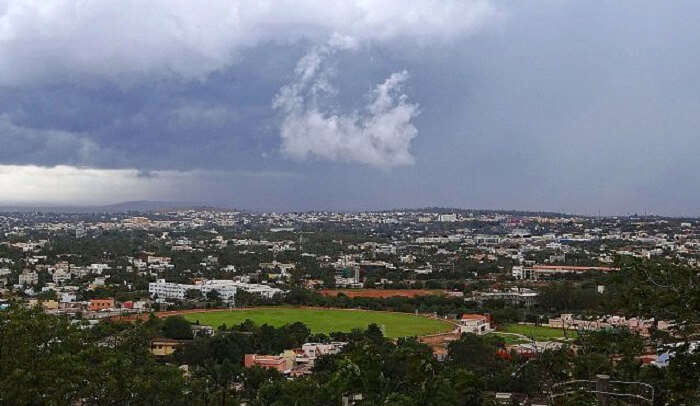 Situated on top of the Unkal hill, the Nrupatunga hill is a great picnic spot for people of the Hubli – Dharwad region and tourists alike. The hillock offers amazing views of the entire cityscape amid a serene, tranquil and green atmosphere. The area is well maintained and kept clean. One can stroll to the apex of the hill and rejuvenate and relax oneself. The ambiance is that serenity and tranquillity and has a calming effect on anyone's mind. The atmosphere transports one to the world of Harmony. The gentle winds brushing your face will engulf you in its enchanting aura. Within the premises of this hill, is a dargah and a temple. To take a break from the madding city life, visit this scenic place to give yourself the much-needed break. If you ever visit Hubli and wish to spend quality time with nature, Dandeli is the ideal place to do so!
Distance from Dandeli: 74.5 kms
Things to do: Trekking, Bird Watching, Photography, Picnicking
Best time to visit: October to February
Places to stay: Hotel Shingar Palace
Restaurants nearby: Hotel Konkan Spice
Suggested Read: Canyoning In Dandeli Will Definitely Give Every Adventure Seeker An Adrenaline Rush!
3. Syntheri Rock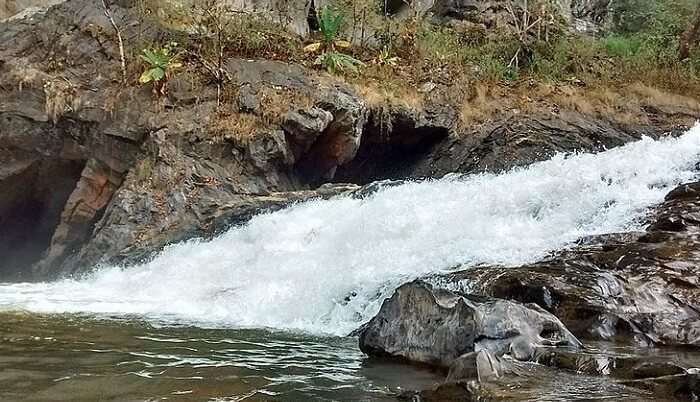 This is another must-visit destination in Dandeli for nature lovers and photographers. The Syntheri rock is a monolithic granite rock that is about 300 m in height. The place has a small heavenly waterfall and rock ravine that enhances the beauty of this place. The place can be explored by rock climbing and swimming though it's advisable not to do so during monsoons because the rocky elevations become slippery. People can bring some food with them and settle down for picnicking with their family and friends. Sitting by the giant rock, one can feel the soothing effect of nature. Those who love to capture the tranquil beauty of nature, the Syntheri rock is an ideal spot.
Distance from Dandeli: 31 kms
Things to do: Swimming, Rock climbing
Best time to visit: December to March
Places to stay: Jungle Retreat Dandeli
Restaurants nearby: Palacio do deao
Suggested Read: 24 Places To Visit In Dandeli In 2022 For Unforgettable Adventure
4. Sykes Point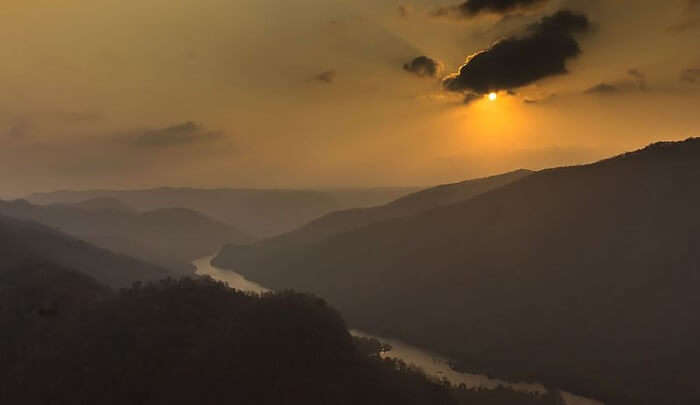 The Sykes point, offering one of the most magnificent views of Dandeli, has been named after a British officer who discovered this beautiful place while on a hunting expedition. Before heading towards this place, one needs to take prior permission. People come here for picnicking and enjoy splendid sunsets. Amidst mountains and rivers, the spot is a perfect place to relax for nature lovers. People go on a coracle ride while they visit the Sykes point.
They should choose the longer path to the ride since it gives more time to enjoy the soothing swirls of the rivers. The Sykes viewpoint is an amazing spot that mesmerises visitors with its evergreen forests and verdant valleys. Visitors also enjoy the eye-soothing confluence of the Kali rover and Nagzari river from the Sykes viewpoint. One can catch sight of several giant hornbills in the evening. The place is at an elevation of about 700 meters above sea level. Those who wish to indulge in trekking have to take prior permission from Karnataka's power corporation ltd.
Distance from Dandeli: 26 kms
Things to do: Trekking, Birdwatching, Photography
Best time to visit: October to April
Places to stay: Dandeli jungle nest
Restaurants nearby: Gangamma hotel
Suggested Read: 13 Dandeli Homestays That Offer You Comfort Without Pinching Your Pocket In 2022
5. Kulgi Nature Camp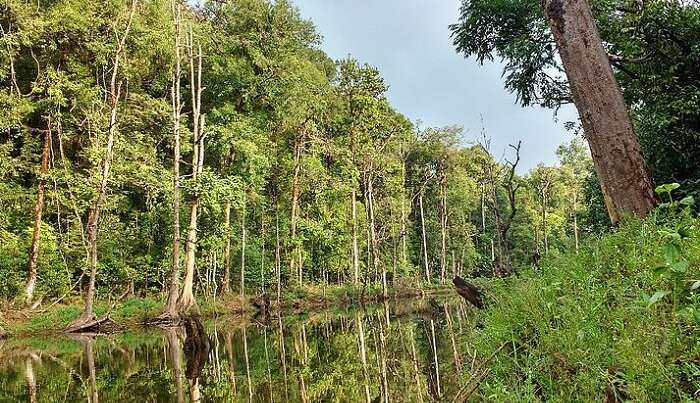 To make your vacation more memorable, one should visit the Kulgi nature camp to unwind and relax and rejuvenate oneself amid pristine surroundings of nature. The place is maintained by the Karnataka forest department and is a must-visit for all visitors visiting Dandeli. This is another popular picnic sight. The camp provides wonderful opportunities to take your friends and family for camping and sharing a great time with them under open skies and evergreen forests. A lot of adventure activities are provided like rock climbing, rafting, nature walk, etc. The campsite has several tents, cottages, and dormitories to provide accommodation to all those who look forward to staying here at night, in the realm of nature.
Distance from Dandeli: 12 kms
Things to do: Rock climbing, Jacuzzi, Rafting
Best time to visit: October to March
Places to stay: Dandeli Nature Camp Homestay
Restaurants nearby: Zaika food court
Suggested Read: Dandeli Wildlife Sanctuary: Experience The Best Of Nature, Wildlife, And Adventure!
6. Supa Dam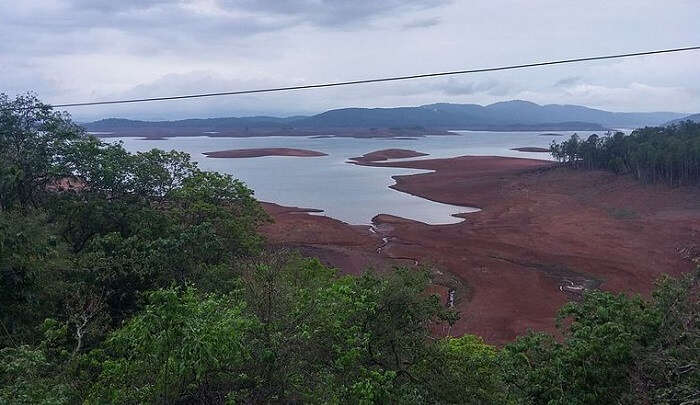 Away from the hustle and bustle of city life, Dandeli has another place, the picturesque Supa dam that offers solace. The dam has been constructed across river Kalindi. The dam happens to be the second biggest dam in Karnataka and provides opportunities to experience the best dam backwater trek. The dam is 101 meters in height and 332 meters in length.
The place is one of the ideal places for photographers and nature lovers. The road leading towards the dam is equally beautiful. On the way, various species of birds and mammals can be spotted. The dam in recent times has developed to be one of the popular picnic spots of Dandeli. One should never miss enjoying the sunset from this classic point. Amid the Supa dam, is a small existing islet. Touring these river islands can be one of the best experiences of your life.
Distance from Dandeli: 21.6 kms
Things to do: Rafting, Cycling, Photography
Best time to visit: June to December
Places to stay: Bison River Resort
Restaurants nearby: Savitha hotel
7. Vajrapoha Falls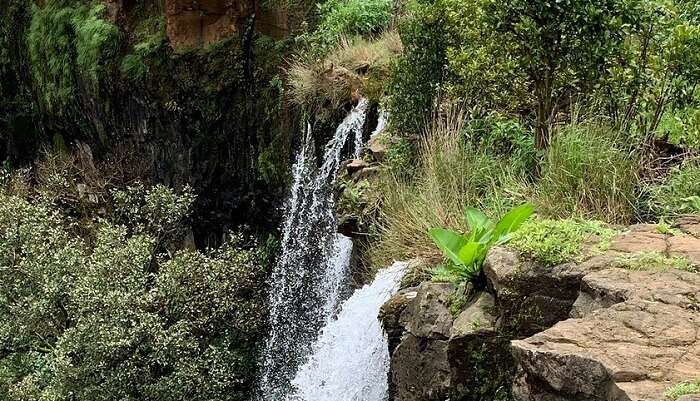 Amid the Jamboti forest, in the Belgaum district, the seasonal Vajrapoha falls. The waterfall is situated on the banks of the Mandovi river, the longest river which flows through the state of Goa. After running through the dense Jamboti forest, the Mandovi river falls as the Vajrapoha falls from the apex of a hill. The Vajrapoha falls is once again a perfect place for nature lovers, photographers, botanists, etc. It is also a famous picnicking spot.
People often come here to spend some quality time with their loved ones, enjoy food gazing at the beauty of the heavenly Vajrapoha falls. The Marcaida Nala and the Panera Nala are two streams that join the waterfall and form a deep ravine. Lucky visitors get to see the Huli Salinga and pied hornbill from this viewpoint. The sight of such a fantastic marvel of nature is sure to keep anyone engaged.
Distance from Dandeli: 84.1 kms
Things to do: Photography, Picnic, Bird watching
Best time to visit: Monsoons
Places to stay: Regenta resort Belagavi
Restaurants nearby: Indian Dhaba
Suggested Read: Top 10 Hotels In Dandeli That Must Be Visited By Travelers Once In Their Lifetime
8. Sathodi Falls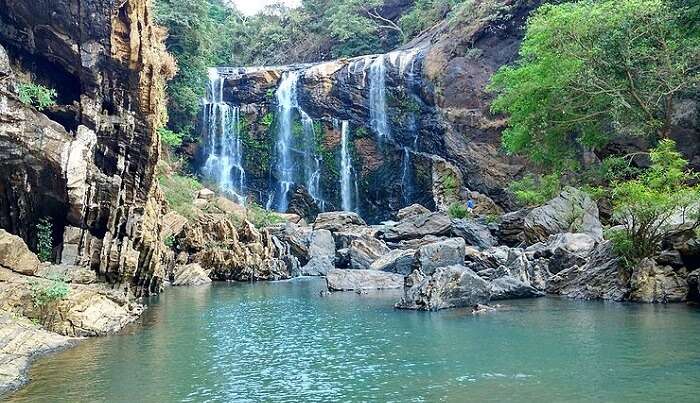 The Sathodi falls is a spellbinding rectangular-shaped waterfall, located in the Uttar Kannada area in the district of Yellapore. The picturesque beauty of the place attracts tourists across India and offers a sight to behold. Watching the crystal clear waters fall from an astonishing elevation of 15 m and collecting on a blue lake below, one simply gets amazed. There are several trails that people have to cover before reaching the actual spot.
There is a picnic area just in front of the Sathodi falls from where people can enjoy an unobstructed view of the waterfalls. The falls are seasonal, fed by several rivers that are vacant into the Kallarmane ghat in north Kannada. The Sathodi falls empty into the kali river, flowing through the Kodasalli dam. The place is surrounded by Serene natural beauty, lush undergrowth of the western ghats and enduring forests. The entire landscape has a majestic and dramatic and dreamy touch to it.
Distance from Dandeli: 79.5 kms
Things to do: Trekking, Swimming, Photography
Best time to visit: October to March
Places to stay: Sathodi Jungle Homestay
Restaurants nearby: Shanbhag restaurant
Further Read: 16 Things To Do In Dandeli: Interesting Adventure Activities And Experiences
So, these are some of the best picnic spots near Dandeli that you can visit for embracing peace and tranquility. A lot of other activities that one can enjoy include trekking, jungle camping, wildlife safari, mountain biking, birdwatching and many more. No matter if you are a passionate wildlife person or an adventure lover, Dandeli offers you an unending list of activities to be enjoyed. The place is characterised by untamed nature, which shelters a wide range of rare species of birds and animals and offers ideal opportunities for wildlife exploration and photography. So, what are you thinking about? Plan a trip to Karnataka now!
Disclaimer: TravelTriangle claims no credit for images featured on our blog site unless otherwise noted. All visual content is copyrighted to its respectful owners. We try to link back to original sources whenever possible. If you own the rights to any of the images, and do not wish them to appear on TravelTriangle, please contact us and they will be promptly removed. We believe in providing proper attribution to the original author, artist or photographer.
Please Note: Any information published by TravelTriangle in any form of content is not intended to be a substitute for any kind of medical advice, and one must not take any action before consulting a professional medical expert of their own choice.
Frequently Asked Questions About Picnic Spots Near Dandeli
Are there any restrictions with a picnic near Dandeli?
Dandeli has several sightseeing spots that have evolved into ideal picnic spots as well. There are however a few restrictions that people should remember. They should never forget to dump all plastic items and waste in a specified place and should avoid littering around.
Does picnicking require prior permissions to be taken?
Some places do require prior permissions to be taken such as the Kulgi nature camp. To avoid haste at the end moment, finish all formalities to prevent unnecessary confusion.
What activities are available to tourists at the picnic spots?
Dandeli offers a host of adventure activities like trekking, rafting, kayaking, jacuzzi, mountain climbing, cycling, etc.
Do you have to pay extra for hosting a picnic?
If you have chosen to host a picnic at a public place, you are unlikely to pay for that. But if you choose to do it inside any private spot, like the Kulgi nature camp, you might be charged some amount.
Are there accommodation options available?
Yes, travelers can find nearby accommodations easily. They don't have to worry about lodging at all. The bookings should, however, be done early.
What kinds of foods should one carry?
If you are doing a picnic during the day time, you can carry cooked food. If you choose to stay there at night, especially on any campsite, you should carry dry food.
People Also Read:
Picnic Spots Near Bhubaneswar Picnic Spots Near Vadodara Picnic Spots Near Delhi