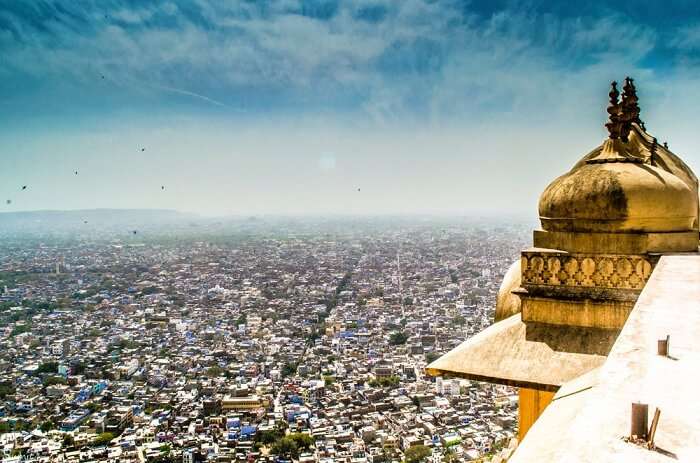 If we say Jaipur, you will say, Hawa Mahal, Amber Fort, Nahargarh, colorful shops at Bapu Bazaar, and other popular tourist places in Jaipur. But this time, we want you to try something different; something not so popular but beautiful. For people staying in or near the Pink City, there are some refreshing picnic spots near Jaipur that you must visit. A day trip to these places with your friends, folks, and family members will leave you recharged and rejuvenated. So, go explore the offbeat side of Jaipur picking your favorite from our list of best picnic spots near this charming city.
Top 14 Picnic Spots Near Jaipur
Take a gander at all these serene picnic places near Jaipur where you can relax and unwind to get away from the hustle and bustle of this otherwise delightful city. All the picnic spots that are mentioned below have something hidden for each and every kind of traveler. Here are the top picks for us! 
1. Vidyadhar Garden – A Mark Of Accolade To The Creator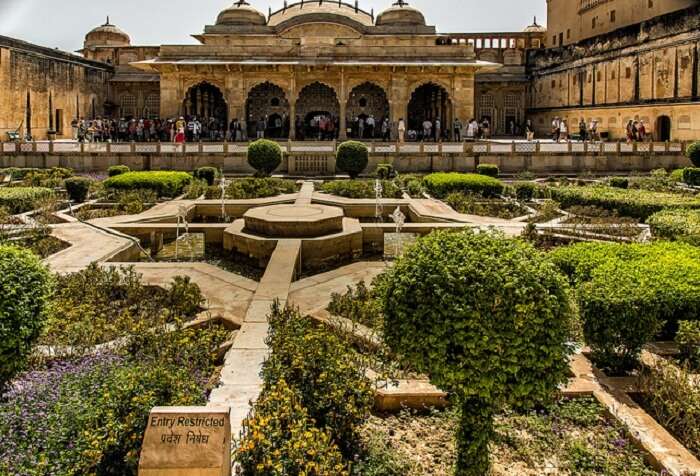 Image Source
Vidyadhar Garden is a spectacular garden built in the memory of Vidyadhar Bhattacharya – the chief architect of Jaipur. The landscape, backdrop, and well-maintained garden area of the famous tourist destination has made it one of the perfect natural picnic spots near Jaipur. Located on the way to Agra, this is an immaculate garden area that offers panoramic view of the city. If you want to relax amidst nature and get rid of all your work related stress, Vidyadhar garden is unmatchable.
Key Attractions: Terraced garden with multiple galleries & pavilions ornamented with gorgeous murals depicting Lord Krishna, tranquil lake, well-maintained flower beds, and spectacular fountains
Distance from Jaipur: 11 km
Location: Ghat Ki Guni, Jaipur, Rajasthan 302017
25 Best Restaurants In Jaipur To Relish Royal Meals On Your Vacay!
2. Pink Pearl Water Park – Chill Out With Splashes And Swirls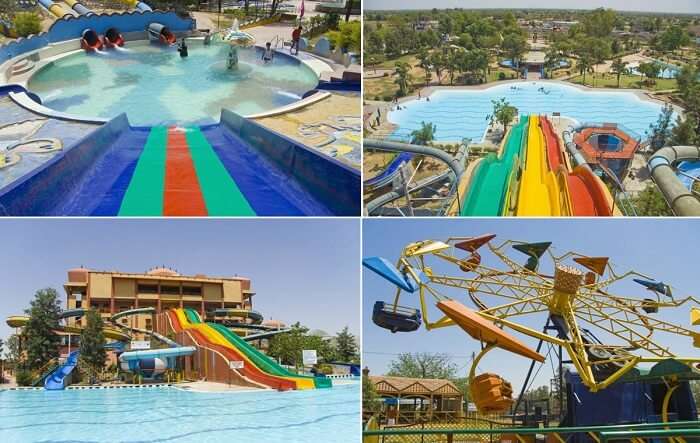 The Pink Pearl Water Park is one of the family picnic spots near Jaipur for those who don't mind thrilling experiences. As the only amusement park in the city, Pink Pearl is loaded with fun & fantasy and comprises of joy rides, adventure rides, wave pools, rain dance area etc. Managed by the Chokhi Dhani Group, Pink Pearl Water Park is an idyllic venue for family picnics, get-together, birthdays, and other celebrations. Visit the park this summer and enjoy the splashes!
Key Attractions: Water slides, water pacer, go-karting, laser games, rain dance zone, skating rink, Treasure Island, artificial beach and lazy river.
Distance from Jaipur: 13.3 km
Location: NH – 8, Ajmer-Jaipur Expressway Near Mahapura, Mod, Bhakrota, Jaipur, Rajasthan 302026
3. Sanganer – A Charming And Divine Place To Be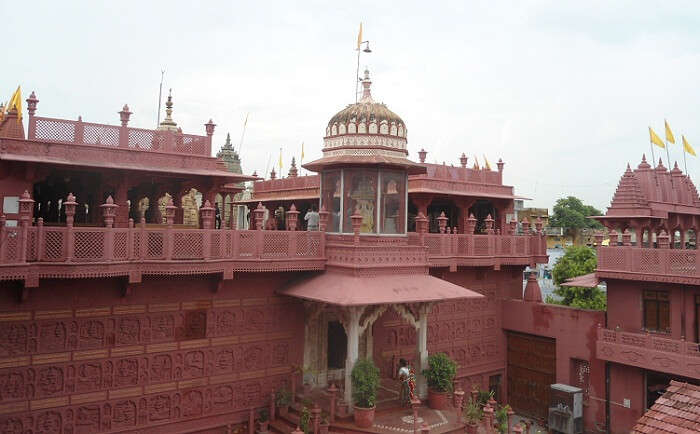 Image Source
A small suburban township near Jaipur Airport is one of the fascinating picnic spots around Jaipur, especially for day excursions. Famous for handmade paper and floral & block printing industries, Sanganer also houses a renowned Shri Digambar Jain temple. Besides, Sanganer Palace is another spot to explore. Though almost in ruins, it is still a beautiful destination that tells the history of the city.
Key Attractions: Architecture & sculpture of Shri Digambar Jain temple that resembles Dilwara Temple of Mount Abu; and the vibrant & colourful floral and block prints
Distance from Jaipur: 13 km
Location: Jaipur, Rajasthan 302029 
Top 39 Things To Do In Jaipur: Exploring The Pink City All Over Again
---
Planning your holiday in Rajasthan but confused about what to do? These Rajasthan travel stories help you find your best trip ever!
---
4. Chandlai Lake – Birds And Nature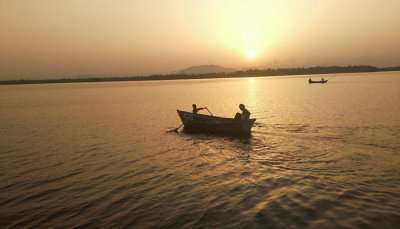 Do you like nature and birds? For a picnic, definitely, yes! The Chandai Lake is one of the finest outing places near Jaipur where you can choose to spend a good half day in absolute solace. The massive lake also attracts migratory birds and if you are a bird-watcher or nature photographer, then this is the place to be. Some bird species you can explore are as follows: Ruddy Shelduck, Common Redshank, Little Ringed Plover, Black Winged Stilt and more. 
Key Attractions: A vast variety of birds
Distance from Jaipur: 31 km
Location: Chandlai Lake, Rajasthan 303903
5. Bagru Village – Print Your Own Fabric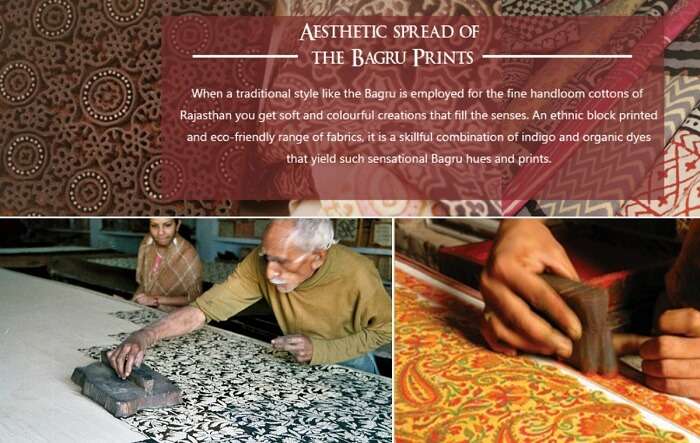 The area surrounding remote and heritage fort of Bagru, on the way to Ajmer, is a popular spot for day outing. Bagru village in Jaipur is renowned for the hand-printed textile industry. The popular and colourful age-old textile made of block and wooden printing – Bagru Printing – has made the village a renowned hub of art and craft and one of the revitalising picnic spots near Jaipur for the art lovers.
Key Attractions: Handmade paper and block-printing shops, workshops, and factories where one can see and explore the Bagru Printing process by trying the process first-hand
Distance from Jaipur: 28 km
Location: Bagru, Rajasthan 303007
20 Historical Places In Rajasthan That Will Take You Back To The Glorious Past
6. Ramgarh Lake – Blissful Quietude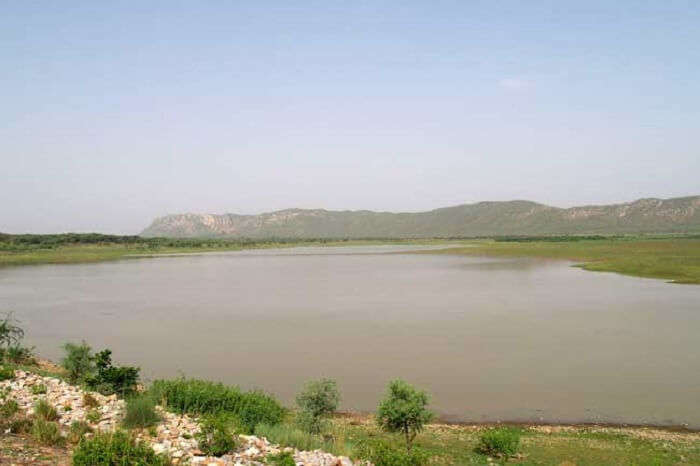 Image Source
The man-made water body formed by embarking thickly wooded hills is one of the picture-perfect picnic spots near Jaipur within 100 km. The place offers spectacular scenic beauty, especially during monsoon with the backdrop of forests and crystal blue lake waters. The scope of spotting numerous residential and migratory birds has made it a true paradise for nature lovers. The adjacent forests have been declared as a Wildlife Sanctuary by the Government of India since 1982 and tourists visit the same for spotting endangered flora and fauna.
Key Attractions: Boating in Ramgarh Lake between October and June; Polo grounds between Aravali and the lake; Jamwa Mata Temple built by Rao Dulhera of the Kachhwaha clan of Jaipur; old fort; and the museum
Distance from Jaipur: 34 km
Location: Gopalgarh, Rajasthan 303104
7. Samode Palace – The Real Colours Of Rajasthani Heritage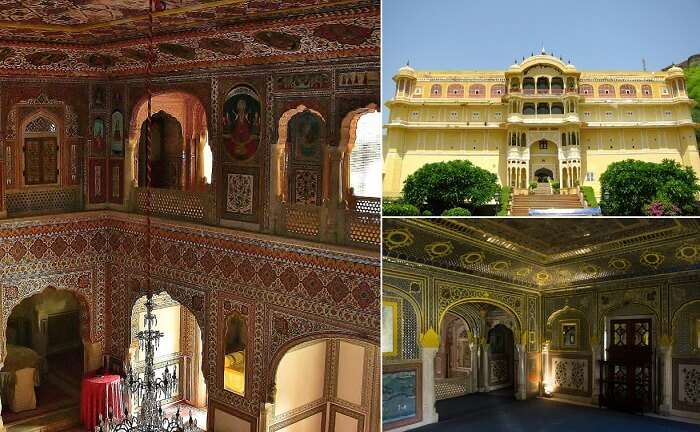 Samode Palace, a traditional and heritage picnic site near Jaipur, reflects the true culture and tradition of the state. Ideal for a day excursion, the palace offers complete luxury, thrill, fun and all that is required to make family outings memorable. The century old and impeccably maintained Haveli, luxuriant garden, courtyard, and world class dining experience together contribute to make the palace not only one of the popular picnic spots near Jaipur, but also a perfect wedding destination.
Key Attractions: The architecture and décor of the Palace, magnificent Sultan Mahal, revitalizing spa, fitness center, relaxing swimming pool, and thrilling camel safaris
Distance from Jaipur: 41 km
Location: Village Samode, Tehsil Chomu, Jaipur, Rajasthan 303806

Get The Rajasthani Bohemia On! 17 Amazing Shopping Places In Jaipur
8. Sisodia Rani Garden And Palace – The Royal Attraction  
Image Credits: Shishir for Wikimedia
Constructed in the year 1779, Sisodia Rani Garden and Palace are one of the most beautiful attractions that is now one of the popular picnic spots near Jaipur. This Palace was built on the orders of Maharaja Sawai Jai Singh and does not fail to give one a glimpse of the Royalness of the ancient times in Rajasthan. This picnic spot is famed for its pristine gardens, stunning terrace views, magnificent architecture, and serene waterways. The best part about this spot is that it is located in the vicinity of the city and this location is one of the best offbeat places to visit in Jaipur.
Key Attractions: Beautiful terrace with the gardens exuding Mughal design, the awe-inspiring architecture, and the calmness of the atmosphere
Distance from Jaipur: 6 km
Location: Agra Rd, Ghat Ki Guni, Jaipur, Rajasthan 302023
9. Chokhi Dhani – Culturally Inclined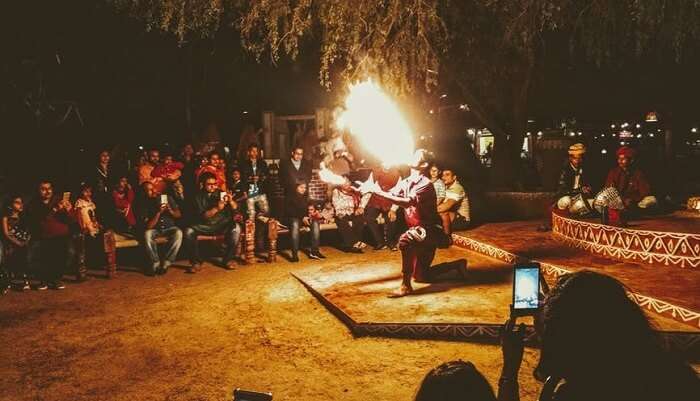 Image Credits: Sandeep Tripathy for Pexels
One of the most famous picnic spots near Jaipur, Chokhi Dhani is a spot that is not to be missed at all when visiting this side of Rajasthan. This spot gives one a chance to witness the traditional and cultural ingredients of Jaipur. This resort is built in such a way that it makes one feel like they are residing in a perfect blend of village and urban life here. From authentic Rajasthani thali and stalls selling the culturally inclined products such as juttis to dancers performing the traditional form and camel/horse rides, this is one of the most action-packed spots that one can visit in Rajasthan.
Key Attractions: Dance performances, stalls selling authentic Rajasthani products, animal back rides, and an extensive variety of games
Distance from Jaipur: 19 km
Location: Sukhdeopura Nohara, Jaipur, Rajasthan 302029 
These 5 Wildlife Sanctuaries In Jaipur Are Home To Some Of The Most Stunning Species!
10. Bhangarh Fort – Tales Of Horror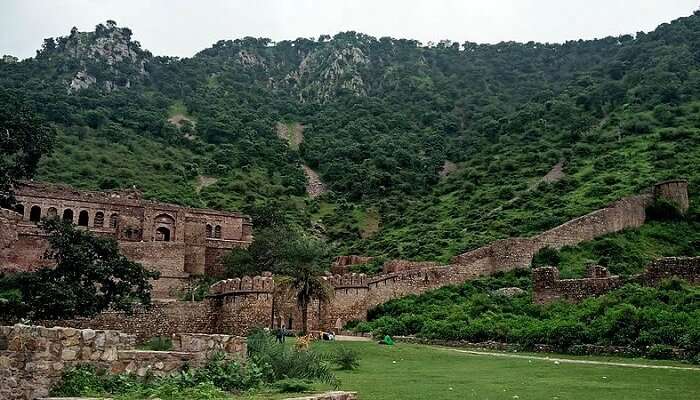 Image Credits: Pratibha Jangid for Wikimedia
Are haunted places your thing? If yes, you would surely consider Bhangarh among the best picnic spots near Jaipur. This fort is one of the most beautiful creations of its time, yet the most haunted one. With an interesting tale latched to itself, Bhangarh Fort is a great spot to enjoy a picnic but only if traveling in morning. The entry after the sun sets is prohibited here. There have been numerous spooky incidents reported after nightfall. Nestled in the lush greens, this Fort exhibits marvelous architecture and design from the ancient days of Rajasthan. It is also close to some of the best places to visit in Jaipur. 
Key Attractions: Spooky tales, interesting architecture, and the beautiful location
Distance from Jaipur: 85 km
Location: Gola ka baas, Rajgarh Tehsil, Alwar, Bhangarh, Rajasthan 301410
11. Kanota Dam – A Fishing Destination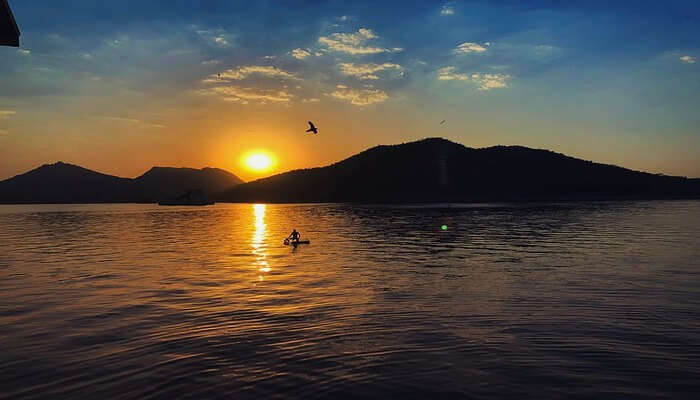 Disclaimer: The image is for representation purposes only.
Would you like to enjoy a picnic with friends where you can also try fishing? Here is Kanota Dam, a dream destination for fishing and spending a day on a picnic. What makes it one of the finest picnic spots near Jaipur is its capability to offer multiple fun activities. You can try cycling expeditions around the dam, play picnic games like picnic basket relay, yard twister, sponge relay race and eat sandwiches. Let's not forget the absolute beautiful scenic spots around that are worth capturing on your camera. 
Key Attractions: Natural splendour, photography
Distance from Jaipur: 25 km
Location: Kanota Dam, Rajasthan 302007
10 Hotels Near Jaipur For A Relaxing Staycation
12. Bairath – Everything Architecturally Pleasing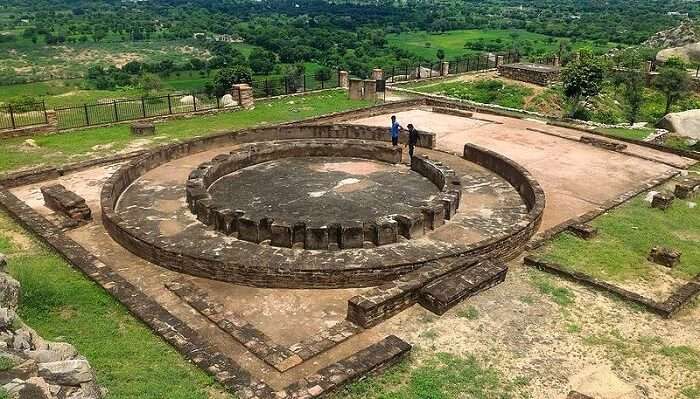 Image Credits: Raonaresh for Wikimedia
Rajasthan is a destination known for its architecture. Bairath is one of the top places that justifies this to the fullest. Home to some outstanding architectural marvels, Bairath offers a perfect blend of Mauryan, Rajput, and Mughal Empire, acting as a magnet for many. It is one of the best picnic spots near Jaipur within 100 km. This place is perfect to witness the finest combination of various cultures. The cultural harmony, an exquisite Buddhist temple, and the tranquility encircling its atmosphere is what makes it a perfect retreat for families and friends.
Key Attractions: Buddhist temple, monuments and forts of various Empires, the Viratnagar Museum, and the Banganga Fair that takes place in Vaishakh
Distance from Jaipur: 86 km
Location: Viratnagar, Rajasthan 303102
13. Sariska National Park – Welcome To The Wild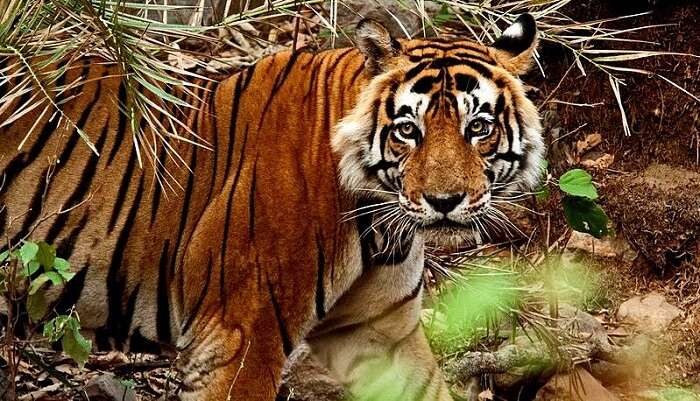 Image Credits: Sanjay Ojha for Wikimedia
Sariska National Park is one of the best spots to take a trip to when planning to get away from the monotony of life. Sariska is the gem of a destination hiding in Rajasthan. This is famed for being home to the National Tiger Reserve and for blanketing numerous species of animals including tigers, elephants, leopards, and more. There are also numerous places to visit nearby. All the top attractions that are located in the vicinity are either temples, forts, or beautiful lakes.
Key Attractions: Kankwari Fort, Neelkanth Temple Alwar, Rajgarh, and Thanagazi Fort
Distance from Jaipur: 110 km
Location: Subhash Chowk Station road, Malakhera, Alwar, Rajasthan 301406
23 Hill Stations Near Jaipur For An Enchanting Vacation This Season
14. Sambhar Lake – Largest Inland Saltwater Lake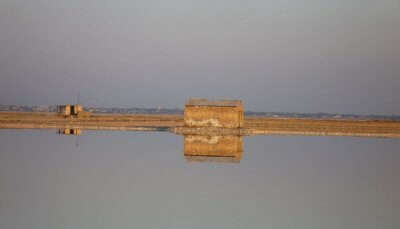 Did you just encounter India's largest inland salt lake? Yes, you did! A lake which is quite popular for attracting migratory birds is often overlooked by many. However, that doesn't mean that it's not one of  the popular outing places near Jaipur. You can also choose to put a tent and convert your day picnic into a camp in case you wish to stay longer, which you will.
Key Attractions: A vast variety of migratory birds 
Distance from Jaipur: 70 km
Location: Sambhar Jheel, Rajasthan 341509
Did our list of one-day picnic spots near Jaipur help you plan your next weekend trip to Jaipur well enough? If yes, go, explore, and have some fun! But after you're done, don't forget to share your experiences with us! And if you know of any more splendid picnic spots near this city, pop them in the comments section below.
For our editorial codes of conduct and copyright disclaimer, please click here. 
Frequently Asked Questions
Which city is nearest to Jaipur?
Agra is the nearest city to Jaipur which is situated at a distance of 240 km. Many people from Agra go to explore Jaipur's main tourist attractions like Hawa Mahal, Amer Fort, Chowkidhani, and whatnot.
Where can I go from Jaipur?
There is no dearth of places to explore near Jaipur. If you want to go to another city then you can explore Agra, Delhi, and Udaipur. Apart from this, there are several places to visit near Jaipur like Ajmer, Chittorgarh, Bikaner, Pushkar, and Kumbhalgarh to name a few.
How far is Ranthambore from Jaipur?
Ranthambore is approximately 150 km away from Jaipur. Usually, tourists plan a package of these two destinations to explore two places on one trip.
How far is Pushkar from Jaipur?
Pushkar is around 145 km away from Jaipur and can be reached easily via road.
---
People Also Read:
Picnic Spots Near Ahmedabad Picnic Spots Near Rajkot Picnic Spots Near Udupi