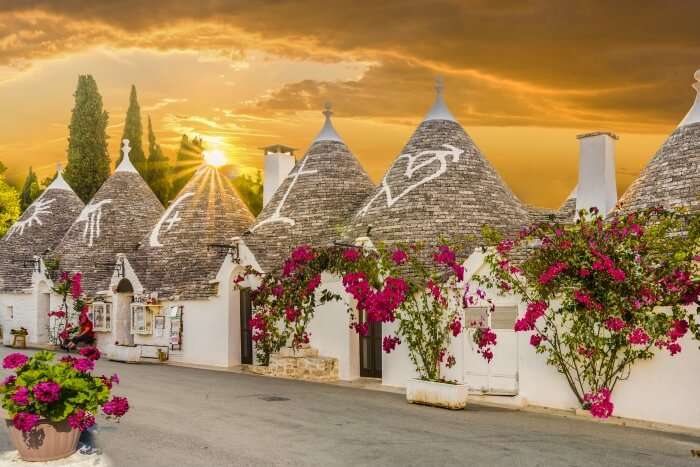 The port city, Bari, lines the shores of the Adriatic Sea in Southern Italy. Situated in the Puglia region, Bari is known for its precarious streets that wind up like in a labyrinth and the ancient religious site, Basilica di San Nicola. The beautiful city is filled with Roman architecture and ruins that make Bari an exciting city to explore. Though Bari has much to offer, one should visit the following places near Bari when visiting the Puglia region in order to experience the true essence of the breadbasket region of Italy.
9 Stunning Places Near Bari
Bari lures travelers from across the world, especially the youngsters as the city is filled with incredible nightlife and an internationally recognized educational institution.
1. Lecce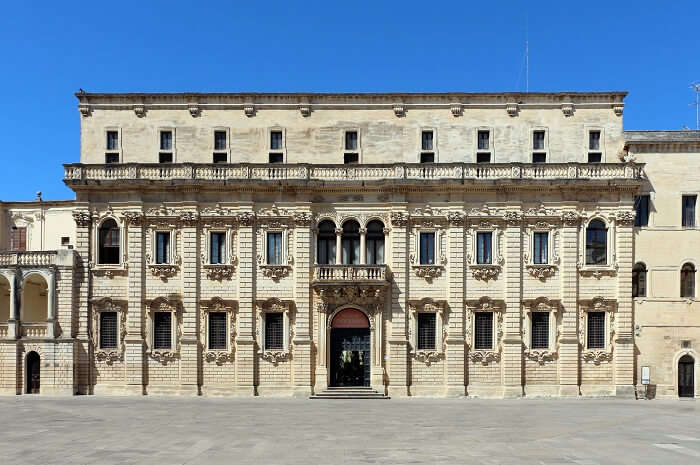 Image Source
Often dubbed as the Florence of the south, Lecce is a huge city in the Puglia region that is known for its beautiful Baroque architecture. The limestone that comes out of the quarry in this ancient town is a major economic resource to the country. The historical background that surrounds the city makes Lecce one of the interesting places near Bari that is worth exploring. The city is filled with more than 40 Basilicas and Cathedrals amongst which Basilica di Santa Croce and Piazza del Duomo are the most famous ones.
The Roman amphitheatre is breathtakingly beautiful and is often seen hosting a public event. Lecce is known for its classic Puglia cuisine and various shopping centres that sell the world famous paper mache handicrafts and other souvenirs. Apart from the historical ruins, the city has a few museums and galleries in its lap that are equally appealing. Many buses and trains run between Lecce and Bari on a daily basis which makes it easier to travel to Lecce.
Location: Province of Lecce, Puglia, Italy.
Distance from Bari: 150 km
Time Taken: 1 hour 45 minutes
2. Alberobello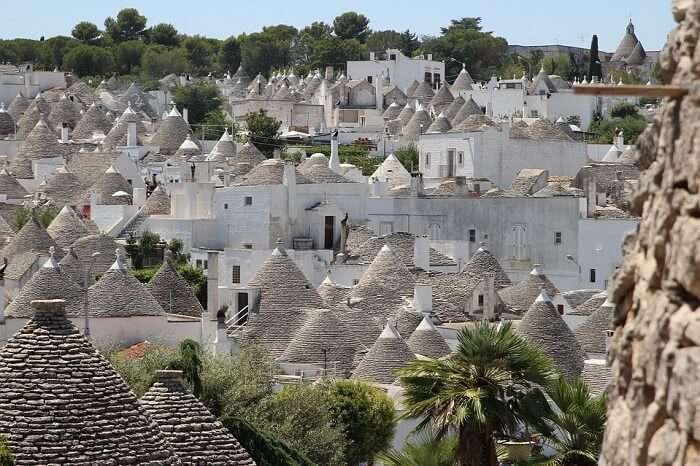 Image Source
Located just a few minutes away from Bari, Alberobello is a quaint town known for the Trulli architecture the locals have preserved and upheld. Trulli architecture is innate to Alberobello and a few neighboring towns is worth a visit. Deriving the techniques from the prehistoric era, the Alberobellos built their homes and buildings with tapered roofs using the soft limestone. The whitewashed walls of the Trulli homes are truly enchanting to see and worth stopping for a photo shoot. The town is filled with tourists most of the time and one can find many souvenir shops to take back a memory home. With sugar-coated houses between olive trees, Alberobello is undoubtedly one of the most beautiful places near Bari.
Location: Alberobello, Province of Bari, Puglia, Italy.
Distance from Bari: 54 km
Time Taken: 1 hour
Must Read: Bari Nightlife: 7 Best Places To Visit For A Happening Vacay Experience
3. Polignano A Mare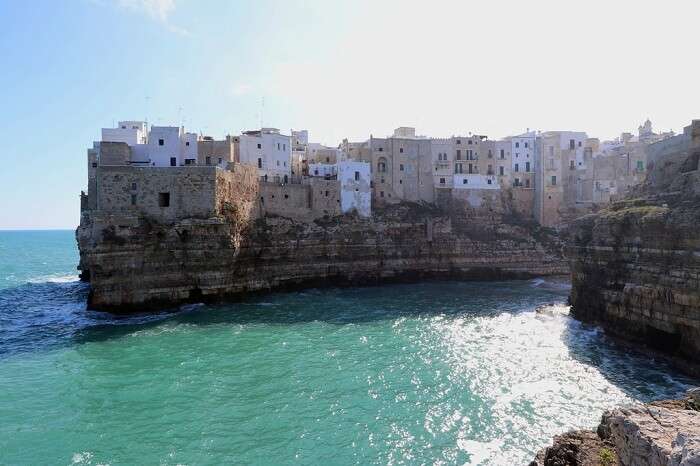 Image Source
This beautiful ancient seaside coast in the Province of Bari is located in a jagged canyon formed by the Adriatic Sea. The city is built of the edges of the cliff while the canyon serves as a gateway to the winding streets of the city. The city is very picturesque and is often seen on postcards across Italy. Polignano A Mare is one of the most visited tourist places near Bari that is brimming with a rich history dating back to the Arab and Norman rule. Matrice Church and the Pino Pascali museum are the must-visit places when in Polignano. Grotta Palazzese is a world-renowned restaurant located precariously in a cave over one of the craggy limestone cliffs. It's beautiful setting along the turquoise sea is a sight to behold.
Location: Polignano A Mare, Province of Bari, Puglia, Italy.
Distance from Bari: 35 km
Time Taken: 35 minutes
Must Read: 10 Picture Perfect Places To Visit In Bari In 2022 To Add To Your Vacation In Italy
4. Ostuni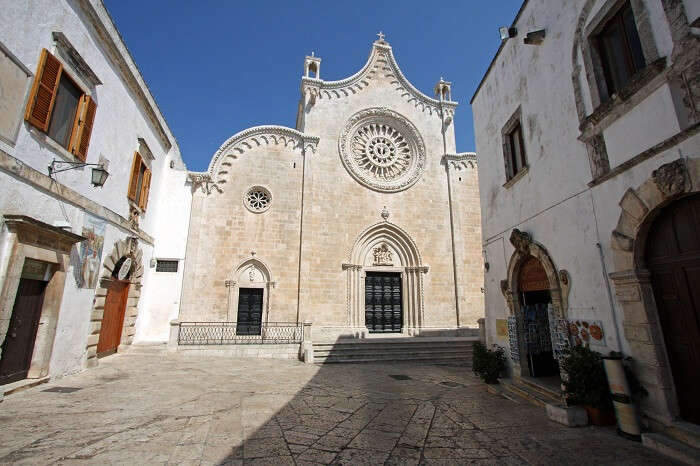 Image Source
Located on a hilltop, Ostuni is a reflection of the pristine white city of Santorini except for the limestone rooftops. The city serves as a major tourist hub owing to its numerous seaside luxurious resorts. Surrounded by beautiful olive orchards, the city is a typical example of an ancient Italian city making it one of the ideal places to stay near Bari. Summers are a wonderful time to visit this little coastal town in order to enjoy the fresh produce in any of their innumerable cafes and restaurants. The coast is lined with various bars and clubs allowing tourists to enjoy the extraordinary nightlife. One should definitely try the Adriatic drinks and local cuisine when in Ostuni. The city is also rich in Paleolithic evidence and one can witness them in the Civic Museum or the Archeological Park.
Location: Ostuni, Province of Brindisi, Puglia, Italy.
Distance from Bari: 83 km
Time Taken: 1 hour 10 minutes
Suggested Read: Do Not Forget To Visit These 10 Incredible Castles In Italy On Your Next Trip!
5. Salento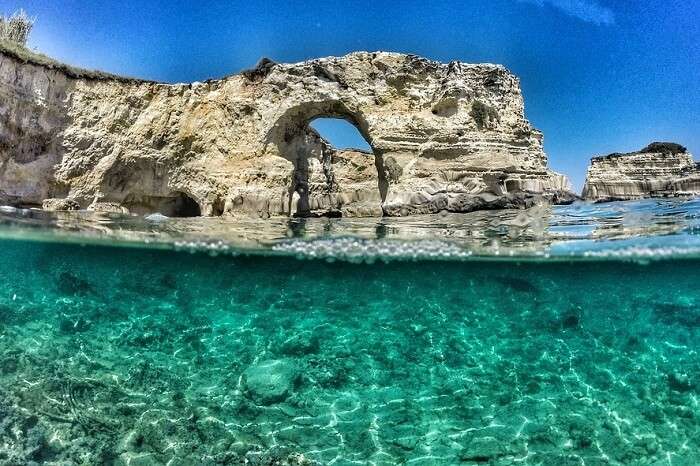 Image SourceSalento is situated in the southernmost tip of Southern Italy detached from other parts of the Puglia region. Salento Peninsula had a great Greek influence before becoming an official part of Italy. This has resulted in a unique blend of traditional music and dance form pertaining only to this region. One should not miss out on the dance forms, pizzica, and tarantella when visiting the city. Salento is also surrounded by many beaches making it one of the relaxing places to stay near Bari. The clubs and resorts along the beach serve classic Salento dishes such as cecamariti and scapece that are worth trying.
Location: Salento Peninsula, Italy.
Distance from Bari: 140 km
Time Taken: 1 hour 45 minutes
6. Castel del Monte

Image SourceThis 13th-century castle is located in Andria in the Apulia region of southern Italy. Built by a Roman emperor, this UNESCO site is known for its architecture. This defensive structure was built near the town of Santa Maria but the castle lacks the conventional strategic frameworks such as the drawbridge, moat, and a basement. This royal abode is built using limestone and quartz in an octagonal shape while the interiors are furnished with white marbles and mosaic bricks. The intention of building the castle with such care and design was to permit a sufficient amount of sunlight during the winter solstice days. This beautiful medieval castle is a must visit when in Bari as the structure is brimming with mysterious aspects.
Location: Province of Barletta-Andria-Trani, Italy.
Distance from Bari: 55 km
Time Taken: 1 hour
Suggested Read: Italian Cuisine: Top 10 Dishes That Let You Taste The Authentic Flavors Of Italy!
7. Otranto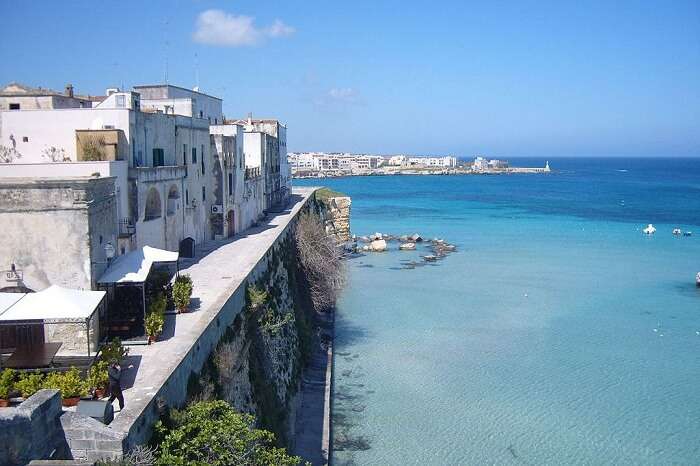 Otranto is extensively known for its pristine beaches and crystal clear waters that invites one to swim or sail. Otranto is located at close proximity to Albania has seen a brutal past, especially during the Turkish invasion. The Roman Cathedral in the city narrates the history with its beautiful mosaic floorings that were restored in the recent years after the invasion. The dark past of the invasion is still intact on the altar of the cathedral as one can see the skeletal remains of nearly a thousand Otrantos who were massacred for not converting to Islam. Though the place tugs at the heart, it is definitely one of the must-visit places near Bari, Italy.
Location: Otranto, Province of Lecce, Italy.
Distance from Bari: 200 km
Time Taken: 2 hours 30 minutes
8. Castellana Caves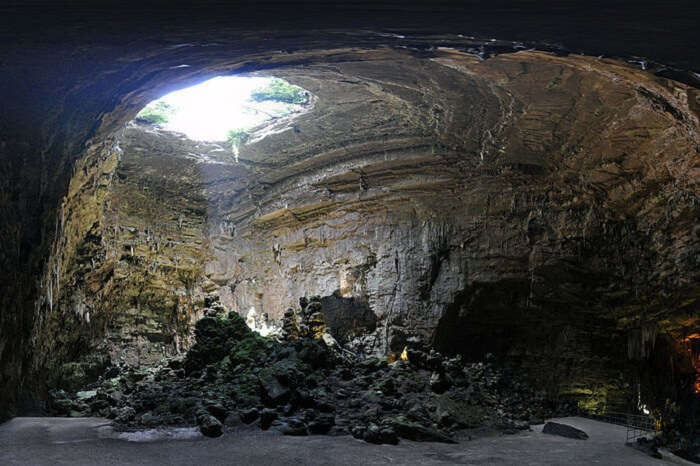 Formed in the early 11th century, Castellana Caves stands tall as one of the most visited tourist site in Southern Italy. The caves are covered with jagged stalactite and stalagmite rocks and form intangible tunnels beneath the city of Monopoli. The collection of caves hold a significant history that can be well experienced by travelers. There is a church situated in one of the caves and nativity scenes are designed there every year for Christmas. The sunlight plays colorfully with the limestones emitting vibrant colors across the grottos.
Location: Piazzale Anelli Castellana Grotte BA 70013, Italy.
Distance from Bari: 42 km
Time Taken: 45 minutes
Suggested Read: 8 Day Trips From Rome To Take In 2022 To Savour The Timeless Charm Of Italy!
9. Trani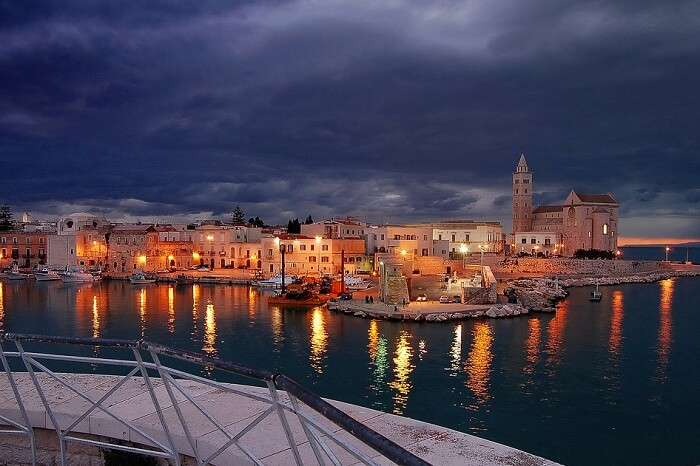 Image SourceTrani serves as a good footing to explore the regions around Bari. This small coastal town is situated a few kilometers north of Bari and makes for a perfect off the beat destination in Southern Italy. With no specific tourist spots and yet full of things to see and do, Trani is a place worth visiting for a seclusive vacation. Trani has a few resorts and hotels for accommodation and classic Puglian food is served in most of the restaurants. It is not very far from Bari or other towns. One can enjoy the olive farms and natural landscapes peacefully by the Adriatic Sea.
Location: Province of Barletta-Andria-Trani, Italy.
Distance from Bari: 52 km
Time Taken: 45 minutes
Further Read: Shopping In Italy 2022: 6 Best Places For The Shopaholics To Indulge In An Extravaganza
With rich history and culture, the Puglia region is brimming with best places near Bari, Italy to be explored. Apart from the beaches and art, Bari offers innumerable options for shopping and culinary escapades. The coastal towns are always a sight to visit and relax in the Adriatic breeze. Plan your trip to Italy with TravelTriangle and explore the heel of Southern Italy.
Frequently Asked Questions About Places Near Bari
What is Bari famous for?
Bari is known for its most stunning beaches, churches with marvelous architecture and beautiful forts. Bari is also the second major economic center of Southern Italy.
Are there beaches in Bari?
Yes. You can find a number of amazing beaches in Bari such as Pane e Pomodoro Beach, Mola Di Bari Beach, Lido San Francesco, Lungomare Imperatore Augusto and many more!
Is Bari worth visiting?
Bari has some of the most gorgeous old towns with a bustling traditional harbor and the best beaches of Italy and is well worth a visit.
What is there to do in Bari?
Here are a few things to do in Bari on a vacation:
1. Explore the Old Town of Bari
2. Go Shopping at the famous Corso Vittorio Emanuelle
3. Enjoy the most stunning views at Lungomare Promenade
4. Ride the Giant Ferris Wheel of Bari
Can you swim in Bari beach?
Yes. You are absolutely free to swim, dive or sunbath at the beautiful beaches of Bari.
How far is Puglia from Bari?
Bari and Puglia is located at a distance of approximately 49 kilometers and can be reached in less than an hour.
Where should I go near Bari?
Lecce, Polignano A Mare, Salento, and Otranto are some of the most amazing places near Bari that are too good to miss.
How do I get to Bari?
You can reach Bari either by a plane which is well connected to most of the European airports. Or you can also get plenty of train options to get to this beautiful city. If you prefer traveling by road, you can either get a taxi or a private car from Taranto to Bari. Public transport buses are also available from Sicily to Puglia. You can also take a boat from Greece or Italy to reach Bari.
---
Looking To Book An International Holiday?
Book memorable holidays on TravelTriangle with 650+ verified travel agents for 65+ domestic and international destinations.
---