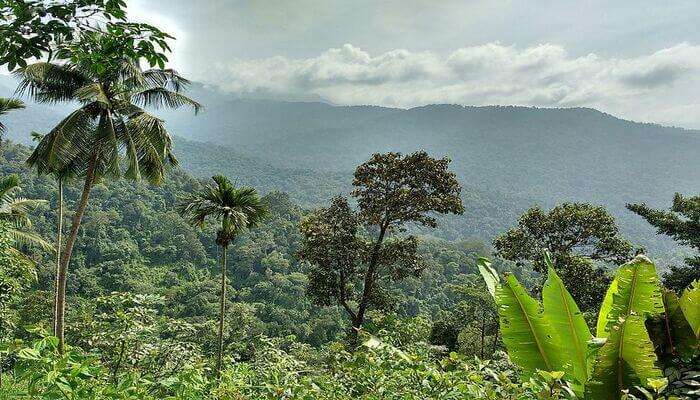 Cover Image Credit: Wikimedia
Madikeri is a special town. It is located in Kodagu District in Coorg, Karnataka. This is the place that is ideal for that peaceful and rejuvenating weekend getaway. The air here is clean without harmful pollutants, there are no loud sounds greeting you at every turn, the weather is neither too hot nor too cold but a pleasantly cool one. There are so many more reasons to land at this town apart from to get away from the city life. It is home to a host of natural, spiritual and historical wonders that demand your time while you are here.
Read on to know more about the places near Madikeri that are best to visit this season!
Top 13 Places Near Madikeri
Enjoy a special time with your friends or family in Karnataka. There is no dearth of places that are beautiful, heavenly and a center for pilgrimage. With multiple point of attractions, it is time to take a look at these must visit places near Madikeri that guarantee you a trip to remember:
Talacauvery – The Source Of Kaveri River
Namdroling Monastery – Centre Of Tibetan Buddhism
Abbey Falls – Witness Milky White Water
Raja's Seat – A Beautiful Garden
Gaddige Raja's Tomb – Home To Mortal Remains
Madikeri Fort – With A Rich History
Coffee Plantations – Acres Of Natural Splendor
Chingara Falls – Engage In Adventurous Trekking
Omkareshwara Temple – Blend Of Unique Architecture
Cauvery Nisargadhama – For A Perfect Picnic
Chettali – A Mini Hill Station
Galibeedu Trek – For Adventure Seekers
Mandalpatti – A Mesmerizing Place 
1. Talacauvery – The Source Of Kaveri River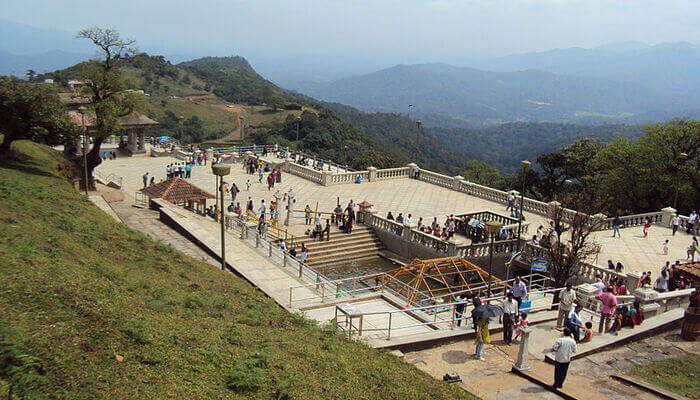 Located at a height of 1,276 m above sea level is Talacauvery is one of the top places to visit near Madikeri. It lies on the hill of Brahmagiri and has a religious significance for devotees. The place also has a temple dedicated to the river Goddess Kaveriamma. Whether you are a devotee or not, you must visit this place to witness the stream amidst the majestic hills. You can go at the top of the hill by climbing approximately 407 m and enjoy the view of the entire mountain range and touch the clouds.
Tips For Travelers:
· Be ready to do a lot of walking at the place by wearing comfortable shoes.
· Carry enough food as the area doesn't have any shops.
· Swimming in the tank, which is believed to be the river's origin, is not allowed.
Places To Stay: Annapurna Heritage Homestay Coorg, KSTDC Hotel Mayura Tala Kaveri, Trek and stay(tents), The Den-escape to nature

Must Read: 10 Things To Do In Madikeri That'll Help Create Beautiful Memories
2. Namdroling Monastery – Centre Of Tibetan Buddhism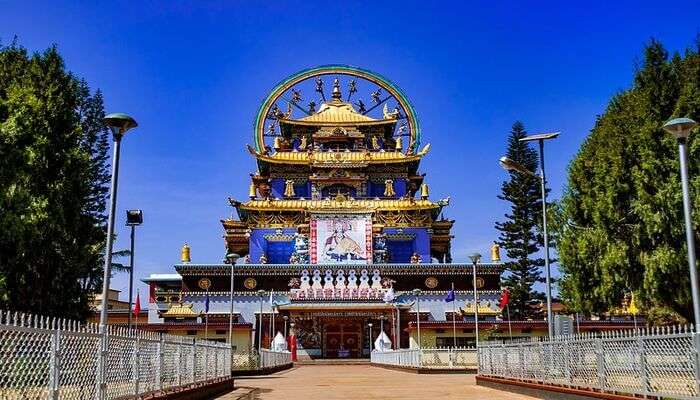 The monastery is an enthralling and one of the most inspiring places to visit near Madikeri. It is the largest teaching centre of Tibetan Buddhism. It is most popularly called as the Golden Temple. The monastery has a marvelous architecture and artwork. The entire monastery, spread across 80 square feet, has educational institutions, a hospital and is also the home of around 5000 monks from the Sangha community. This is one of the top Buddhist monasteries in India.
Tips For Travelers:
· Make sure you reach the monastery before 1' o'clock to witness the fabulous prayer rituals.
· Although, you might feel like going up to the monks and greeting them, shaking hands with them is strictly not allowed.
· Make sure you are dressed in simple and non-revealing clothing to visit this spiritual site
Places To Stay: Bota Royal, Saif home stay, Trippers Stay-Coorg, Rich Fort, Classiq Inn, Siri Residency
Location: Arlikumari, Bylakuppe, Karnataka 571104
Suggested Read: Madikeri Homestays To Plan Your Stay At In 2021 For Luxury Doesn't Come With A Price
3. Abbey Falls – Witness Milky White Water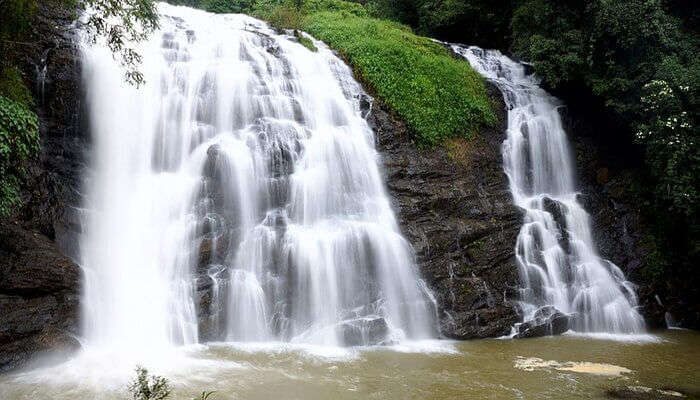 Abbey Falls is situated 10 km away from Madikeri town. It is one of the most popular destinations around Madikeri. The reason is its impressive milky white water gushing down from a height of 70 feet. The green scenery of the Western Ghats further adds to the beauty of this waterfall. And the trek to the waterfall is even more beautiful with its 200 steps winding through exotic coffee, cardamom, pepper and other plantations. The trek only lasts for 20 minutes and is quite an easy one.
Tips For Travelers:
· Wear closed shoes to walk comfortably around the place
· Our advice for closed shoes has more reasons than just comfort. The wet forests surrounding the waterfall are home to blood drinking leeches. So, though it's a waterfall you are visiting, wear clothes that show as little skin as possible. Carry salt in case any leeches hug your skin to sprinkle and make them go away.
Places To Stay: Home Tranquil Stay Abbey Falls Madikeri, DIVINE HOMESTAY, Cosy 2BHK Home in Madikeri, ROSHAN HOME STAY, Hotel Coorg International
Location: Abbey Falls Rd, Hebbettageri, Karnataka 571201
Suggested Read: 10 Dreamy Madikeri Homestays For Couples That Are Worth A Stay In 2021!
4. Raja's Seat – A Beautiful Garden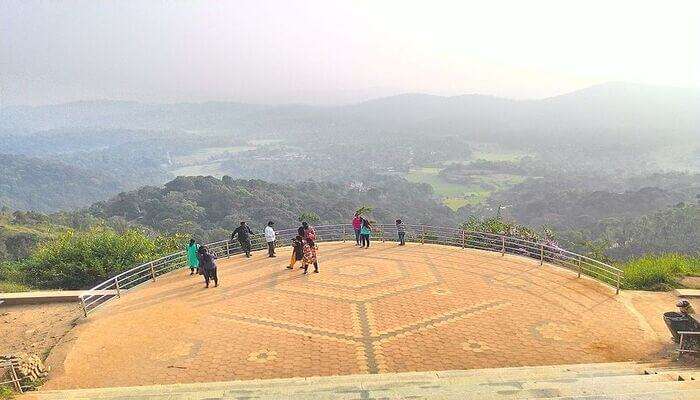 Raja's Seat is a beautiful garden with mesmerizing musical fountains and attractive flowers. The place got its name from the fact that many kings from the Kodagu district visited this garden and relaxed here for longer periods. And they didn't relax here alone, they enjoyed the sunsets with their queens. This place is, even today, famous for its view of the setting sun and attracts people visiting Coorg.
Adding fun to the visit are toy trains running all around the garden. Costing only 20 Rs per head, they take you through the entire garden with its varied beautiful flowers, green landscape and also let you catch a glimpse of the valley.
Also visit a nearby attraction, Gandhi Mantap, a Mahatma Gandhi honoring memorial.
Tips For Travelers:
· When you are here, you just cannot miss the sunset. Make sure you reach here well in advance to witness the awesome work of nature.
· The place is filled with many seats so you don't have to worry about not being able to sit and enjoy your view.
Places To Stay: Notting Hill Homestay, Kaverimadilu, Kollanoor Guest House, Lali Petals, Dewdrop Home stay- 3 BHK house
Location: Stuart Hill, Madikeri, Karnataka 571201
Suggested Read: 10 Best Hotels In Madikeri For A Perfect Getaway In The Hilly Paradise
5. Gaddige Raja's Tomb – Home To Mortal Remains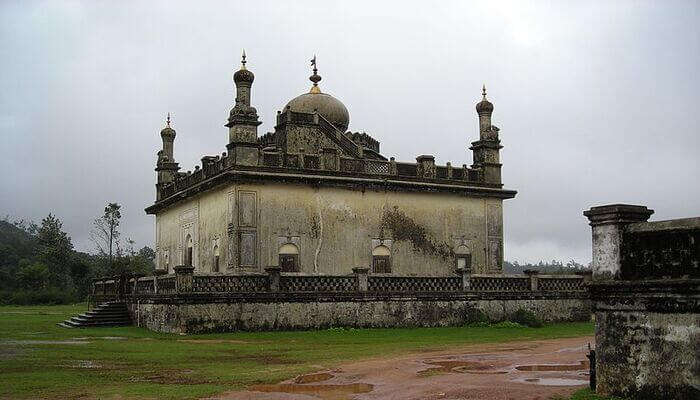 Dating back to 1820, the Gaddige Raja's tomb is home to the mortal remains of the rulers of the Kodavad dynasty. The place has 3 royal tombs that have remains of Kodava king Dodda Vira Rajendra and his wife Mahadeviamma, Chikkaveerarajendra's father Linga Rajendra, and guru of Virarajendra, Rudrappa.
There is also a burial close to the royal tombs of father-son royal officials, Biddanda Bopu and Biddanda Somaiah. They were honoured with this special spot for their great sacrifice in the war against Tipu Sultan.
The structure of the place is befitting the royals with its Indo-scenic architecture. The tomb features Nandi figures and carvings. There is an idol of Bhagwan Shiv inside the tomb.
Opening Hours: 8:30 am–7 pm, Everyday
Places To Stay: Coorgwings Holiday Home, Chandrodaya Homestay, Cozy 1BR Stay in Madikeri, Cozy Studio Home in Madikeri, The Coorg Silveroak Estate Homestay
Location: 7/73(1, SH27, Mahadevpet, Madikeri, Karnataka 571201
Suggested Read: The Ultimate Weekend Getaways From Bangalore For 2021
6. Madikeri Fort – With A Rich History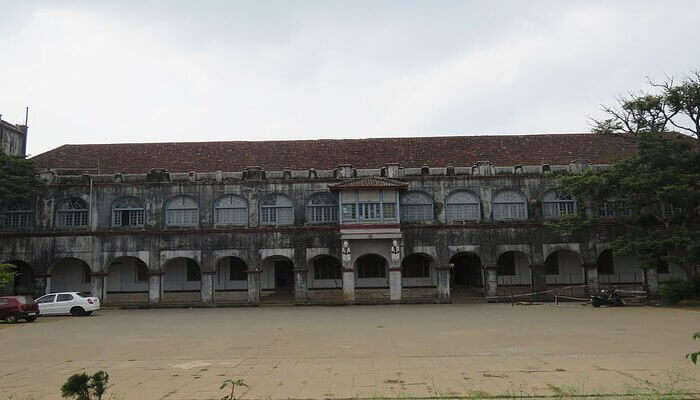 Bearing testimony to the rich history of Coorg is this astounding Madikeri Fort. Many structures of the fort are constructed on an elevated platform that gives the visitors a majestic view of the lusciously green town. Located within the fort area is a museum, which was once a church. The museum features the evidence of dynasty from the British era such as portraits of the kings, artifacts, weapons, etc. If planning to visit, you can stay at some of the best cottages in Madikeri near the fort.
Nearby Attractions – Madikeri Fort Museum, District Prison, and Kote Maha Ganapathi Temple
Places To Stay: Notting Hill Homestay, Vasathi, Sree Durga Hotel Hill View, Woodstock Villas, Paloor Heritage Homestay, Kollanoor Guest House
Location: Madikeri Fort, Stuart Hill, Madikeri, Karnataka 571201
Suggested Read: 12 Things To Do In Karnataka That Will Make Your Trip A Super Thrilling One!
7. Coffee Plantations – Acres Of Natural Splendor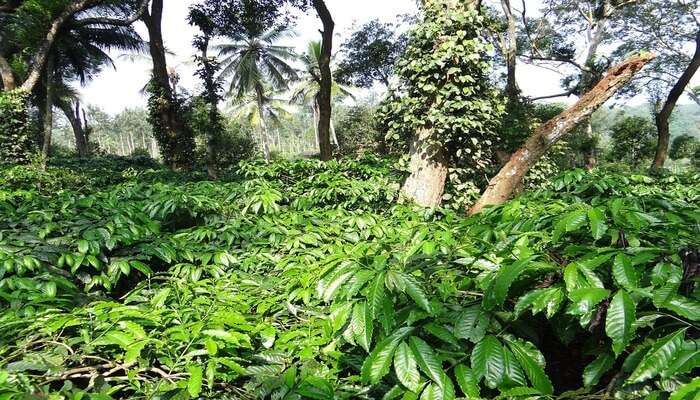 The entire Coorg is famous for its coffee plantations and Madikeri is home to sprawling acres of plantations of this delectable beverage. You can enjoy a walk through the many coffee plantations in and around Madikeri and also watch the process of picking, sowing and harvesting of the beans. There is also the advantage of tasting the rich brew and packing some for home. There are some of the best homestays in Karnataka located near the coffee plantations.
Notable Coffee Plantations: Farm House Coffee Estate, Mercara Gold Estate and Karagunda Coffee Plantation
Places To Stay: Magnolia Estates & Resorts, SanJose Holiday Home, Evergreen County Coorg, DINESH ESTATE, Windchimes Retreat
Suggested Read: 
8. Chingara Falls – Engage In Adventurous Trekking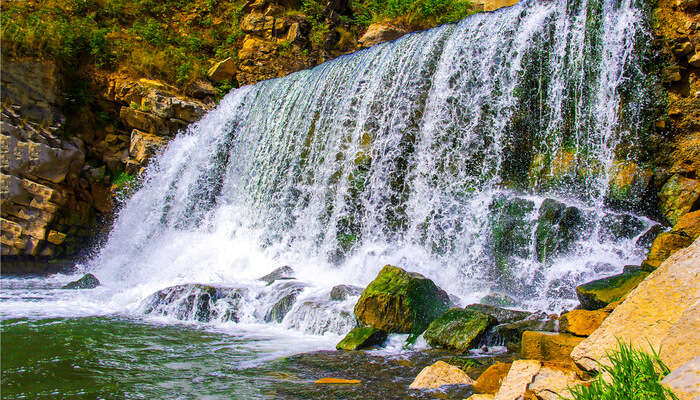 Chingara Falls is not only famous for its foamy white water but also for its location. Situated between the rich coffee plantations and tropical forests, the waterfall sports a beauty that is heart winning. This is the best place to unwind and indulge in adventurous trekking. The Falls is one of the best places to visit in Karnataka.
Tips For Travelers:
· Wear raincoats if you don't want to get drenched while trekking to the waterfalls.
· Also add protective cover to your mobile, camera and other electronics.
· Wear shoes to protect your feet from leeches, which are found in abundance here.
Suggested Read: 10 Places To Visit Near Mysore For A Great Vacation In Karnataka
9. Omkareshwara Temple – Blend Of Unique Architecture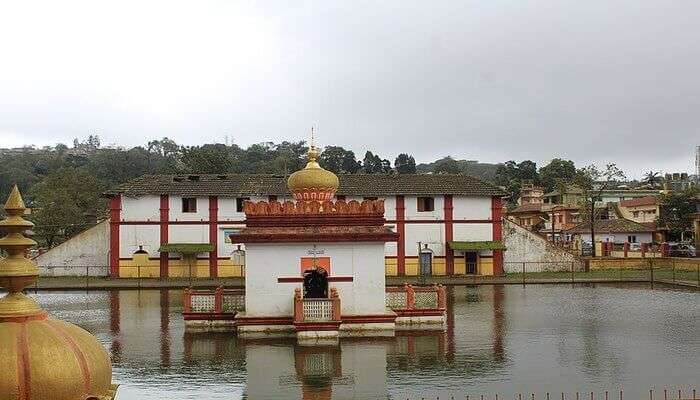 Omkareshwar temple is unlike any temple you might have ever visited. It is a conglomeration of Islamic and Gothic architecture, which gives it a distinct and alluring appeal. The temple, dedicated to Lord Shiva, was built by Lingarajendra in 1820.
Timings: 6:30 am – 12:00 pm and 5:00 pm – 8:00 pm (Everyday)
Entry Fees: Free Entry
Places To Stay: FabHotel Prestige Residency, Treebo Trend New Redfern, Peaceful Home Stay, kula viba homestay
Suggested Read: 12 Top Hill Stations In Karnataka In 2021 To Rejuvenate Yourself
10. Cauvery Nisargadhama – For A Perfect Picnic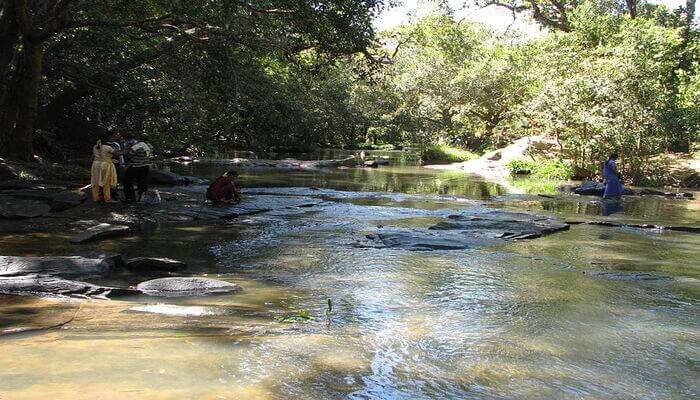 If you want to enjoy a perfect picnic with your family, Cauvery Nisargadhama is the place to be. It has several parks for friendly animals like deers, peacocks and rabbits. There is also a stream running in the area. You can indulge in dipping or boating in the river.
Timings: 9 am – 5 pm
Entry Fees: INR 10 for Adult, INR 5 for Children, INR 25 per Person for Elephant Ride & INR 100 per Person for Boating
Tips For Travelers:
· Harangi Dam is about 8.5 Kms from Cauvery Nisargadhama and can be visited together.
· You can take either a bus or cab to travel here
Places To Stay: Coorg Adventures Tent Stay AND SPA, Amanvana Spa Resort, Purple Palms Resort & Spa, Coorg Castle
Suggested Read: Abbey Falls: A Detailed Guide For The Best Experiences In 2021
11. Chettali – A Mini Hill Station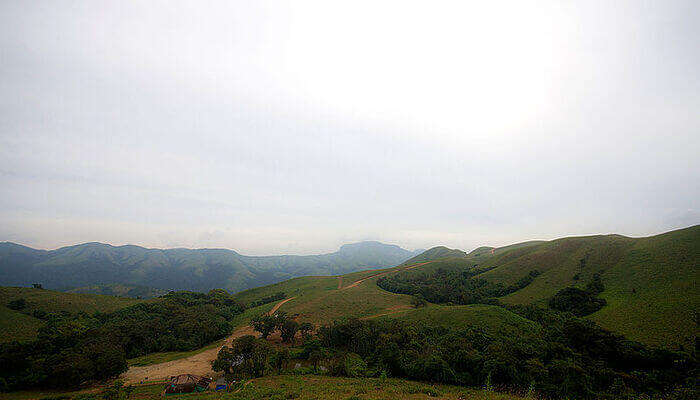 To enjoy a mini hill station trip while in Madikeri, head to Chettali. It is a small village located on the Madikeri-Siddapur Road. The village has vibrant greenery and scenic hills. Do explore the simple village culture and cuisine here. You can camp, light a bonfire and trek if you want to, there is provision for everything. Don't leave any stone unturned as these are places you rarely get a chance to explore.
Nearby Attractions: Cherala Bhagavathy temple and Pushpagiri Wildlife Sanctuary
Places To Stay: Chettalli Farm Stay Coorg, Woods Home Stay in Madikeri, Retreat Home Stay Chetalli, Elegant 1BR Homestay in Chetalli, Luxurious Home Studios near Anjuna Beach
Suggested Read: 8 Best Places To Visit Near Bannerghatta To Unravel The Hidden Gems In Karnataka!
12. Galibeedu Trek – For Adventure Seekers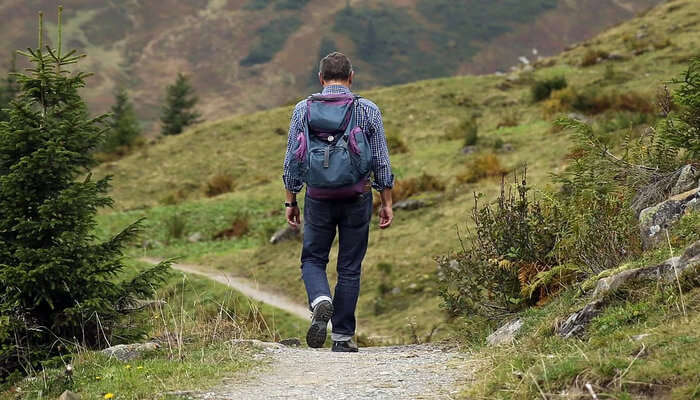 For adventure seekers, here is a gem hidden from the world, The Galibeedu Trek. It is located 12 km away from Madikeri and has a 14 km trek till the location. The trek takes you through small streams, green landscapes, coffee plantations and offers a spectacular view of the Western Ghats. Isn't it just going to be a mesmerizing one for you!
Tips For Travelers:
· Carry snacks and water as there are no shops before the starting point of the trek
· Carry a first aid kit for precaution and torch to see clearly if it gets dark
Ideal Duration: 1 day
Suggested Read: 6 Places To Visit Near Bidar For Tourists To Discover Hidden Gems In Karnataka!
13. Mandalpatti – A Mesmerizing Place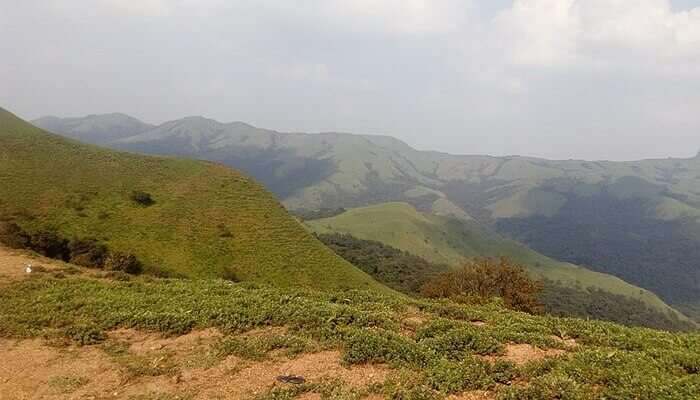 Mandalpatti is a place that never fails to mesmerize whoever visits it. Located at a height of 1800 m, this awesome view offering place will make you drop everything that is worrying you with every step upward. It is the ideal place to soothe your senses and enter the bliss mode.
There are two ways to reach the hilltop, either by trekking or by sitting in a jeep. Trekking to the hill is a thrilling experience. Taking a jeep ride has its own joy as it takes you through the winding path between the coffee plantations and the forests. Everyone should try it once.
Trek Timings: 6:00 am – 6:00 pm, Everyday
Entry Fee: INR 25 per person, INR 1500 for Jeep ride
Location: Raja Seat Road, Madikeri, Karnataka, 571201, India
Places To Stay: Cosy 1BR Stay near Mandalpatti, Home Tranquil Stay Abbey FallsMadikeri, DIVINE HOMESTAY, Cosy 2BHK Home in Madikeri, ROSHAN HOME STAY
Ideal Duration: 1 day

Further Read: 8 Places To Visit In Bidar To Admire The Beauty Of Karnataka!
Hope you enjoyed reading about the unmissable places near Madikeri. Plan your trip today  the scenic location with Travel Triangle and don't forget to share your lovely experience with us. Spend some time with your own people and breathe a stream of fresh air for a rejuvenating trip. Have lots of fun and enjoy exploring all the beautiful places that the area has to offer.
Disclaimer: TravelTriangle claims no credit for images featured on our blog site unless otherwise noted. All visual content is copyrighted to its respectful owners. We try to link back to original sources whenever possible. If you own the rights to any of the images, and do not wish them to appear on TravelTriangle, please contact us and they will be promptly removed. We believe in providing proper attribution to the original author, artist or photographer.
Please Note: Any information published by TravelTriangle in any form of content is not intended to be a substitute for any kind of medical advice, and one must not take any action before consulting a professional medical expert of their own choice.
Frequently Asked Questions About Places Near Madikeri
What is the best time to visit Madikeri?
Madikeri is best enjoyed during the winters and rainy season.
How far is Madikeri from Coorg?
The distance between Madikeri and Coorg is 17 km, which takes hardly 35 minutes to reach via road.
How to reach Madikeri?
Madikeri doesn't have an airport, so the recommended route is to take a flight till Mangalore, the nearest airport. The nearest railway stations to Madikeri are Hassan, Kasaragod, Cannanore and Tellicherry.
What can I buy in Madikeri?
Coffee! Madikeri is most famous for coffee plantations. You can also buy other local produce like spices and dry fruits. Also look out for beautiful ethnic jewellery, sarees and dresses.
Is Coorg and Madikeri same?
No. There is a minute difference between the two: Coorg or Kodagu is a district in Karnataka and Madikeri is the district headquarters. Madikeri is the heartland of Coorg region and was the seat of the ruling dynasty.
What are special in Madikeri?
There are some amazing tourist destinations including Golden Temple, Bhagamandala, Raja's Seat, Cauvery Nisargadhama, Abbey Falls, Iruppu Falls, and Pushpagiri Wildlife Sanctuary.
People Also Read:
Places Near Jog Falls Places Near Nashik Places Near Cuttack
Comments
comments